Cleaning your Honda
You might think keeping your Honda clean is as simple as a good old scrub down with soap and water, but there are a few dos and don'ts to remember.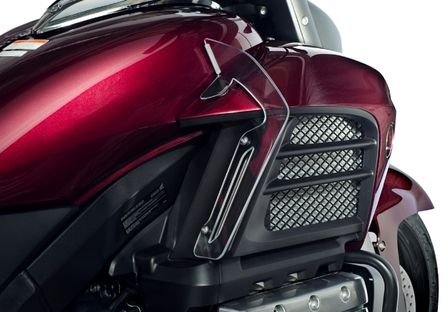 Cleaning tips
Make sure you clean your Honda regularly to protect the surface finishes, and inspect for damage, wear, and oil or brake fluid leakage.
Avoid cleaning products that aren't specifically designed for motorcycle or car surfaces. They may contain harsh detergents or chemical solvents that could damage your bike's metal, paint, and plastic.
If the machine is still warm from use, grab a cup of tea and wait until the engine and exhaust system cool off.
Don't use high-pressure water sprays (like the ones you find at coin operated car washes). High-pressure water (or air) can also damage parts of your motorcycle.


Rinse your bike thoroughly with cool water to remove loose dirt.
Clean it with a sponge or soft cloth using cool water. Don't squirt water at muffler outlets and electrical parts. Do squirt small children in the immediate vicinity.
Clean the plastic parts using a cloth or sponge dampened with a solution of mild detergent and water. Rub the soiled area, gently rinsing it frequently with fresh water. Take care to keep brake fluid or chemical solvents away from the surfaces, they'll damage the plastic and painted areas. The inside of the headlight lens may be clouded after you've finished washing. Switch the headlight on to high beam and you'll see the moisture condensation inside the headlight lens gradually disappear. Remember to run the engine while keeping the headlight on.
After cleaning, rinse the motorcycle thoroughly with plenty of clean water. This is because strong detergent residue can corrode alloy parts.
Dry the bike, start the engine, and let it run for several minutes (it's a nice opportunity to admire your handiwork).
Test the brakes before riding. You might need to pump them several times to restore normal braking performance.
Lubricate the drive chain immediately after you finish washing and drying the motorcycle. You might find braking is less responsive immediately after washing. That's why it's a good idea to give yourself a longer stopping distance to reduce the chances of an accident.

After washing your motorcycle, think about using a commercial spray cleaner/polish or quality liquid or paste wax to finish the job. Be sure to only use a non-abrasive polish or wax made specifically for motorcycles or automobiles. And make sure you read the instructions!
Too much salt is not only bad news for people. The salt contained in the gritting process in the winter can cause corrosion on your Honda. So make sure you:
Clean using only cool water. Don't use warm water, this worsens the effect of the salt.
Dry the motorcycle and apply protective sprays or wax to the metal surfaces.
Painted aluminium wheel maintenance
The aluminium parts of your bike may corrode from contact with dirt, mud, or road salt. Clean the wheels after riding through any of these substances. Use a wet sponge and mild detergent. Avoid stiff brushes, steel wool, or cleaners containing abrasives or chemical compounds.
After you've washed your bike, rinse it with plenty of water and dry it with a clean cloth. Apply touch-up paint to the wheels if you spot any damaged areas.

The exhaust pipe is steel but may become stained by oil or mud. You can remove heat stains with a liquid abrasive.
Looking after your machine
Make sure you don't squirt water on to the bearings. This may cause humidity, which can lead to corrosion. During winter it's a good idea to spray non-painted aluminium parts, like engine and transmission housing, with a transparent protective spray. You can get rid of any existing corrosion marks with soaped steel wool. Bare metal parts can be cleaned and protected with chromium polish.
When you clean the seat, dashboard, indicators, rear light and wind screen, make sure you use a neutral soap solution. Don't use any solvent that contains cleaners.
Very filthy parts and dead insects should be soaked in soap solution, and afterwards rinsed with water. And when you're going to be riding in poor conditions, protect your machine with waxes or lubricants. Ask your dealer about which ones are best.
It's always a good idea to plan routine servicing of your bike well in advance. That way you can get it done at a time that causes you the least amount of inconvenience, and works for your Honda dealer too.