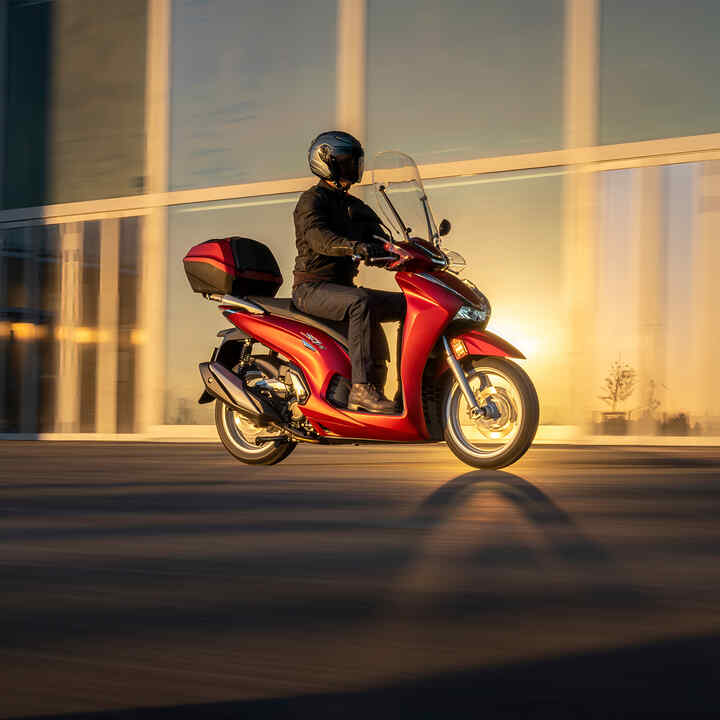 RELIABLE PERFORMANCE. TIMELESS STYLE.
Our SH scooters are icons of the two-wheeled world and have worked for decades to provide easy, convenient transport for legions of owners around Europe. It's class-leading, premium performance is founded on reliability, a strong engine, the practicality of a flat floor and stability that large, 16-inch diameter wheels, deliver. And it's all clothed in the timeless, compact and identifiably SH style.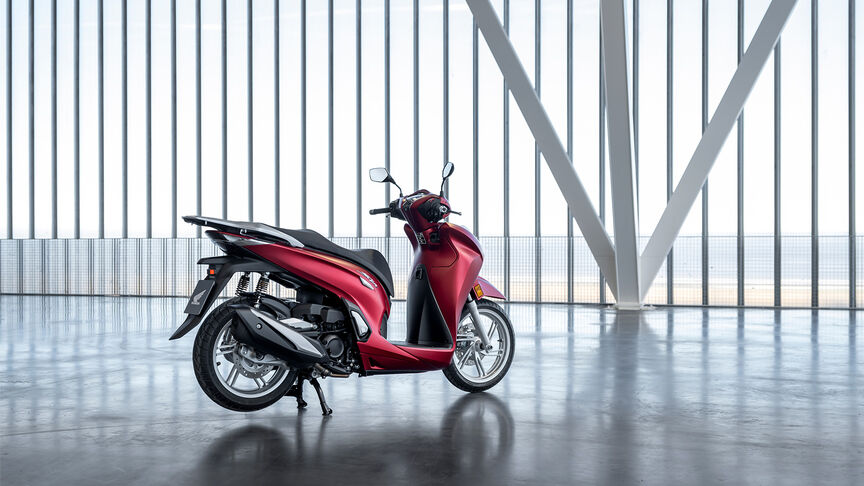 Reliable Performance
The SH350i has got more power thanks to a larger capacity, 4-valve liquid-cooled engine, providing strong low to mid-range torque to help you get around town. The engine is not only more powerful which aids smooth riding on the motorway, but also more efficient and better for the environment with EURO 5 emissions compliance.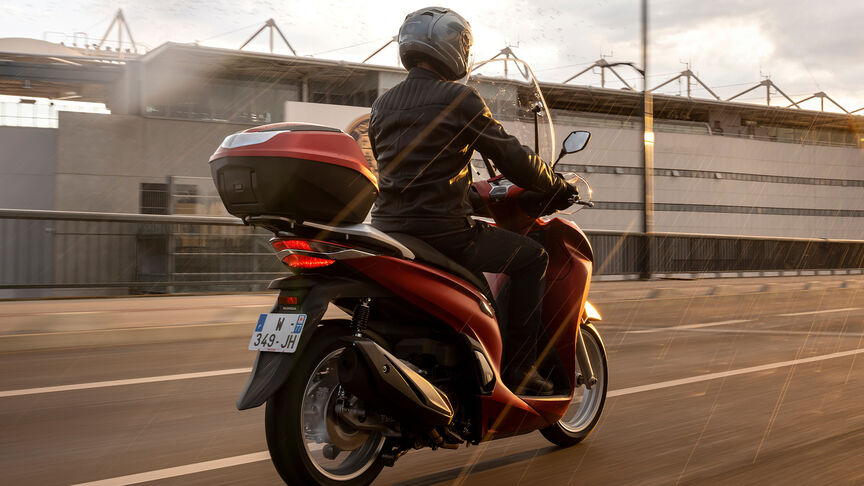 Around Town Practicality
Easy to handle at low speed thanks to its tubeless steel frame and 16-inch diameter wheels, the SH350i offers a relaxed, upright riding position and flat floor providing you with stability and practicality for all urban journeys.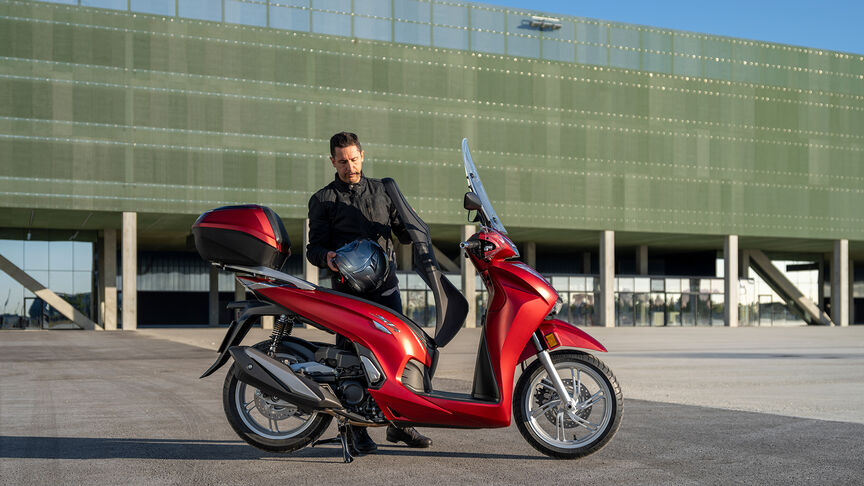 Technology to Match
The SH350i has the technology to match with features such as Honda Smart key and a USB charging socket, that enhance day to day ease. An optional Smart top box and under-seat helmet storage, operated by the Smart Key, add practicality, whilst the LCD Dash provides clearly displayed information, to get you where you need to be.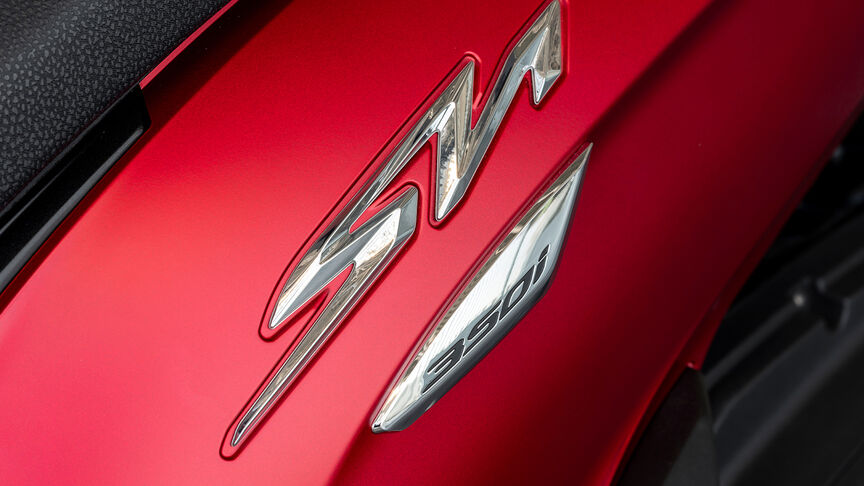 Evolution Of An Icon
Mixing elegance with that premium feel and technological prowess, the SH350i means business. Sophisticated design details are everywhere and combine to help your day go smoothly. With years of development and heritage, the SH350i has become an extremely versatile bike within the Honda range.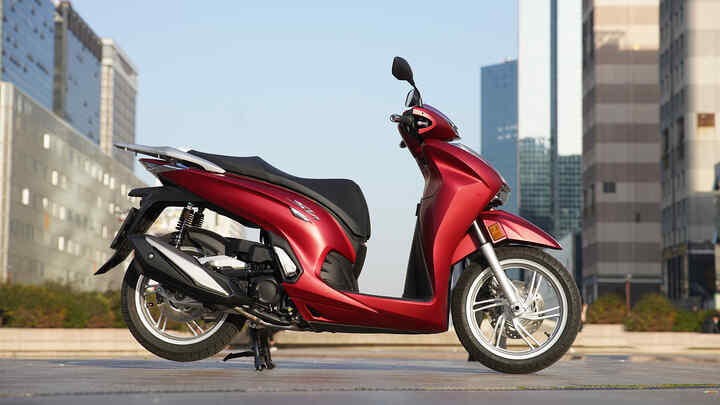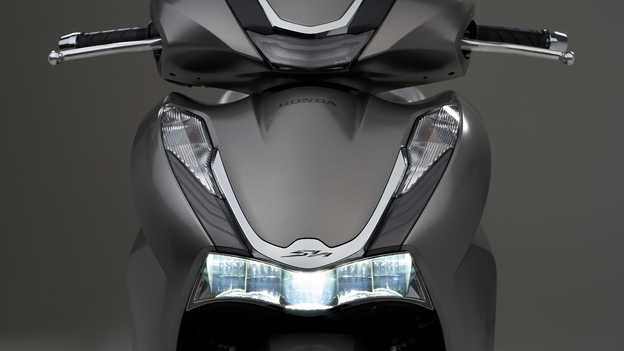 Attractive, slim style with full LED lighting
The compact style makes it easier to park and get through traffic. Full LED lighting which makes you more visible in any condition, whilst increasing the brightness and reliability of the lights, is the finishing touch that elevates the SH350i's premium appeal.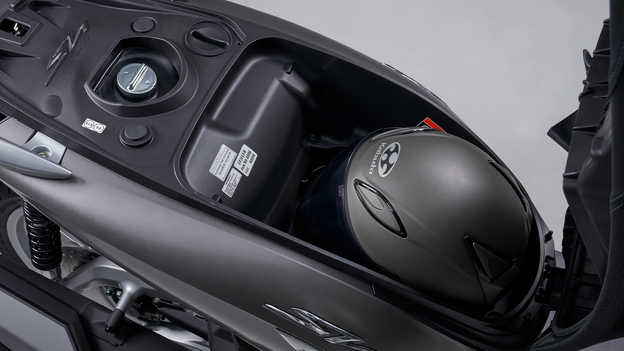 Ample storage space and Smart Key convenience
You can tuck a full-face helmet away under the seat, where you'll find a USB Type-C socket in the compartment ready to charge your smartphone. The optional Smart top box provides additional storage, there's one less thing to think about too – keep the Smart Key in your pocket, and go. It's that easy.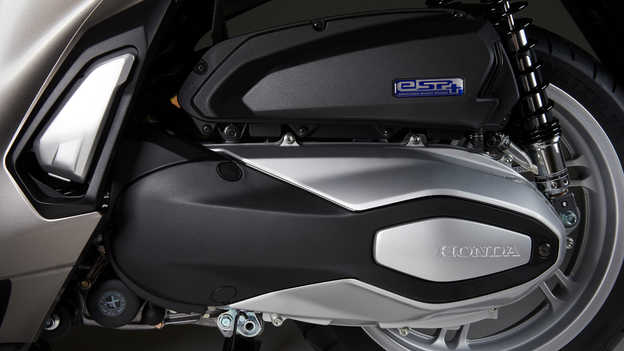 More powerful SOHC, 4-valve liquid-cooled engine
The power output is a strong 21.6kW in total, with a top speed of 134km/h, with 0-200m covered in just 10.2s. And, the SH350i engine is more environmentally friendly than previous versions, with full EURO5 compliance.
Honda Selectable Torque Control (HSTC)
HSTC monitors and manages rear tyre grip at all times, giving you extra confidence to ride in any condition. It lets you know when it's actively working via a light on the clear LCD dash and, if you want, you can turn the system off.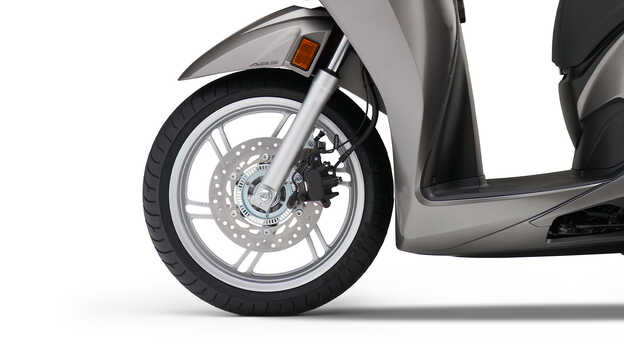 16-inch front and rear wheels, high-quality suspension and ABS braking
Large diameter wheels roll smoothly over rough tarmac and cobbled streets, providing stability at higher speeds. Supple suspension – 35mm telescopic front forks and dual rear shocks – is matched to ABS-controlled disc braking front and rear.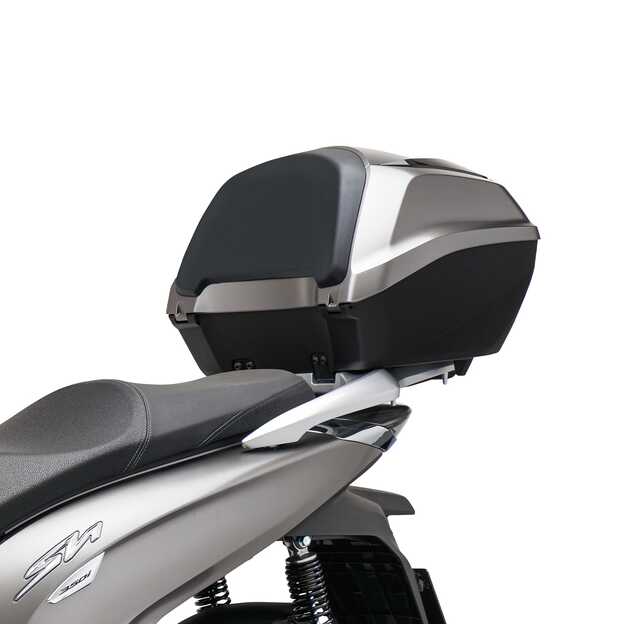 35L SMART TOP BOX
The Smart top box can be colour matched. Opened and locked by the same Smart Key that operates the ignition, it offers flexible storage space for the weekday commute or weekends away. Can store one full-face helmet, or two open-face helmets. An inner bag is also available.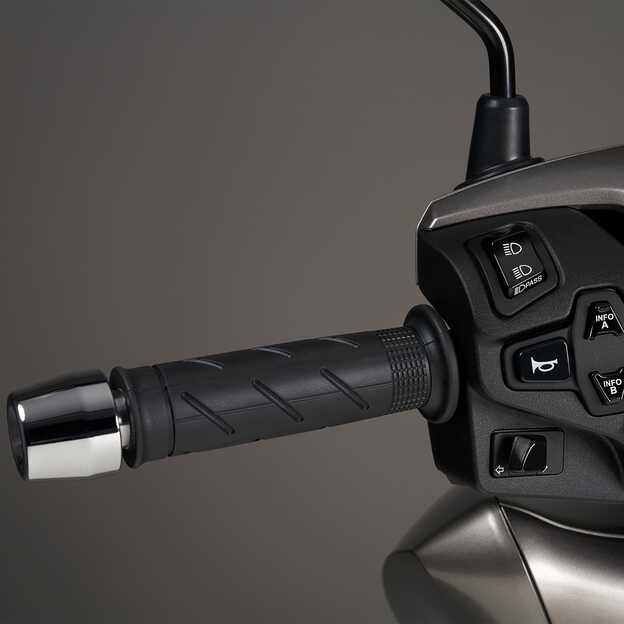 HEATED GRIPS
Extremely slim design that provides 180° heat around the grips, focused on the areas of the hand most sensitive to cold. Control is integrated for maximum rider comfort. Must be combined with Heated Grip Attachment.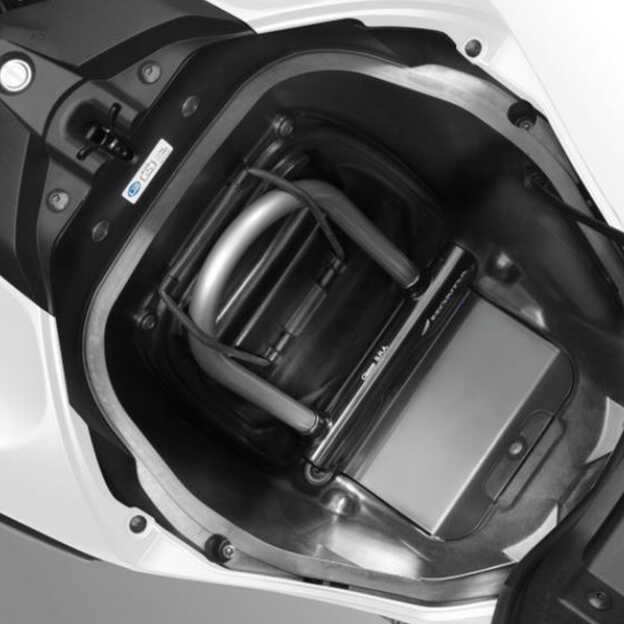 U-LOCK 123/217
U-Lock with tamper-resistant barrel key. This high-security anti-theft U-Lock gives you peace of mind that your scooter is secure when left unattended.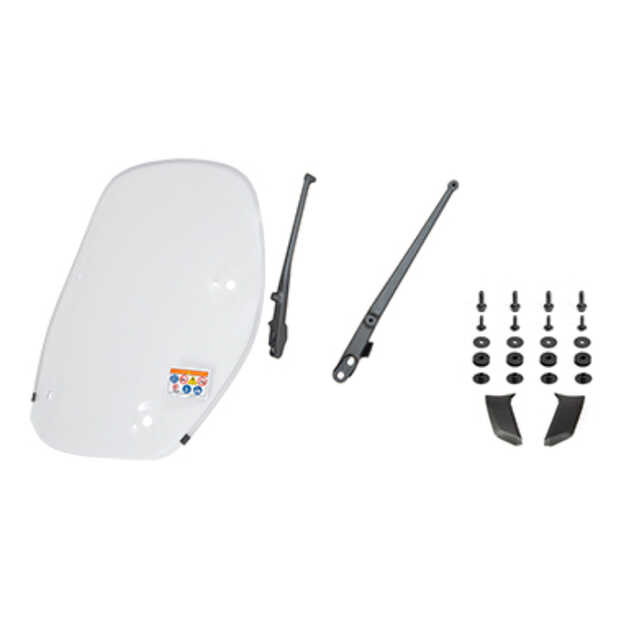 HIGH WINDSCREEN
Improve your comfort while you are riding with the 46cm High Windscreen, perfectly adapted to the design of the SH350i.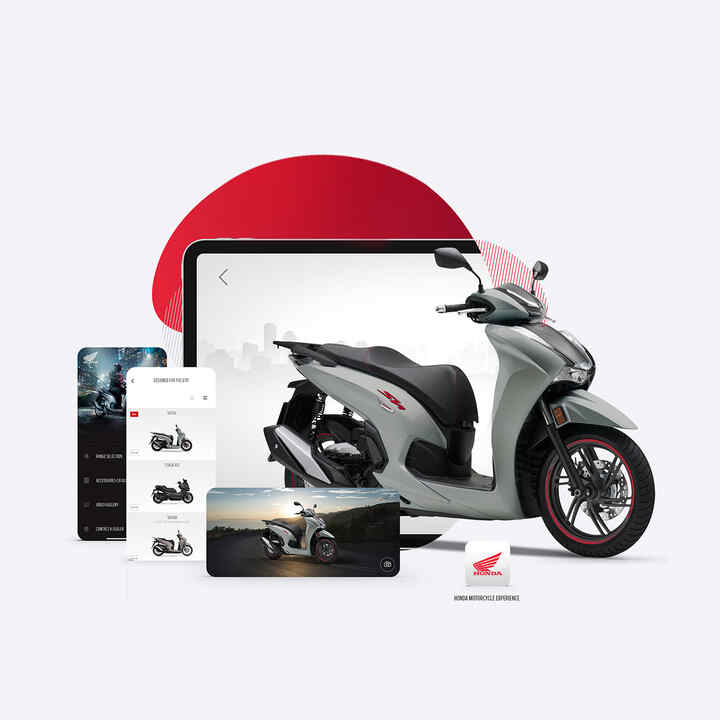 HONDA MOTORCYCLES EXPERIENCE
Make your favourite Honda your own through the Honda Motorcycles Europe app. It's easy. Choose the bike you want and select a colour. Then, see how it looks sat in your garage through the AR feature. There's an Integrated Accessories Catalogue, so you can add the parts you want. And the Honda Motorcycles Europe YouTube channel is now part of the app, with a gallery of videos to enjoy.