CRF1100L Africa Twin
Forged Through Toughness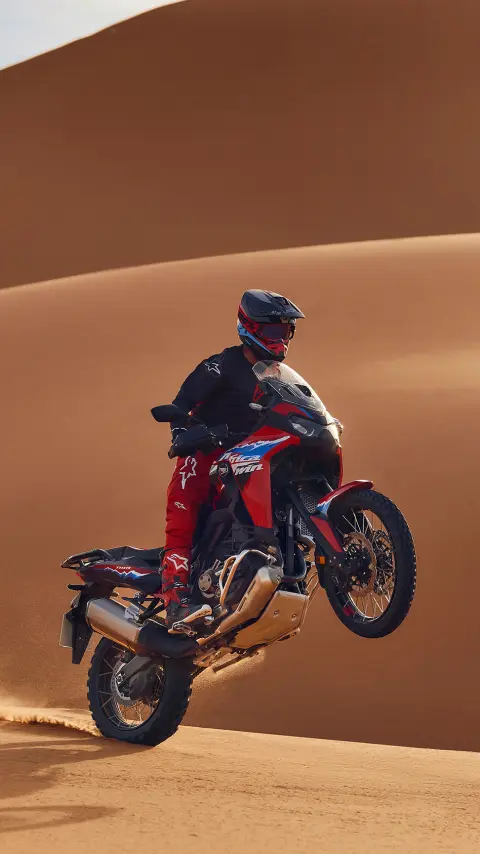 The Africa Twin just got an upgrade. It's still the amazingly agile Adventure bike it has always been – with performance to push to the limit – but with extra low-down torque for drive. A new adjustable screen makes those on-road days much more comfortable. Tubeless tyres are easily repairable. And, the Electronic Suspension option of the Africa Twin ES, with Showa-EERA™, opens a whole new horizon of adventure.
Close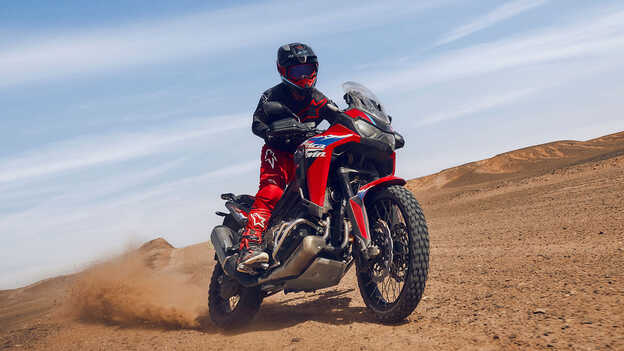 Stronger 1100cc Twin-Cylinder Engine
7% more torque – thanks to tuned intake and exhaust systems – equals responsive acceleration, especially when fully loaded, producing a richer sound.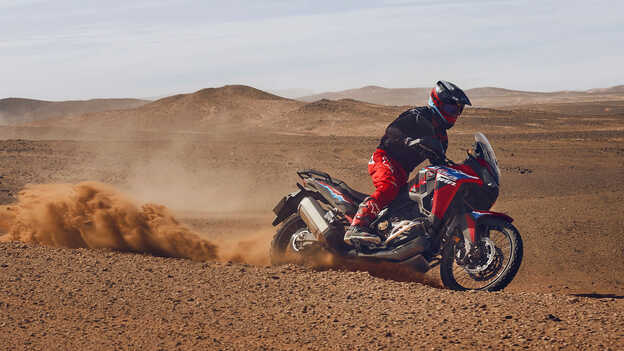 Off-Road Balance
From gravel tracks to gnarly climbs, the Africa Twin makes it easy thanks to long travel suspension, light weight, and honed chassis geometry.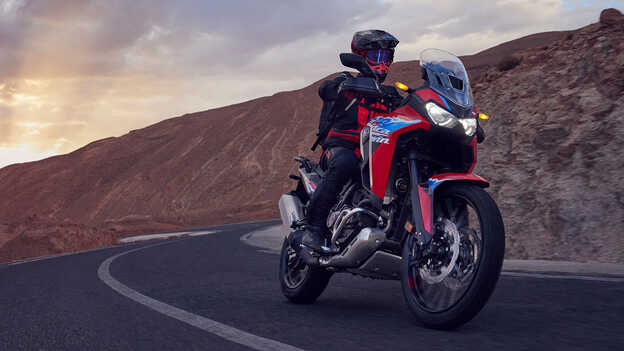 Extra Wind Protection
The taller, wider screen adjusts through 5 positions for maximum forward visibility or maximum wind protection – you choose.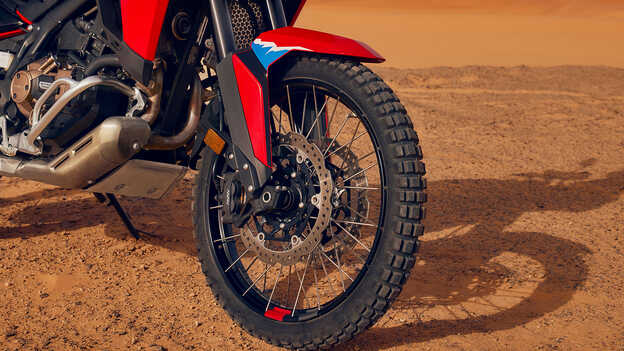 Standard Fit Tubeless Tyres
Sometimes, mid-adventure, small details matter: 21-inch front/18-inch rear rims now wear tubeless tyres, with a revised spoke design, for easy roadside repairs.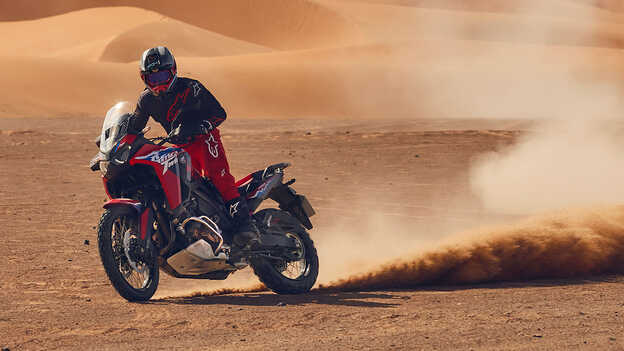 6-Axis IMU Dynamic Management
An Inertial Measurement Unit monitors – in a split second – the Africa Twin under braking, cornering and acceleration, providing a premium riding experience synonymous with Africa Twin.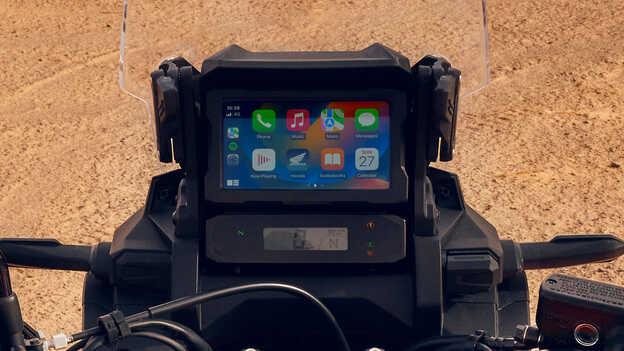 TFT Touch Screen
Apple CarPlay and Android Auto compatible for all smartphone functions, with fully customisable colour 6.5-inch display.
Previous
Next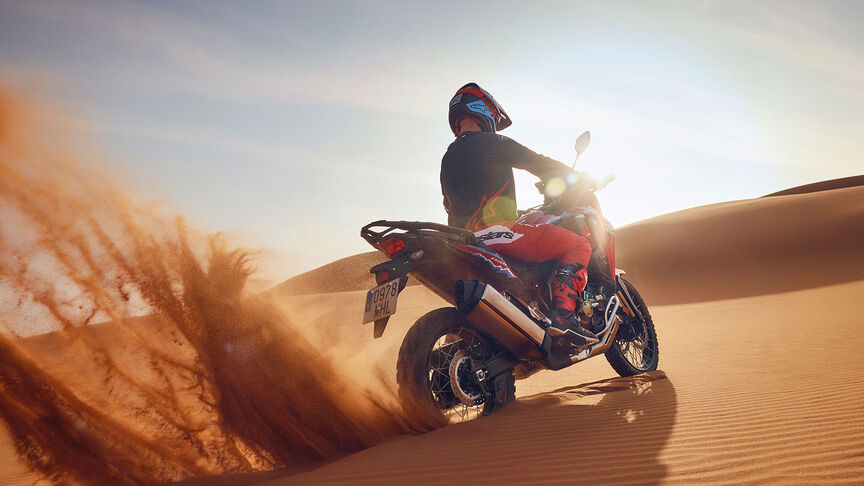 More Muscular Performance
Torque is what finds drive in the dirt. It's what brings the instant acceleration needed for safe overtaking, especially when two up and loaded. So, we've given the OHC liquid-cooled twin-cylinder engine 7% more, with much stronger performance off the bottom and through the middle of the rev-range. And, thanks to higher compression ratio, new valve timing and updated intake and exhaust there's no loss of power – 75kW (101 hp) at peak – with the precise response and feel of Throttle By Wire control.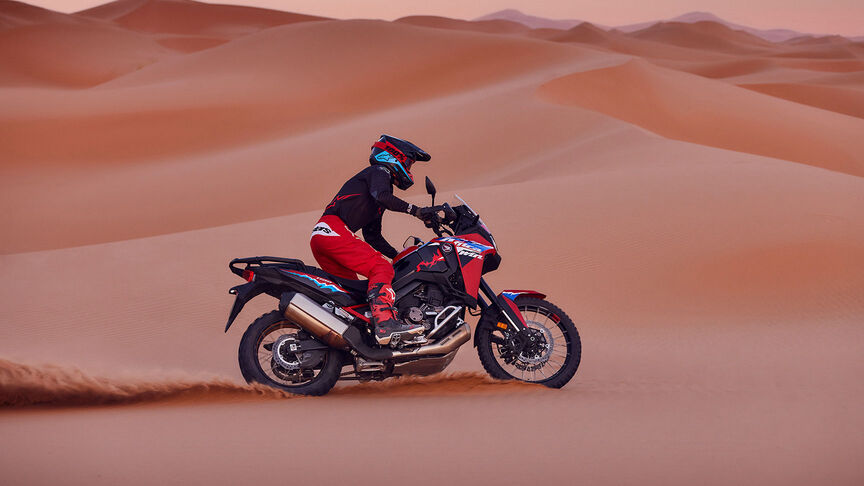 To Push Limits
Riding off-road is about finding the balance to push. Which is exactly what this chassis does. The formula is precise; a lightweight steel frame, CRF450R-inspired aluminium swingarm and bolt-on subframe provide the right rigidity and feedback for traction. Long travel Showa suspension – 230mm stroke front, 220mm rear – with updated settings absorbs rough terrain, and there's huge 250mm ground clearance to clear obstacles. For pinpoint setup the rear shock, operating through Pro-Link, is fully adjustable for compression and rebound damping. A new Electronic Suspension version of the Africa Twin is now available.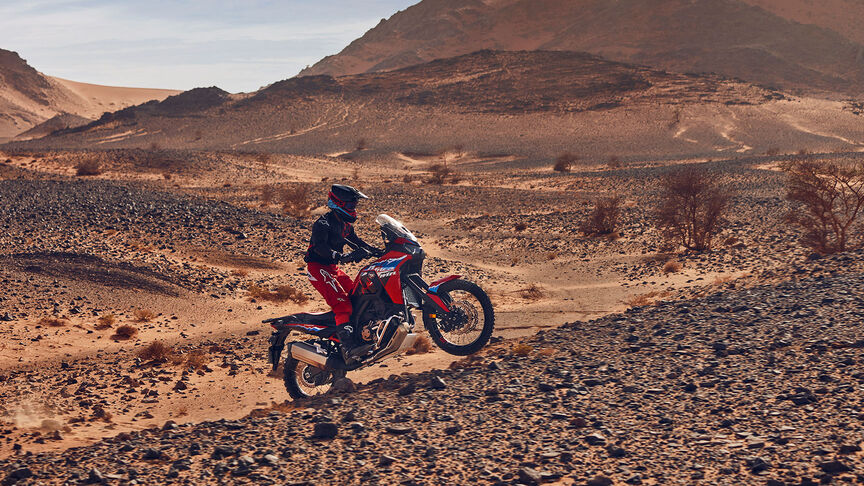 For Every Adventure
The Africa Twin is loaded with electronics that make the ride more enjoyable and safer. No matter the route. 7-level Honda Selectable Torque Control – managed by a 6-Axis IMU – monitors rear wheel traction and smoothly gathers up drive on- or off-road. 3-level wheelie control gives just the front wheel lift you want, while cornering ABS inspires full braking confidence. Four default riding modes, URBAN, TOUR, GRAVEL and OFF-ROAD are set ready but you can go fully custom, across all of the parameters, in USER mode.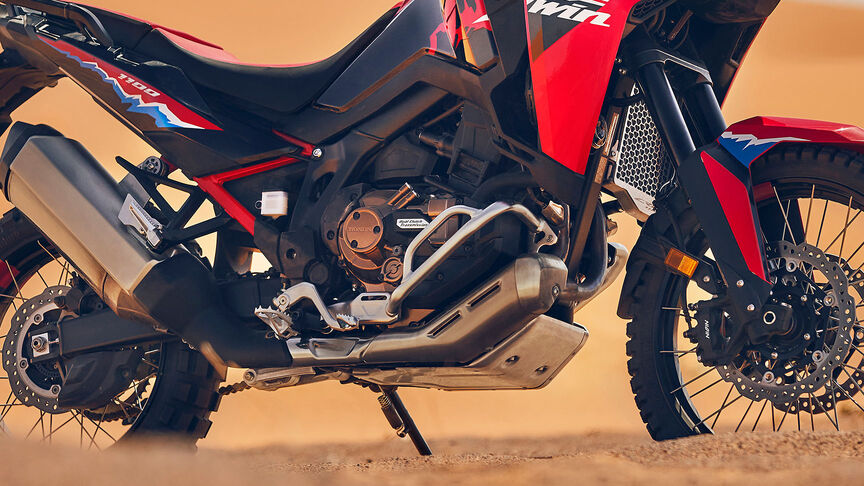 Dual Clutch Transmission (DCT)
You can choose your Africa Twin with six-speed DCT, which means zero-stress, smooth, automatic shifting up and down, great for long distance riding. It's newly updated, for a natural feel on launch, and at low speeds. Customisable, from relaxed to ultimate sports performance. You can also switch to manual control using the left-hand trigger-shifters. And, when riding off-road, a press of G switch (on the TFT display) reduces clutch slip, boosting rear wheel traction and feel.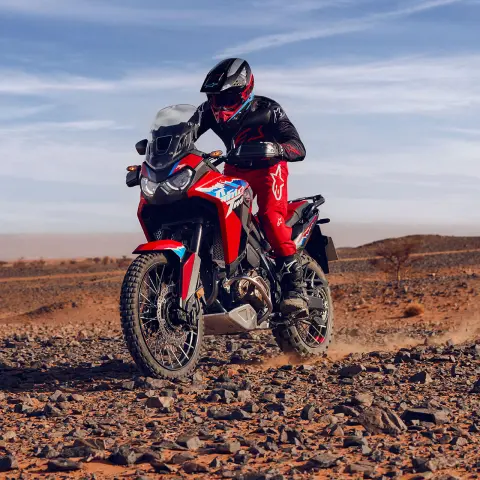 CRF1100L Africa Twin ES
We've pressed the upgrade button. Firmly. The Africa Twin ES packs Showa Electronically Equipped Ride Adjustment (Showa-EERA™) which means optimum damping settings, all the time. Want a perfect base setting? Choose Mid. There's also Hard, for progressive riding, touring, or carrying a pillion and luggage, Soft for easy manoeuvrability and Off-Road for precise suspension reaction away from tarmac. User allows total customisation (when stationary) and you can swap between modes – and adjust rear spring preload – while riding. The Africa Twin ES also packs heated grips and an ACC socket as standard.
The Perfect Travel Partner
Adjustable Seat height
850mm
See Full Specs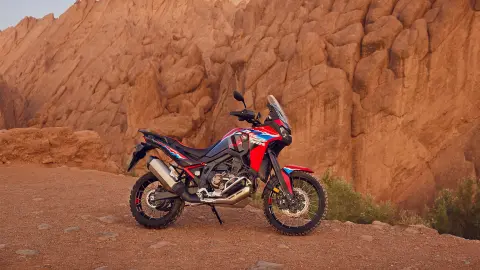 Bold Colours
Take a good look around and choose yours.
Drag to rotate
Matte Ballistic Black Metallic

Standard

Pearl Glare White (ES only)

Standard

Grand Prix Red

Standard
*
The Journey Begins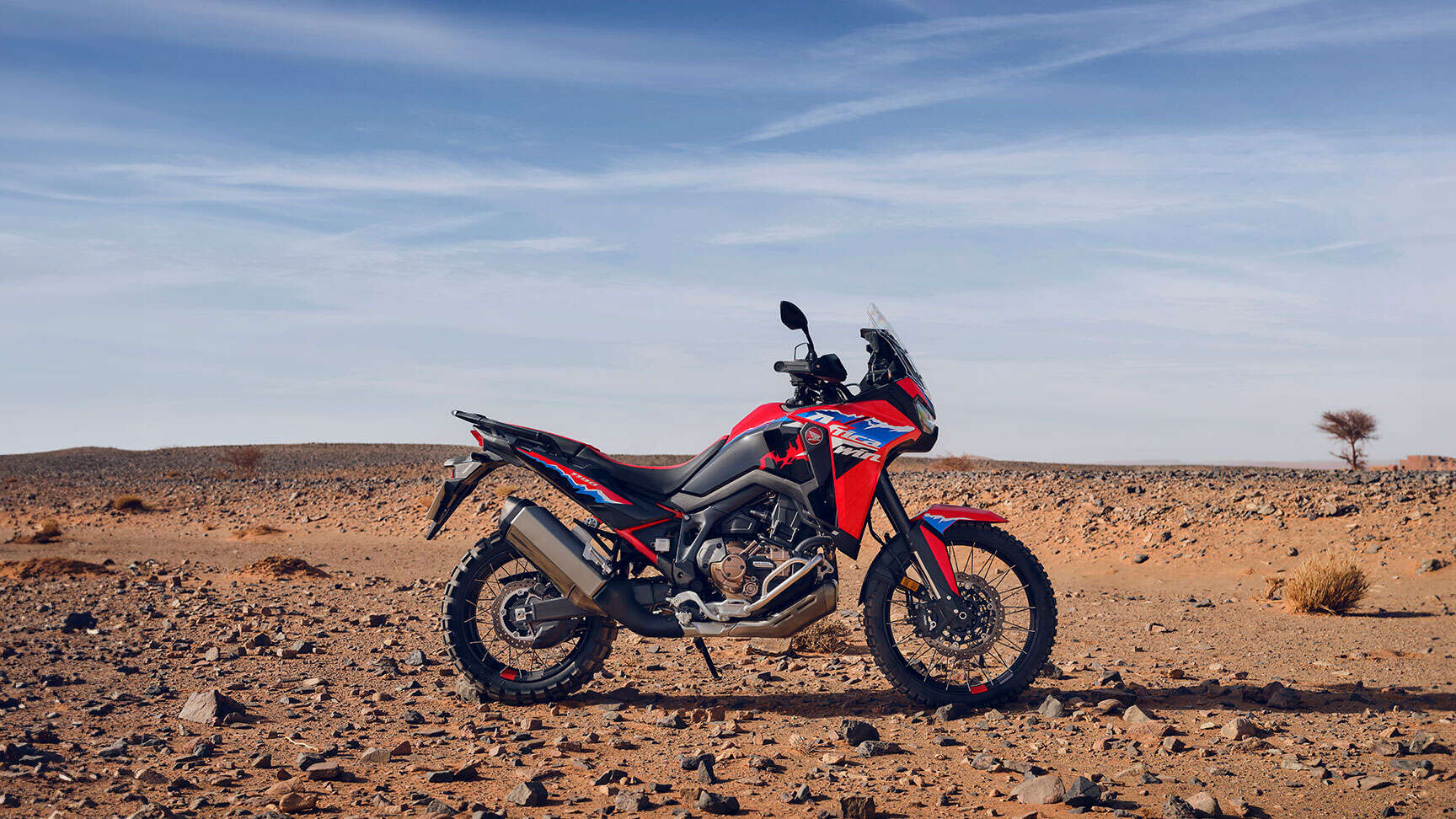 CRF1100L Africa Twin
CRF1100L Africa Twin Adventure Sports
Make It Your Own
Configure your bike with a choice of accessory packs.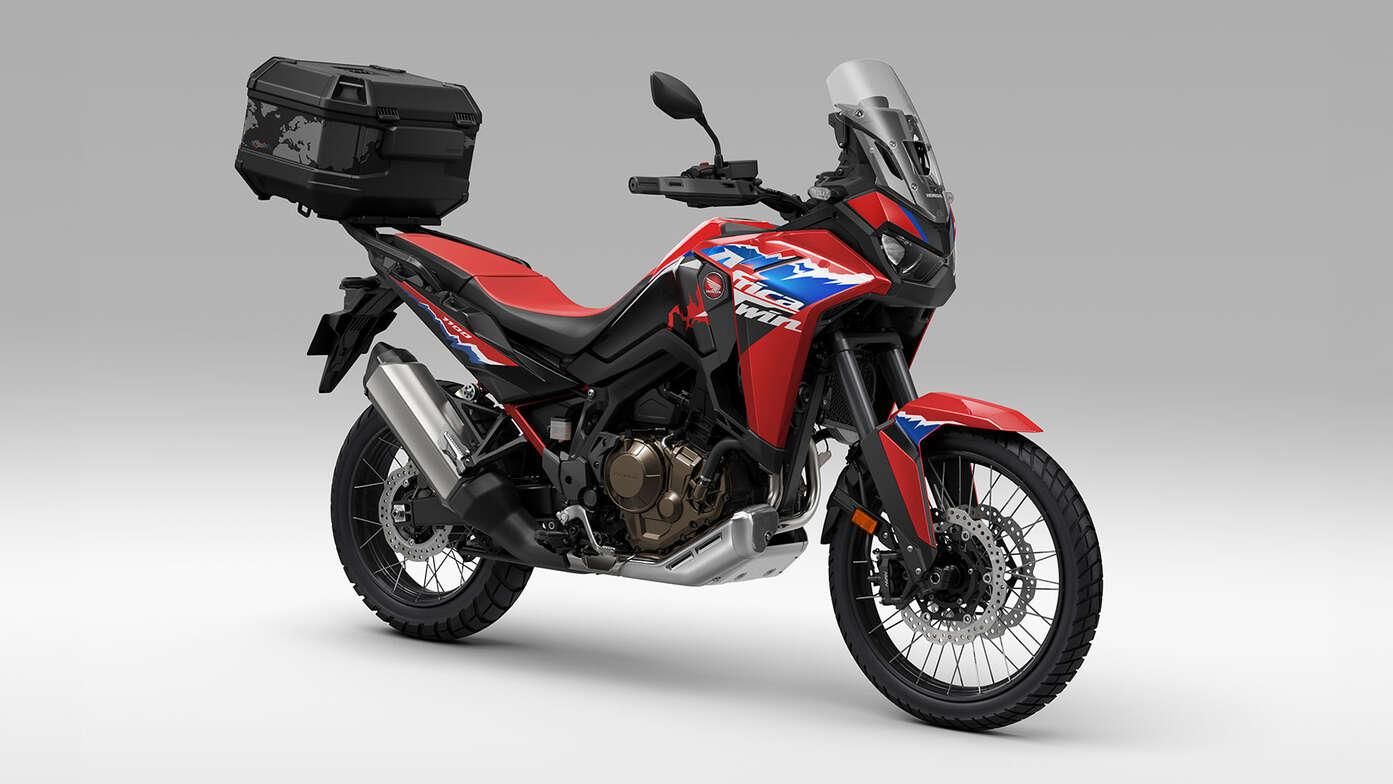 Urban Pack – plastic and aluminium options available
Available with a 58L plastic Top Box (with room for 2 full-face helmets) which has new redesigned decorative stripes, or a 42L Aluminium Top Box, the Urban pack also features a Carrier Bracket, Backrest and inner Bag. The main stand makes for straightforward rear wheel/chain maintenance, while the Heated grips and 12V Socket provide added comfort ride (fitted as standard to the Africa Twin ES).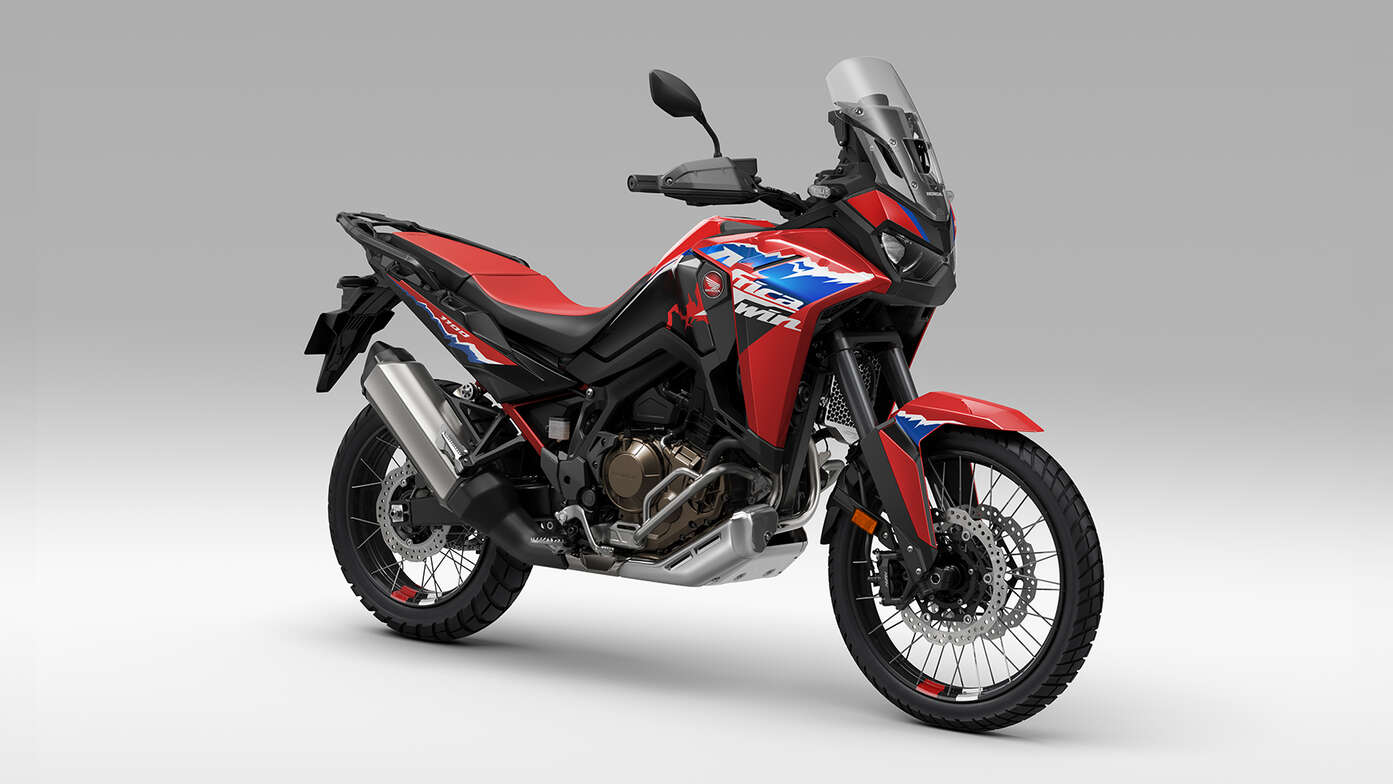 Rally Pack – colour and transmission type dependent
Designed to build-in enhanced off-road durability and performance, with wide Rally Footpegs for extra leverage and control and Engine Guards/Radiator Grill to minimise damage. For the Africa Twin with manual transmission a Quickshifter is included, while the DCT option gains a Foot Shift Lever. Colour-matched Knuckle Guard Extenders add weather protection, Wheel Stripes an exclusive splash of colour.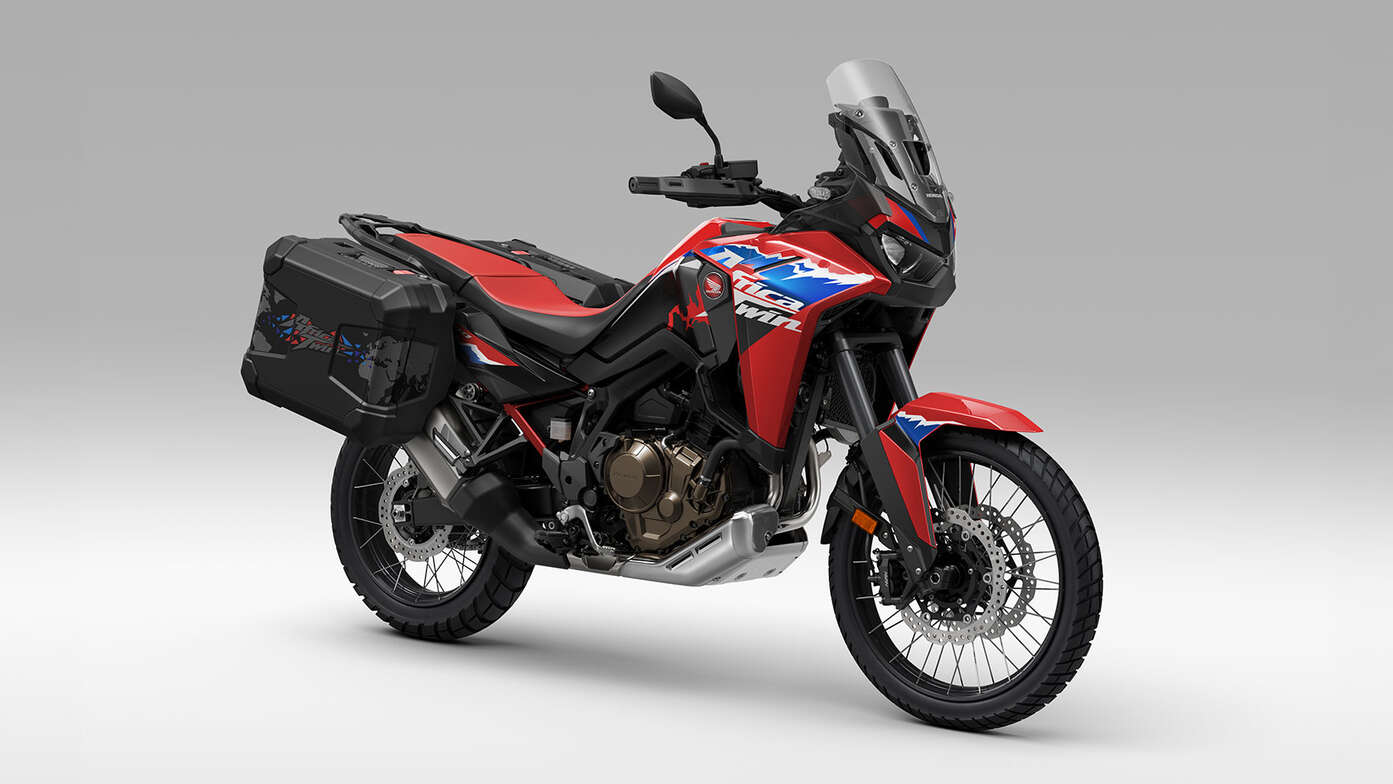 Travel Pack – plastic and aluminium options available
Like the Urban Pack, the Travel pack adds the panniers, also available in Plastic (with redesigned decorative stripes) or Aluminium. Mounting stays and inner bags are included too. Both choices include redesigned Upper Deflectors to channel airflow around arms and shoulders to improve comfort at highway speeds, and Lower Deflectors for legs (only in Africa Twin). Comfort Pillion Footpegs are the finishing touch.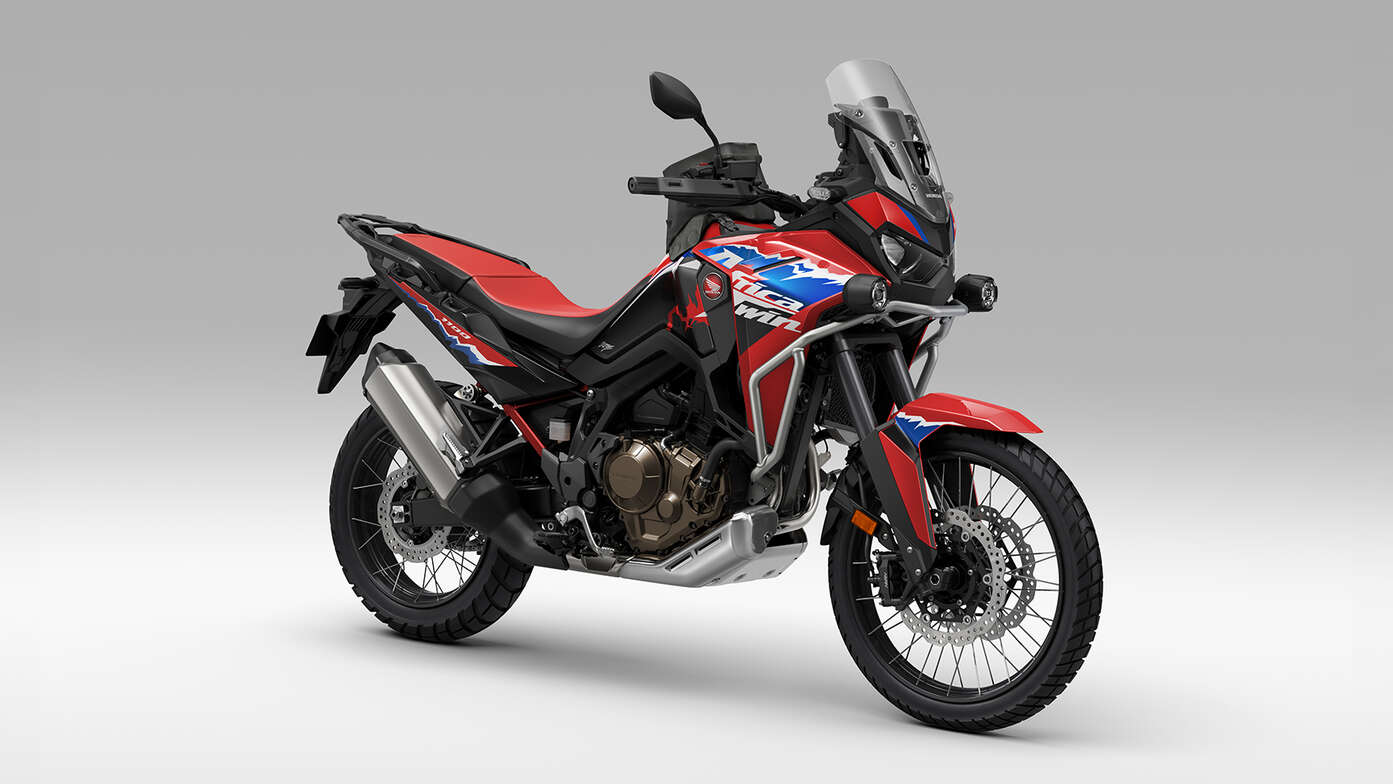 Adventure Pack
Ready for the long haul. New Front Side Pipes protect bodywork and are constructed from 25mm stainless steel with a polished, electrolytic coating that resists corrosion and is easy to clean. They also mount the dual Fog Lights in a higher, more aggressive position. A 4.5L tank bag provides flexible, easy-to-access storage; new Side Tank Pads protect paint from knee scuffs and provide grip for off-road riding.
Honda Motorcycles App
Make your favourite Honda your own through the Honda Motorcycles Europe app. It's easy. Choose the bike you want and select a colour. Then, see how it looks sat in your garage through the AR feature. There's an integrated Accessories Catalogue, so you can add the parts you want. And the Honda Motorcycles Europe YouTube channel is now part of the app, with a gallery of videos to enjoy.
Download for iOS
Download for Android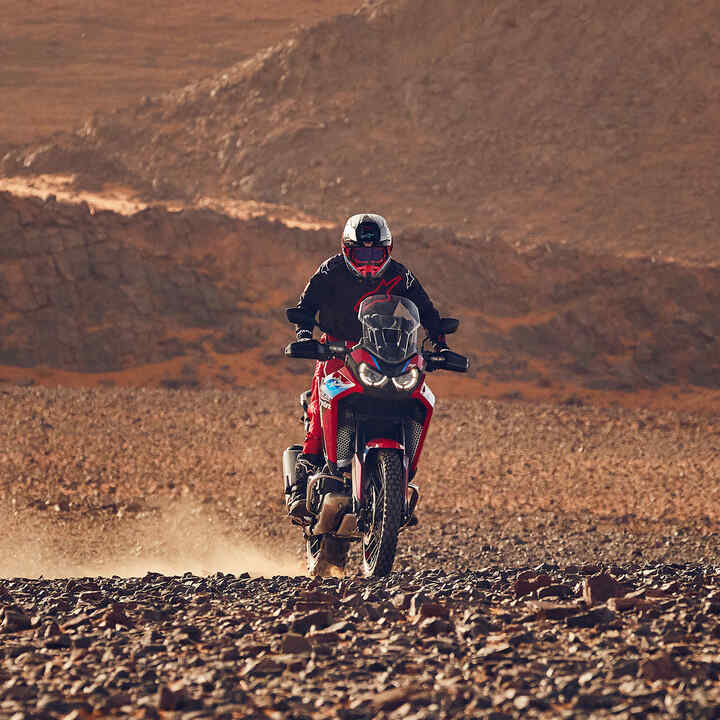 Honda Adventure Roads 2024
It's time for our next adventure, this time Morocco where the Africa Twin will return to its roots, following in the footsteps of previous Dakar rally's. 10 Days, 30 Riders, what are you waiting for? Click to find out more.