Disclaimer - Images shown are a mixture of the current and previous year model.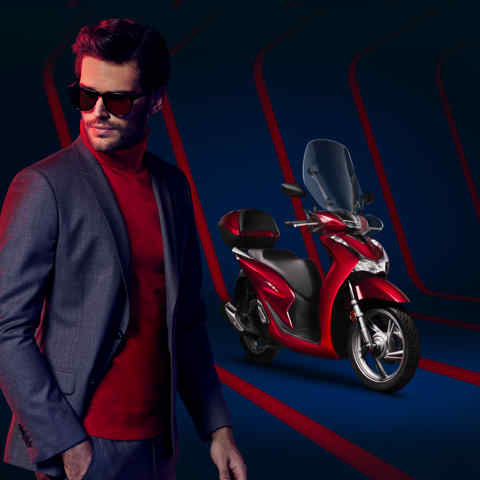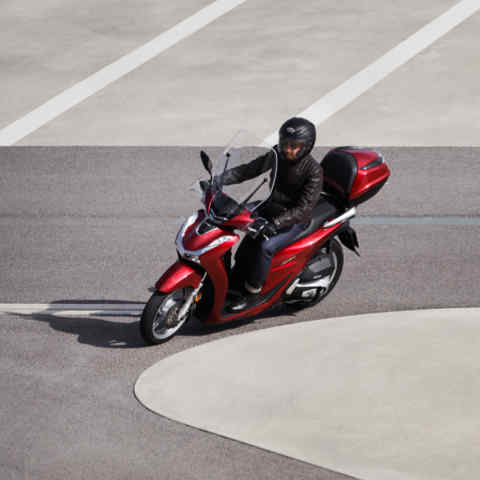 LIFE MOVES SWIFTLY LIKE OUR NEW SH125i
SCULPTED FROM SUCCESS
You always notice the top of the class.
Living in the city, we know your life runs fast. A whirlwind blur of where and when to be. You need to stay ahead. And have a load of fun while you do it. By instinct and design, so does our beautiful, brand new SH125i. It keeps ahead of the pack thanks to its smooth, freshly sculpted sporty style wrapping a more powerful, more fuel efficient HSTC-equipped 4V four-stroke eSP+ engine.
Ultra-modern mobility
Adding convenience, a USB port has been integrated for charging on the move. At the same time a careful redesign of rear suspension geometry has improved ride quality and comfort for you and your passenger. A brand-new LCD dash presents exactly what you need to know clearly and precisely, while complete LED lighting is sharp and highly visible.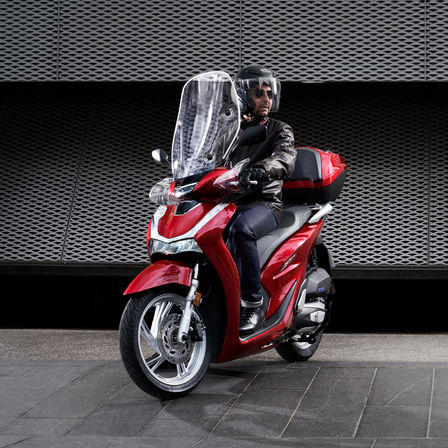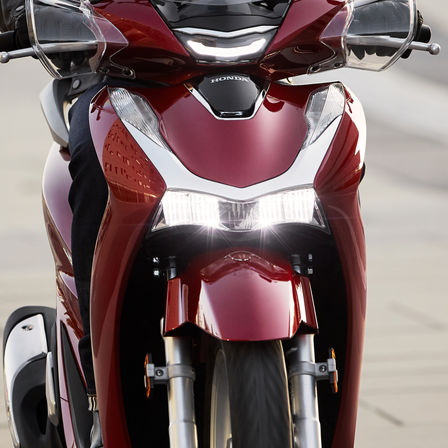 Ride easy
You've got the ease of a Honda Smart Key which operates the ignition, seat, filler cap and steering lock from your pocket, plus the option to add a Smart Top Box that locks automatically and simply opens via a carrier-mounted button. There's also the choice of extra weather protection from windscreen and knuckle guards for winter commuting.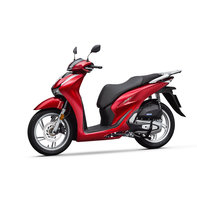 We've moved things around a little and with a lightweight new frame have created over 50% extra room, meaning you can store a full-face helmet with plenty of additional space.
Details matter
Take a closer look at the unique features that put the sophisticated SH125i right at the top of the class.
---

ROTATE
---
Sharp and clear LCD information

The new LCD display presents all warning lights – including Smart Key, HSTC/ABS and Idling Stop operation – neatly around a central digital speedo/odometer display. All operations on the dash are carried out via A/B buttons on the left handlebar.

Full LED lighting for crisp visibility

Super-stylish and sleek the fairing-mounted headlight features a central main beam splitting dual dip beams, while position lights reside above on the handlebar nacelle. And the rear light is LED with a chrome surround, matching the front.

Tough and lightweight frame

Seat height is a very manageable 799mm. The new lightweight, high-tensile tubular steel frame is durable and core to the SH125i's excellent handling. It houses the 7L fuel tank under the flat floor beneath the rider's feet which frees up additional storage space.

Improved rear suspension smooths out bumps

The dual rear shocks feature 5-step spring preload adjustment with 83mm axle travel. For ride comfort the engine hanger link angle and rear suspension angle have been optimised making for more-supple bump-absorption and control.

All-new 4V eSP+ engine

The liquid-cooled 4V eSP+ engine serves up faster acceleration, plus higher top speed than the 2V engine it replaces and features Honda Selectable Torque Control (HSTC) to manage rear wheel traction. It is also EURO5-compliant and returns a very efficient 44.6km/l.
Previous
Next

ROTATE
---
Drag to rotate
Matte Pearl Pacific Blue

Standard

Matte Coal Black Metallic

Standard

Vetro

Standard

Matte Pearl Cool White (SE)

Standard
*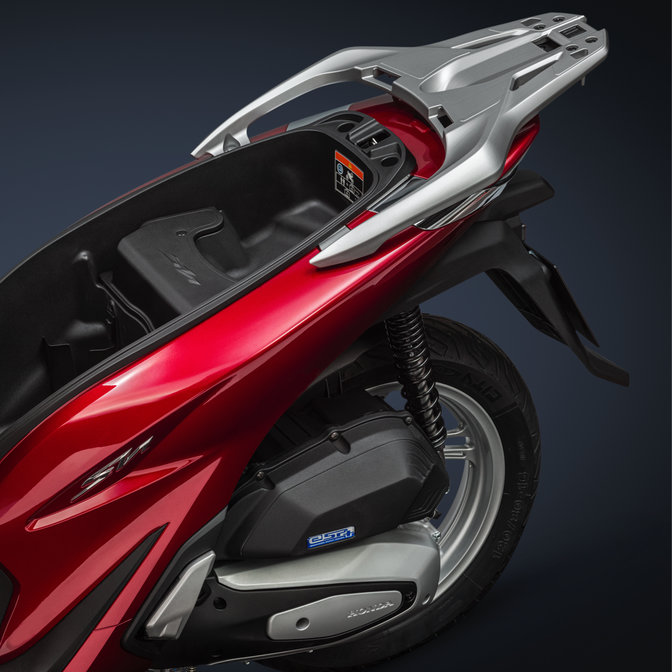 EXTRA STORAGE SPACE
MORE ROOM FOR THE BIG THINGS. AND THE LITTLE THINGS. By moving the 7L fuel tank under the floor, and redesigning the SH125i's tubular steel frame, we've freed up a whole load of useful room. Over 50%; an extra 10L gives a total of 28L under-seat storage, so you can easily tuck away a full-face helmet when you don't want to carry it – and a whole lot of everything else.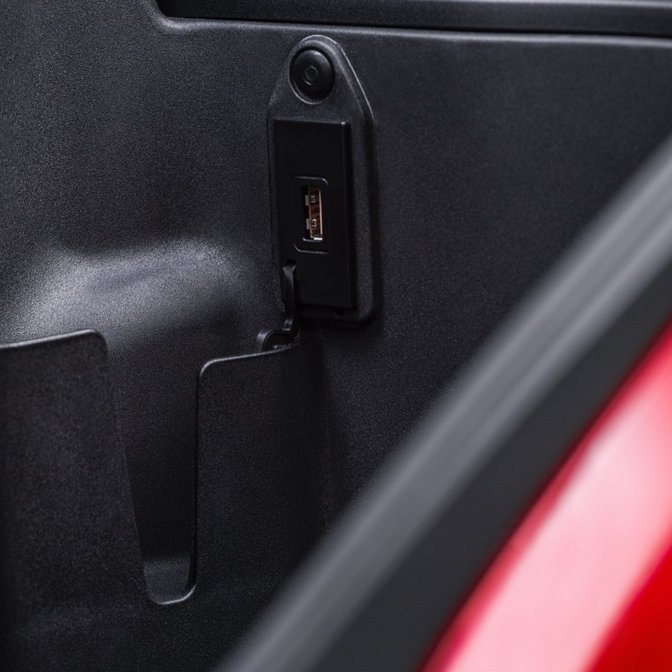 USB CHARGER BUILT IN
ALWAYS KEEP IN TOUCH. You're on the move. And running out of charge in your mobile device can be inconvenient. To help out we've subtly integrated a USB socket into the under-seat storage compartment. No need for an adaptor; simply connect your device's lead, plug it in, and go. When you arrive, you're good.
IMPROVED DYNAMIC PERFORMANCE
The SH125i's new liquid-cooled 4V eSP+ engine is faster, leaner and cleaner than ever before.
To maintain the SH125i's number one status, we've given it a redesigned 124.8cc, liquid-cooled 4V four-stroke eSP+ engine that smoothly develops more power (9.2kW @ 8,250rpm) and torque (11.4Nm @ 6,500rpm). So standing start and passing acceleration times are faster than the previous SH125i, as is top speed. All of which is useful for beating busy traffic.
Lean and clean
Fuel economy (without Idling Stop activated) goes from the 43.3km/l of the 2V eSP+ engine to the 4V eSP+ engine's 44.6km/l (WMTC mode). And just as important to owners and for a machine that will spend most of its time in an urban environment the SH125i's eSP+ engine is now EURO5 compliant; the allowable limits for exhaust emissions specified by EURO5 are drastically reduced compared to those of EURO4.
IDLING STOP TECHNOLOGY
SILENTLY SWITCHES THE ENGINE OFF AND ON AT STOP LIGHTS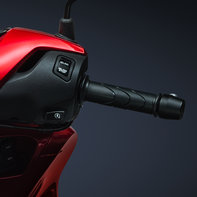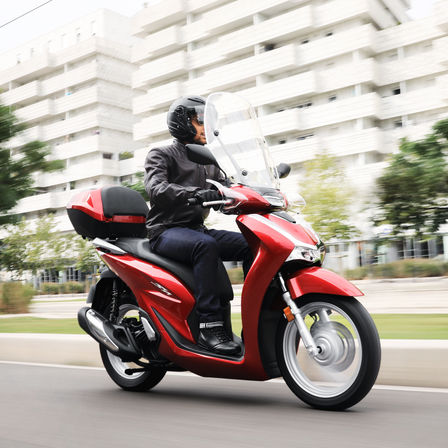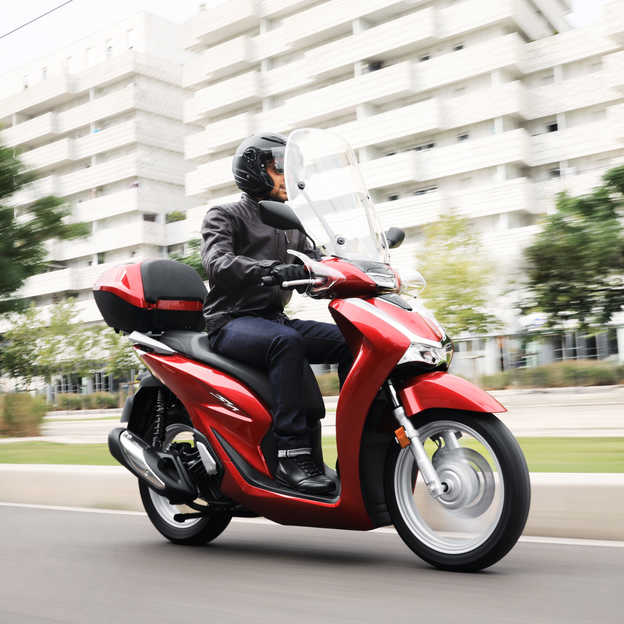 SPICE UP YOUR LIFE
Two new razor-sharp new paint options add sports appeal to the SH125i.
Want your SH125i to stand out from the crowd? Choose between stealthy Matte Rock Gray or subtle Matte Pearl Cool White and enjoy a contemporary look with sporting edge, distinctive floor stripe with SH logo, red SH and Honda logo detailing, as well as sporty headlight stripes.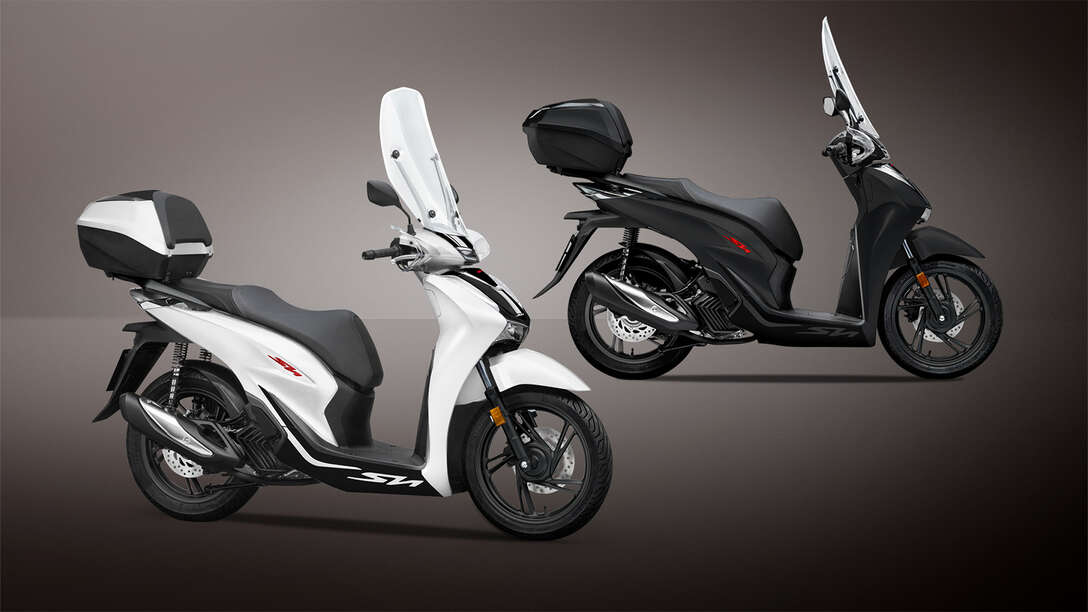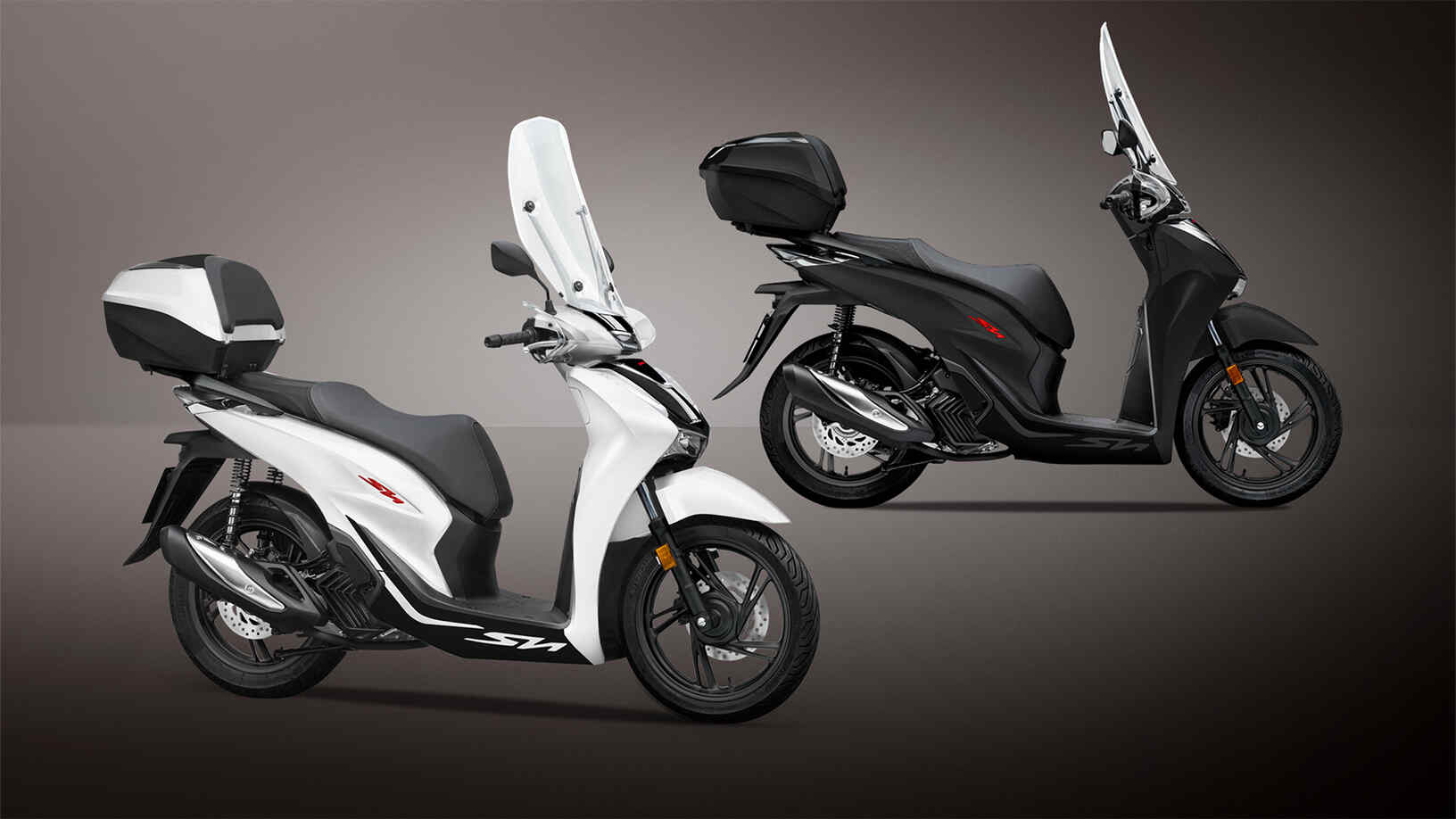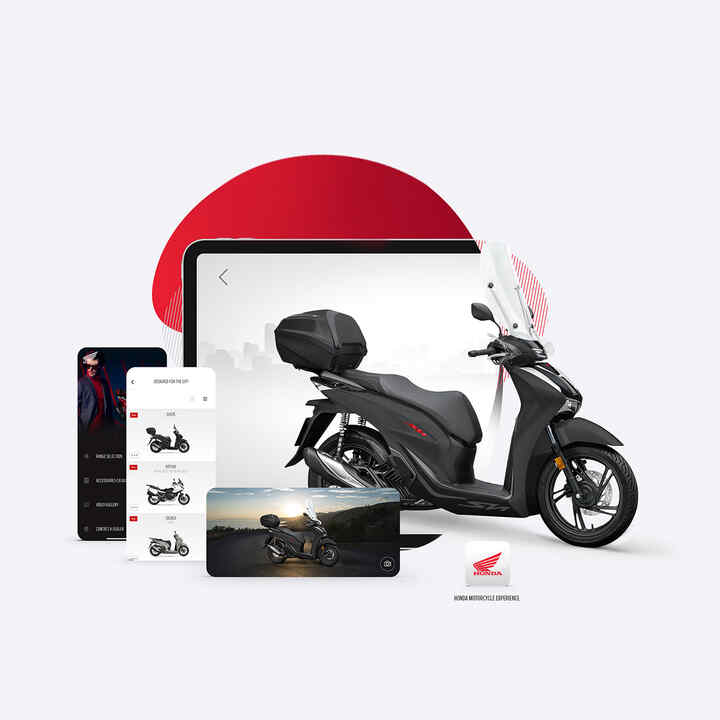 HONDA MOTORCYCLES EXPERIENCE
Make your favourite Honda your own through the Honda Motorcycles Europe app. It's easy. Choose the bike you want and select a colour. Then, see how it looks sat in your garage through the AR feature. There's an Integrated Accessories Catalogue, so you can add the parts you want. And the Honda Motorcycles Europe YouTube channel is now part of the app, with a gallery of videos to enjoy.