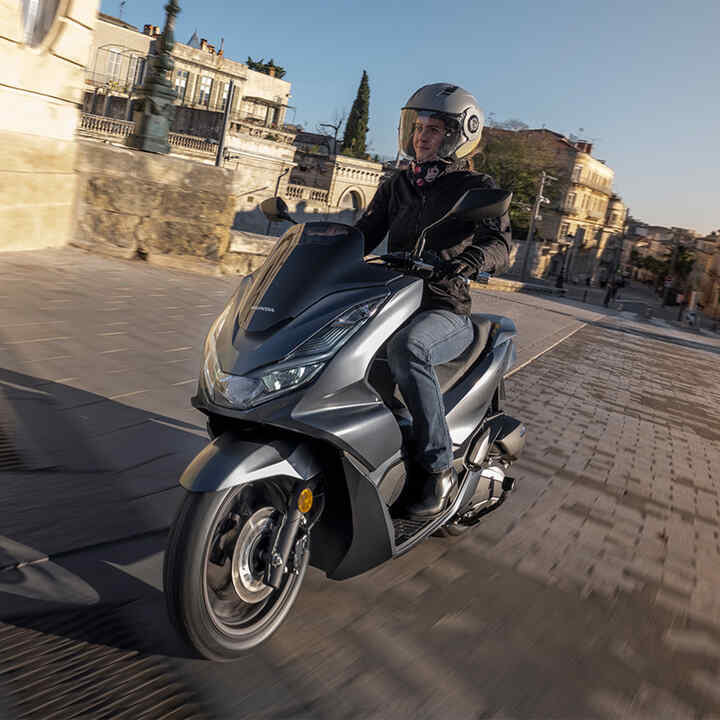 THE BEST VIEW OF THE CITY
The PCX125 is powered by a liquid-cooled 4V engine, delivering smooth acceleration, while still returning amazing fuel economy. Smartly updated styling strikes futuristic lines, whilst the wide tyre size, long-travel rear suspension, ABS and Honda Selectable Torque Control, ensure a smooth and confident ride. The PCX125 has practicality on its side too with under seat storage for a full-face helmet.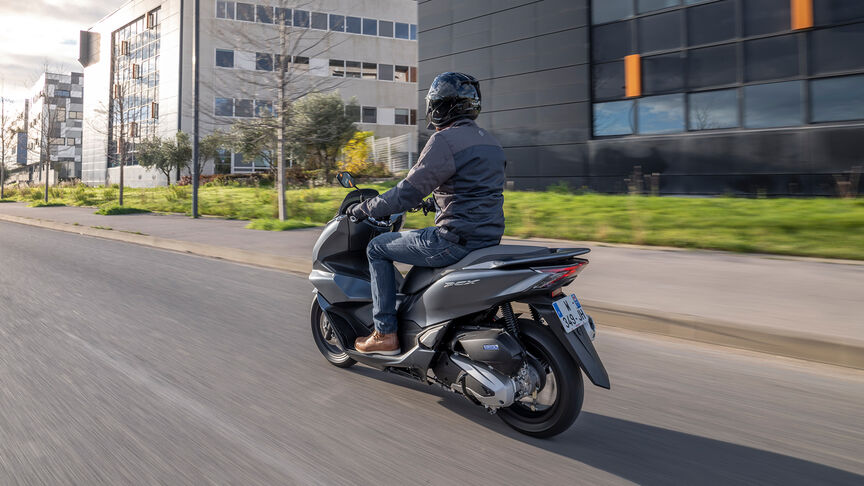 Time on your side
There's no waiting around for an expensive taxi, or delayed public transport with the PCX125 – just hit the start button and go. The slim, agile frame can wriggle through town traffic with ease, taking you where you need to be in style – and on time.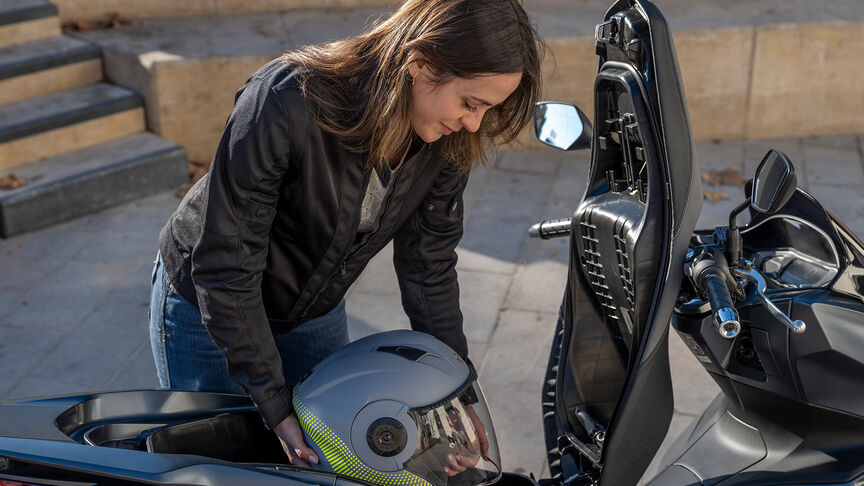 Around town practicality
The ignition is operated by the Smart Key – just put the key in your pocket and ride. It also manages the optional Smart top box, which is unlocked when you're close to your PCX125, and automatically locks when you walk away.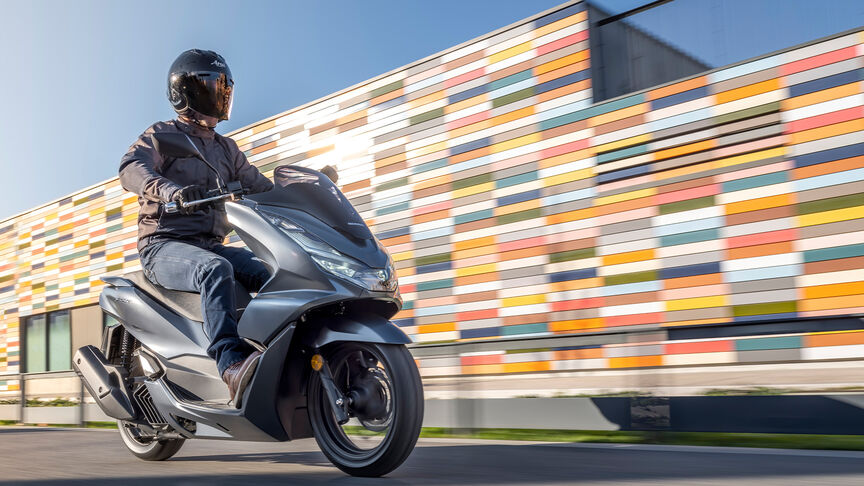 Improved efficiency and performance
Powered by a new eSP+ four-valve, water-cooled SOHC engine, the PCX is more efficient than ever before. With technology such as Idling Stop technology and an AGC generator, the PCX isn't just more powerful but also EURO5 compliant.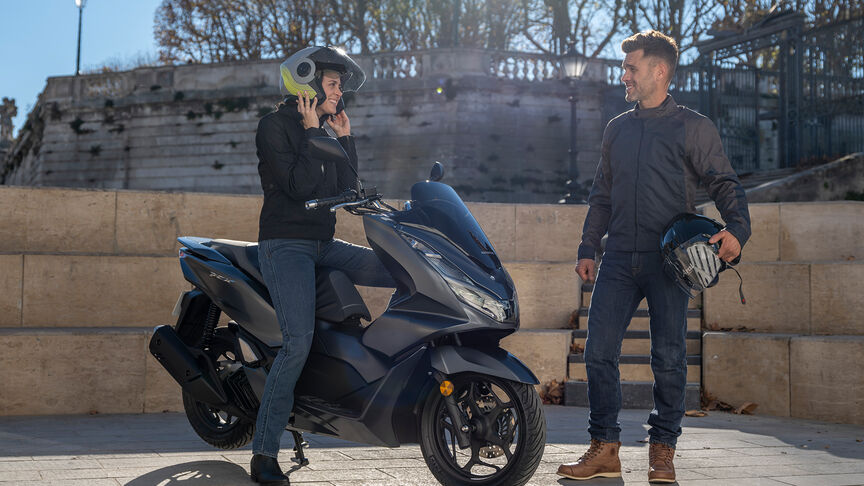 Look the part
The PCX125 is designed to get you where you want to be in the city and look good as it does. Its stunning looks have always grabbed attention, never more so than now, but, hidden away beneath the swooping bodywork, are details that make life that much easier.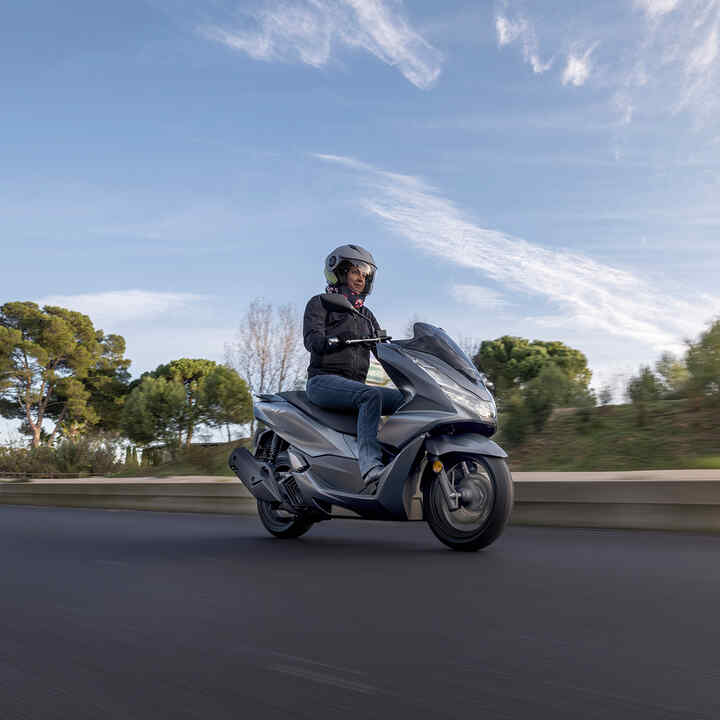 Get up close to the PCX125

Take a good look at all the little things that make the PCX125 a big favourite.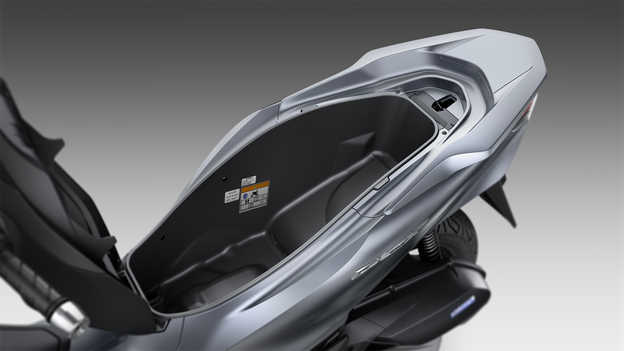 Extra storage space and USB Type-C charger
Total volume under the seat is now 30.4L – perfect to store a full-face helmet, and much more. You'll also find a USB Type-C socket in the glovebox, to keep your smartphone topped up while riding.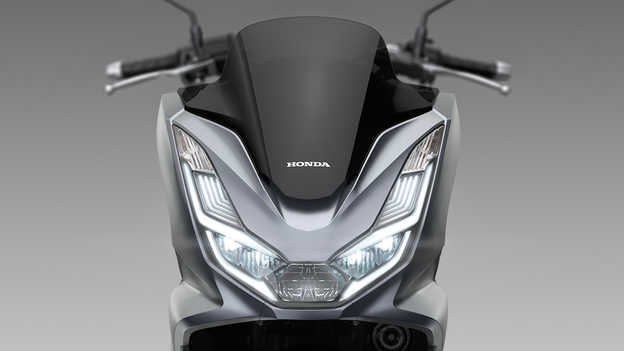 Full LED lighting
In busy urban environments it pays to see and be seen, night and day. Full, premium LED lighting does both and picks the PCX125 out from the crowd with a crisp signature daytime running light up front.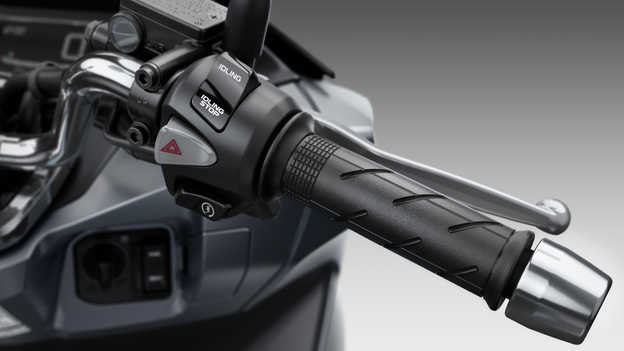 Honda Selectable Torque Control (HSTC)
HSTC monitors and manages rear tyre grip at all times, giving you extra confidence to ride in wet conditions and lets you know when it's actively working. And, if you want, you can turn HSTC off.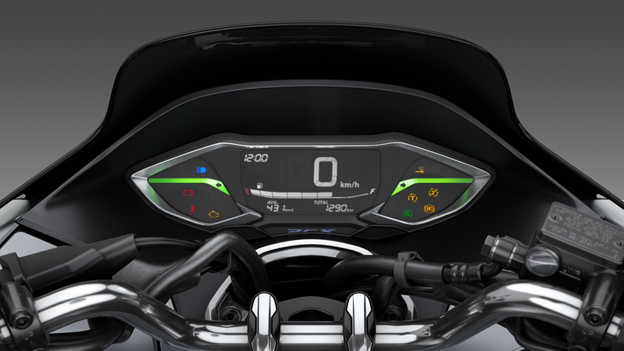 Attractive digital instrument display
A new, widescreen central console instrument layout presents all information neatly and concisely. A central LCD shows speed, while other information available includes odometer, trip meter, fuel gauge, average fuel consumption and Idling Stop indicator.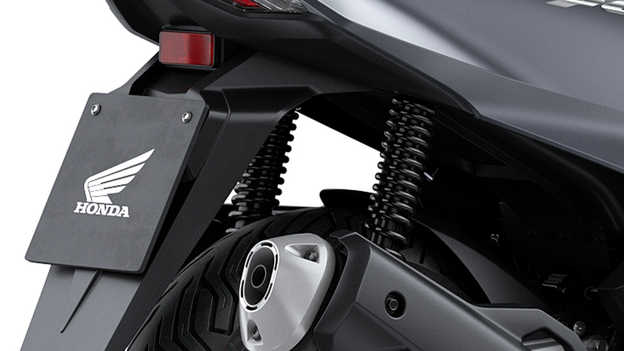 New wheels with larger tyres
Both wheels employ a stylish new design to complement the bodywork. Tyre sizes are also larger, 110/70-14 front and 130/70-13 rear, for improved road holding and ride quality – no matter where you ride in the city.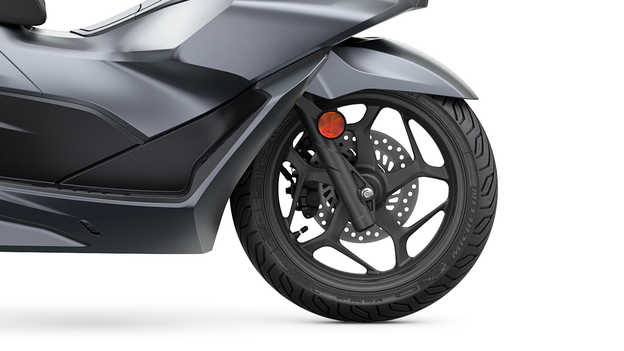 Redesigned frame and rear suspension
The new duplex steel cradle frame is designed to deliver the durability needed for the rigours of urban life, without losing the in-town manoeuvrability the PCX125 has always been famous for. We've also added longer travel rear shock absorbers, with heavier springs, to enhance comfort.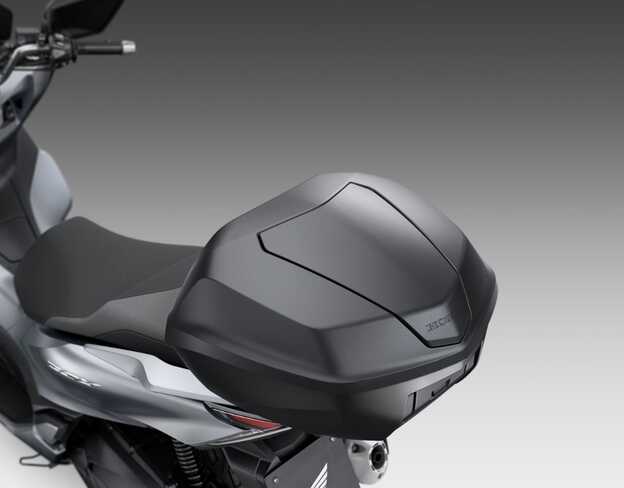 35L Smart Top Box
The Smart Top Box can be colour matched. Opened and locked by the same Smart Key that operates the ignition, it offers flexible storage space for the weekday commute or weekends away. Can store one full-face helmet, or two open-face helmets. An inner bag is also available.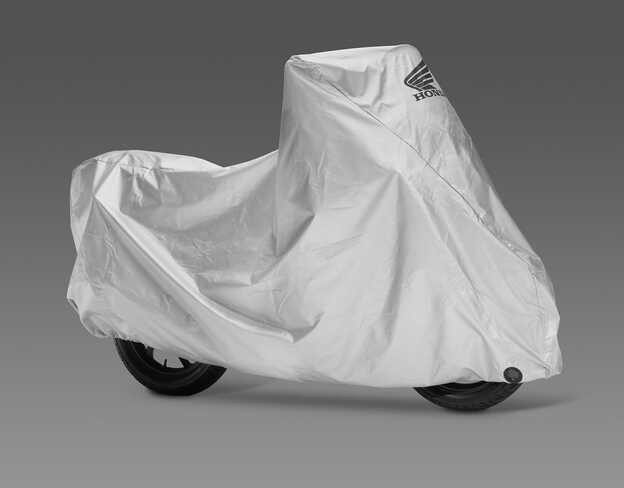 Outdoor Cover
This Outdoor Cycle Cover protects the paintwork against U.V. rays. Its water-resistant breathable fabric allows the bike to dry while covered. Equipped with a rope to avoid fluttering, this cover features 2 ring holes in front to easily operate a U-lock.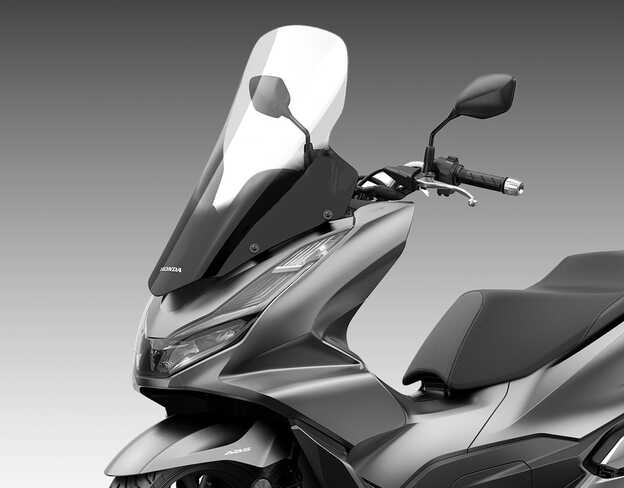 Windscreen
The Windscreen improves the overall comfort of the bike by protecting the against the elements. The wind screen also adds to the appearance of the bike.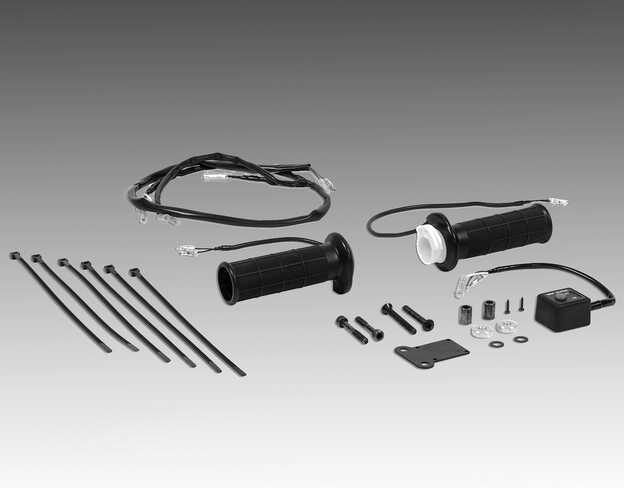 Grip Heater
Extremely slim heated grips focusing on the area of the hands most sensitive to cold with a 5-level integrated controller for maximum rider comfort. Operated with the handlebar switch, where it will be able adjust the temperature level. An integrated circuit protects the battery from draining. Must be combined with Grip Heater Attachment.