NX500
New Experience


Where to? Your choice. The compact, versatile new NX500 offers perfect city agility and off-road ability. It's comfortable too, with an aggressive, rally-style fairing and large screen shaped for wind protection. High specification technology includes 5-inch TFT screen with Honda RoadSync smartphone connectivity. And its A2-compliant twin-cylinder engine delivers flexible – hugely enjoyable – performance with HSTC traction management. The adventure begins.
Close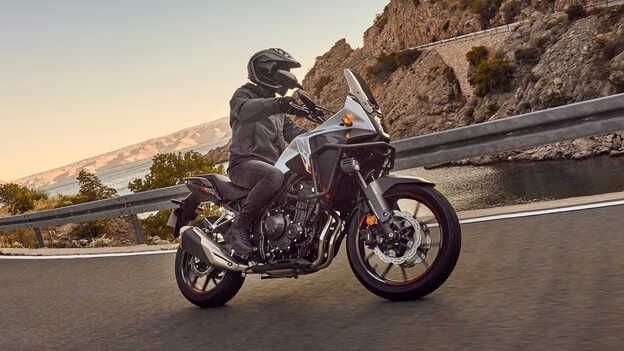 A2-Compliant Twin-Cylinder Engine
Strong torque off the bottom and through the middle of the rev-range, with 43Nm peak, for the responsive acceleration all riders enjoy on, and off, road.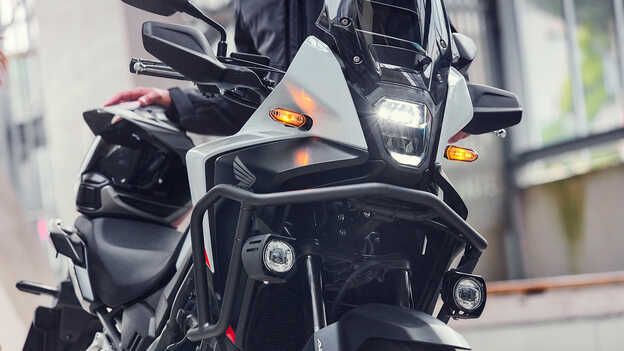 Powerful New Headlight
Throws out strong beam penetration and wide light distribution either side – which means you see a lot more when cornering at night.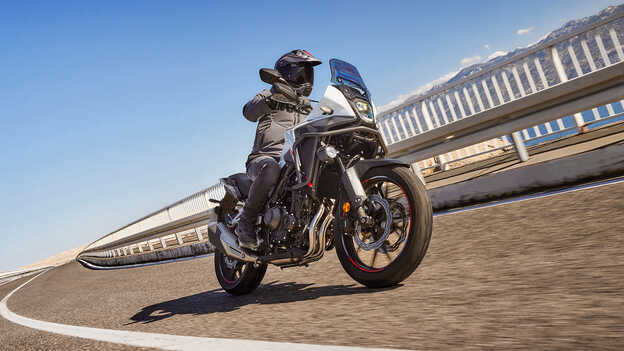 Rally-Spec Wind Protection
For enhanced comfort over a long day's ride the purposeful fairing and tall screen combine to direct airflow neatly over and around. Sharp graphics add a hint of competition style.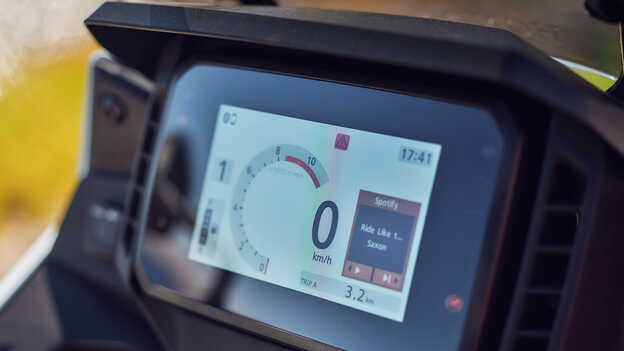 Fully Connected Colour TFT Display
New optical bonding technology to reduce glare and improve readability, the new 5-inch screen is intuitive to use and features the smartphone connectivity of Honda Roadsync.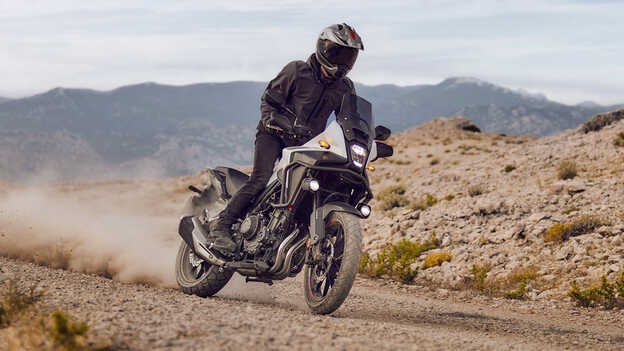 Honda Selectable Torque Control (HSTC)
On the road, HSTC manages rear wheel traction in all conditions, especially in the rain. On dirt or gravel it can be switched off completely, for maximum drive.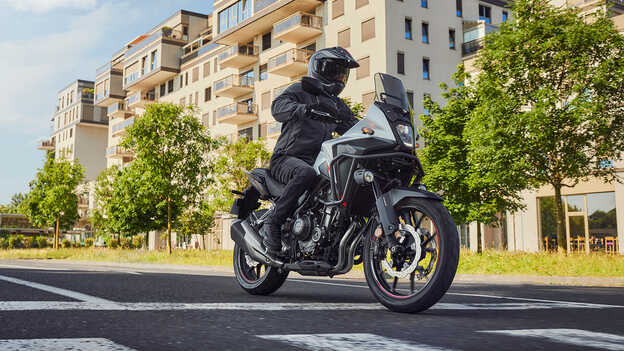 Showa SFF-BP USD Forks
This is class leading suspension. 41mm Separate Function-Big Piston forks are set for precise reaction and feel, with dual discs for powerful braking.
Previous
Next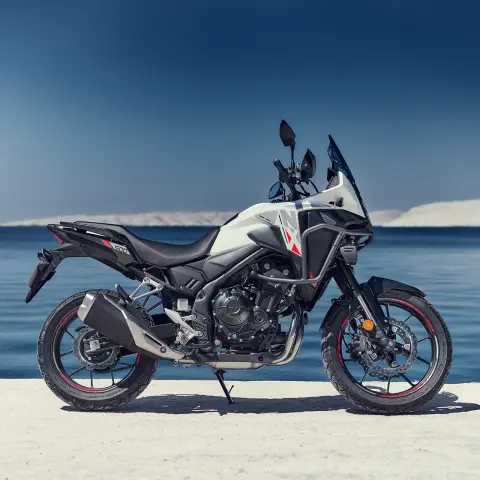 Go Short. Go long.
Go where you choose. Effortlessly at home in the city but built for adventure, the rugged NX500 blends a tough off-road silhouette with modern off-road-inspired design. Long-travel suspension absorbs the urban rough and tumble just as it does gravel trails helped by new, lightweight wheels. The 17.7L fuel tank holds plenty of range. And a relaxed riding position – and natural control of wide handlebars – are matched to an aerodynamic package that neatly channels airflow.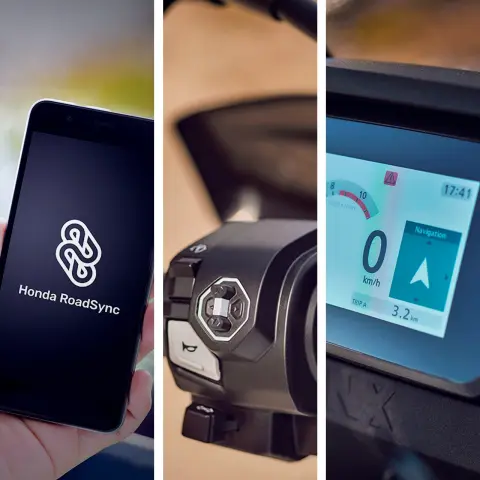 Make The Connection
This bike's got your back. The 5-inch full-colour TFT display is all new, operated by a backlit switchgear with a very natural hand position allowing better visibility in all conditions. Both have been designed together for easy use, and the screen is engineered to minimise glare in bright sunlight. It also offers full connectivity through the Honda RoadSync app. A first in class, for Android and iOS smartphones, it means you can access on-screen turn-by-turn navigation, make and receive calls or listen to music while you ride.
You're in Control. No Matter the Journey
830mm Seat Height Comfortable reach and control, with 250mm ground clearance giving the NX real adventure capability.
196kg Kerb Weight Easy to manage at walking pace, and through traffic, with reassuring stability out on the highway.
19-inch Front Wheel For the sure-footed feel to ride on over rough surfaces and consistent, confidence-inspiring grip.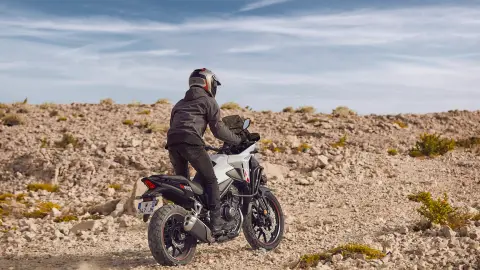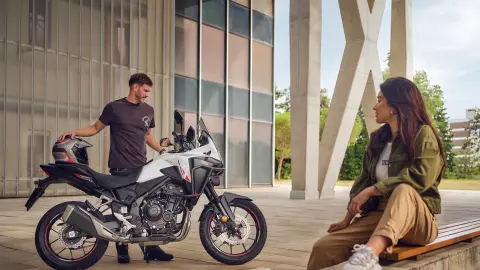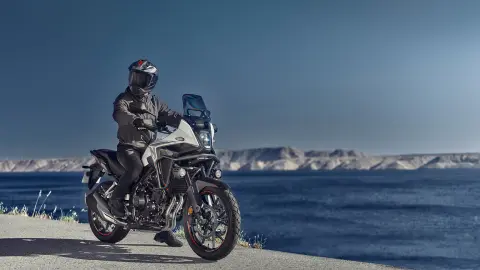 Colour To Suit Every Adventure
Take a good look around and choose yours.
Drag to rotate
Matte Gunpowder Black Metallic

Standard

Pearl Horizon White

Standard

Grand Prix Red

Standard
*
Make It Your Own
Configure your bike with a choice of accessory packs.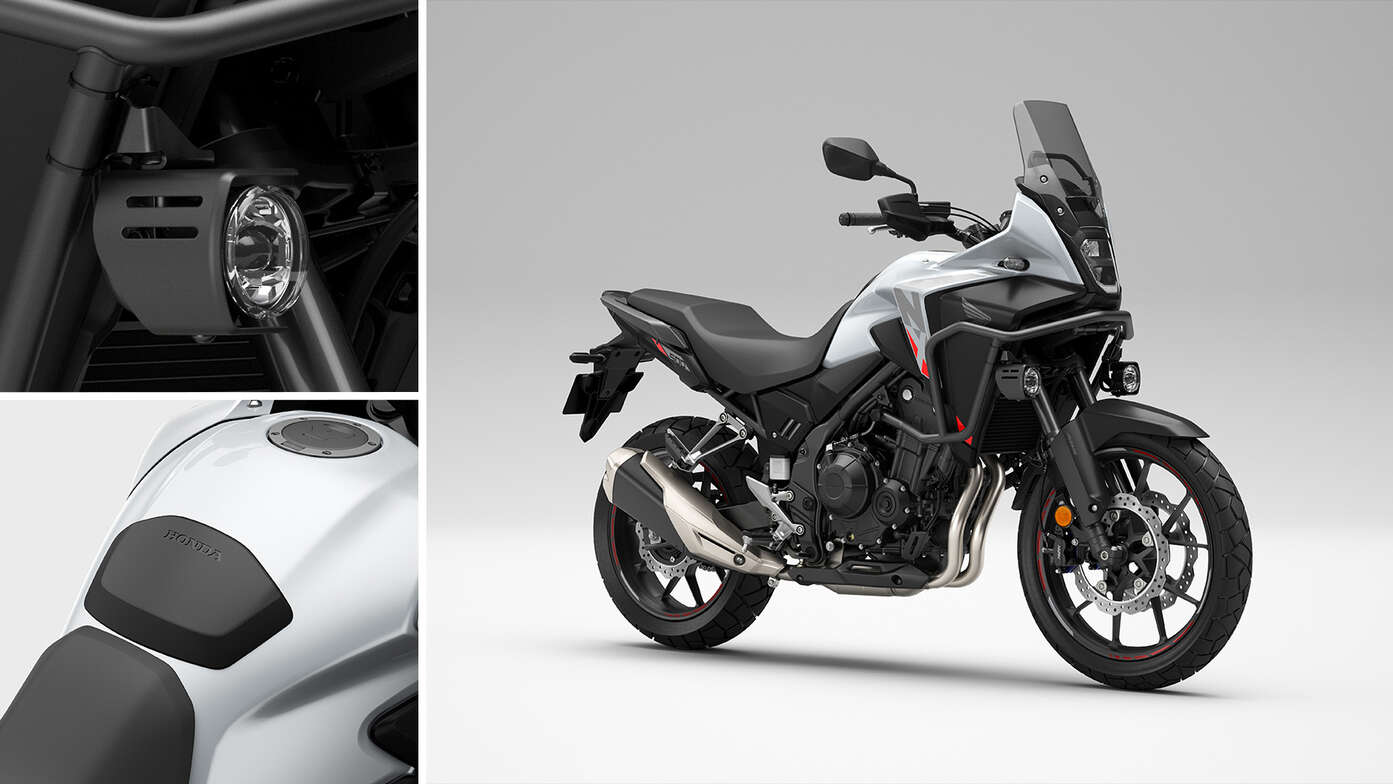 Adventure Pack
Prepare for the rigours of the open road. Fog Lights mark out the NX500 to other road users at a distance, Knuckle Guards protect hands while the Smoked Screen and Wheel Stripes add style. The Tank Pad shields paint from zip damage.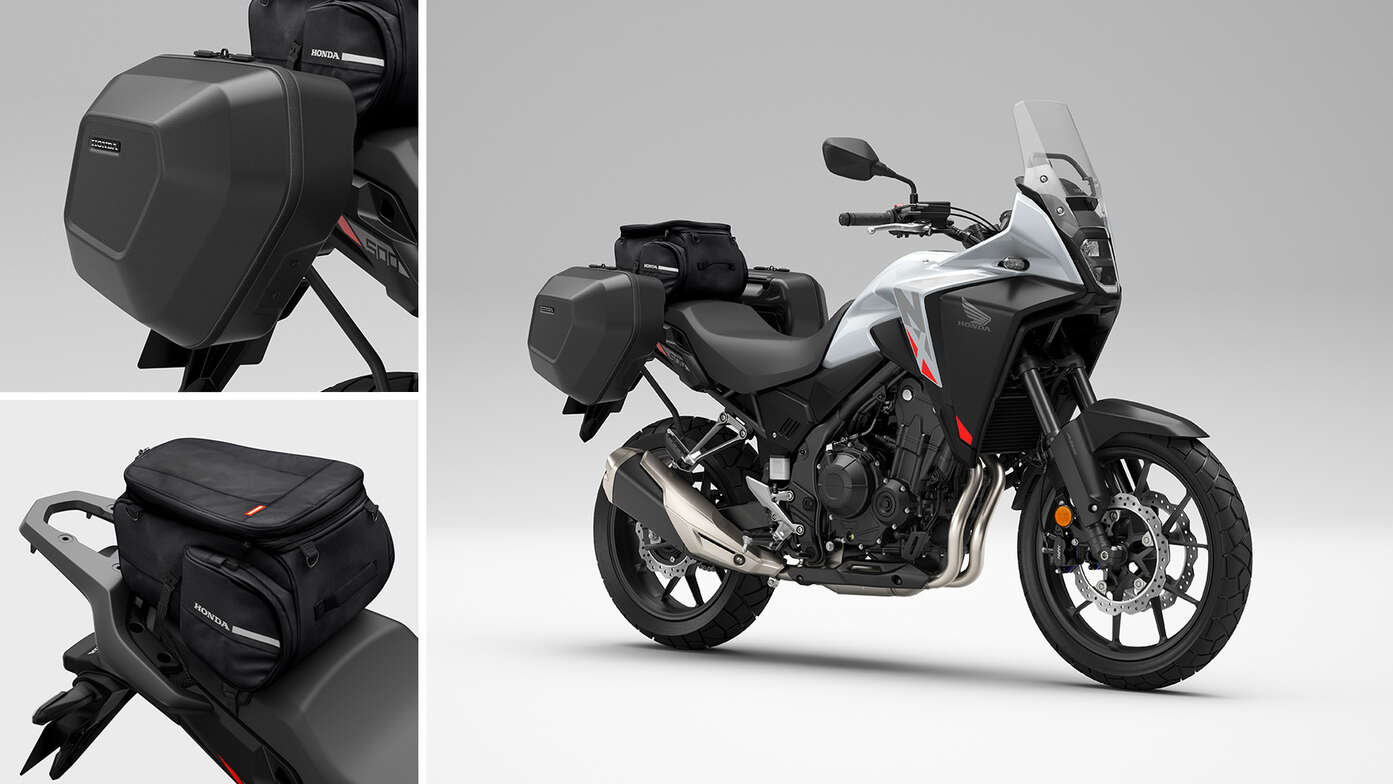 Travel Pack
Travel is what the NX500 is made for, so the dual Soft Panniers, Tank Bag and Rear Seat Bag add flexible carrying capacity that's easy to attach and remove.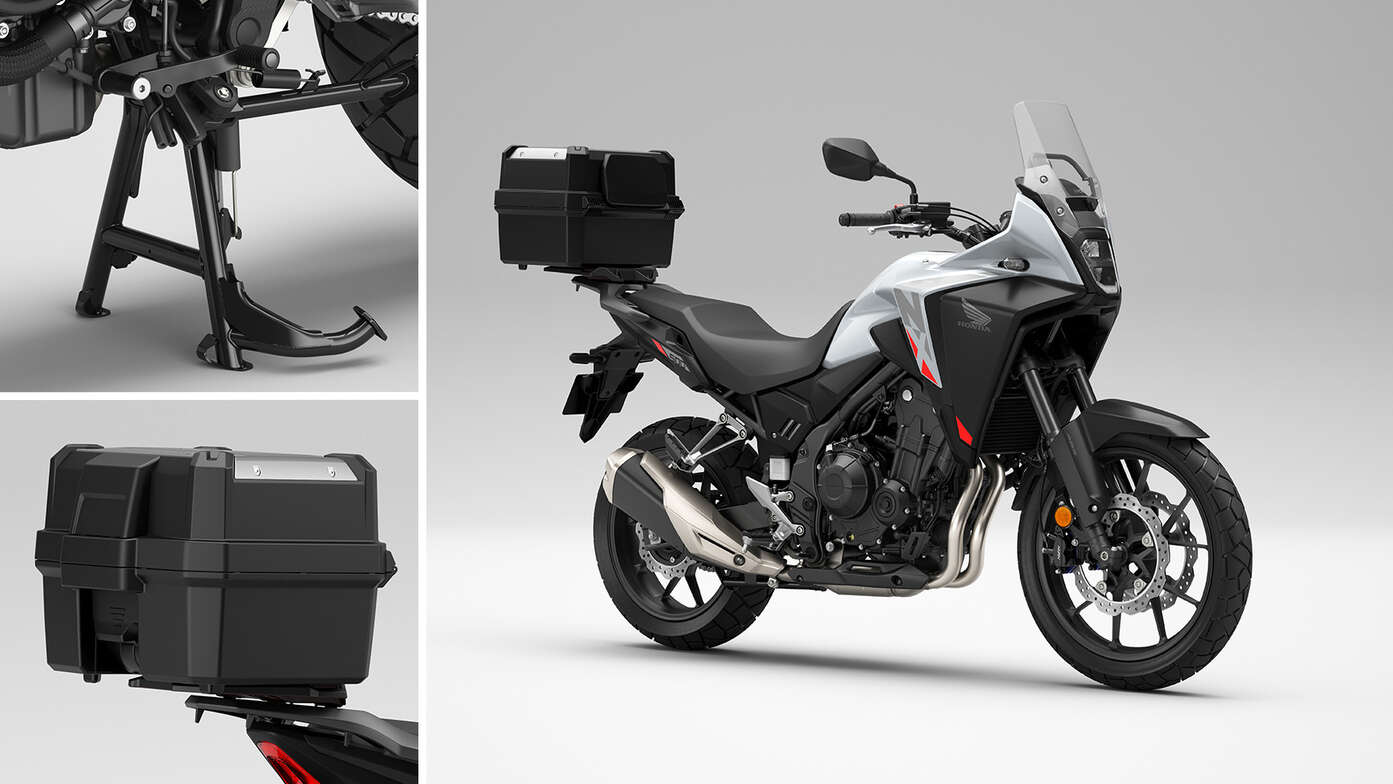 Urban Pack
If you're in and out of town on a daily basis this is the perfect setup; a 38L Top Box offers plenty of storage space (enough for a full-face helmet) and comes complete with Pillion Backrest and handy Inner Bag.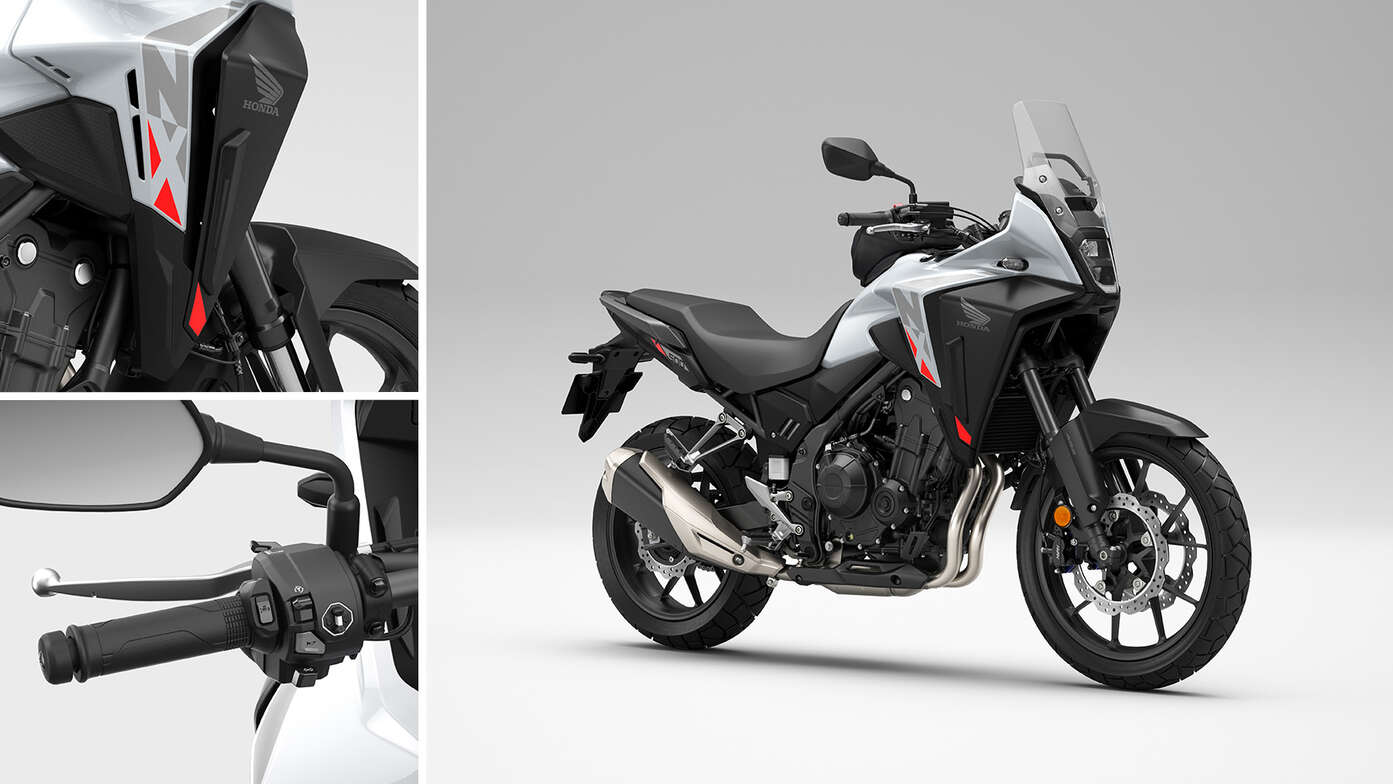 Comfort Pack
Build in even more practicality. Heated Grips take the cold out of winter days and Wind Deflectors help keep weather away. An ACC Socket charges whatever you need and a Main Stand ensures fuss-free chain maintenance.
Honda Motorcycles App
Make your favourite Honda your own through the Honda Motorcycles Europe app. It's easy. Choose the bike you want and select a colour. Then, see how it looks sat in your garage through the AR feature. There's an integrated Accessories Catalogue, so you can add the parts you want. And the Honda Motorcycles Europe YouTube channel is now part of the app, with a gallery of videos to enjoy.
Download for iOS
Download for Android