CBR1000RR-R Fireblade
Born to Race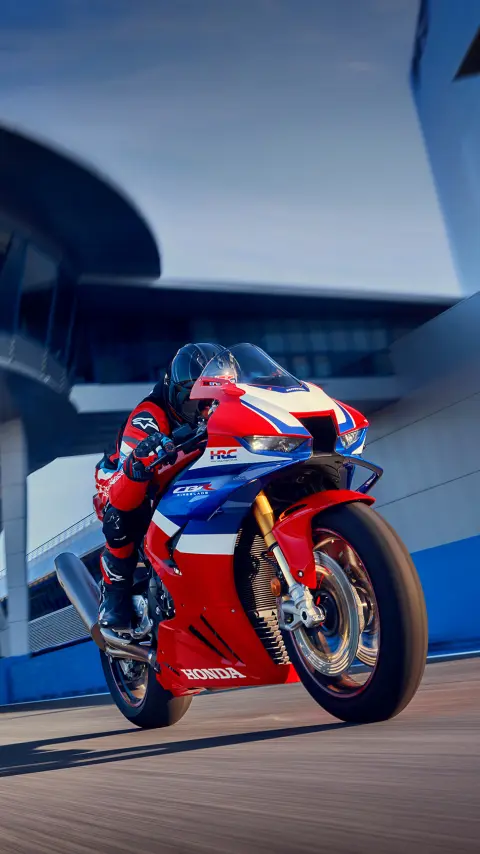 This is why we race. Why we've always raced, and it is feedback from HRC and our riders that's produced the new CBR1000RR-R Fireblade. It's got more mid-range power from intake and cylinder head upgrades, with revised gearbox ratios for incredible drive out of corners. We've maintained peak power, with improved response from Two Motor Throttle By Wire control that makes every rpm count and puts pinpoint throttle precision in your right hand. Weight savings and a finely rebalanced chassis rigidity boost handling and grip feel. Updated fairing winglets maintain downforce with less steering effort at speed and, whether you're running through bends on a winding road or hitting apexes lap after lap, the new riding position opens up total freedom of control. Made to race? No, born to race.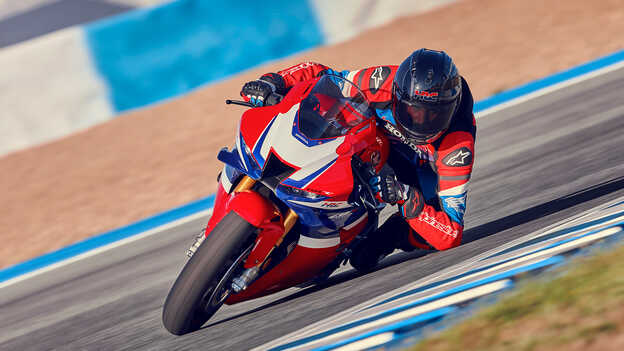 1000cc DOHC Inline Four-Cylinder Engine
We've kept the short-stroke, semi-cam design's stunning 160kW / 215hp peak power @ 14,000rpm, but now it develops stronger, with more much precise mid-range punch the moment the throttle is tapped on.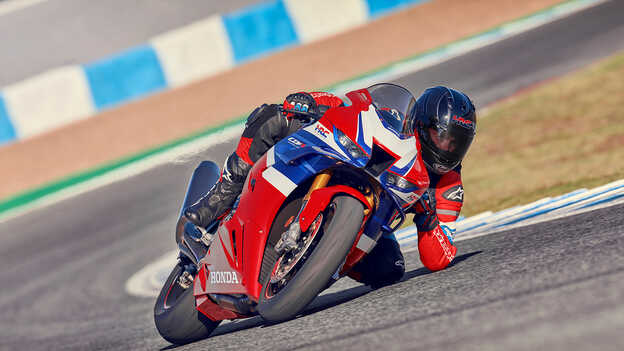 Unique Separate Control Two Motor Throttle By Wire
A first for Honda mass production. Two Motor TBW delivers separate control for each pair of cylinders, for much smoother throttle response and improved engine braking performance.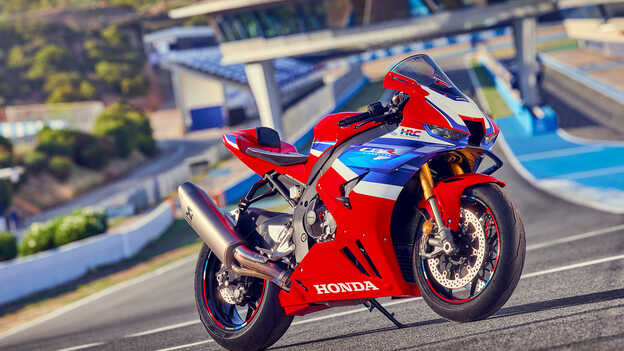 New Winglet Aerodynamics
HRC have designed new winglets which maintains downforce and front-end grip – but with 10% less yaw moment, delivering high-speed handling agility.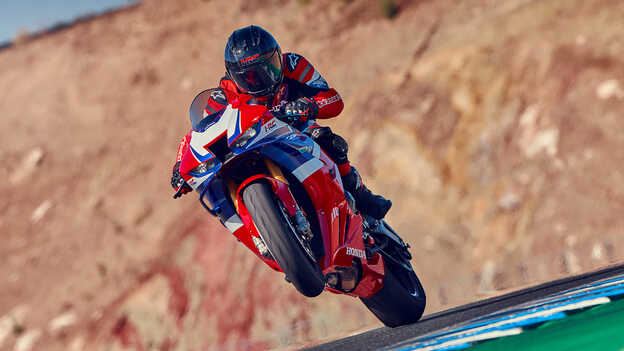 6-Axis Inertial Measurement Unit
The IMU provides accurate, real-time control of new 3-level ABS Braking with Race, Track and Standard modes. A 3-level Honda Electronic Steering Damper (HESD) ensures chassis stability.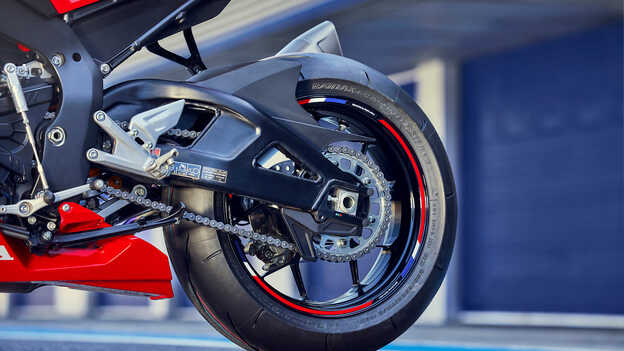 RC213V-S Derived Aluminium Swingarm
Optimised for the Fireblade with a carefully designed-in rigidity balance to elevate rear grip and feel. The rear engine mount acts as upper shock mount for a more direct connection to the rear tyre.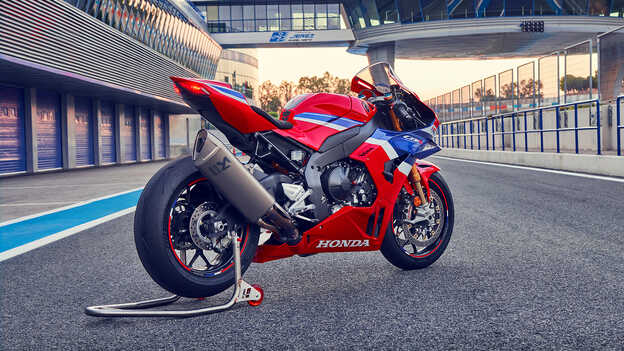 Akrapovič Titanium Muffler
We've increased muffler volume by 1L and reduced the mid-range noise output. And the exhaust note is now tuned to rise linearly – and evocatively – with engine rpm. Sounding more like a world superbike than ever before.
Previous
Next
Close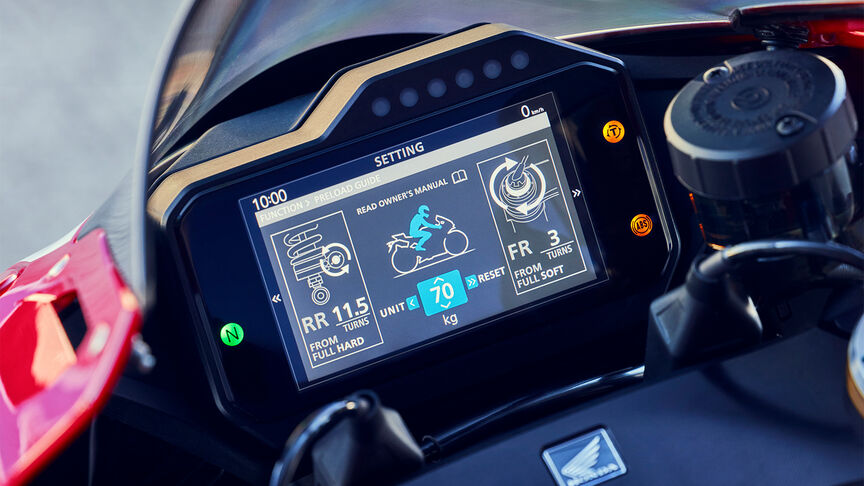 So much power, with so much control.
Every ride starts with the full colour 5-inch TFT screen where you set up the Fireblade the way you want it. For precision setup you can now enter your weight to get the perfect spring preload setting, front and rear. And choose from the 3 default riding modes or go fully custom between 5-level Power modes, 9-level HSTC plus 3-level Engine Brake and Wheelie Control. A 3-level Honda Electronic Steering Damper (HESD) maintains high speed stability and new, 3-level ABS Braking now includes Race mode, which turns off ABS for the rear caliper, allowing hard use of the rear brake if required. Another new display feature to protect the engine from cold is the redline point, which slides up from 8,000rpm only when the operating temperature is reached.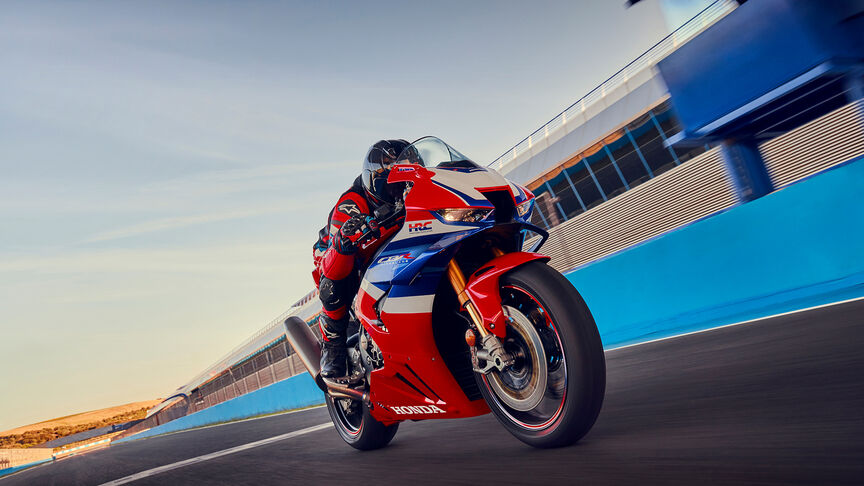 Every second counts.
The low-set fuel tank has been reshaped for improved knee grip while cornering. It also carries an extra 0.4L capacity. An extremely compact frame and engine equals a small frontal area – with MotoGP-spec. ram-air duct that feeds directly through the headstock – that slices cleanly through the air. New, more aggressive and muscular styling is led by forward-set winglets that use aerodynamic bumps to maintain downforce on the front tyre, for consistent grip and feel through every corner and reduced lift on exit but with 10% less turning effort at speed. And the under cowl extends close to the rear tyre, forcing air downward, minimising drag in the dry and channelling water away in the wet, improving traction.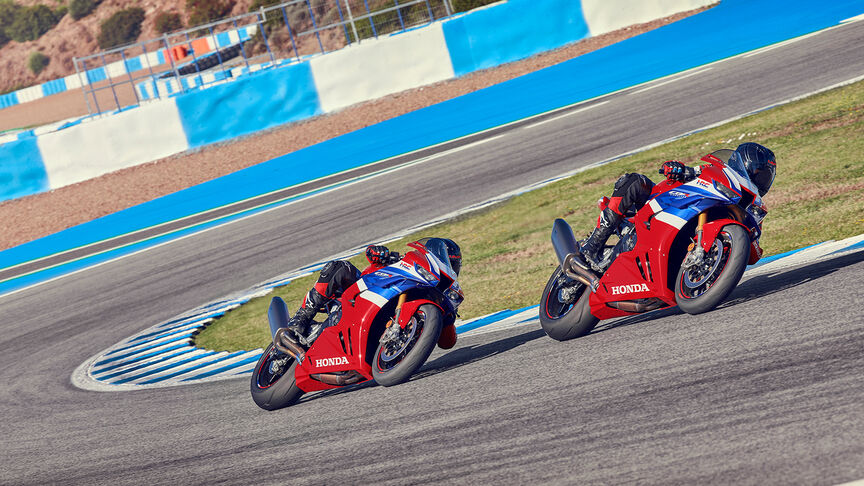 Optimised for handling perfection.
We've made a few subtle adjustments to the riding position, putting you in the bike, making it easier to move around, react, and control quickly on road or racetrack; the handlebars are 19mm higher, the footpegs set 16mm lower. Through intense development of the twin-spar aluminium frame – with nearly 1kg weight removed by internal optimisation – a new rigidity balance delivers 17% reduction in lateral stiffness and 15% less torsional stiffness, for razor-sharp steering accuracy and higher mid-corner speed. And updated settings for the Showa 43mm USD Big Piston Fork (BPF) and Pro-Link Balance Free Rear Cushion Lite (BFRC-Lite) shock increase feedback and feel, to the absolute limit.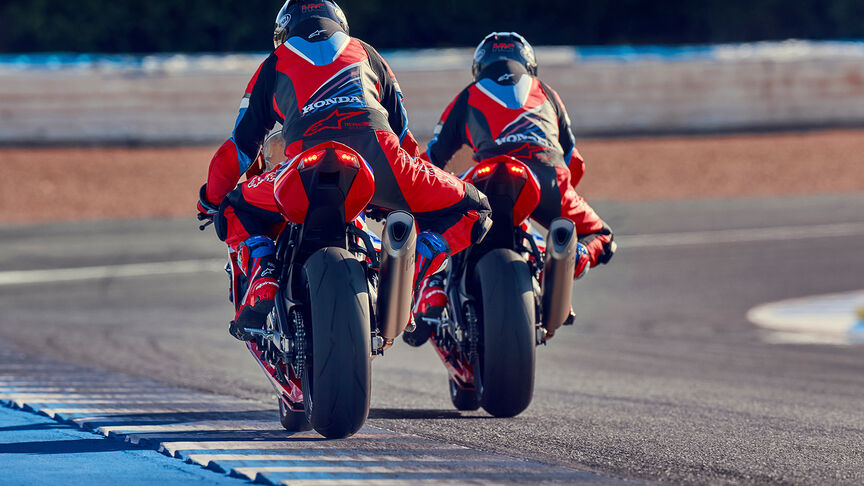 The ability to push, hard, out of corners.
That's what our racers always want more of. So, we've gone through the 1,000cc, inline four-cylinder semi-cam engine from intake to exhaust. Compression ratio is up to 13.6:1 alongside revised ports, valve timing and springs. The crankshaft and titanium conrods are lighter, reducing spinning inertia. And every gear ratio is shorter, boosting acceleration with the throttle precision that 2 Motor TBW ensures. The numbers are impressive. 160kW / 215hp @14,000rpm and 113Nm @12,000rpm. But it's the way this engine now drives relentlessly – yet so smoothly, controllably – through the mid-range all the way to the redline, with such an increase in fighting power, that's so exhilarating.
1,000cc Inline Four-Cylinder Engine
Throttle Control (TBW)
2-Motor
See Full Specs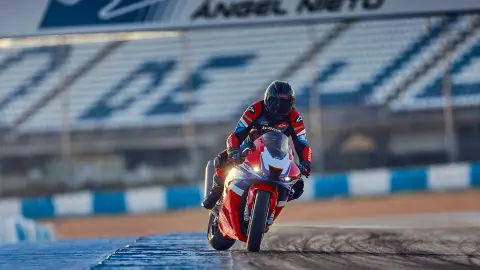 CBR1000RR-R Fireblade SP – Take the Advantage
New Electronic Suspension Öhlins 43mm S-EC3.0 (SV) NPX USD forks and TTX36 (SV) rear shock use Spool Valve technology for superb reaction, ride and control.
Upgraded Braking Power New fade-resistant Brembo Stylema R four-piston front brake calipers worked by Brembo master cylinder. 
High Specification Equipment A 3-level adjustable quickshifter is standard fit, as is a compact and lightweight lithium-ion battery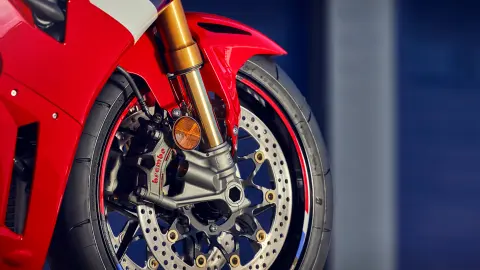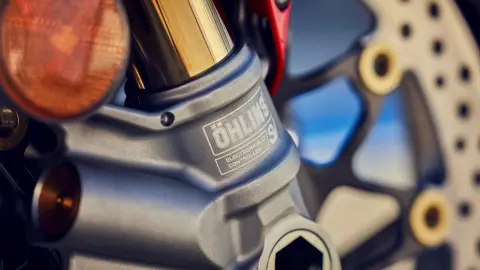 Make It Yours
Take a good look around and choose your colour.
Drag to rotate
Grand Prix Red

Standard

Grand Prix Red (SP)

Standard

Matte Pearl Morion Black (SP Carbon Edition)

Standard
*
CBR1000RR-R Fireblade SP Carbon Edition
The CBR1000RR-R Fireblade Carbon is the absolute ultimate in all-black stealth racing style, which is how it arrives from new. So, you can ride it away from your Honda dealer. Everywhere you look, front to back, you see sleek Carbon Fibre bodywork. Amazingly strong. Incredibly lightweight, saving a total weight of 1kg with some parts saving between 10-40% of the original weight. In addition, the Carbon Edition receives a unique aluminium plaque signifying the unique number allocated to your CBR1000RR-R Fireblade SP. All these features, designed to set the Fireblade apart.
Make it Your Own
Configure your bike with a choice of accessory packs.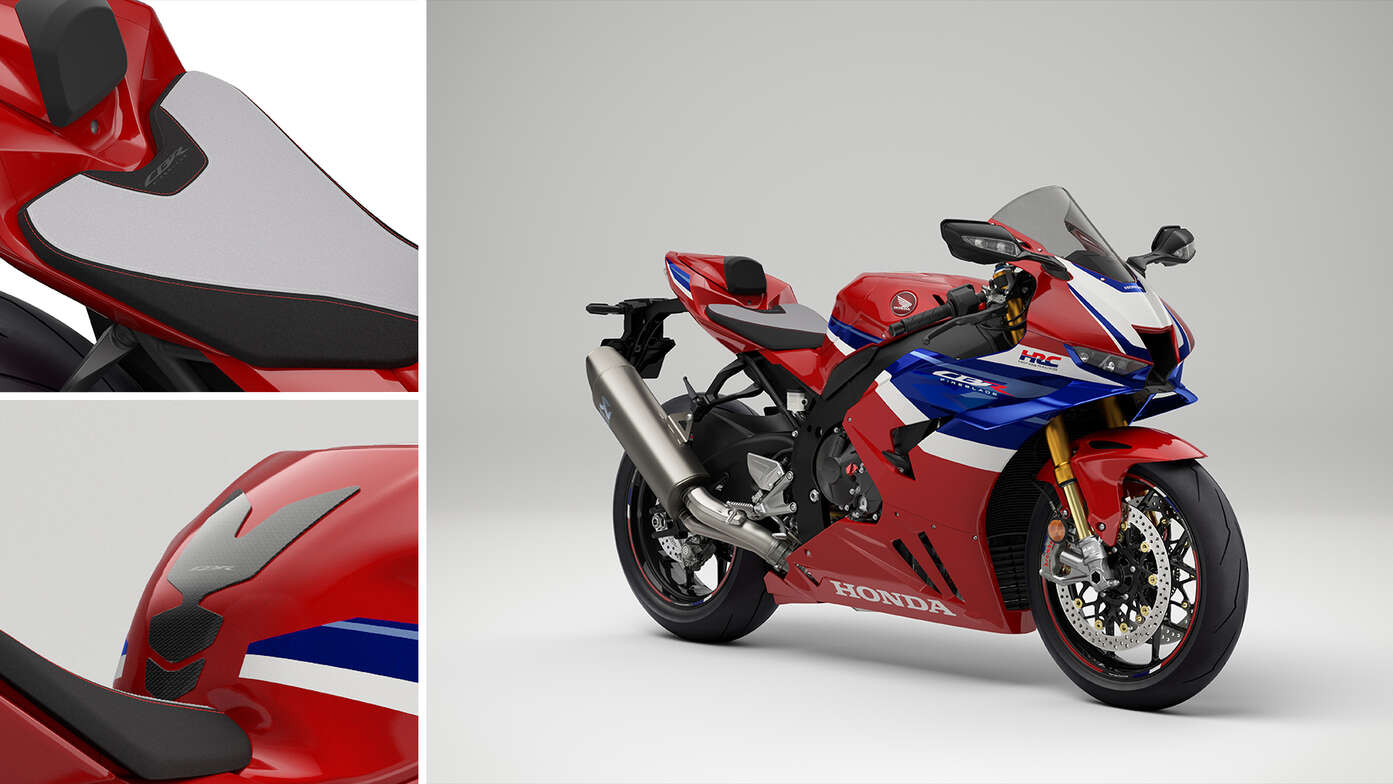 Racing Pack
Add the details of speed to your Fireblade. A Quickshifter (standard fit on the Fireblade SP) sharpens up gear changes while a Sprocket Protector, Frame Guards and Tank Pad provide protection. An Alcantara Seat injects style matched by a Red or Black Seat Cowl. An Oil Filler Cap, Wheel Stripes and High Smoked Screen are the finishing touches.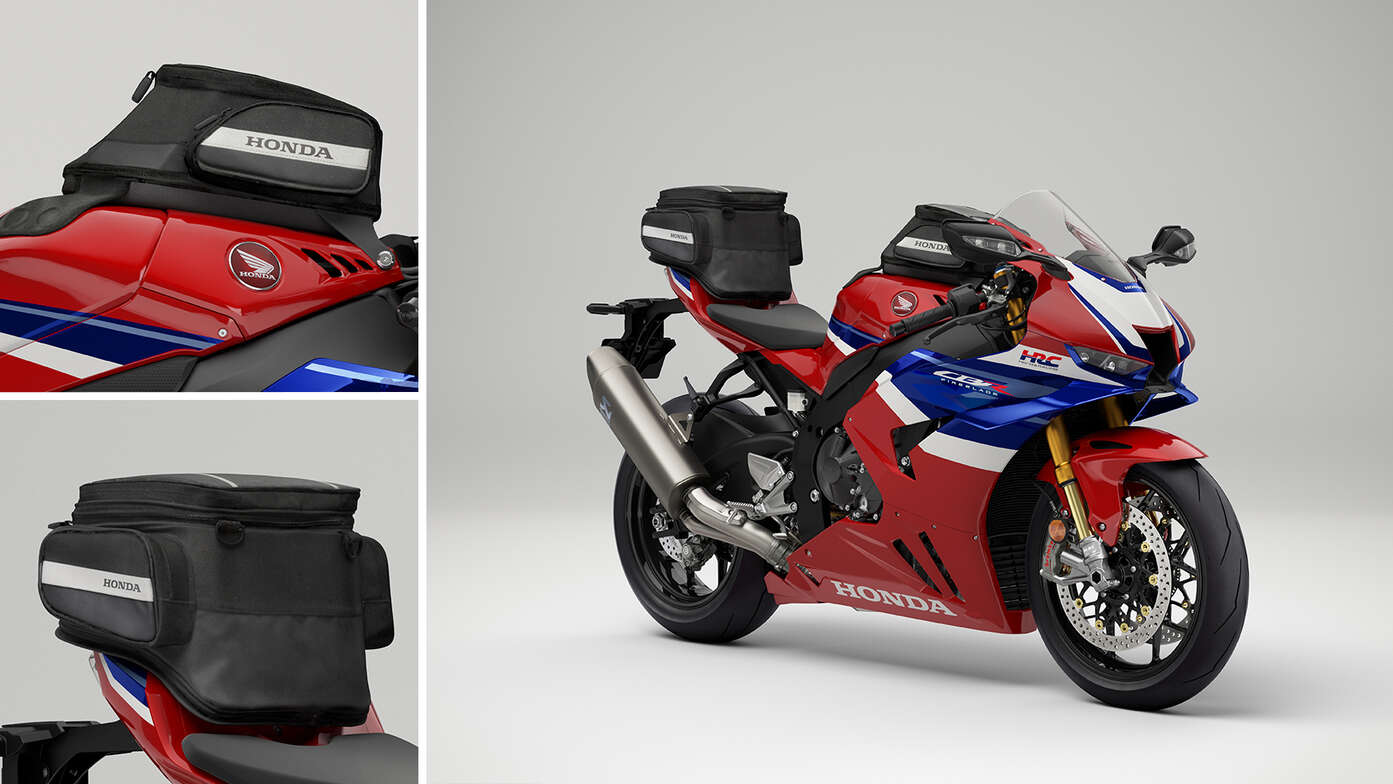 Comfort Pack
Ready to go the distance: A USB Type-C socket makes for easy smartphone charging, plus the flexible carrying capacity of a Tank Bag and Rear Seat Bag.