Disclaimer - Images shown are a mixture of the current and previous year model.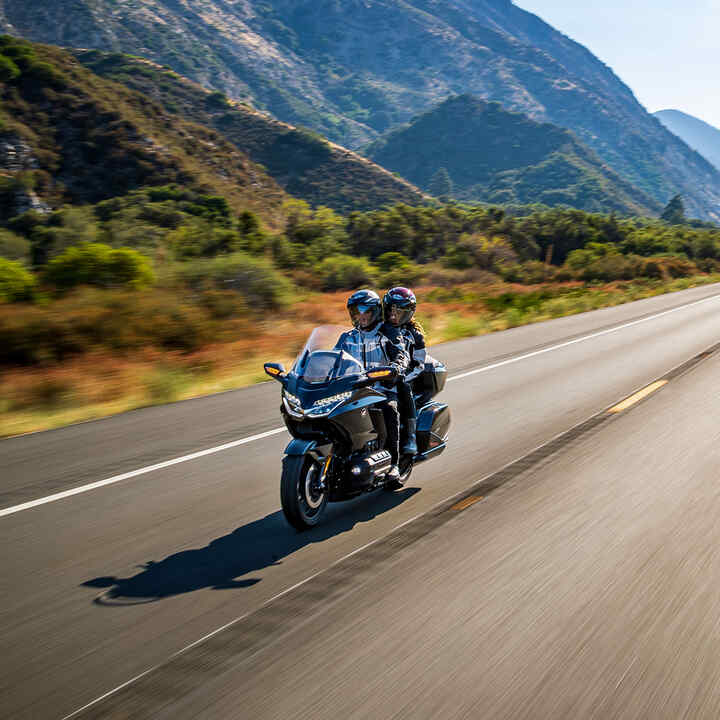 THE ART OF LUXURY TOURING
The Gold Wing Tour is a Honda flagship motorcycle for a reason, offering supreme levels of performance and luxury through the city, or out on the open road. Taking the incredible Gold Wing as a base, it adds carrying capacity and a more comfortable and relaxed ride for the pillion. Luxurious material features on both front and rear seats – ensuring ultimate riding comfort. The audio system and speakers deliver crisp sound quality, whilst dual LED fog lights guarantee piercing visibility.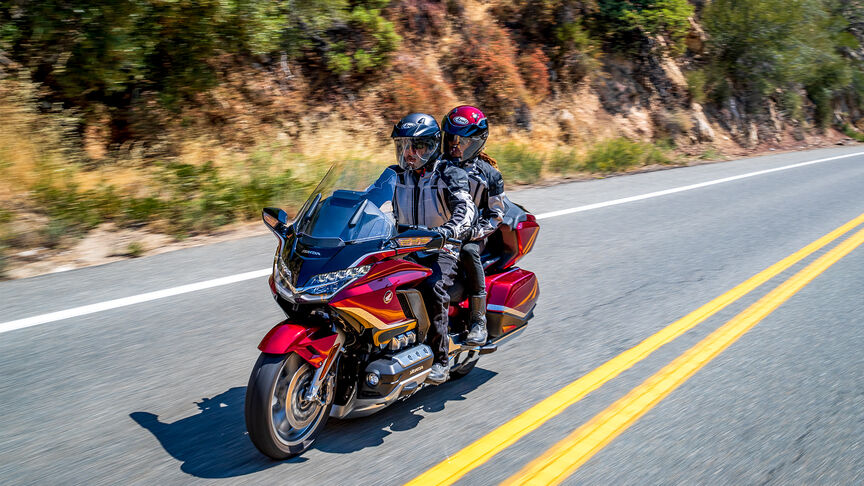 A voyage of discovery.
The Gold Wing Tour takes care of rider and pillion alike. With dynamic handling and engine response to satisfy any rider, the pillion can settle back into their luxurious and even more expansive space and enjoy the journey ahead. They can also easily open each pannier to access contents while seated and there's also an accessory audio switch (located on the right pannier) for soundtrack control. A USB socket in the left pannier offers a smartphone charging point. For added convenience, especially with a pillion, the Gold Wing comes equipped with two walking modes – forwards and backwards – which is ideal for parking.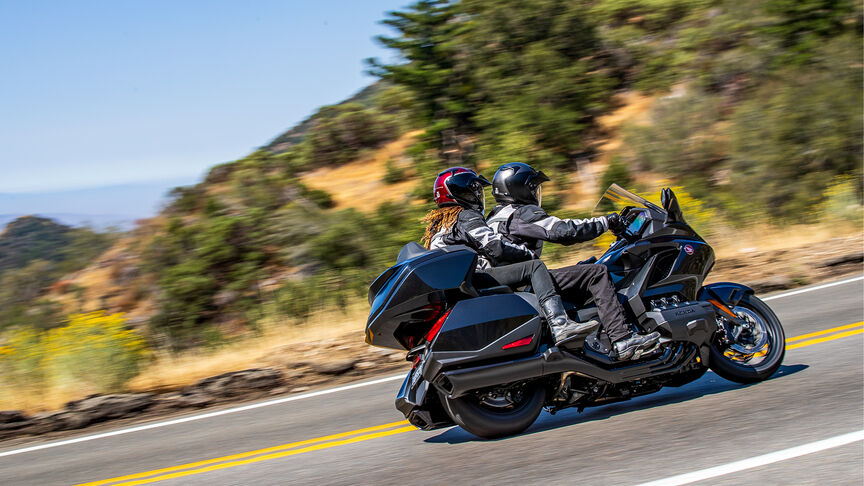 Riding perfection.
Just like the Gold Wing, the Gold Wing Tour is a motorcycle built to handle curves. Its aluminium twin-beam frame leads with double wishbone front suspension, while electronic damping control provides precise suspension reaction. And then there's the engine. The 1,833cc, flat six-cylinder engine is a masterpiece, delivering 170Nm torque at just 4,500rpm, minimising fatigue on the wrist. The powerful torque along with Honda Selectable Torque Control, makes the Gold Wing Tour one of the world's most impressive, usable and enjoyable motorcycle powerplants. Put the two together and the Gold Wing Tour riding experience goes beyond next level.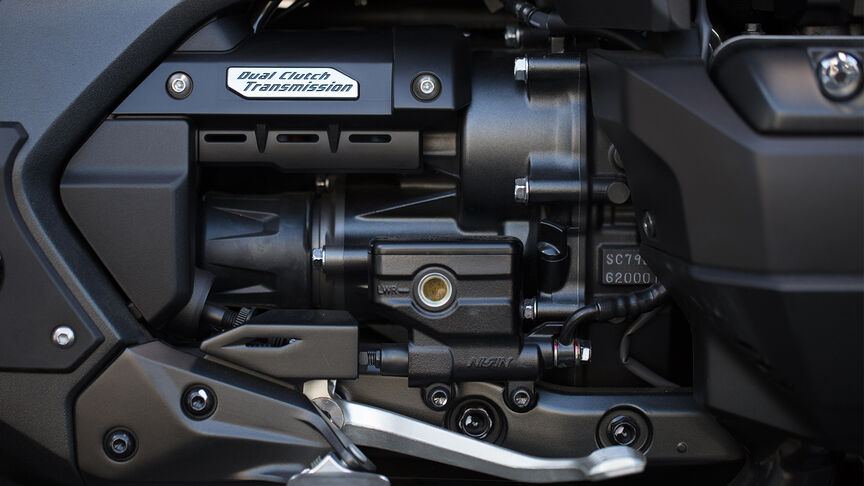 The choice is yours.
Enjoy the luxury of long distance on the Gold Wing Tour with its 7-speed DCT gearbox as standard. To explore the engines full potential and strong performance, opt for manual. However, for longer journeys, Automatic modes such as Drive and Sport anticipate your every move, with a gear ready for you to utilise.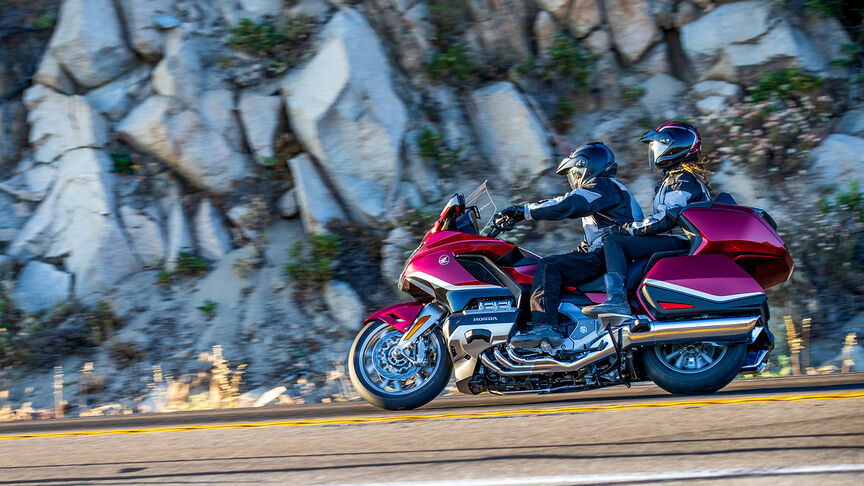 Stay In Touch and Increase Safety with Advanced Rider Aids.
The expansive, 7-inch full-colour TFT display provides infotainment information as well as riding mode management, suspension adjustment and navigation. And, to keep in touch with the world, via Apple CarPlay™ and Android Auto™, meaning you can replicate the functions on your phone, to the TFT Display.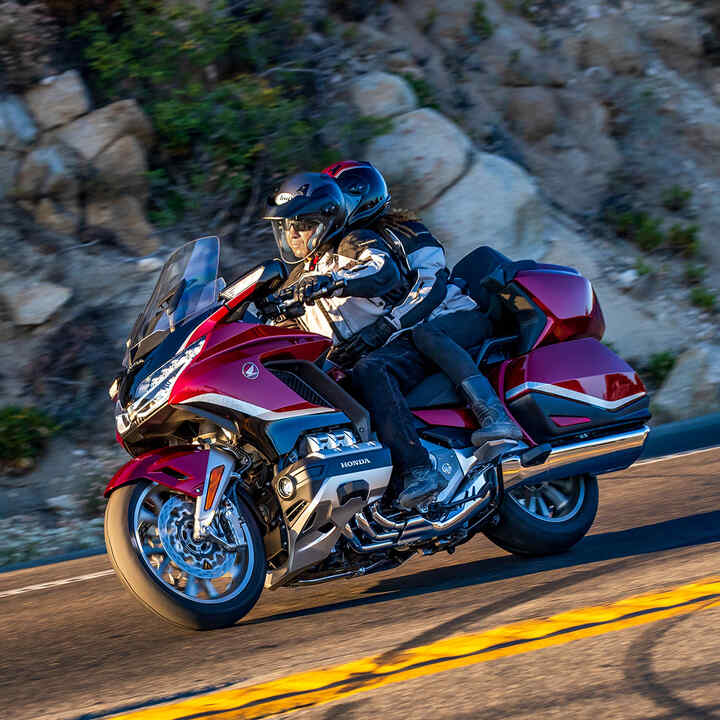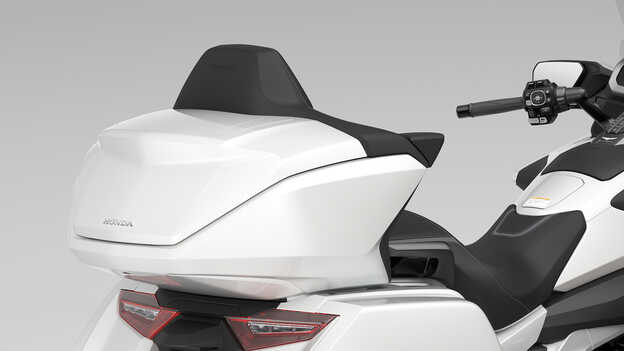 Large storage capacity
For true day-to-day convenience, the rear top box has grown 11L in capacity, to 61L, which means it stores two large full-face helmets with ease. There's a further 60L between both panniers. The luggage opens with a button or via Smart Key, and hydraulic dampers smooth the action.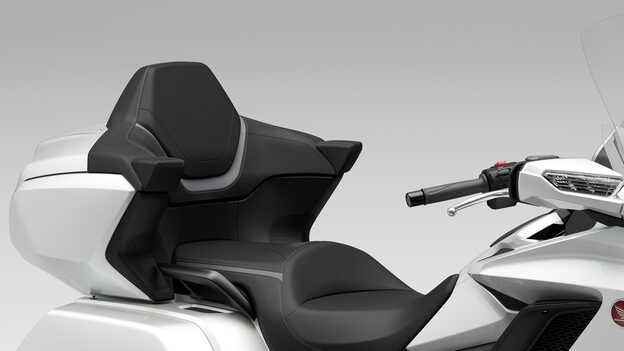 Comfortable pillion riding position
A more relaxed, 23° angle for the pillion back support – and luxurious new suede/synthetic material for both front and rear seats – ensure long-haul comfort for pillion and rider alike.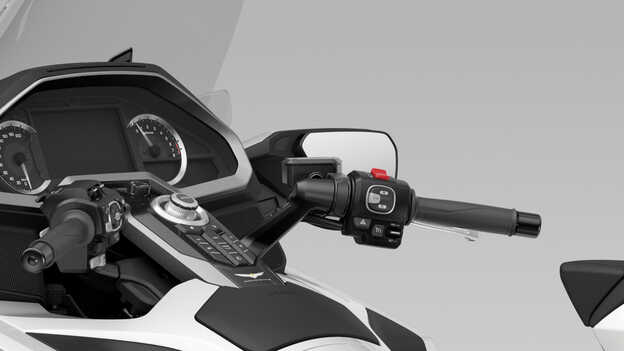 Honda Selectable Torque Control (HSTC)
For an extra layer of confidence in all riding conditions, alongside the 4 default riding modes, Throttle By Wire (TBW) engine management employs HSTC to constantly monitor and maintain rear wheel traction.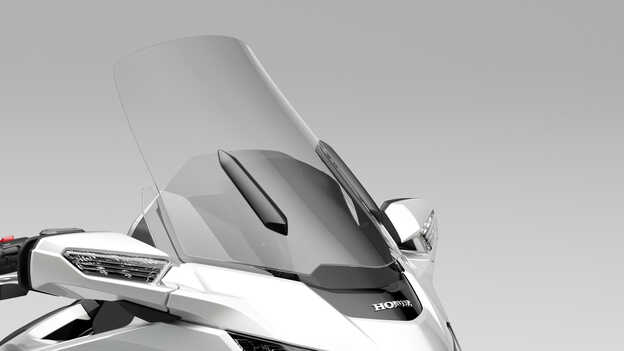 Extended electrically operated screen
The smoothly-adjusting windscreen provides excellent wind protection. The height and angle can be adjusted by simply pushing the button up or down on the left handlebar; it also memorises your favourite positions and will auto-adjust accordingly.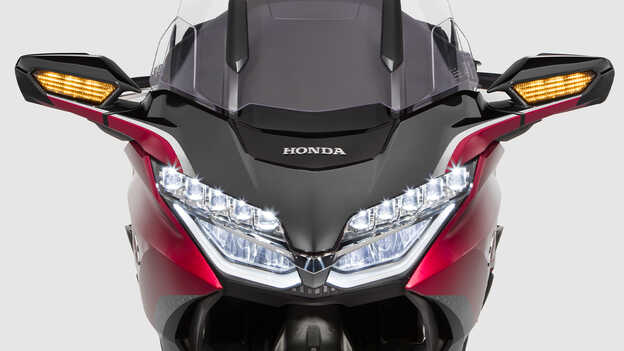 Full LED lighting with LED fog lights
The lower portion of the headlights use 5 polished optical lenses on both sides to create a distinct, Jewel-Eye low beam light signature. High beam creates a stereoscopic impression. LED fog lights deliver piercing visibility to other road users.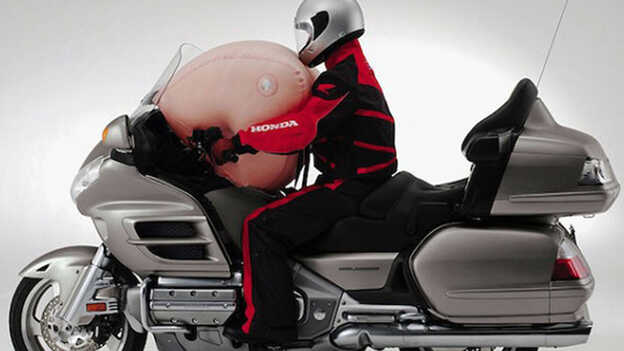 Airbag equipped
The Gold Wing Tour pioneered the concept of the motorcycle Airbag within a motorcycle more than 15 years ago. Available exclusively on Gold Wing Tour DCT, the inclusion of the airbag ensures rider safety.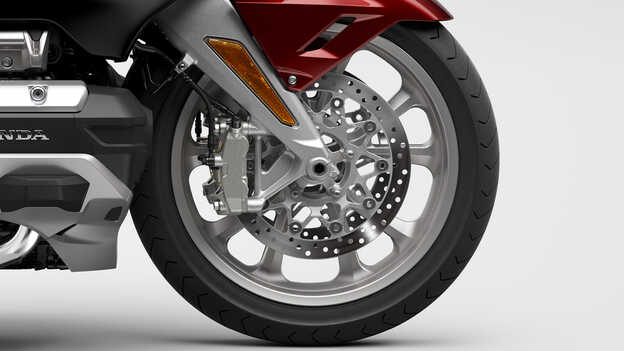 Tyre Pressure Measuring system
The Gold Wing Tour now comes equipped with the Tyre pressure monitoring system (TPMS) to ensure you can be aware of any changes in tyre pressure wherever you are. Available on the Gold Wing Tour, the TPMS readout can be found on the 7-inch full-colour TFT display.
Previous
Next
Drag to rotate
Beta Silver Metallic

Standard

Pearl Glare White

Standard

Heavy Grey Metallic

Standard
*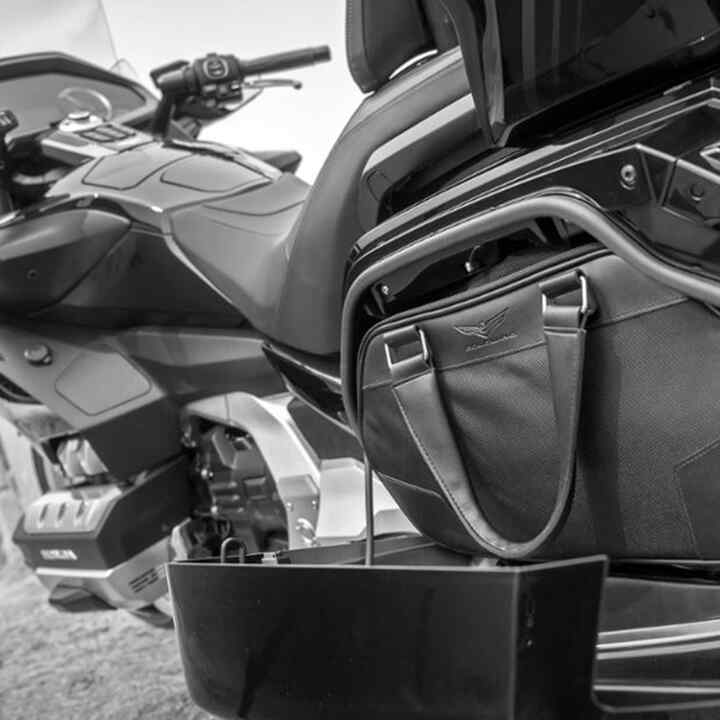 Full option pack
This pack takes the Goldwing Tourer experience to the next level by including all the following accessories: tall screen, 12V-socket, 3 inner bags, luggage mats, trunk rack, trunk lights and organizer. A bike cover is also included.
THE CHOICE IS YOURS
Top box and panniers or just panniers? You decide. Slide here.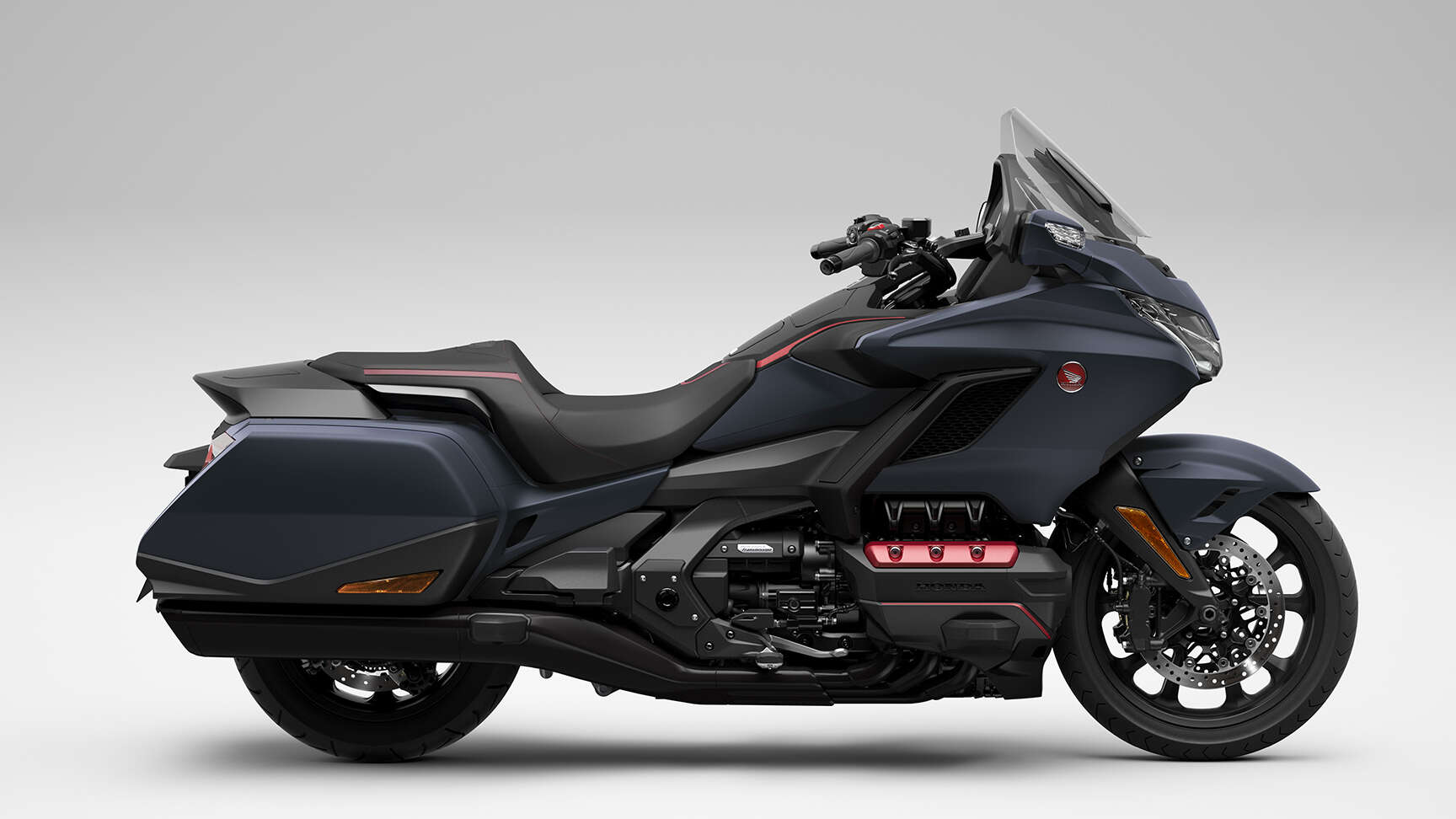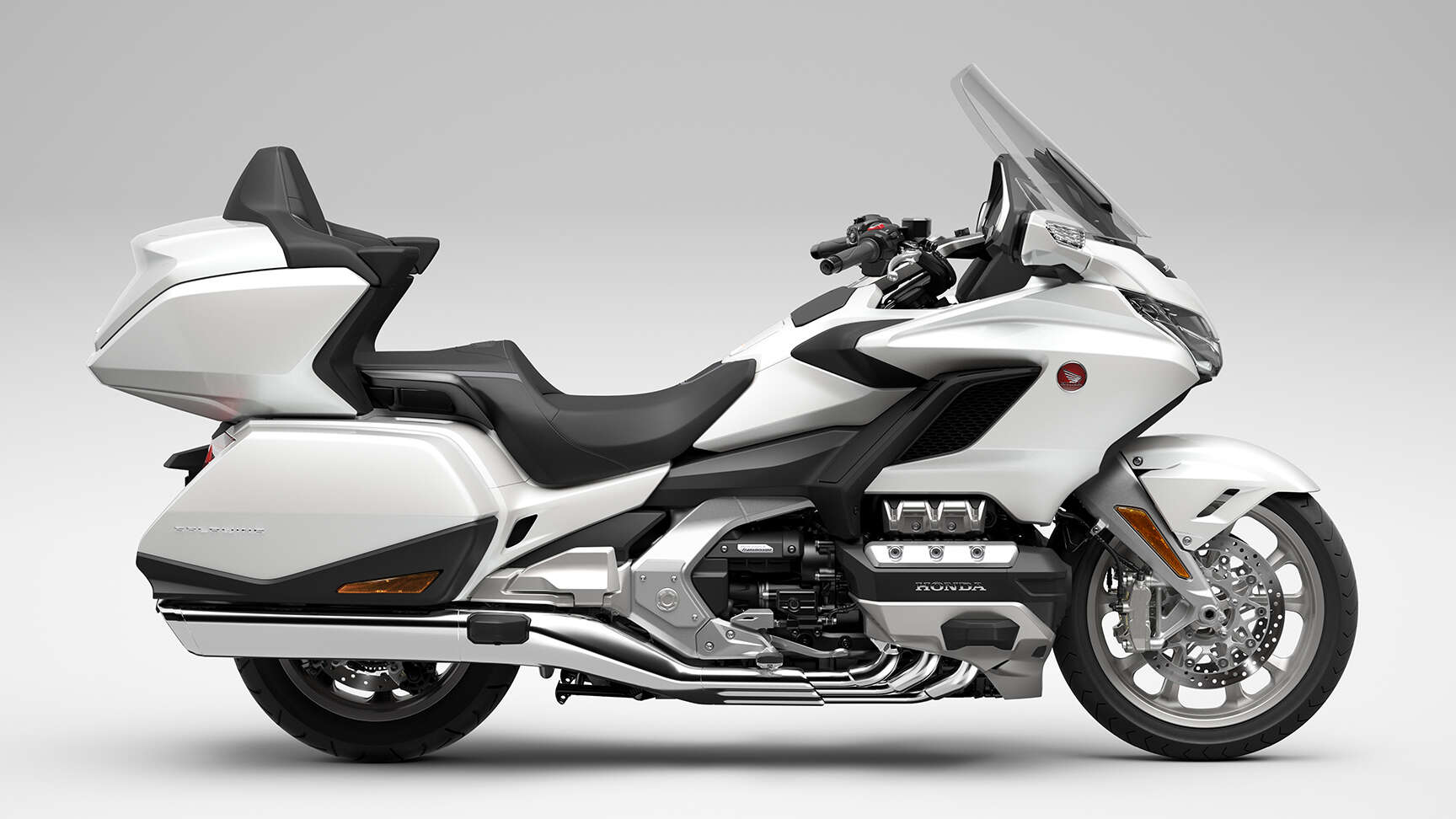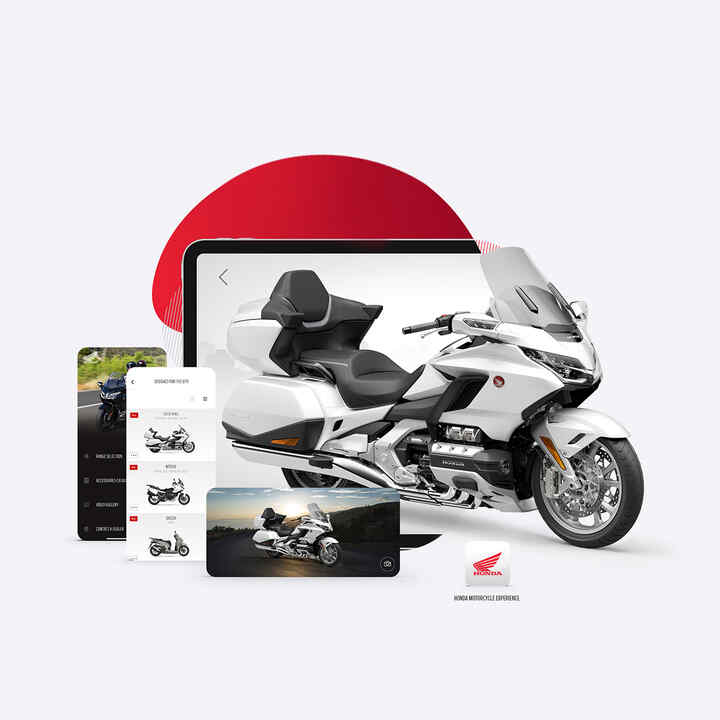 HONDA MOTORCYCLES EXPERIENCE
Make your favourite Honda your own through the Honda Motorcycles Europe app. It's easy. Choose the bike you want and select a colour. Then, see how it looks sat in your garage through the AR feature. There's an Integrated Accessories Catalogue, so you can add the parts you want. And the Honda Motorcycles Europe YouTube channel is now part of the app, with a gallery of videos to enjoy.