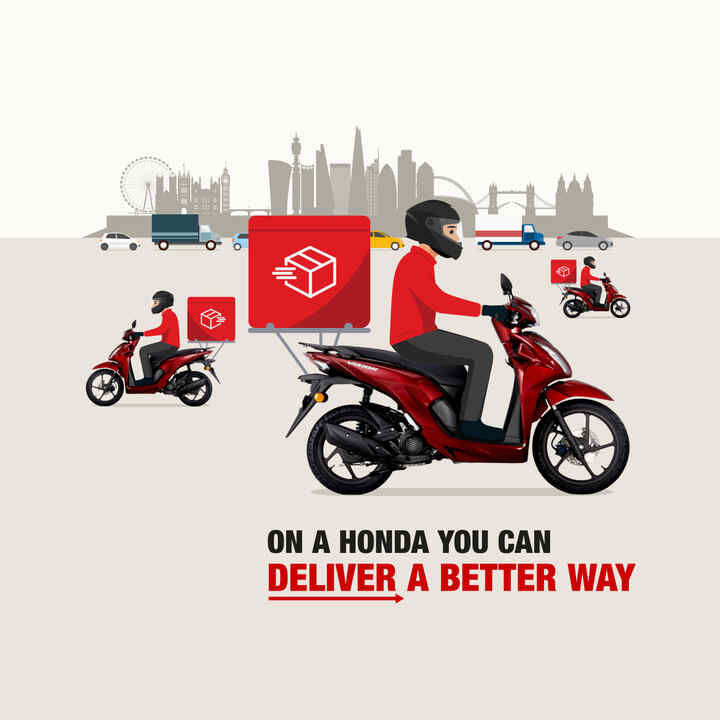 DELIVER MORE FOR LESS
For city deliveries, saving time and money means more customers and more profit. On a Honda you can deliver a better way.
ON A HONDA YOU CAN SAVE TIME
Unlike delivering by car or van, getting around London on a motorcycle or scooter means you don't have to worry about those time-consuming traffic jams. More deliveries, more profit.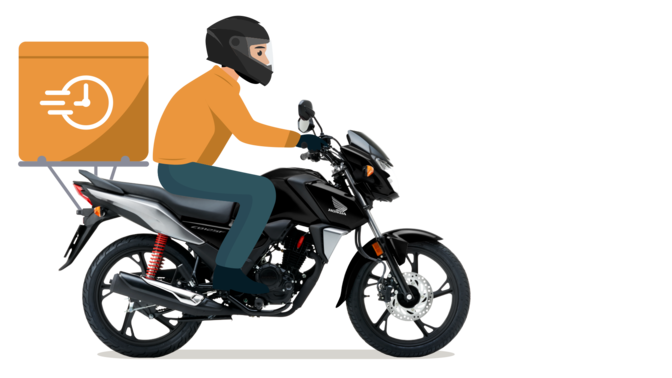 CB125F
Designed around a hyper-efficient engine without sacrificing performance or handling, the CB125F provides the perfect gateway into motorcycles and the perfect choice for a time and cost efficient delivery vehicle.
CB125F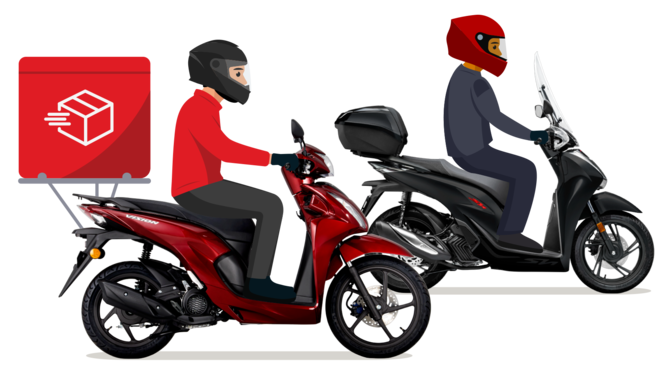 VISION 110 and SH125i
When you need to get to your delivery drop quickly and affordably, choosing either our Vision 110 or SH125i scooters is a strong option. With the freedom of two-wheels, less time stuck in traffic jams means more deliveries per day.
VISION 110
SH125i
A CHOICE OF TWO GREAT OFFERS
Purchase a new CB125F, Vision 110 or SH125i and you'll also get either money to help you learn to ride, or added security and peace of mind if you're already on two-wheels.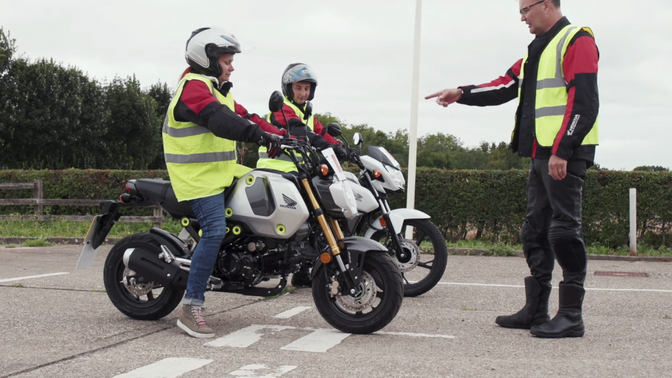 £150 TOWARDS YOUR COMPULSORY BASIC TRAINING**
Learn to ride your new bike at a Honda Approved Training Centre.
FIND OUT MORE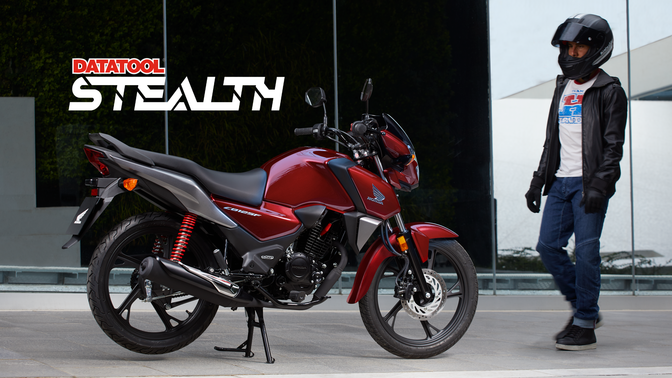 12 MONTH DATATOOL SECURITY SUBSCRIPTION**
Be secure in always knowing where your new bike is with DataTool's Tracking system.
FIND OUT MORE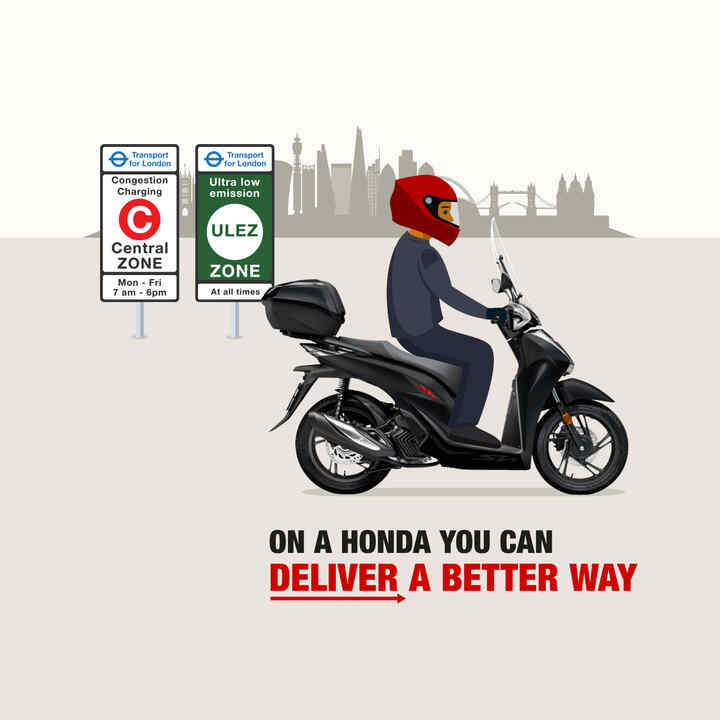 LESS CITY CHARGES - MORE BUSINESS PROFIT
For city deliveries, it's vital to keep your business costs down and your profits up. On a Honda you can deliver a better way.
ON A HONDA YOU CAN SAVE MONEY
With our competitive finance deals you can own a new CB125F from as little as £59 a month,* a Vision 110 from £59 a month* or the SH125i from £69 a month.*
CB125F 21YM
Personal Contract Purchase (PCP) Representative Example
On The Road Price*
£3,049.00
Deposit
£104.30
Amount of Credit
£2,944.70
36 Regular monthly payments
£59.00
Duration
37 months
Final Payment
£1,390.95
Final Payment inc Option Fee
£1,400.95
Total Amount Payable
£3,629.39
Representative APR
8.9%
Option to Purchase Fee
£10.00
Annual Contracted Mileage
4,000
Excess Mileage Charge
£0.02
Interest Rate per annum
8.43%
VISION 110 23YM
Personal Contract Purchase (PCP) Representative Example
On The Road Price*
£2,799.00
Deposit
£83.07
Amount of Credit
£2,715.93
36 Regular monthly payments
£59.00
Duration
37 months
Final Payment
£1,093.61
Final Payment inc Option Fee
£1,103.61
Total Amount Payable
£3,310.66
Representative APR
8.9%
Option to Purchase Fee
£10.00
Annual Contracted Mileage
4,000
Excess Mileage Charge
£0.02
Interest Rate per annum
8.41%
SH125i 23YM + Top Box
Personal Contract Purchase (PCP) Representative Example
On The Road Price*
£3,949.00
Deposit
£405.80
Amount of Credit
£3,543.20
36 Regular monthly payments
£69.00
Duration
37 months
Final Payment
£1,758.09
Final Payment inc Option Fee
£1,768.09
Total Amount Payable
£4,657.75
Representative APR
8.9%
Option to Purchase Fee
£10.00
Annual Contracted Mileage
4,000
Excess Mileage Charge
£0.05
Interest Rate per annum
8.45%