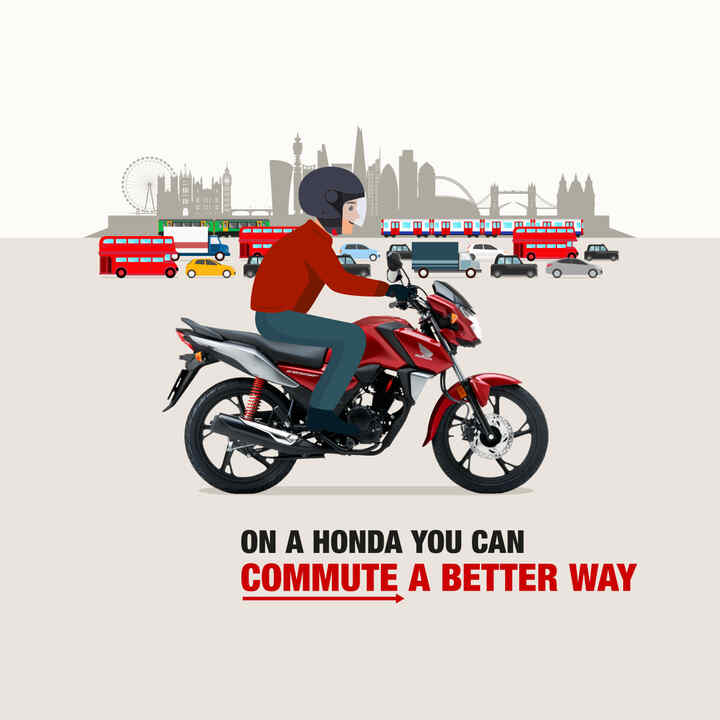 AVOID THE DAILY GRIND
Now more than ever, commuting in the city can cost you serious time and money. On a Honda you can commute a better way.
ON A HONDA YOU CAN SAVE TIME
Research has shown that commuting by motorcycle in London can be up to an astonishing 50% faster than commuting by public transport. Source: Bikesure Moped Commuting Index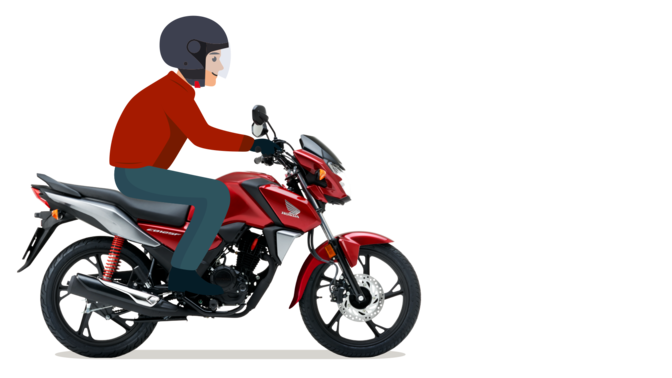 CB125F
Designed around a hyper-efficient engine without sacrificing performance or handling, the CB125F provides the perfect gateway into motorcycles and an extremely cost-effective commuting choice. Feel the fresh air around you, riding past traffic and getting to your destination up to 50% faster than on the bus.
CB125F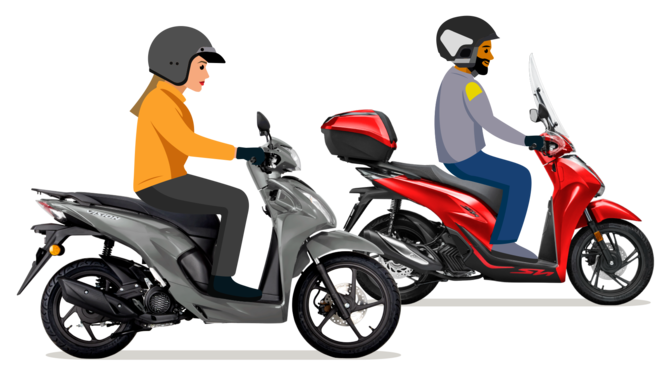 VISION 110 and SH125i
If you need to traverse the city streets quickly and affordably, then choosing either our Vision 110 or SH125i scooters is a strong option. The sleek, comfortable scooters are the peak of urban transportation, allowing you to cross the city without having to worry about bustling stations or traffic jams.
VISION 110
SH125i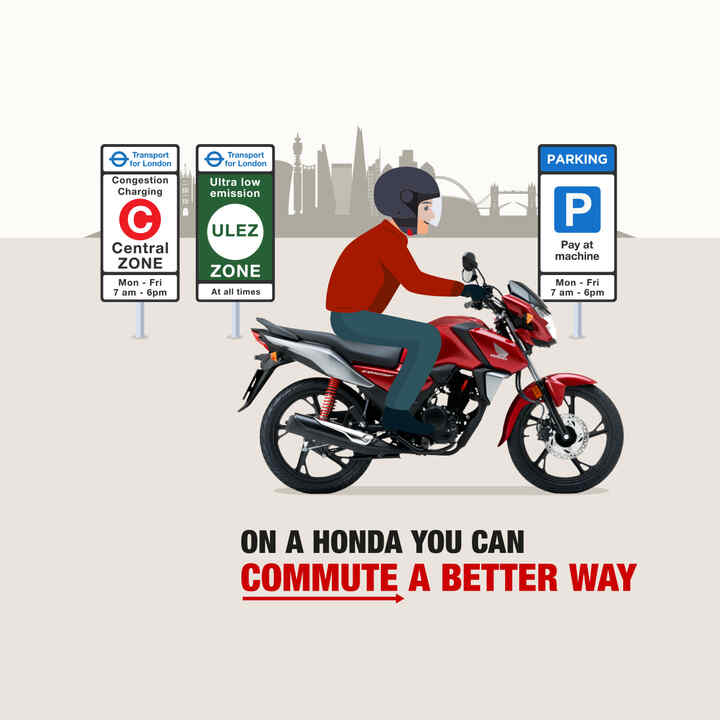 AVOID THOSE CITY CHARGES
When you're commuting to and from the city, all those extra costs can really add up. On a Honda you can commute a better way.
ON A HONDA YOU CAN SAVE MONEY
With our competitive finance deals you can own a new CB125F from as little as £49 a month,* a Vision 110 from £49 a month* or the SH125i from £59 a month,* saving you over £150 when compared to monthly public transport costs. Source: Picodi.com
CB125F 21YM
Personal Contract Purchase (PCP) Representative Example
On The Road Price*
£3,049.00
Deposit
£437.37
Amount of Credit
£2,611.63
36 Regular monthly payments
£49.00
Duration
37 months
Final Payment
£1,436.93
Final Payment inc Option Fee
£1,446.93
Total Amount Payable
£3,648.23
Representative APR
9.9%
Option to Purchase Fee
£10.00
Annual Contracted Mileage
4,000
Excess Mileage Charge
£0.02
Interest Rate per annum
9.34%
VISION 110 23YM
Personal Contract Purchase (PCP) Representative Example
On The Road Price*
£2,849.00
Deposit
£465.86
Amount of Credit
£2,383.14
36 Regular monthly payments
£49.00
Duration
37 months
Final Payment
£1,131.02
Final Payment inc Option Fee
£1,141.02
Total Amount Payable
£3,370.96
Representative APR
9.9%
Option to Purchase Fee
£10.00
Annual Contracted Mileage
4,000
Excess Mileage Charge
£0.02
Interest Rate per annum
9.32%
SH125i 23YM + Top Box
Personal Contract Purchase (PCP) Representative Example
On The Road Price*
£3,949.00
Deposit
£850.13
Amount of Credit
£3,098.87
36 Regular monthly payments
£59.00
Duration
37 months
Final Payment
£1,670.81
Final Payment inc Option Fee
£1,680.81
Total Amount Payable
£4,655.00
Representative APR
9.9%
Option to Purchase Fee
£10.00
Annual Contracted Mileage
4,000
Excess Mileage Charge
£0.05
Interest Rate per annum
9.36%