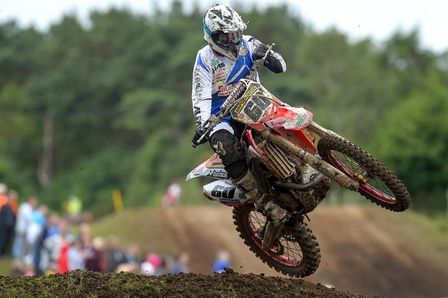 The 2014 Maxxis ACU British Motocross Championship continued from the Skelder Bank circuit in Whitby yesterday with the Buildbase Honda team back to its full contingent of three riders – Brad Anderson, Elliott Banks-Browne and Nez Parker. It was a tough weekend for the team with all three races taking place in tricky conditions.
Overnight rain and a heavy shower in the morning made for a very slippery track as race one got underway. Banks-Browne got off to a good start aboard his Honda CRF450R to place inside the top five, with team-mate Anderson coming through the pack to seventh by the end of lap one.
Unfortunately, the pair came together on lap two and both crashed out. Anderson remounted and pushed hard to finish in 18th while Banks-Browne recovered well to place eighth. Parker meanwhile had a heavy crash in the early part of the race and was unable to finish.
The second race saw Anderson working his way from tenth to sixth place by the chequered flag. After receiving treatment in between races, Parker was able to claim a solid 12th. Unfortunately Banks-Browne suffered another crash, landing on his already injured shoulder. He was forced to retire from the race at the halfway point and decided to sit out of the final outing as a precaution.
Rain began to fall on the already slippery track just before the start of race three. Anderson got a good start but unfortunately collided with another rider at the end of the opening lap. He remounted but went on to crash a second time, retiring from the race.
Parker was running well when the race was cut short due to an injured rider. He was awarded seventh to take 11th overall on the day and 21st in the championship. Anderson and Banks-Browne finished 14th and 19th on the day respectively to place fifth and ninth in the championship standings.
In the MX2 class, Putoline Apico Honda's Neville Bradshaw and James Harrison brought home some solid results aboard their Honda CRF250R machines to place seventh and ninth respectively overall on the day.
Dave Thorpe – Buildbase Honda team manager
This weekend has been a tough. The weather conditions before the meeting made the track very technical and rough. Unfortunately all three riders suffered from crashes and mistakes. As a team we need to put this weekend down as a very bad day at the office and refocus ready for the next round at FatCat.
Brad Anderson – 18th/6th/DNF
Today has been a really bad day for me. It started ok in qualifying, but in the first race Elliott and I had a coming together. The second race was my best of the day with a sixth, which still wasn't great. Then in the last race I crashed with Nicholls and we both went down. So a bad day overall and we move to FatCat next.
Elliott Banks-Browne – 8th/DNF/DNS
I really hoped to make a strong return to racing, but in the end it has turned out to be a disaster. I was going well in the first race until I went down and when I crashed in the second race I landed on my injured shoulder. That ruled me out of that race and also the final race of the day. The plan now is to forget about today and to work even harder to be back in the frame at FatCat Motoparc next month.
Nez Parker – DNF/12th/7th

It's not been a great day. The first race I was coming through well and then crashed heavily and thought that was my day done. Between races I got some treatment and got a 12th in the second race, before getting a seventh in the last race to end the day on a positive note.