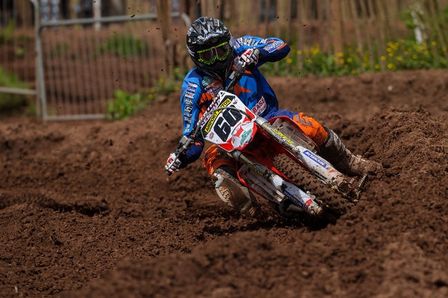 The fourth round of the MX nationals saw Buildbase Honda take the trip to Pontrilas in Wales. Brad Anderson and Nez Parker represented the team with strong performances aboard their CRF450R machines.
Heavy rain prior to the event caused a very wet and rutty track during Saturday's practice and racing. The first race of the weekend saw Anderson and Parker start well, with both in the top five in the opening laps, moving into second and third places respectively. As the race progressed Anderson continued to ride well, losing just one position towards the end to finish third. Parker rode a solid race to continue his return from injury, taking a well deserved eighth place finish.
The second day of racing took place on Sunday, following overnight track work. Both riders once again produced good starts and Anderson managed another impressive ride to finish third. Parker improved on his first race result and took a solid sixth place.
The final race of the day saw Anderson crash on the opening lap. He remounted at the back of the pack and worked hard to recover to eighth place, finishing fourth overall on the day. For Parker, it was to be another steady race and he secured ninth place, giving him an overall of ninth.
Dave Thorpe – team manager
This weekend has been a steady one for us as a team, Brad had two great rides and then an unfortunate crash in the last one, Nez has shown some good speed this weekend and the results are starting to come together. Hopefully in the coming weeks he will be pushing for the top five finishes.
Brad Anderson
This weekend my starts were good and that was key with the track conditions as they were. In the first race on Sunday I had a crash and cut my hand badly. Then in the third race I had a crash with a tree and recovered to eighth. All in all it was a good weekend and look forward to Weston this weekend.
Nez Parker
I had good starts all weekend, which makes life a lot easier considering the conditions of the track. I was running top four in races one and two but little mistakes ended what could of been a good weekend. I showed some good speed and I'm just hoping I'm getting rid of a bit of race rust before the next Maxxis.