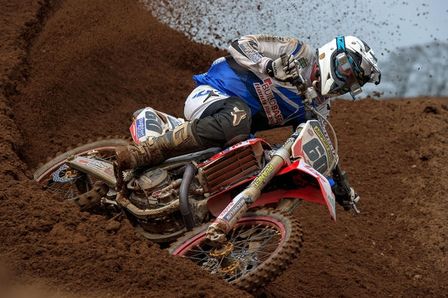 Easter weekend saw the Buildbase Honda team head to FatCat near Doncaster for the second round of the all-new MX Nationals series.
Easter weekend saw the Buildbase Honda team head to FatCat near Doncaster for the second round of the all-new MX Nationals series with a three-strong rider line-up of Elliott Banks-Browne, Brad Anderson and Nez Parker, who returned from recent injury. It was Anderson who brought home the best result aboard his Honda CRF450R machine, ending the weekend on the third step of the podium.
The first of three races took place on Saturday with Banks-Browne firing into the lead from the start gate. He maintained first place until a small mistake in the latter stages caused him to slip back to sixth. For Anderson, it was a solid start but he suffered with arm pump as the race progressed and finished in eighth. Returning Parker rode a steady race to ease himself back in and secured a respectable 11th.
Come Sunday, the weather remained dry and the riders had settled in to the sandy circuit. When the gate dropped for race two, Anderson and Banks-Browne both started well and quickly moved into the front positions. Unfortunately for Banks-Browne, a collision with another rider saw him drop to sixth place, but team-mate Anderson rode a determined race to finish second. Parker was less fortunate after a fall on his injured arm caused him to withdraw from the race and the remainder of the event.
With two riders left to fly the Buildbase Honda flag, the third and final race saw Banks-Browne get the holeshot off the gate for an early race lead. He proceeded to produce a number of fast laps to build a comfortable margin when a back-marker forced him off the line and he crashed heavily, hurting his shoulder and requiring medical treatment. Meanwhile Anderson was able to secure fourth place.
At the end of the weekend Anderson took a well-earned third overall and moved himself up to fifth in the MX1 standings, while Banks-Browne's last-race crash dropped him to ninth overall on the weekend and third in the standings.
In the MX2 class, Putoline Apico Honda's Neville Bradshaw had a successful weekend with a third place in race one, a victory in race two and a second in race three - aboard the Honda CRF250R - to take 2nd overall. Team-mate James Harrison took 11th overall.
Dave Thorpe – Buildbase Honda team manager
I'm really pleased with Brad and Elliott. They have worked hard since Lyng testing in Belgium. I'm really disappointed for EBB with his last race crash and let's hope his shoulder injury is not a long-term problem. Nez is as we expected. He is not ready to race at this level at the moment but he is not far away and we just need to be patient.
Brad Anderson
The weekend hasn't been the best as I suffered with arm pump on the Saturday, but we made some changes to the set-up for Sunday and it was much better. It's a shame that in the last race I had a bad start as the gate didn't drop as quickly as the rest. I had to push hard and charged to the front which was good, I'm happy with third overall and just need to work on my starts as I'm fast enough to run at the front.
Elliott Banks-Browne
The only good news is that nothing is broken, but I am pretty battered and bruised, and there could be some ligament damage. Let's see what the next few days bring and then I can go from there.
Nez Parker
After getting the all clear to ride last week, I've only had a couple of days on the bike before this weekend. This race was just a test really and to get some bike time. I felt pretty bad on Saturday in the race and could only manage 11th. Sunday I had a small crash on the first lap which put me right back but managed to get up to around 12th with a couple of riders within striking distance but had another crash and landed with my hands out and irritated the injury I sustained to my left hand five weeks ago. I made the decision to sit out of the last race so not to damage it any more and will be all good for Foxhill this coming week though!
For the latest news and images visit: www.honda.co.uk/racing