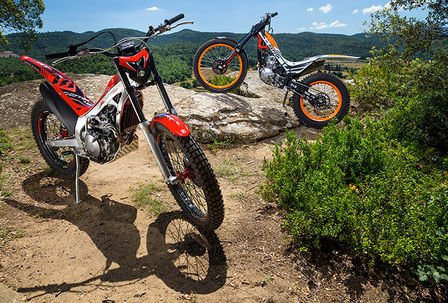 Honda (UK) has announced new 2015 versions of the Montesa Honda Cota 4RT trials machines that have won so many world titles for Honda's Spanish partner and been so popular with competitive trials riders throughout the UK.
The Montesa Honda Cota 4RT began a revolution in the trials arena on its introduction in 2006, bringing the environmental benefits of four-stroke technology, along with strong power and torque delivery, to a world previously dominated by two-stroke machinery.
As well as attracting new riders to the sport, the 2015 Montesa Honda Cota 4RT260 continues to fulfil modern trials riders' expectations, which have changed over recent years in line with the prevailing global financial situation. The new model therefore features a major improvement to its suspension technology at a more affordable price.
The 4RT260 also boasts a revised fuel injection and ignition map in its 260cc engine for improved traction, especially on difficult terrain, and better throttle control. Engine braking has also been minimised to make the bike feel lighter and easier to control.
Other features on the 2015 Montesa Honda Cota 4RT260 include a more open handlebar design to relieve pressure on the rider's arms, remodelled brake master cylinders, and a new 41-tooth rear sprocket. A re-designed front fender works with revised graphics to give a sportier and slimmer look, while a supplementary seat for soft trials activities gives the machine even greater versatility.
Of course, the Montesa Honda stable has an incredible record of 16 world trials championships, the last seven of which have been achieved with the Cota 4RT model in the hands of Toni Bou, and customers in 2015 can still specify a replica of his title-winning machine.
The Montesa Honda Cota 4RT Race Replica also features a number of improvements for 2015 including a new monoblock four-piston front calliper for more efficient and powerful braking.
While it continues with the prestigious and high-quality Showa suspension used by the Repsol Montesa Honda team and its riders Toni Bou and Takahisa Fujinami, the 2015 4RT Race Replica, of course, carries the graphics and colours of the official machines.
Like the 2015 4RT260 machine, however, the Race Replica's front fender has been given the new angular design and a new shift pedal is slimmer and more elegant.
The Montesa Honda Cota 4RT260 and the 4RT Race Replica will be available from September through Honda (UK)'s official Montesa Honda trials dealers:
Scotland Mickey Oates – Glasgow
Northern Ireland Russells Motorcycles - Belfast
North Craigs - Yorkshire
South St Blazey Motorcycles - Cornwall