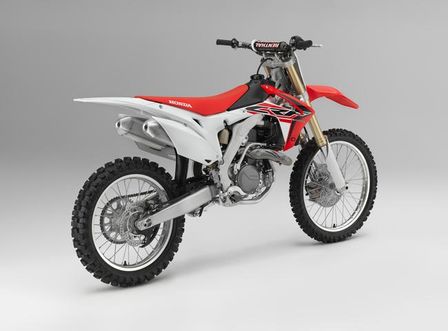 Model updates: Honda's flagship MX machine receives an Engine Mode Select Button giving choice of three engine maps for different power delivery, plus more power from an HRC-spec cylinder head design and new exhaust. The chassis gets lighter second-generation Kayaba PSF2 units plus 260mm front disc.
Contents:
1 Introduction
2 Model overview
3 Key features
4 Technical specifications
1. Introduction
Since its introduction in 2002, the Honda CRF450R has combined usable power with total control, defining the word "balance" from a rider's perspective, and allowing professional/amateur racers and hobby enthusiast alike to extract maximum performance both from themselves and their machine. It has proven itself a big hitting package at all levels, while its reliability, longevity and build quality have set the benchmark.
And it has constantly evolved; every single model year since its inception has delivered updates from Honda's busy competition program around the world. In 2013 it featured a brand new mass-centralised frame built around KYB air suspension USD front forks, a major step change in development focused on assisting the rider to cut super-fast lap times and turn with less effort, on the ground and in the air.
The 2014 model featured an array of detail changes to both suspension and engine performance, driven by race experience. For the 2015 season Honda's development engineers have chosen to make small changes that make a big difference, and their new CRF450R – out of the crate – is about as close as it's possible to get to the feel of a Factory MX1 machine.
2. Model Overview
Power and torque from the 449cm3 single-cylinder engine have been altered considerably for improved delivery and feel for rear-wheel traction from low-rpm up, plus increased peak output thanks to a redesigned HRC-spec cylinder head, new exhaust pipe/mufflers and PGM-FI Dual Fuel settings. Other upgrades to the transmission, piston, and crankcases further improve long-term durability. New radiators boost engine cooling.
Working seamlessly with the change in engine character is the 3-way Engine Mode Select Button (EMSB), an off-road breakthrough from Honda that gives a choice of 3 riding modes for the rider to select from the right side of the handlebar. Mode 1 delivers the standard combination of ECU maps, Mode 2 serves up silky-smooth throttle control and Mode 3 returns aggressive, all-out response and power.
Having re-written the rules of front-end feel 2 years ago the 48MM KYB Pneumatic Spring Forks (PSF) units have now moved on to the next level (PSF2) and receive redesigned, lighter internals plus approximately 10% friction reduction. High and low-speed rebound damping adjustment joins the other adjusters on the fork tops; the rear shock's adjusters have also been rationalised together.
Up front a redesigned 260mm disc replaces the previous 240mm item while the aluminium twin-beam frame, swingarm and Pro-Link rear suspension linkage remain unchanged. A new graphics package and aggressive Dunlop MX52 tyres round out the 2015 CRF450R's upgrades and, like everything else, tie it even closer to HRC's Factory racers.
3. Key Features
3.1 Engine
Increased power and torque off the very bottom with a smoothed, linear delivery through the middle plus increased peak output and extra rpm at the top end are the net results of the engineers' development time. This gives the rider confidence to get on the gas early, pick up consistent drive on and through the turn with extra rpm up top to reduce gear changing. Peak power is up 1.2bhp to 53bhp @ 9,000rpm with maximum torque of 48Nm arriving at 7,000rpm.
The redesigned 4-valve Unicam cylinder head and exhaust are chiefly responsible. The head is built to the specifications raced by HRC throughout the 2014 season and features exhaust ports that exit to the right, rather than left.
This allows use of a shorter, optimised exhaust pipe that no longer travels around the frame, reducing length by 320mm. The twin exhaust mufflers also feature a larger internal diameter. PGM-FI Dual Fuel injection has been revised to match the engine's increased efficiency.
Honda's EMSB is a game changer for the average racer. The news here is that rather than setup during the week and hope for the best (or take a laptop to the track) the rider – depending on conditions – just has to stop with the engine at idle and press and hold the button for just under a second to select the next map in sequence.
A highly visible LED built into the lightweight button signals the map in use with a quick press and number of subsequent flashes. If a new map is selected the choice is also confirmed to the rider.
Mode 1 uses the standard combination of ignition and fuelling maps to present a balanced power and torque delivery. Mode 2 is designed for use in slippery, muddy conditions and is all about throttle control, giving easy-to-manage feel that hunts out every last shred of traction. Mode 3 hits all-out hard with aggressive and responsive power delivery to drive through deep, soft sand. Mode 2 and 3 can be further tailored via the existing HRC setting tool for mapping hardware and software.
The internal architecture of the engine remains unchanged: bore and stroke is set at 96mm x 62.1mm with 36mm inlet valves and 31mm exhaust valves. Compression ratio is 12.5:1 but the 46mm throttle body employs a revised throttle return spring giving a much lighter – and less fatiguing – action.
Further internal upgrades are designed to improve durability. The left crankcase material is thicker around the crankshaft bearing and pivot point. To cope with the increase in power the piston now shares the CRF250R's heat treatment process. Every gear except first is now manufactured from Nickel Chrome Molybdenum.
Developed by Honda in other areas of manufacture it is 10% stronger than the Steel Chrome Molybdenum (SCM) material it replaces­, with no weight penalty. An extra 20g has been added to the ACG flywheel and the 4.5% increase in inertia – from 7.75kg/cm2 to 8.1kg/cm2 – improves engine torque feeling.
With the revised exhaust routing the radiator core sizes have been reversed left and right, with the larger radiator on the left. Pitch area between the fins has been narrowed, from 3.75 to 3.5mm creating a denser structure with increased surface area for improved cooling efficiency.
3.2 Chassis
The sixth generation 9.35kg aluminium twin-beam frame was designed from the outset around the 48mm KYB PSF, working with the improved suspension performance (compared to steel springs) to deliver superb front tyre side-grip and turning ability.
Now in its second generation the KYB PSF2s build their advantage in directional stroke transitions from compression to rebound. Within each leg a revised 'upright' cartridge structure with 32mm piston saves critical unsprung weight, while on the compression damping side a new design uses internally charged pressure to eliminate the sealing material. This has reduced friction by 10%, creating front suspension with enhanced response and feel.
A forced lubrication structure distributes working fluid between the inner and outer sections during compression via a check valve, reducing the risk of air leakage while keeping the bearing lubricated. Stroke remains 310mm.
For improved usability the KYB PSF2 also features all adjusters integrated to re-designed Alumite fork caps, with high/low speed compression and high/low speed rebound damping separated on the left and right sides of each cap. Preload is adjusted via a Schrader air valve.
The CRF450R's mass-centralised core and low centre of gravity reduce physical inertia with improved high-speed stability. Rake of 27.40°, with trail of 114mm and wheelbase of 1,492mm gives razor-sharp turn-in and increased feel for available traction; all-up kerb weight is 111kg. The aluminum swingarm provides massive rigidity for less deflection in ruts and improved corner-exit traction.
It operates a compact KYB rear shock; the benefit of mass centralization in this area is reduced pitching inertia along the bike's centre line. Harder braking is possible with improved stability. Like the PSF2 it now features the adjusters – high/low speed compression and rebound damping – concentrated above the reservoir for easy access. Stroke is set at 133.5mm, with 315mm axle travel.
Focused packaging of equipment around the frame contributes to mass centralization; all of the electrical components – ECU, condenser, regulator and wiring harness – are lightweight and centrally located below the throttle body.
The 2015 CRF450R's bodywork maintains Honda's man maximum/machine minimum (MM) ethos that's built around a rider's needs, first and foremost. Efficient riding ergonomics are at the heart of the CRF450R shape.
In support of this the shrouds, side covers, seat and fuel tank offer a slim, smooth and continuous transition allowing the rider a great deal of freedom and flexibility of movement. New CRF decals and detailing mirror the factory racers' look closely. Another detail change is the use of black radiator grills in a hard-to-clean area. A new simplified fuel hose design helps with cleaning and maintenance; fuel capacity is 6.3 litres.
A larger 260mm wave-pattern disc offers improved heat dissipation, power and feel from the two-piston brake caliper working it; a matching 240mm wave-pattern disc and single-piston caliper is at the rear. The new fork protectors and two-piece disc cover are finished in White, while the front and rear brakes guides are now Black.
Lightweight aluminium rims, with directly attached spoke pattern layout reduce unsprung weight; the front is a 21 x 1.6in, the rear a 19 x 2.15in. Both now wear top-specification Dunlop MX52F/MX52 tyres which offer superb grip over a variety of conditions, superior bump absorption from the sidewalls and recessed carcass design plus increased durability.
A variety of maintenance packs will be available for the 2015 year model.
4. Technical Specifications
| | |
| --- | --- |
| ENGINE | |
| Type | Liquid-cooled 4-stroke single cylinder uni-cam |
| Displacement | 449.7cc |
| Bore ´ Stroke | 96.0mm x 62.1mm |
| Compression Ratio | 12.5 : 1 |
| Max. Power Output | 53.0bhp @ 9,000rpm |
| Max. Torque | 48.0Nm @ 7,000rpm |
| FUEL SYSTEM | |
| Carburation | Fuel injection |
| Fuel Tank Capacity | 6.3 litres |
| ELECTRICAL SYSTEM | |
| Ignition | Full transistor |
| Starter | Kick |
| DRIVETRAIN | |
| Clutch Type | Wet multiplate |
| Transmission Type | Constant mesh |
| Final Drive | Chain |
| FRAME | |
| Type | Aluminium twin tube |
| CHASSIS | |
| Dimensions (L´W´H) | 2,188mm x 827mm x 1,271mm |
| Wheelbase | 1,492mm |
| Caster Angle | 27 °40' |
| Trail | 114mm |
| Seat Height | 952mm |
| Ground Clearance | 329mm |
| Kerb Weight | 111kg |
| SUSPENSION | |
| Type Front | Kayaba 48mm inverted PFS2 (310mm stroke) |
| Type Rear | Kayaba monoshock using Honda Pro-Link system (315 stroke, 133.5mm axle travel) |
| WHEELS | |
| Type Front | Aluminium spoke |
| Type Rear | Aluminium spoke |
| Tyres Front | 80/100-21 Dunlop MX52F |
| Tyres Rear | 100/90-19 Dunlop MX52 |
| BRAKES | |
| Front | 260mm hydraulic wave disc |
| Rear | 240mm hydraulic wave disc |
All specifications are provisional and subject to change without notice.