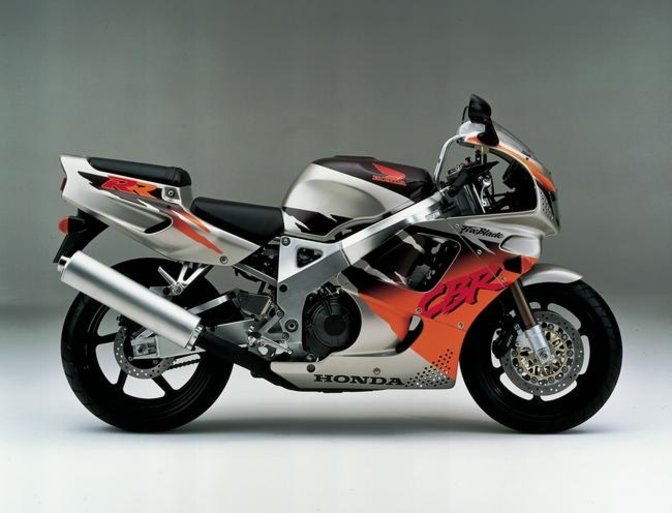 Following the unveiling of the Honda Racing's special-livery 'Urban Tiger' CBR1000RR Fireblade machine during last weekend's British Superbike Championship round at Snetterton, Honda has announced that a road-going version in the same stunning design will be available to buy at selected dealers from July.
The Urban Tiger paint scheme was first launched 20 years ago, when the original 1992 CBR900RR Fireblade received its first major update in 1994. A new fairing brought with it the iconic 'Foxeye' headlight and a bright orange paint scheme that was an eye-catching departure from the standard Honda colours. The Urban Tiger became an iconic design still much revered by Fireblade fans.
Now, the livery is making a comeback as selected Honda dealers across the UK will be offering the 2014 CBR1000RR Fireblade – which features an upgraded cylinder head and exhaust, plus revised PGM-DSFI settings boosting top-end power and mid-range torque – in Urban Tiger tribute livery. The model will also feature a special edition Akrapovic exhaust and will be available to purchase from July 2014, priced from £13,299 OTR.
"Honda is competing in four rounds of BSB with Julien Da Costa in order to continue development of the race bike ahead of our return to the championship in 2015 and we saw this as the perfect opportunity to celebrate the colourful history of the Fireblade," explains Honda UK's Head of Motorcycles Nick Campolucci. "We decided to take that one step further by offering customers the chance to own a modern version of this retro livery. The Urban Tiger is one of the most loved Fireblade paint schemes in the model's 22-year history and it's still as popular today as it was back in 90s. Now Fireblade fans can have the best of both worlds – the iconic design on the latest evolution of the machine."
For more details on the Urban Tiger tribute CBR1000RR Fireblade, locate your local dealer via http://bit.ly/1l497MW
Be sure to follow us on our Facebook and Twitter channels for all the BSB and Honda Motorcycles action throughout the year. #UrbanTiger fans can get involved in the conversation by following the hashtag.