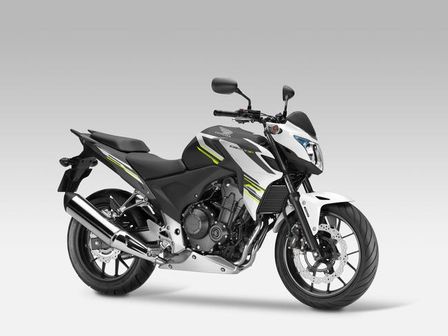 Honda (UK) today reveals its 2015 motorcycle line up, looking back to the past by celebrating a long manufacturing heritage and, simultaneously, forward into the future with a glimpse of two stunning Prototypes.
Honda has always worked to produce motorcycles and scooters that inspire dreams and expand horizons. Adding an engine to two wheels creates a machine that connects the rider to true emotion, excitement and a world full of adventure and experience.
And Honda's desire to encourage new riders – in particular a younger demographic – to the world of motorcycling continues. Core elements of this approach include fifteen A2 licence models on offer, with eight* bikes equipped with Honda's unique Dual Clutch Transmission (DCT). DCT technology has enjoyed growing popularity in the market, with over 30% of riders choosing the DCT option, where available, in 2014.
THE PROTOTYPES
Road going RC213V-S Prototype
Developed by Honda Racing Corporation (HRC) and Honda Motor, the RC213V-S is a road going prototype of the awesome Championship winning MotoGP RC213V machine. Inspired by, and developed with input from many legendary GP riders, the RC213V-S Prototype is set to be the ultimate road going motorcycle.
Two machines have been presented; a static bike painted with a distinctive Japanese flag to mark 100 years of the EICMA show, along with a fully functioning, running version clothed in full carbon-fibre, fittingly ridden onto the stage by 2013/14 MotoGP champion, Marc Marquez.
True Adventure Prototype
The second prototype on display is the True Adventure Prototype. Inspired by both Honda's fantastic heritage in adventure motorcycling and our recent Dakar programme, the True Adventure Prototype captures the product direction as Honda seeks to expand its presence in the Adventure segment. This prototype has been developed to deliver outstanding off-road capability, and could provide the basis of a true round-the-world motorcycle. It's flanked by the current Team HRC CRF450 Rally and, paying respect to Honda's competition legacy, the 1989 Paris-Dakar winning NXR Africa Twin ridden by Gilles Lalay.
No further technical details or information on either the road going RC213V-S Prototype or True Adventure prototype are available at this time.
NEW MODELS
2015 40th Anniversary Gold Wing, Gold Wing F6B and Gold Wing F6C
Marking 40 years of continuous Gold Wing production Honda celebrates with a Gold Wing finished in stunning two-tone paintwork and blacked out chassis, plus special 40th Anniversary emblems and key fob which will also be found on the three other 2015 Gold Wing paint options.
The 2015 Gold Wing F6B 40th Anniversary model receives cruise control and reverse gear, the same commemorative emblems as its siblings and unique Matt Silver paint finish.
The F6C power cruiser also receives a 40th Anniversary emblem on its key fob.
2015 VFR800X
The completely revised VFR800X features longer travel suspension, new wheels and brakes and aggressive adventure sports touring styling, and also benefits from more mid-range torque and top-end power from its V4-VTEC engine plus HSTC, ABS, premium LED lighting and 5-stage heated grips fitted as standard.
2015 Forza 125
The Forza 125 is a sports GT scooter that delivers more: more from a 4-valve low-friction engine designed for maximum highway performance, around-town zip and fuel efficiency. And more comfort for two with massive storage capacity, plus premium Honda LED technology and compact, cutting edge style.
NEW 2015 PAINT OPTIONS
Repsol replica paint
Following four consecutive Constructors' Championship wins, and inspired by 2013/14 Moto GP Champion, Marc Marquez, the NSC50R, CBR125R, CBR1000RR Fireblade and CBR1000RR SP Fireblade will all be available with special Repsol replica paint.
VFR1200F
Honda's V4 sports-touring flagship wears a new Pearl Glare White finish.
VFR1200X Crosstourer
The V4 adventure sports Crosstourer gets Special Edition Digital Silver Metallic/Pearl Glare White and Special Edition Digital Silver Metallic/Black paint options.
CB500F
Nimble, frugal and fun the naked twin-cylinder CB500F features new eye-catching Gunpowder Black Metallic­/Matt Summit White paint, and is on display. Two other 2015 paint options – Ross White/Candy Lightning Blue and Ross White/Millennium Red – will also be available.
CB500X
With all of the attributes of the CB500F the CB500X adds adventure sport style and upright riding position, expanding its all-round ability. On display is its new Gunpowder Black Metallic­ paint option; also available will be Matt Summit White and Millennium Red.
HRC Rider Lineup
Honda's racing stars in attendance
Making an appearance at the EICMA will show will be the entire roster of 2015 HRC riders, including recently crowned 2014 MotoGP Champion Marc Marquez and his team-mate Dani Pedrosa.
* DCT models: VFR1200F, Crosstourer, Integra, NM4 Vultus, NC750X, NC750S, CTX700 and CTX700N.