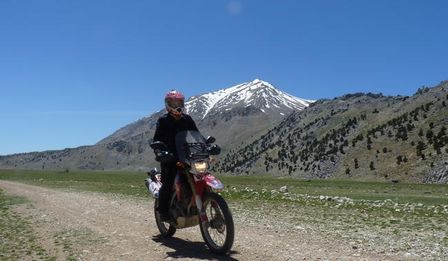 Long-distance motorcyclist Steph Jeavons is almost half way through an ambitious solo navigation of the globe, which she is tackling aboard her trusty Honda CRF250L nicknamed Rhonda.
Dubbed "One Steph Beyond", the trip began in March this year and will see Steph travel through 42 countries in two years as she raises funds for the charity Rally 4 Life. Currently on a short hiatus in Thailand, Steph is 14,000 miles into her journey with 24,000 miles still to go and, upon completion of the trip, could become the first female motorcyclist to travel through all seven continents solo.
"I have always wanted to travel the world and I have always loved bikes, so it seemed the obvious thing to me to put the two together," she explains. "In terms of the bike, I wanted a machine that was economical to run, lightweight, reliable and capable of going off road. I wanted something that would work well in heavy traffic or rough roads and dirt tracks. When Honda brought out the CRF250L, it seemed like the perfect solution. It ticked all the boxes."
The CRF250L is a dual-purpose motorcycle. Its dimensions, ergonomics, low weight, long-travel 43mm Showa USD forks and Pro-link rear suspension make it equally at home on city streets or country trails. The single-cylinder engine provides useful power and torque across a wide rev range, with excellent fuel economy.
Steph's ambitious round-the-world trip is certainly proving that the Honda CRF250L lives up to its description and she is so far more than satisfied with the its performance.
"The Honda has proved to be a great companion," says Steph. "It has started on the button every time, it has got me up to 18,500 feet with no complaints, we have ridden through monsoons, extreme heat, mud, sand, snow and crazy traffic. There is nothing this bike can't handle. It has been extremely economical and most importantly great fun to ride. If you want adventure, take this bike."
To find out more about One Steph Beyond, track Steph's journey or donate to the charity, visit
http://www.stephmoto-adventurebikeblog.com
For more information on the Honda CRF250L, visit www.honda.co.uk or contact your nearest Honda dealer.