Hire Purchase


Close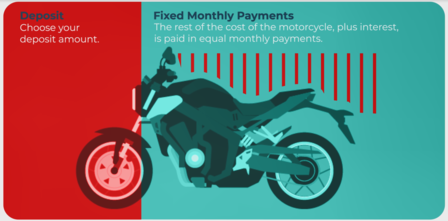 More manageable than you might think
So, how does this work?
Choose the motorcycle you want, and agree how much deposit you'd like to put down.
The rest of the cost of the motorcycle, plus interest, is paid in equal monthly payments.
Before you start your agreement, you can adjust the term to best suit your ideal monthly budget, from anywhere between one and five years.
Once you've paid all the monthly payments and the option to purchase fee, you own the motorcycle.
Choose the right product
Hire Purchase may not be right for you so please review our other finance products or speak to your Honda dealer, to make sure you choose the right product to suit your needs.
It is important that the product you choose should provide a monthly payment that is sustainable, whilst also meeting your needs and circumstances best. Your Honda dealer will be happy to assist you with this.
Product Features and Considerations
There are some aspects of Hire Purchase (HP) that you need to be aware to help you make an informed choice to decide if HP is right for you.
There are no mileage restrictions as part of the finance agreement.
The Total Amount Payable (overall cost) is typically lower than PCP on an agreement over the same term.
You have the right to withdraw from your HP agreement with 14 days from the start of your agreement. You can also partially or fully settle your agreement at any time (subject to the terms of the agreement).
With Hire Purchase there is no deferred payment amount (the Guaranteed Future Value or GFV) so you may pay more a month compared to PCP
Because there is no GFV, you have less protection against depreciation than with a PCP
You will not own the motorcycle outright until all regular payments and any option to purchase fees are paid.
To keep monthly payments down, you may need to take your loan over a longer term