Hire Purchase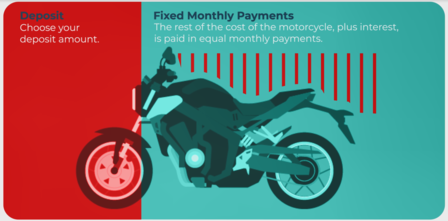 More manageable than you might think
So, how does this work?
Choose the motorcycle you want.
Agree how much deposit you would like to put down.
The rest of the cost of the motorcycle, plus interest, is paid in equal monthly payments.
You can then adjust the length of the agreement to suit you, anywhere between 1 and 5 years to fit the monthly payment you would like.
Once you've paid all the monthly payments and the option to purchase fee, you own the motorcycle.
Choose the right product
Hire Purchase may not be right for you so please review our Personal Contract Purchase [PCP] finance product to make sure you choose the right product to suit your needs. Alternatively, please get in touch with your local Honda dealer so they can discuss with you the most appropriate financing solution to suit your needs.