Close
Close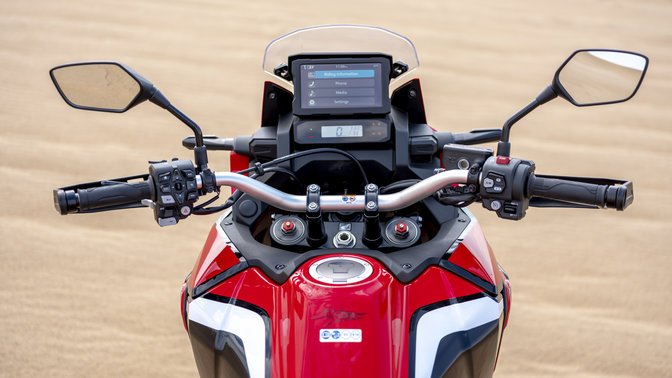 INTUITIVE CONTROL OF EVERYTHING THAT MATTERS
Between the crisp full colour of the Multi Information Display touchscreen and the left-hand switchgear, you have complete control of your Africa Twin.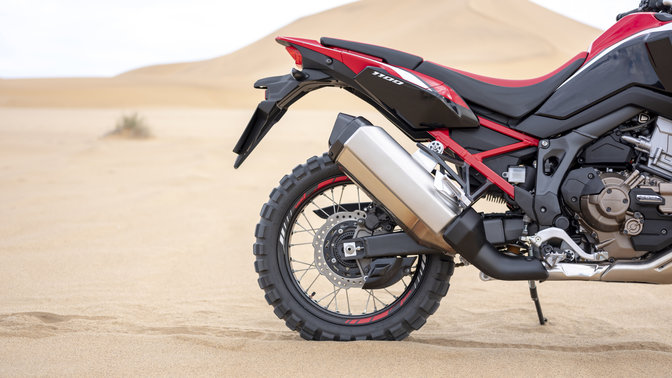 SEVEN LEVEL HONDA SELECTABLE TORQUE CONTROL (HSTC)
The optimised HSTC works to manage rear wheel traction and is controlled by real-time input to the six-axis Inertial Measurement Unit (IMU). It offers seven levels; 1-4 deliver minimum intervention and are spaced closely together, to allow for finer application by more expert riders in off-road riding conditions, while levels 5-6-7 are spread wider with level 7 offering the highest control level. HSTC can also be switched off.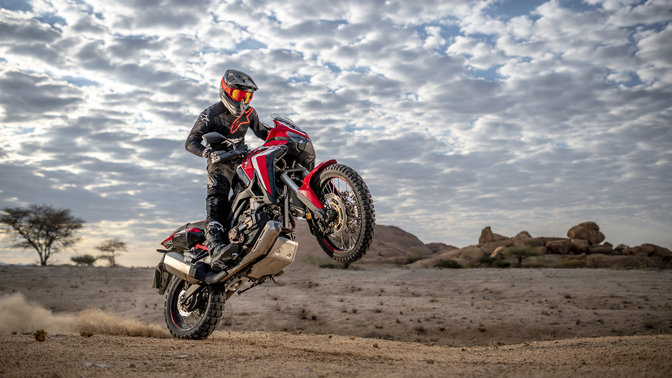 THREE LEVEL WHEELIE CONTROL
Off-road, sometimes you need to lift the front wheel to clear an obstacle – or it might be in the air when jumping. The IMU measures the pitch angle and, combined with front and rear wheel speed, manages the amount of height the front wheel gathers relative to the level of intervention selected. Level 1 is minimum Wheelie Control, level 2 medium and level 3 maximum. Wheelie Control can also be switched off completely.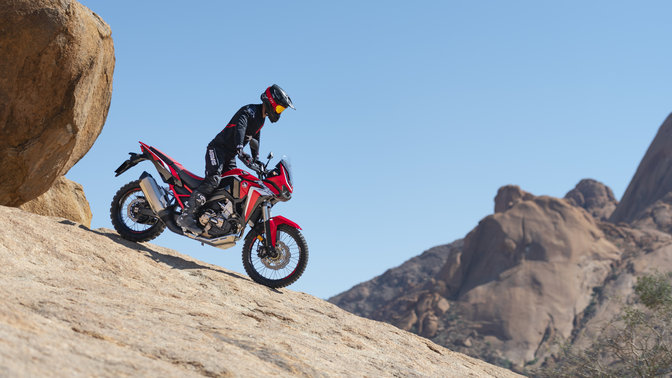 CORNERING ABS
For increased confidence on the way into a turn the IMU-controlled ABS manages braking force relative to lean angle, speed of deceleration and front and rear wheel slip ratio maintaining traction to the limit. The amount of ABS intervention is also dependant on the riding mode selected; lift of the rear wheel is also controlled under hard-stop situations. There's an off-road setting and rear brake ABS can also be switched off.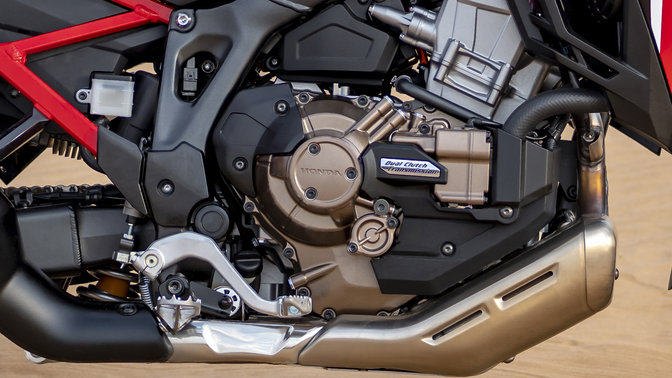 OPTIONAL DUAL CLUTCH TRANSMISSION (DCT)
Available as a Factory Fitted option (from new only), DCT features the standard manual mode – allowing you to operate gearshifts through triggers on the left handlebar and two automatic modes. D mode offers easy cruising and best fuel economy, while S mode gives three sportier shift patterns to choose from. DCT also auto-blips on down changes. The G switch reduces clutch slip while shifting giving more direct drive to the rear wheel for off-road use.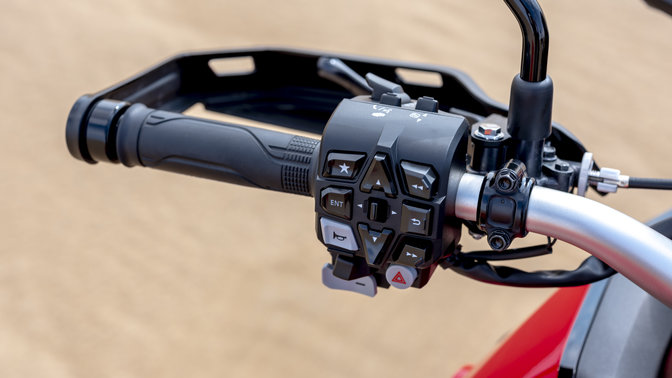 SIX RIDING MODES
There are four default riding modes to choose from, designed for ultimate performance in most situations: TOUR, URBAN, GRAVEL and OFF-ROAD. Each modifies engine response and engine braking, DCT G switch and Cornering ABS to suit conditions. Two user modes also allow you to arrive at the perfect set-up to suit your own personal preferences. Selection of the riding modes is simple – via the top left of the touch screen.
TFT TOUCH SCREEN
The full colour Multi Information Display (MID) 6.5-inch TFT touch screen keeps you in control of all of the Africa Twin's systems.
And have it how you want it – the MID can be customised to show various levels of information relative to the riding mode chosen. Each of the four default riding modes ­– plus the two customisable user modes – are selected through the top left of the 6.5-inch TFT touch screen, as is SHOWA EERA™ adjustment. It's also easy to use even when wearing gloves.
Apple CarPlay®
Everybody needs to keep in contact, especially on long trips. So the MID features Apple CarPlay®, allowing use of an Apple iPhone® through the TFT touchscreen without major distraction while riding (the iPhone® plugs into a USB charging port sited on the right of the MID). Navigation apps can be accessed and displayed and with a Bluetooth headset fitted to your helmet you can make and receive calls or listen to music.
SEE ONLY THE INFORMATION YOU WANT
THE MULTI INFORMATION DISPLAY 6.5-INCH TFT TOUCHSCREEN IS FULLY CUSTOMISABLE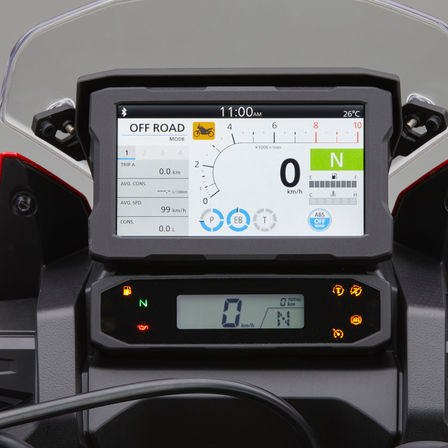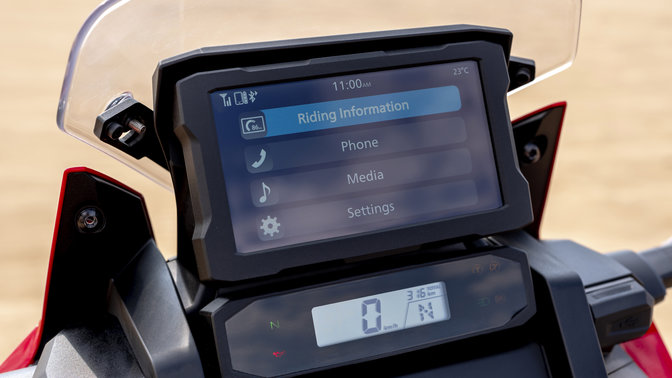 Android Auto®
For Android users, the MID also features Android Auto® and offers the same level of engagement through the TFT screen. Your device plugs in and you can then access Google Maps for easy door-to-door navigation, as well as make and receive calls and listen to music via a helmet-mounted Bluetooth headset.
Bluetooth Connectivity
The MID also offers hands-free wireless Bluetooth connectivity to your iPhone® or Android device. Once paired, you can access music playlists and make or receive calls through your helmet headset without taking your hands off the handlebars.