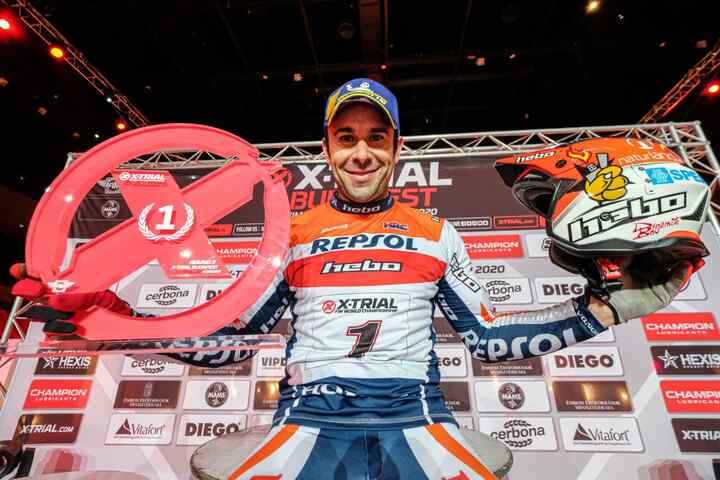 My Ride, My Life: Toni Bou
"The emotions I feel when riding a bike are always positive. In this moment, regardless of my job, I can disconnect and have fun and that allows me to wake up every day with the desire and enthusiasm to train. To sum up in only one word how I feel when I'm riding a bike is happiness! When I ride, all the pressure and the nerves are gone. I enjoy it a lot, because I don't look back, I only look forward and enjoy the moment."
To see the full interview with Toni Bou visit: link.honda.racing/JwBm
Back to Blog
The world's most successful motorcycle rider doesn't compete in the 350kmh/220mph world of MotoGP but in the slower-moving world of TrialGP and X-Trial, where the extraordinary riding talent of top riders allows them to achieve mind-boggling feats of machine control.

Repsol Honda Team trial ace Toni Bou has won no fewer than 30 World Championships, 22 more than MotoGP stablemate Marc Márquez. This makes the 34-years-old Spaniard the most successful rider across all disciplines in the history of motorcycle sport.

Watch a video of Bou in action aboard his Montesa Honda Cota 4RT trials bike and you'll be more amazed than you are when you watch Márquez race his RC213V around Mugello.

It's like watching the wildest motorcycling stunts in a James Bond movie, multiplied many times: riding up a three-metre cliff like it's not even there, jumping a ravine like it's not even there…

Bou has been in love with motorcycles and particularly with trial riding since he was four-years-old, when his father gave him a mini trial bike. The two emotions that keep him riding and competing at the highest level today are the same emotions that millions of motorcyclists feel every time they climb aboard a motorcycle: joy and happiness.

"The most important part of my success is that I enjoy riding a lot," says the much-decorated Spaniard. "So I always have the motivation to train and this is what makes me want to keep progressing at my age.

"The emotions I feel when riding a bike are always positive. In this moment, regardless of my job, I can disconnect and have fun and that allows me to wake up every day with the desire and enthusiasm to train.

"To sum up in only one word how I feel when I'm riding a bike is happiness! When I ride, all the pressure and the nerves are gone. I enjoy it a lot, because I don't look back, I only look forward and enjoy the moment."

Bou will never forget the moment he got his first motorcycle, on his fourth birthday.

"I had been asking for a bike for a long time – although I was very small I was already very clear in my mind!"

Bou's father didn't only get him started, he has been by his side throughout the journey – from a kid having fun on a minibike to the most successful motorcyclist in history – so trials riding has always been a family affair.

"The person that inspired me most is my dad – because I'm doing this because of him. He has always been there, helping me a lot."

Bou made his World Championship debut in Northern Ireland in the spring of 2003 and won his first world round in Galicia, Spain, three years later.

His record since then is jaw-dropping to behold: victory in the outdoor TrialGP World Championship in 2007, 2008, 2009, 2010, 2011, 2012, 2013, 2014, 2015, 2016, 2017, 2018, 2019, 2020 and 2021. That's 15 consecutive titles and he won the latest despite breaking a leg during training, less than a month before the first event.

And that's not all. Bou has also been utterly dominant in the indoor X-Trial World Championship, doubling his title successes with victory in 2007, 2008, 2009, 2010, 2011, 2012, 2013, 2014, 2015, 2016, 2017, 2018, 2019 and 2020. The 2021 indoor series has yet to be completed, so Bou could be a 30-times World Champion by Christmas!

Bou is in love with motorcycle riding, so inevitably he doesn't only ride for work. Born in Barcelona and now resident in the mountainous principality of Andorra, when he has time off there's nothing he loves more than heading to the hills to ride enduro bikes with friends, just for fun.

Bou likes to challenge himself by riding other kinds of motorcycling competitions.

"I am a rider who is mentally very active and restless. I like to try other disciplines, even things I'm not very good at, just to try it and see where I am, to see where my limit is, to test myself.

"If I had to choose another discipline it would be extreme enduro. A lot of trials riders have switched to this and they have the speed and the technique. I would love to do it but I always go to the limit and when I have tried it I end up on the ground, so my team stops me!"

Bou wins his titles through talent, dedication and hard work, but also through his willingness to be brave and daring, to take risks that other riders might baulk at.

"I am a rider that takes a lot of risks and I like to take risks."

Of course, Bou isn't finished yet. His latest contract with Honda Racing Corporation takes him to the end of 2024. No one knows when he will stop riding for world-title glory, but whenever he does stop he will remain the world's most successful motorcyclist for a long time, maybe forever.