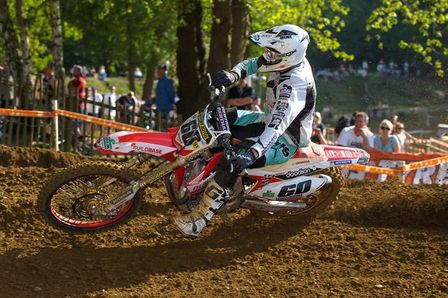 Warm, sunny weather and near-perfect track conditions met Buildbase Honda's riders Brad Anderson and Nez Parker as they arrived at Canada Heights in Kent for round four of the Maxxis ACU British Motocross Championship this weekend.
After a crash during a practice session on Wednesday, Anderson was unsure how he would cope with the three MX1 races, but he was able qualify seventh and as race one got underway he made a strong start to battle in the top three, eventually finishing fifth. Team-mate Parker – who was returning from injury – qualified 14th and worked his way into tenth place at the flag.
The second race of the day saw Anderson make another great start at the front of the field, where he pushed hard to secure a well-deserved third place. Unfortunately, Parker crashed on the first lap and re-mounted in last place, eventually finishing outside the points in 21st.
In the third and final race, Anderson got off to a bad start outside the top ten, but he put up a good fight to regain five positions and finish in fifth place. His three top-five finishes gave him fourth overall on the day and see him move up to fourth in the championship standings. Parker meanwhile got a good start in race three but his lack of recent bike time meant he was unable to keep the pace and he slipped back to 12th to take 13th overall on the day.
In the MX2 class, Putoline Apico Honda's Neville Bradshae took a third, fourth and fifth place aboard his CRF250R machine to finish fourth overall on the day. His team-mate James Harrison took home three top-20 finishes to place 14th overall.
Dave Thorpe
I'm really pleased with both riders today. Brad slipped a disc on Wednesday and truthfully we thought he wouldn't be able to race, so his 5/3/5 was a credit to him. Nez is on the long road to full fitness, so three starts and three finishes is a great result on a very demanding circuit. We now look forward to Whitby and hopefully have EBB back and finally have all three riders in the awning!
Brad Anderson
On Wednesday I hurt my back badly really practicing and slipped a disc, so looking at my results I'm over the moon. In qualifying I only managed a few laps and was really struggling, but I managed 5/3/5 and I was only a few points off podium. If I'd been fully fit I think I would have been on the podium because I really like this track. Tomorrow I go for a scan on my back and will work out a plan to get it sorted in time for the next round.
Nez Parker
Today has been a bit of a struggle but it was to be expected. In the first race I got a 10th which was ok, then in the second race I went down on the first corner and then again later in the race and finished 21st. The last race I got a good start, but my race fitness let me down a bit, but it was my first Maxxis race since Farleigh last year so today is a start and we can improve on it going forward now.
MX1 race one:
1) Jake Nicholls
2) Shaun Simpson
3) Kristian Whately
4) Graham Irwin
5) Brad Anderson
MX1 race two:
1) Shaun Simpson
2) Jake Nicholls
3) Brad Anderson
4) Graham Irwin
5) Milko Potisek
MX1 race three:
1) Shaun Simpson
2) Kristian Whately
3) Brad Anderson
4) Graham Irwin
5) Milko Potisek