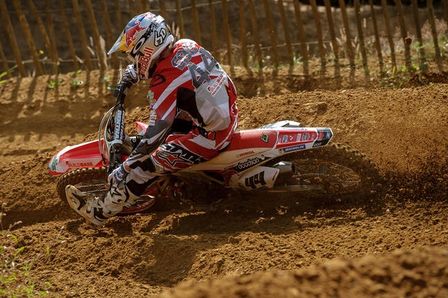 Brad Anderson took his Buildbase Honda CRF450R to three podium finishes and second place overall yesterday in round five of the MX Nationals series at Canada Heights in Kent.
It was a great return to form for the 33-year-old rider and he was able to battle with fellow British team-mate Elliott Banks-Browne, 24, who returned from injury over the weekend. Unfortunately, the third Buildbase Honda rider Nez Parker missed the Canada Heights round after sustaining damaged knee ligaments in the last ACU British Championship round.
After qualifying in the top five, both riders attacked at the start of race one on Saturday but Banks-Browne was hit by another rider on the second lap and machine damage forced his retirement. Anderson, however, pushed race leader Kristian Whatley hard for second place at the flag.
In race two, on Sunday morning, both Buildbase Honda riders catapulted into the lead and were in charge for the opening laps before Banks-Browne slipped back to fifth. After taking over the lead, Anderson came under pressure from Whatley and took another second place finish.
Anderson and Banks-Browne again took the lead in the weekend's final outing and Anderson was able to push throughout to take a well-deserved race victory and finish second overall, moving up to third place in the MX Nationals series. Banks-Browne took a solid sixth place but his DNF in race one dropped him to 11th overall.
In the MX2 class, which runs alongside MX1 in the MX Nationals series, Putoline Apico Honda rider Neville Bradshaw took his CRF250R to the podium in all three races to finish in third place overall. His team-mate James Harrison was eighth overall and the team's third rider Loukas Maggio 16th.
Brad Anderson – 2nd/2nd/1st:
This weekend has been great and Canada Heights is circuit that I really enjoy. I finally managed to get some good starts and produced three great races. To win the last race is great for my confidence going into the Maxxis [ACU British Championship round seven] at Cusses Gorse next week.
Elliott Banks-Browne – DNF/5th/6th:
The results could have been a bit better, but right now I am just happy to be back on the bike and to be racing again. Getting taken out in the first race was far from ideal, but to get two solid finishes in the other two races has now given me something to build on.
Dave Thorpe – Buildbase Honda team-manager:
I'm so pleased for Brad to take the last moto win this weekend. This will give him confidence going into Sunday's British Championship event at Cusses. The race wins not only help motivate the riders but also boost moral in the workshop. Willy and Ryan have worked their socks off this season, so it's nice for them too! We are a little disappointed with EBB's results because he showed good pace early in the races but faded. He has a week to really focus and achieve what we all know he is capable of.
2014 MX Nationals championship points after five of eight rounds:
1 Nathan Watson 326
2 Kristian Whatley 295
3 Brad Anderson (HONDA) 271
4 Graeme Irwin 256
5 Jamie Law 201
6 Gert Krestinov 193
7 Shane Carless 177
8 Tony Craig 169
9 Priit Ratsep 154
10 Elliott Banks-Brown (HONDA) 131.