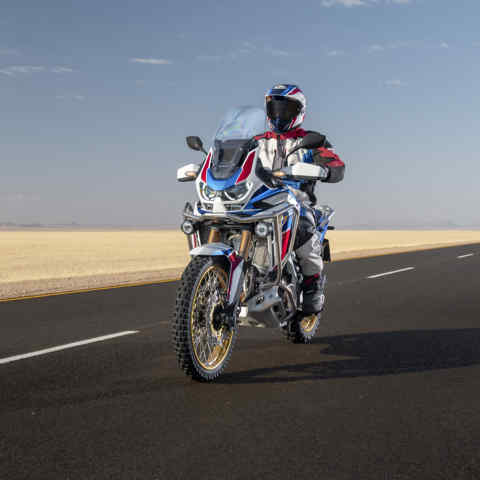 NOW THIS IS WHAT WE CALL A BLUE-SKY DAY.
See the next horizon, under that magnificent dome of cobalt sky? Of course you do. But you're looking further ahead. Wondering what you'll find three horizons from now. We know the feeling. And it's why we built the Africa Twin Adventure Sports – ready to tour the world with advanced technology and premium features. Available from £17,449 On The Road
'Plus' Edition model (applicable to all variants).
Example displayed is with Aluminum Luggage. As part of the 'Plus' edition, plastic luggage is also available.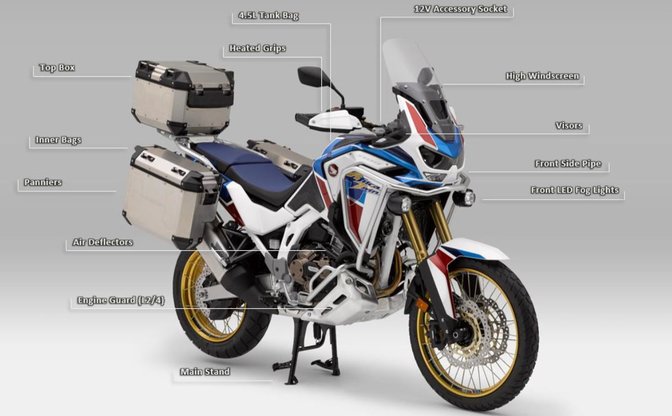 2020 Africa Twin 'Plus' Edition
Each 'Plus' Edition will be supplied with a full range of Genuine Honda Accessories, including a choice of all-new Aluminium or Plastic Luggage boasting a combined storage capability (Top Box + Panniers) of 112L or 128L respectively.
The model comes with a standard 2 year warranty across all accessories.
Both sets of luggage will come as standard with a dedicated set of Inner Bags. Additional storage space will be available via an all new 4.5L Tank Bag constructed from waterproof material and featuring a clear front pocket for convenient storage. All the luggage is accessible via one key operation.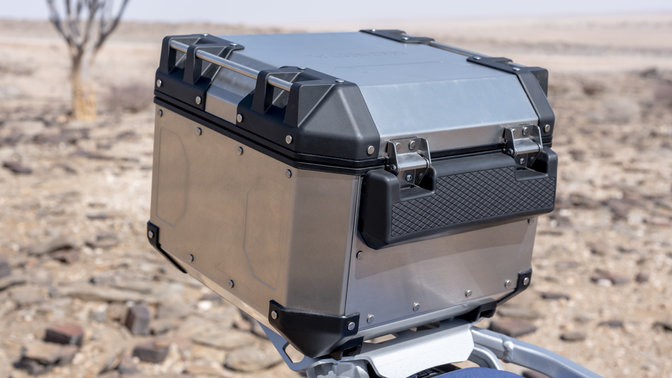 TOUGH AND LIGHTWEIGHT 42L ALUMINIUM TOP BOX
Constructed from tough and lightweight aluminium the 42L top box can store one full-face helmet, carries a maximum load of 6kg and mounts on the Africa Twin Adventure Sports' standard rear carrier (available separately for fitment on the Africa Twin). It's equipped with a pillion back rest and uses the Honda one-key system for opening with the ignition key; a specially designed waterproof inner bag is available separately.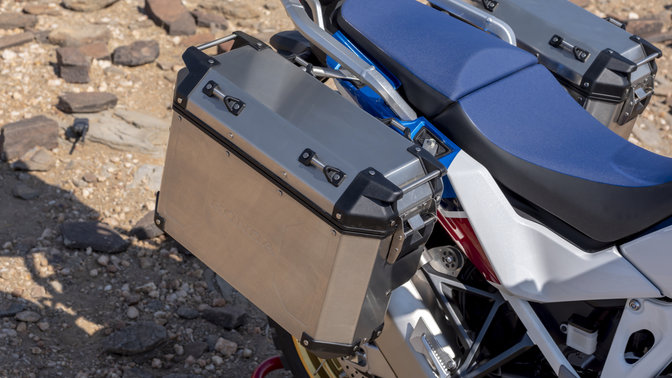 TOUGH AND LIGHTWEIGHT ALUMINIUM PANNIERS
Like the top box, the 33L right and 37L left panniers are made from durable, lightweight aluminium. They'll carry a maximum 10kg load each and mount on stainless steel stays finished with an electrolytic coating for easy cleaning (available separately). Overall width when fitted is less than 100cm; the Honda one-key system ensures convenient access with the ignition key and waterproof inner bags are also available.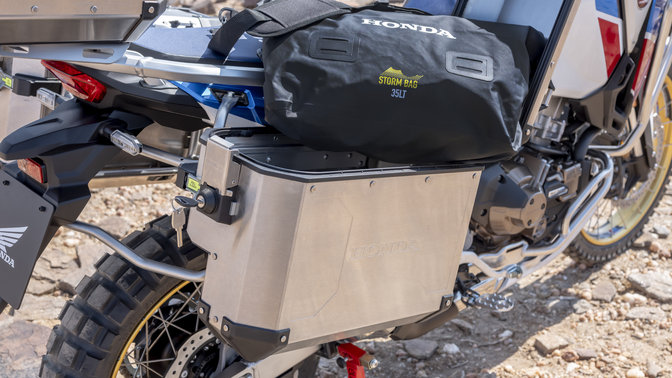 WATERPROOF INNER BAGS FOR THE ALUMINIUM TOP BOX AND PANNIERS
The inner bags for the aluminium top box and panniers are tailored for a perfect fit; as they're waterproof, they can be strapped on externally for extra carrying capacity. Each is fitted with a shoulder strap as standard.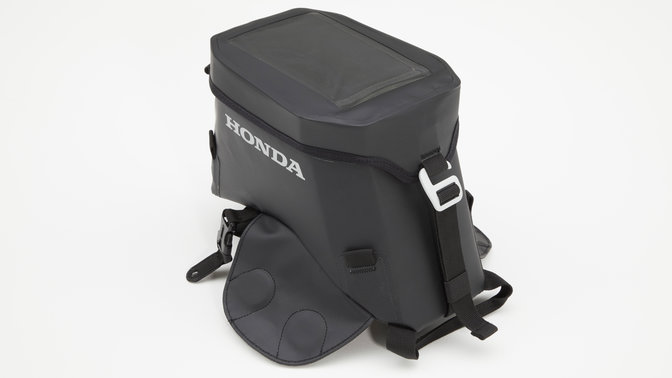 ADVENTURE TOURING 4.5L TANK BAG
Specifically designed for adventure touring, the 4.5L tank bag's compact size means it does not get in the way when riding off-road. It features a window pocket for a map, is waterproof and fits both the Africa Twin and Africa Twin Adventure Sports with a one-touch buckle and magnets. Maximum load is 1.5kg.
Finance Offers (PCP)
CRF1100L Africa Twin Plus (PCP) - Representative Examples
OTR Price*
£15,849.00
Deposit
£3,241.34
Test Ride Contribution**
£500.00
Amount of Credit
£12,107.66
36 Payments of
£149.00
Duration
37 months
Final Payment
£8,239.66
Final Payment inc Option Fee
£8,249.66
Total Amount Payable
£17,355.00
Representative APR
4.9%
Option to Purchase Fee
£10.00
Annual Contracted Mileage
4,000
Excess Mileage Charge
£0.09
Interest Rate per annum
4.76%
Finance Offers (VPL)
CRF1100L Africa Twin Plus (VPL) - Representative Examples
OTR Price*
£15,849.00
Deposit
£3,996.32
Test Ride Contribution**
£500.00
Amount of Credit
£11,352.68
36 Payments of
£339.00
Duration
36 months
Total Amount Payable
£16,700.32
Representative APR
4.9%
Interest Rate per annum fixed
4.75%
Finance Offers (HP)
CRF1100L Africa Twin Plus (HP) - Representative Examples
OTR Price*
£15,849.00
Deposit
£3,996.37
Test Ride Contribution**
£500.00
Amount of Credit
£11,352.63
36 Payments of
£339.00
Duration
36 months
Total Amount Payable
£16,710.37
Representative APR
4.9%
Option to Purchase Fee
£10.00
Interest Rate per annum fixed
4.75%
Finance Offers (PCP)
CRF1100L Africa Twin Adventure Sports Plus (PCP) - Representative Examples
OTR Price*
£17,449.00
Deposit
£4,024.86
Test Ride Contribution**
£500.00
Amount of Credit
£12,924.14
36 Payments of
£149.00
Duration
37 months
Final Payment
£9,184.86
Final Payment inc Option Fee
£9,194.86
Total Amount Payable
£19,083.00
Representative APR
4.9%
Option to Purchase Fee
£10.00
Annual Contracted Mileage
4,000
Excess Mileage Charge
£0.10
Interest Rate per annum
4.76%
Finance Offers (VPL)
CRF1100L Africa Twin Adventure Sports Plus (VPL) - Representative Examples
OTR Price*
£17,449.00
Deposit
£4,256.78
Test Ride Contribution**
£500.00
Amount of Credit
£12,692.22
36 Payments of
£379.00
Duration
36 months
Total Amount Payable
£18,400.78
Representative APR
4.9%
Interest Rate per annum fixed
4.75%
Finance Offers (HP)
CRF1100L Africa Twin Adventure Sports Plus (HP) - Representative Examples
OTR Price*
£17,449.00
Deposit
£4,256.97
Test Ride Contribution**
£500.00
Amount of Credit
£12,692.03
36 Payments of
£379.00
Duration
36 months
Total Amount Payable
£18,410.97
Representative APR
4.9%
Option to Purchase Fee
£10.00
Interest Rate per annum fixed
4.76%
GO FOR A SPIN

Take a ride on the Africa Twin Adventure Sports

GET THE FACTS

Find out more about the Africa Twin Adventure Sports

VISIT US

We'll tell you everything you need to know about the Africa Twin Adventure Sports