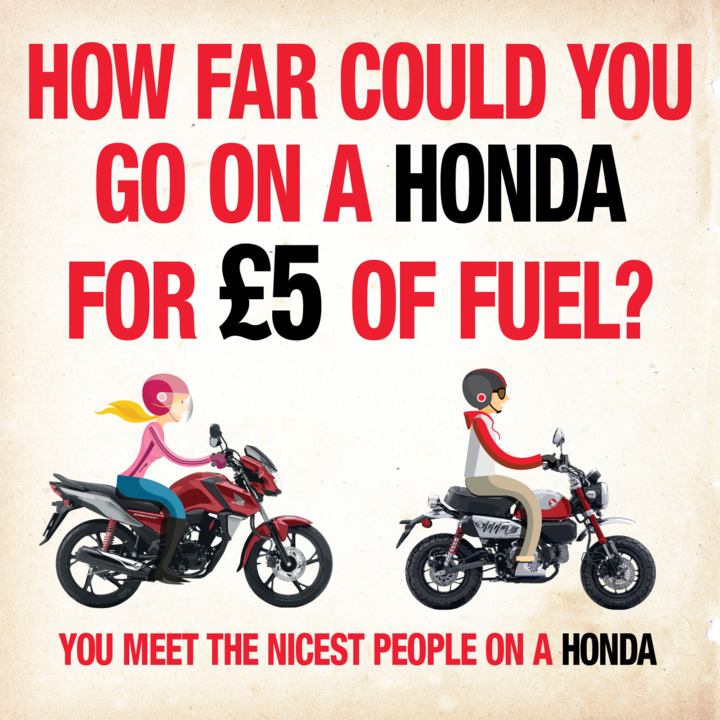 Up to 130 miles of fun on a Honda 125cc
With today's high fuel costs – coupled with rising inflation, interest rates and the general cost of living, a Honda motorcycle could be the perfect solution to get you where you need to go - plus it's fun too!
£5 Fuel Consumption Comparisons across some of the models in our range (WMTC Test Figures)*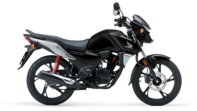 CB125F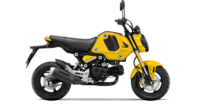 MSX125 Grom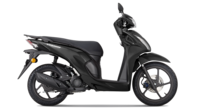 Vision 110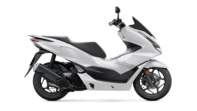 PCX125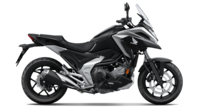 NC750X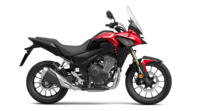 CB500X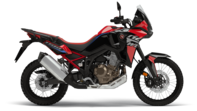 CRF1100L Africa Twin DCT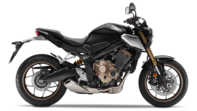 CB650R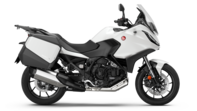 NT1100
* £5 of fuel equates to 3.33 litres based on £1.50 per litre for unleaded petrol (current average UK fuel price as of 09/01/2023). Fuel data taken from www.rac.co.uk/drive/advice/fuel-watch. Fuel prices are correct as of 09/01/2023, but are subject to change without notice. 1 kilometer per litre = 0.6214 miles per litre.
Fuel consumption figures quoted are results obtained by Honda under standardised testing conditions prescribed by WMTC (World Motorcycle Test Cycle) for comparative purposes. Range/distance stated for a particular value of fuel is based on these test figures and may not be achievable in real life. Actual fuel consumption and actual distance travelled on a particular value of fuel may vary depending on the price you actually pay for fuel, how you ride, tyre pressure, rider weight, cargo and other factors.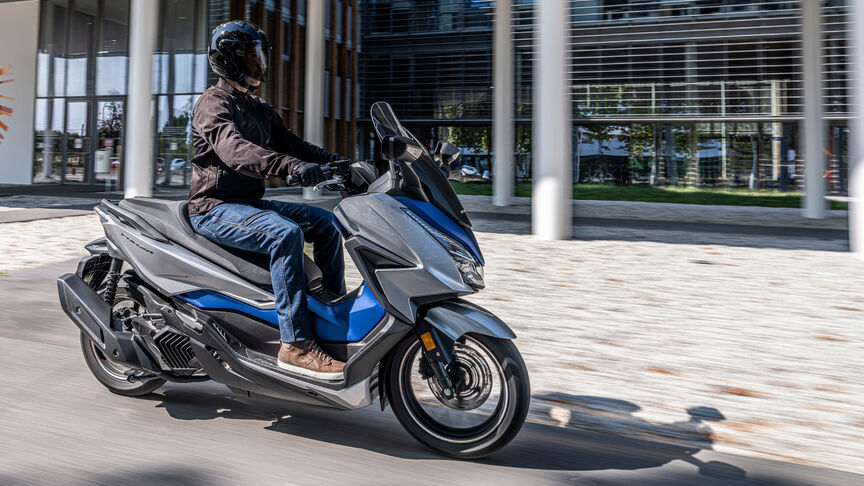 Save time and money on your daily commute
We all know public transport in the UK can be expensive, as well as occasionally unreliable and time consuming. First, there's the waiting time, then the stop, start, stop, start of a bus or train service can be monotonous and frustrating! By taking the journey by motorcycle, you could cut down the door-to-door commuting time. Plus, reports show that the costs of commuting via motorcycle (including fuel, insurance and road tax), may be cheaper too.
More freedom, flexibility, and fun!
Not only could motorcycle travel save time when compared to the public transport commute, it also means you don't have to rely on other people to get to your destination. This is why so many people get motorcycles in the first place: the freedom of being able to do what you want, when you want. You're free from the shackles of timetables and the dreaded delay messages over the station tannoy. Plus, when you're riding your motorcycle, the journey won't feel like a boring slog anymore. It just means you get to spend your mornings and afternoons doing the thing you love.
Don't just take our word for it...