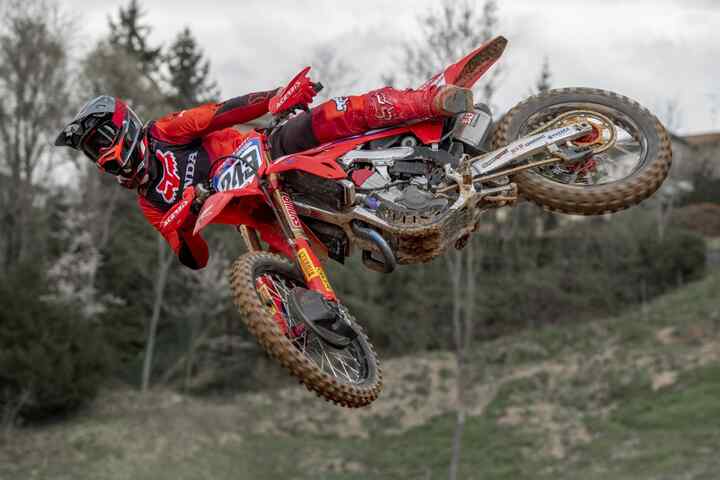 My Ride, My Life: Tim Gajser
"My first memory of motorcycling is being at the sea with my family when I was two and a half years old when I saw a little Honda 50" remembers Tim Gajser, beaming with his ever-present smile. It's clear to see the emotions it stirs when talking to Tim about a lifetime spent around motorcycles. "My Father put me on the bike, showed me the gas and the brakes and then I started riding, and from there on everything began!"
To see the full interview with Tim Gajser visit: link.honda.racing/4kEI
Back to Blog
Little could anyone know that his first experience on two wheels would set in motion a story of four motocross World Championship titles, all by the age of just 24 and all on the Honda CRF, with surely many more to come.

Gajser comes from a motocross family, and in a familiar story his Dad used to race and Tim has memories of his formative years spent "following him everywhere, wherever he went. He was racing motocross and that was what I wanted to do when I became older as he was the most inspirational person in my life."

With that passion positively encouraged and the family doing whatever they could to keep Tim racing, he always had a single-minded focus on becoming a motocross World Champion. He got his own bike not long after sampling that little Honda XR50, and quickly became obsessed, riding every day until it was so dark his father couldn't see his budding protégé any longer. With the enthusiasm of a child, being told to stop brought tears time and time again. But as he continued to practice, so he started to succeed, first in Slovenia, and then entering the European stage.

Having already won the European 65cc Championship at the age of 11, Tim looked to be on a straight course to stardom, debuting in the World Championship aged 16, but it's not always been that easy.

At the end of 2013 his ascent looked to have been halted, and the family had no money. Everything had been put into Tim's racing to date, such was their collective commitment. As Tim says, "It's kind of like being addicted – it's addiction", and so it proved for the whole family. "It's my life. I mean, I can't really imagine life without motorbikes."

His steadfast belief in his dream and outstanding talent shone through, and once again his and Honda's paths crossed in the most spectacular of ways. Honda stepped in with Giacomo Gariboldi, giving Gajser a lifeline which catapulted the Slovenian aboard his #243 CRF to a whole other level.

The first World Championship title came just one year later in 2015 aboard the CRF250R, followed by a sensational back-to-back world title on the CRF450R in 2016, five days before his 20th birthday.

Two more crowns have since followed in 2019/2020, but only after two difficult seasons beset by injuries. As Tim reveals: "When you get injured you're not able to improve yourself – you have to be at home, wait to heal up. But it hits you a lot also on the mental side, maybe more than on the physical side. I couldn't really find myself and it was really difficult for the mental side to start to believe again."

Tim has ridden every CRF since 2014, including the little CRF150R when supporting Honda's youth at training camps. His and Team HRC's feedback (and success) has been important in the model's development, and the confidence he has in his bike played a role in him re-finding that inner belief. His favourite Honda? "The one that I ride now. Honda really made a huge step with the current bike." The ongoing development of the CRF450R has formed the basis of his challenge for a fifth world crown.

It's a measure of the man that when invited back by his old school he jumps at the chance to talk to the students about achieving their ambitions, and that he's proud of what he's done to help put Slovenia on the motocross map and popularise the sport within the country.

Indeed, he now owns the motocross track in Slovenia where he cut his teeth, in the hope that future generations can dream as big as he did. "In the past motocross was not so popular in Slovenia. Now with more success more people start to follow this sport and even the kids start to believe that they can become something big. When you see that something is changing for the better, it makes you proud to see that you were a little piece of that."

Proudly Slovenian, there's no missing 'Gajser-fever' if you ever venture near his home town of Ptuj. If it's not the diehard (and very vocal) Gajser supporters you hear first it'll certainly be the vivid red and yellow family home that grabs your attention, boldly wearing the Gajser family racing colours and full of racing memories from across the generations.

With an intensive racing and training schedule, his local Tiga243Land track also serves another key purpose for the superstar: "What is also important is to have some days on the bike just to have fun, just to go to throw some whips. Not riding really on the edge but just having fun with friends or something like that."

So perhaps it's not surprising that this charismatic 25-year-old always sports one of the biggest smiles around. "When you are smiling, when you are happy, you know that you enjoy and like what you do and you are not there because you have to be, but because you want to be."

And whether it's riding for fun or riding to win, who can argue with that.