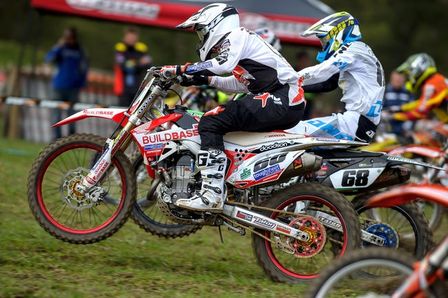 The May Day weekend saw the Buildbase Honda team head to Whitby for the third round of the MX Nationals.
The May Day weekend saw the Buildbase Honda team head to Whitby for the third round of the MX Nationals, where Brad Anderson secured two out of three race wins aboard his CRF450R machine to take overall victory at the event and the lead in the championship standings.
After qualifying in a solid sixth place, Anderson had a good gate pick for the weekend and was able to get the holeshot in race one. Once at the front, he continued to lead the race until lap eight when he was passed by Kristian Whatley. In the final couple of laps Anderson lost his rhythm and slipped to a fourth place finish.
Sunday saw the second race of the weekend and Anderson once again made a great start, rounding the first corner inside the top three, before taking the lead by the end of the opening lap. He proceeded to set a number of fast lap times to pull away from the chasing pack, maintaining his lead to take the victory.
With one win already in the bag, Anderson was looking for a repeat performance in the final race. He made another stunning start to take the lead, and despite an attack from Nathan Watson, Anderson held fast to take a comfortable race win and the overall victory the weekend. The Buildbase Honda rider now sits first in the MX Nationals standings.
In the MX2 class, Putoline Apico Honda's Neville Bradshaw secured two third places and a 23rd, while team-mate James Harrison placed 13th, 11th and 14th. They now sit ninth and 12th respectively in the championship.
Dave Thorpe – Buildbase Honda team manager
This weekend has been a great result for both Brad and the team. Over the recent weeks Brad has consistently shown that he had the speed, but lacked a good start. He showed what he is capable of today. We're looking to continue this form going into the next round of the Maxxis, where we plan to have all three riders back.
Brad Anderson
It's been a great weekend at my home event, I had a lot of friends and family here and it was great to get the two race wins. I've been fast all season but just been lacking starts and I got those today (Sunday). It was a great feeling being able to take Vinnie onto the podium and I looking forward to do it again soon.
MX1 race one
1) Kristian Whatley
2) Graeme Irwin
3) Nathan Watson
4) Brad Anderson
5) Jamie Law
6) Steven Clark
MX1 race two
1) Brad Anderson
2) Nathan Watson
3) Kristian Whatley
4) Graeme Irwin
5) Jamie Law
6) Steven Clark
MX1 race three:
1) Brad Anderson
2) Kristian Whatley
3) Nathan Watson
4) Graeme Irwin
5) Gert Krestinov
6) Steven Clark
MX1 championship standings
1) Brad Anderson 68
2) Kristian Whatley 67
3) Nathan Watson 62
4) Graeme Irwin 58
5) Jamie Law 47
6) Steven Clark 44
7) Priit Ratsep 37
8) Tony Craig 36
9) Shane Carless 35
10) Gert Krestinov 32