Breakdown Assistance app
Stuck in the middle of nowhere with a broken-down car? There's an app for that.*
*Please note: the Breakdown Assistance App is only applicable to cars not compatible with the MyHonda+ app. For more details, see here.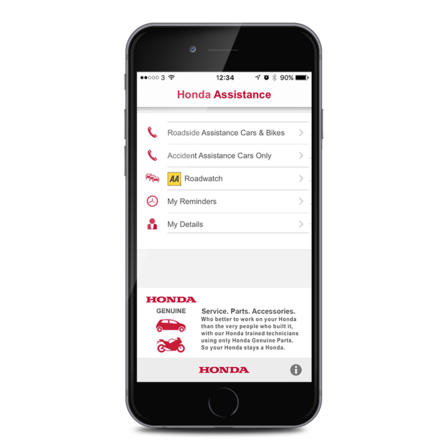 Get help fast
The Honda Breakdown Assistance app gives you quick and easy access to the Honda Breakdown Service. If you find yourself stuck by the roadside, the app will help us to reach you quickly.
What do you get with the app?
Hondacare Assistance – the app finds your exact location on a street level map. Information about your location is sent to Honda when you call, helping us to locate you quickly.
AA Roadwatch – avoid delays to your journey with live updates on traffic and roadworks. Updates are shown on a detailed street level map.
My Reminders – store important dates for your vehicle, like service and MOT dates.
Click on the link for your phone's operating system.
Apple
Android