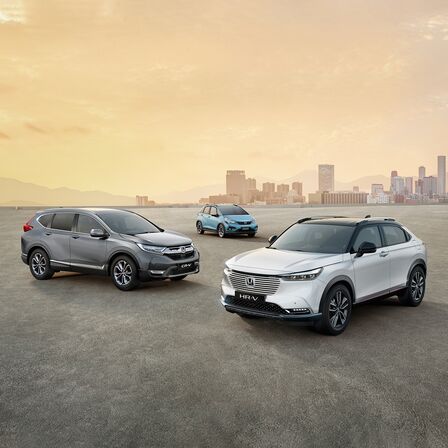 OUR e:HEV HYBRID RANGE
We are committed to creating mainstream models that feature advanced, electrified powertrains and with every hybrid we launch, it's a step closer to our electric vision of achieving a low-carbon society.
What makes our e:HEV hybrids so special?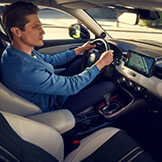 You can feel the difference
Honda's e:HEV technology means our full hybrids can automatically switch to using silent electric power, unlike a mild hybrid, to deliver exhilarating electrified performance.
Simply the best
The technical excellence of our unique e:HEV system comes from many years of innovation creating hybrid powertrains. As a result, they are far superior and much more efficient than a mild hybrid.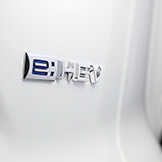 No need to plug in
Honda e:HEV full hybrids are self-charging, drawing power from the combustion engine and from regenerative braking. There's no need for a mains electricity supply, or the hassle of installing a charging lead.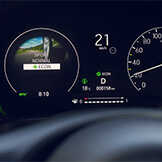 Lowers the cost of driving
The energy from self-charging lessens the demand on the combustion engine, which means it will lower your running costs, keeping emissions low. Peace of mind comes with a 5 year/100,000km warranty*. *Whichever comes first.
Altogether better
All Honda cars with the e:HEV powertrain are self-charging, full hybrids with a battery that is fully supported by our fuel-efficient combustion engine. The two power sources work in harmony, or independently, blending seamlessly through three driving modes that are selected automatically to deliver smooth power and performance.
e:HEV Performance
Hybrid technology delivers seamless driving. Based on driver input, our intelligent system will alternate between three modes for optimal efficiency.
Close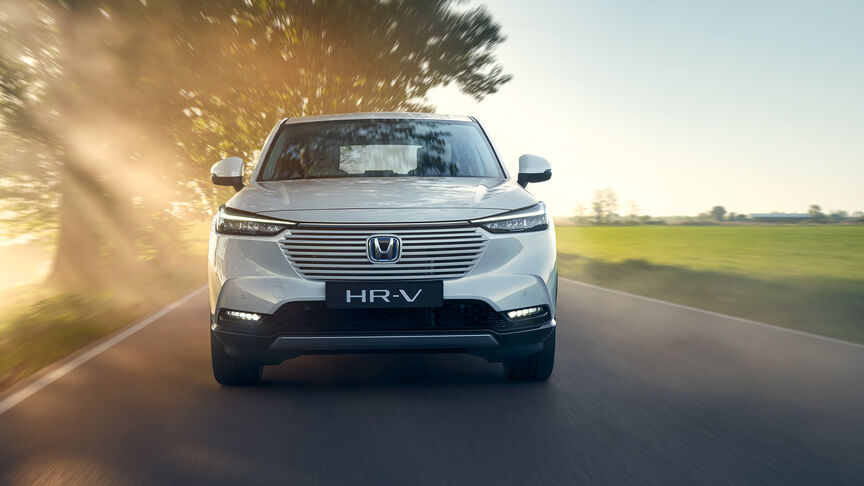 Intelligent and dynamic
Our unique powertrain is intelligent and is always automatically shifting between Electric, Hybrid and Engine drive modes, according to the conditions. 
The 'Electric Drive' provides exhilarating acceleration from a standstill – just like an electric car – as our e:HEV system can use full electric power independently from the combustion engine. This mode also works at moderate speed to deliver a smooth and quiet driving experience.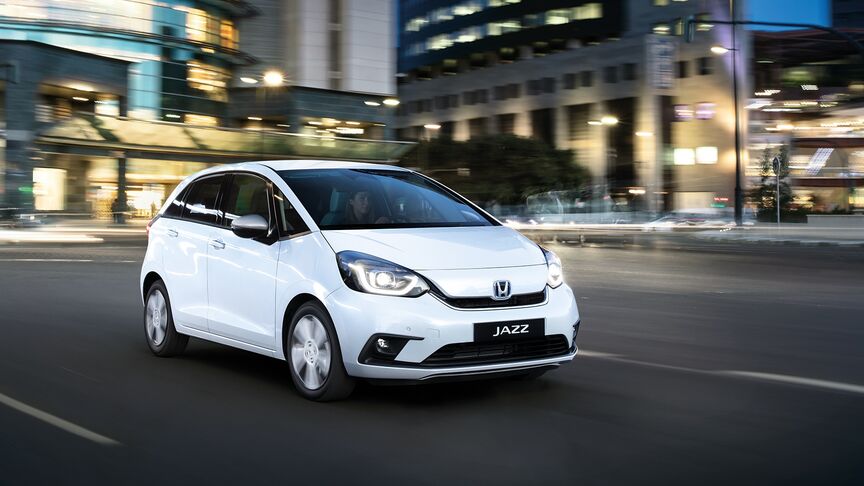 A clever hybrid
In 'Hybrid Drive', both the combustion engine and electric motors seamlessly share the work, constantly adjusting to cope with steep hills, town traffic and open roads more efficiently.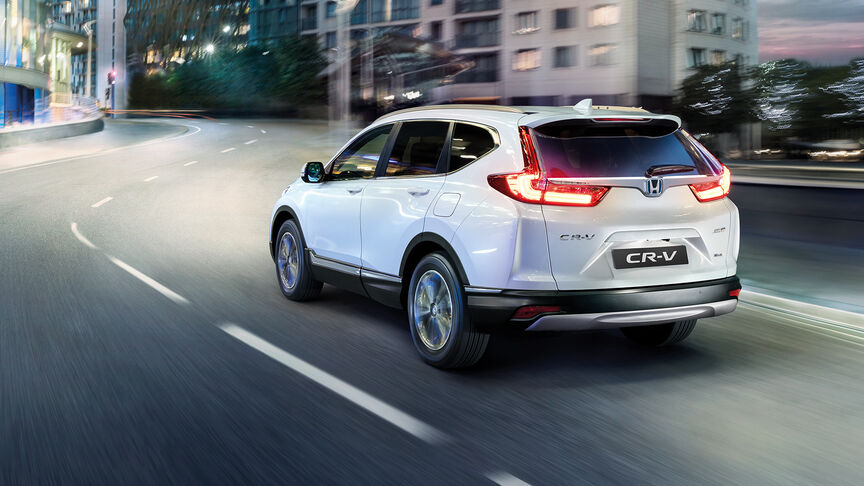 Recharging and regenerative braking
At higher speeds, such as cruising on a motorway, the combustion engine will provide the power and recharge the battery. When you slow down, regenerative braking will also charge the battery from energy that would normally be wasted. All this energy can provide you with a strong boost of pure electrified acceleration when you need it – particularly useful when overtaking.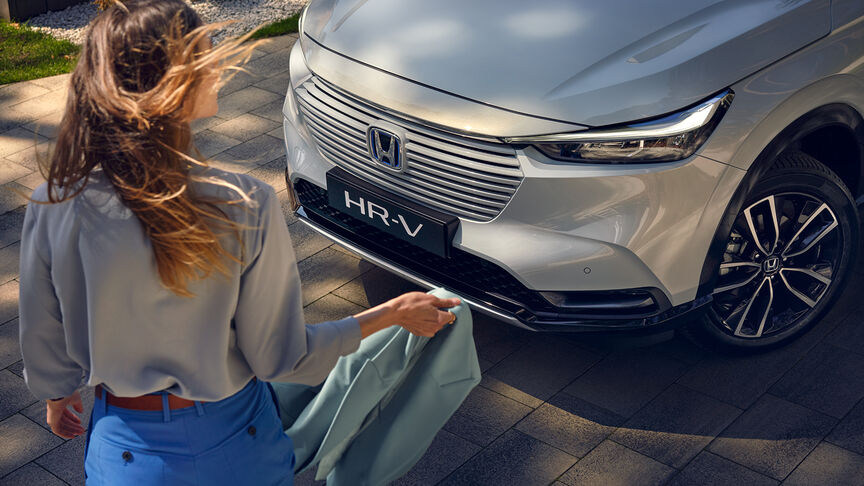 Fully Convenient
The e:HEV, full hybrid system is more convenient than a plug-in hybrid, as it eliminates the hassle of overnight charging. A PHEV has regenerative braking, but it's not enough to fully recharge, so it will rely heavily on the combustion engine when the battery is low. Consequently, it uses more fuel to overcome the weight of the larger battery and heavy powertrain if not plugged in and charged properly.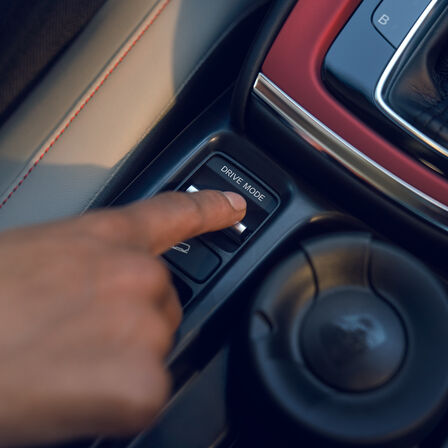 CHOOSE YOUR STYLE
A Honda hybrid is like no other, because with our e:HEV system you get 3 performance modes: Normal, for a comfortable smooth drive. Econ, which uses less fuel when the combustion engine is in operation and Sport, for a more engaging driving experience.  Choose the driving style you want, and the car does the rest. You don't have to do anything other than enjoy the drive.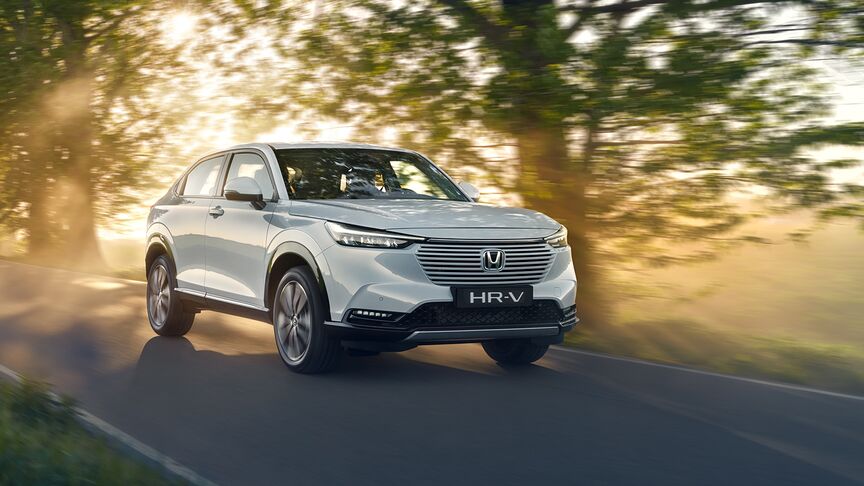 Our all-new SUV hybrid
The all-new HR-V brings together sport-coupe styling, a best-in class spacious interior and our innovative e:HEV technology for an energetic driving experience. You can drive up to 740 km on a full tank and with CO2 emissions as low as 94g/km* the HR-V is a major step toward fulfilling our dream of a fully electrified line-up as we move ever closer to an emission free world.

*HR-V WLTP data.
EXPLORE THE HR-V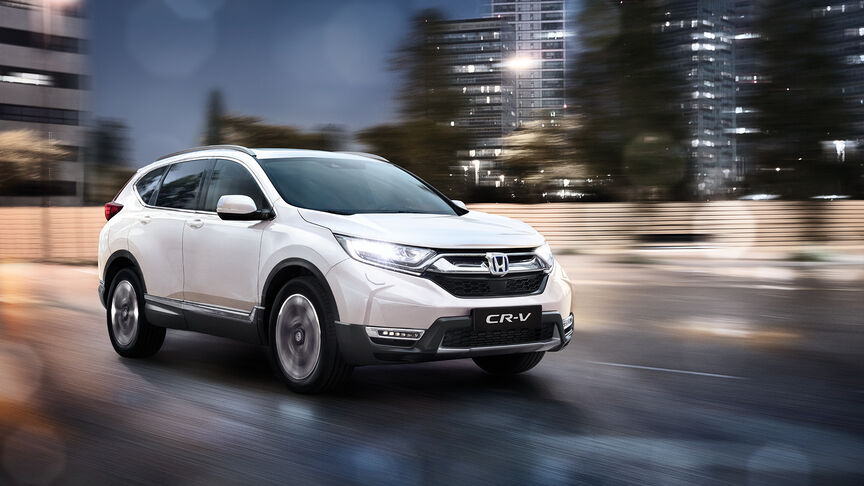 Our spacious SUV hybrid
Honda CR-V, the largest of our hybrid SUVs, delivers a smooth and responsive drive through our e:HEV powertrain. It's a car that can go the distance too. Our Comfort grade can travel up to 860km* before a fuel stop and is super-efficient with CO2 emissions of just 114 (g/km).* 
What's more, the CR-V's spaciousness, wrapped in a distinctive, bold design, provides real driving pleasure for you and your passengers. 
*CR-V Comfort WLTP data.
EXPLORE THE CR-V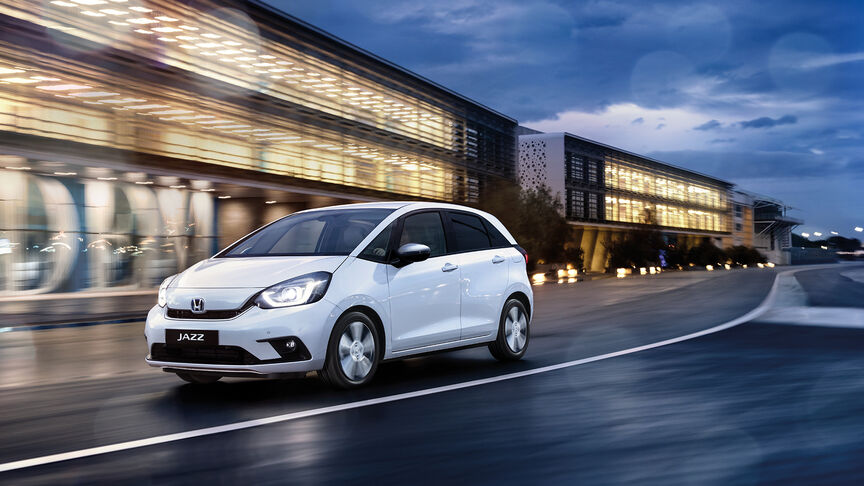 Our urban hybrid hatchback
The Honda Jazz provides an effortless driving experience through our e:HEV powertrain. Smooth and efficient, with a class-leading spacious interior, this hybrid beautifully combines versatility and efficiency – delivering up to 864km* on a full tank while achieving CO2 emissions of just 79-141 (g/km) – with the pure joy of driving.
*Jazz Executive WLTP data.
EXPLORE THE HONDA JAZZ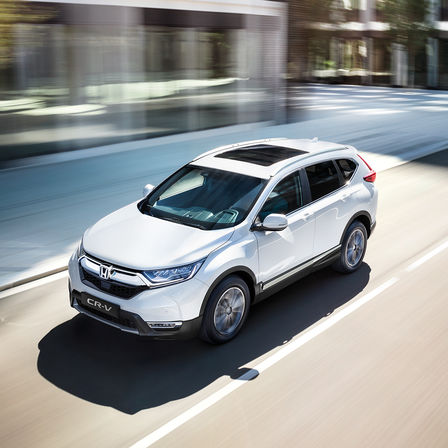 Hybrid explained
If you would like to learn more about self-charging and plug-in hybrids and how they can help improve the environment, select the button below.