Always there for you
As a Honda owner you automatically qualify for Honda Accident Assistance. We just want you to know that we're there whenever you need our help.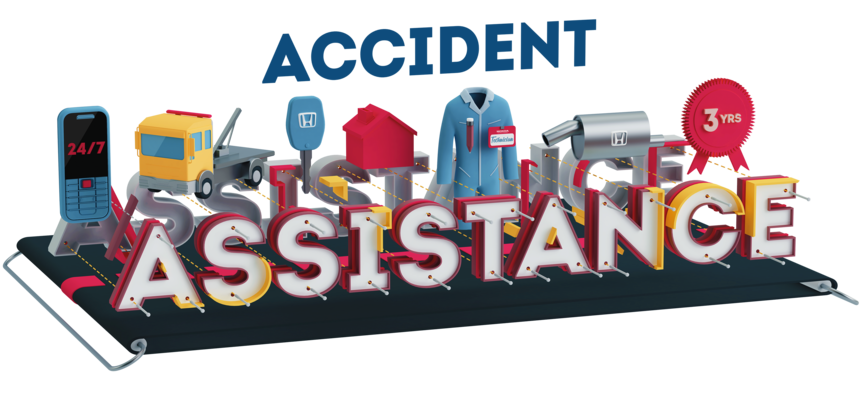 HONDA ACCIDENT ASSISTANCE - CALL 0800 521 728
Hopefully you'll never have to use this number, but it's still good to know there's someone looking out for you. Should you be involved in an accident, we're just a phone call away.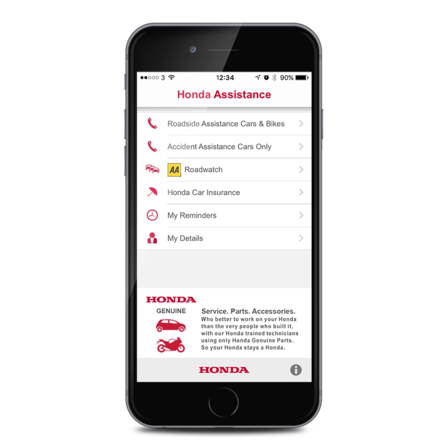 What you should do if you're in an accident
Having an accident, even a little knock, can be extremely stressful and upsetting. You might find it handy to refer to this list, to help you negotiate the situation calmly and effectively.
• Call 0800 521 728 and press option 2 to speak to a member of our accident management team who will support and guide you throughout the process.
• Stay calm, move to a safe place and don't get involved in an argument.
• Don't admit responsibility. Even saying sorry could be interpreted as you taking responsibility for the accident.
• Exchange contact and insurance details with anyone involved.
• Take names and contact details of any witnesses.
• If possible photograph the scene with your phone or camera.
• Note where the cars collided.
• Record any damage to your car and any third party vehicles, taking photos if possible.
Your guide to Honda Accident Assistance should be tucked in your car's glove box.
Why you should always contact Honda Accident Assistance following an accident
Honda Accident Assistance provides the following benefits when your vehicle is repaired in a Honda Approved Accident Repair Centre, regardless of who was at fault for the accident:
| | Fault | Non-fault † |
| --- | --- | --- |
| Hassle free service including a 24/7 dedicated Accident Assistance support line | Yes | Yes |
| Recovery of your vehicle if it can't be driven we'll collect it and deliver it to a Honda Approved Accident Repair Centre. | Yes | Yes |
| Assistance with you making your onward travel arrangements helping you and your passengers to get home or to your destination | Yes | Yes |
| A replacement Honda whilst your vehicle is off the road* | No | Yes |
| A free courtesy car provided by the Honda Approved Accident Repair Centre for the duration of the repair** | Yes | No |
| Honda trained technicians work on your Honda, because they know it best | Yes | Yes |
| Genuine Honda parts help to maintain your vehicle's value and integrity | Yes | Yes |
| 3-year workmanship guarantee | Yes | Yes |
| No insurance excess to be paid | No | Yes |
| Repair progress updates | No | Yes |
Want to know more?
Credit Hire vehicles are provided subject to the vehicle hire company terms and conditions
Contact your local dealer