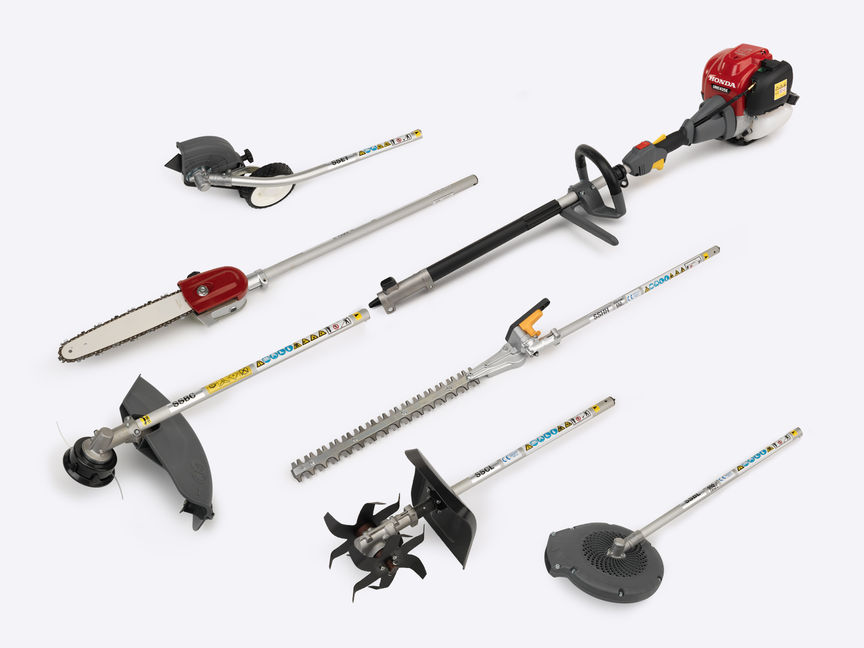 Versatool
One garden tool to rule them all
It's everything your garden could ever need. Well, almost.
With eight tool attachments, as well as extension options to increase your reach, the Versatool is equipped to revamp your entire garden.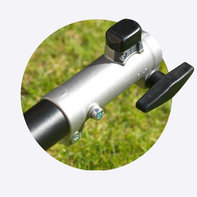 Worthy of the professional
A tool versatile enough to tackle every garden need, but still easy to use.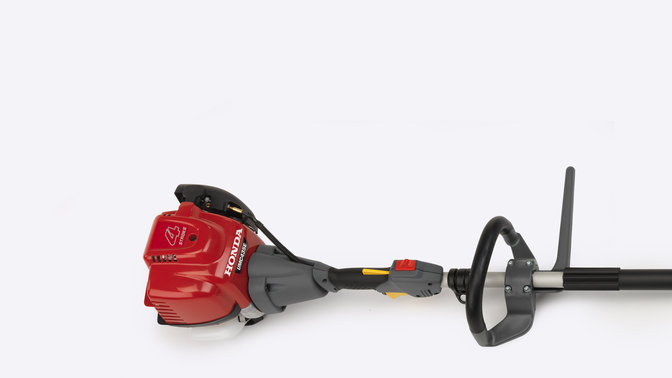 As well as the D-loop handle, the comfortable shaft grip helps when reaching challenging areas.
At the heart of the Versatool's range of interchangeable attachments is its innovative joint system, which locks each attachment into place with minimum effort and maximum simplicity. A secure fit – just align and push (A) until you hear a click, then tighten (B) the joint knob to connect your preferred tool to the Versatool shaft. Loosen the joint knob, and lift and pull up the set pin knob, to then safely release the tool (C). Easy as ABC…

Grow your reach
There's no need to climb a wobbly stepladder with the Versatool – as well as a range of attachments, our choice of extension shafts make getting into lofty garden areas even easier. So whether you're battling hard to reach branches or towering hedges, they'll be within reach – choose between either 50cm or 1m shafts.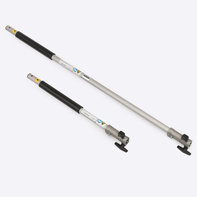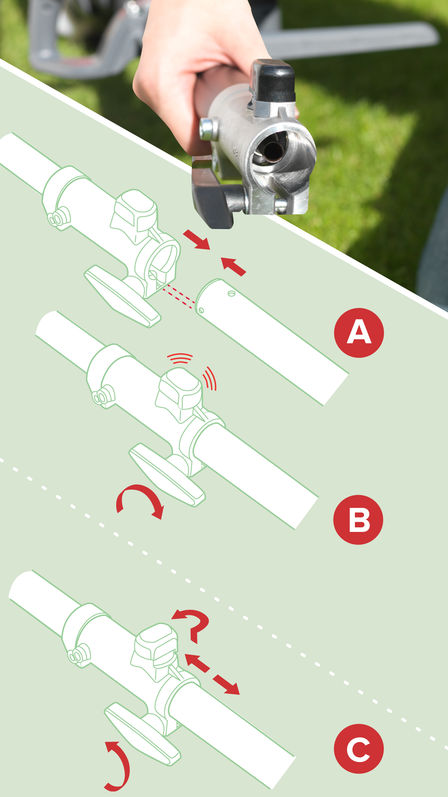 The hedge trimmer
Perfect circular bushes and cornered hedges.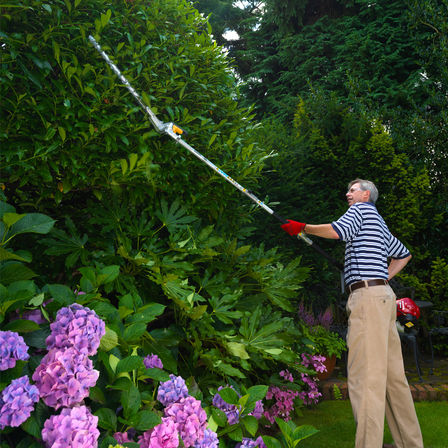 The hedgetrimmer's adjustable trimming angle helps you sculpt bushes and hedges.
Whether you're shaping small bushes or taming tall hedges, the hedgetrimmer attachment comes in a size right for the job – either 50cm or a longer, 54cm version. Both sizes have an adjustable joint that pivots both left and right, to ensure comfort and manoeuvrability.
Tough blades
The hedgetrimmer's blades are double-sided. This means you can cut by moving the Versatool either left or right – making it all a little easier. It also features an anti-snapping guard, which guarantees it'll keep on going.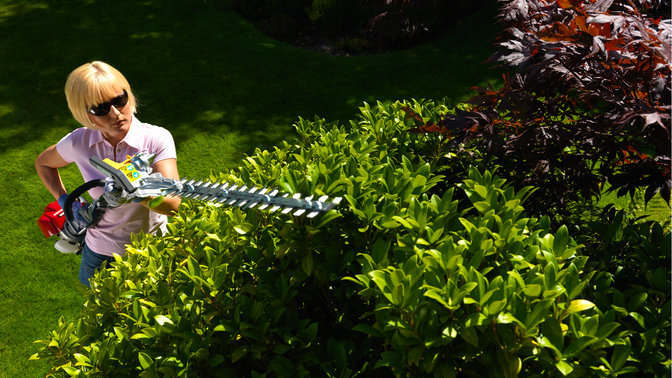 There are two sizes of hedgetrimmer to choose from – 50cm or a longer 54cm version.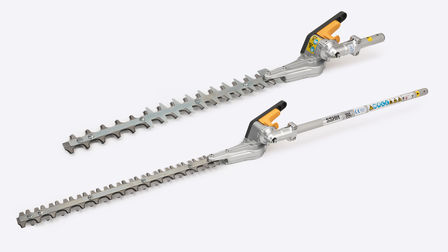 The pruner
Cutting branches down to size.
For both the domestic and commercial gardener, the Versatool pruner attachment maintains constant torque to help you get through the toughest of branches. It can get to high places with its extended shaft, and can also be used with the extension pole to reach even greater heights.
Safety check
The pruner has a translucent oil reservoir, which makes it simple to check the level visually and prevents the attachment being damaged.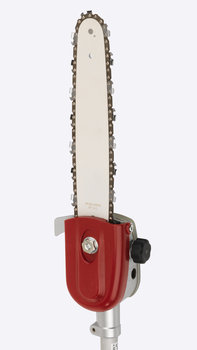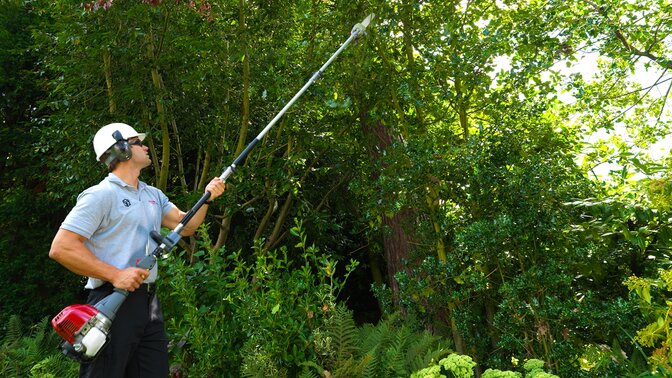 The pruner can reach greater heights with the handy extension attachment.
The line trimmer
Making light work of dense foliage.
The semi-automatic line trimmer head feeds the nylon thread, simply by tapping it on the ground. Five inches in diameter, the head will hold over 56% more line than a traditional one, too. The small cutter that snips the line is made of metal – not plastic like other manufacturers' products. That means it can be sharpened – a must for professional use.
Two-in-one cutter
Our unique safety guard makes it simple to change the nylon head for a heavy-duty three-tooth blade. Ideal for tackling thick bushes, there's no need to buy an additional guard either – the lower part is easily removed and reattached after changing the head.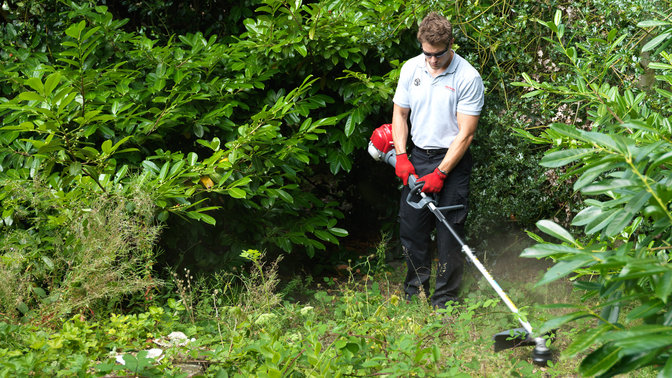 The line trimmer is perfect for getting through dense shrubbery.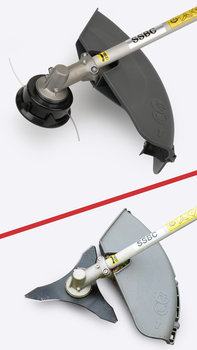 You can switch the nylon thread for a robust three-tooth blade.
The blower
Say goodbye to garden muck.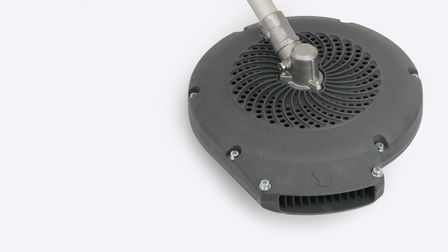 Air intake from the top of the blower means it won't get blocked.
Extremely lightweight and easy to use, the blower attachment keeps your lawn, driveway and garden paths free of leaves and garden rubbish – giving your garden the look of a freshly hoovered carpet.
More effective airflow
The blower provides a powerful target airflow of two square metres, and because it sits directly parallel to the ground, there's no loss of airstream – it moves garden debris with ease. And with air intake from the top, it won't get blocked.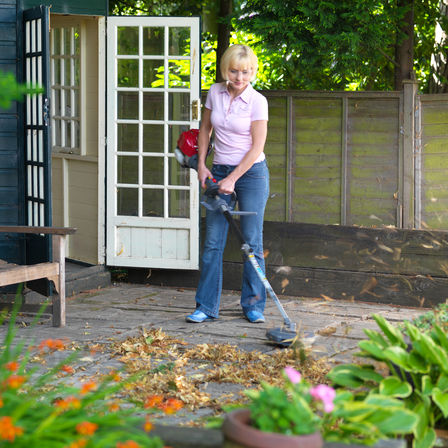 The blower gives your garden a tidy finish, free of clutter.
The edger
Get a clean-cut lawn without the back-ache.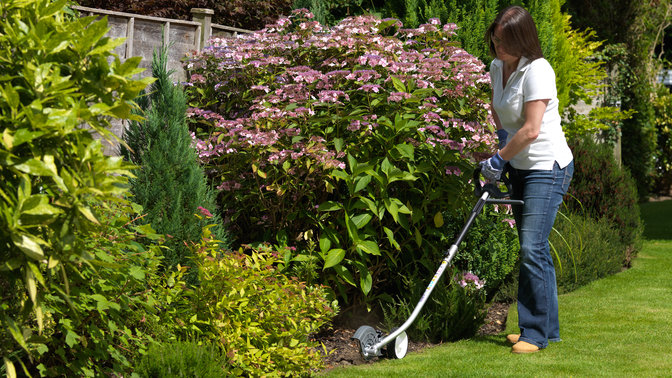 With the edger, there's less bending down to edge your lawn.
Creating a neat finish to your lawn is easy with our edger attachment – it creates a tidy and attractive garden edge around flowerbeds, pathways and patios for perfect-looking grass.
Height adjustable
The edger features a blade guard to protect against grass clippings, soil and sand being scattered across the lawn. Its easy to use adjustable height tailors the tool just for you – giving your back a rest from crouching down with a garden trowel.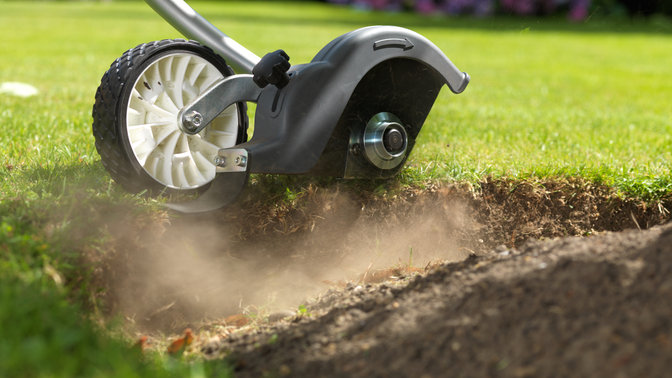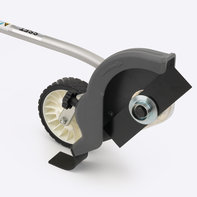 The blade guard is for safety, but also stops debris from covering your lawn.
The cultivator
Get better-aired soil for healthy vegetables and plants.
Perfect for maintaining garden beds and vegetable patches, the durable cultivator attachment provides high torque for tackling compact soil. Its 20cm working width gives you accuracy in moving around beds, and makes tilling and aerating your soil easy.
Breathe life into your plantation
Properly aerated soil helps you grow healthier vegetables, plants and flowers. The loop handle is easy to hold and use, and the cultivator's strong blade cover adds further protection for peace of mind.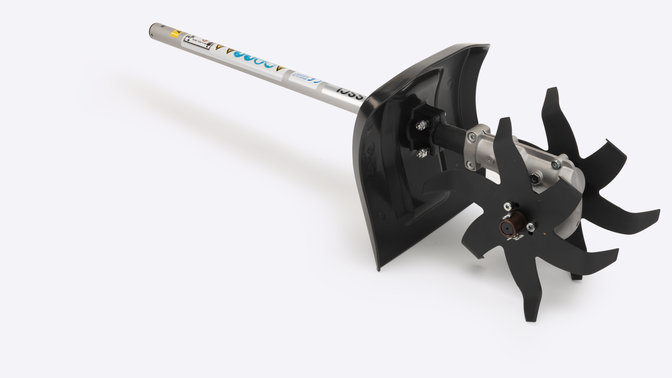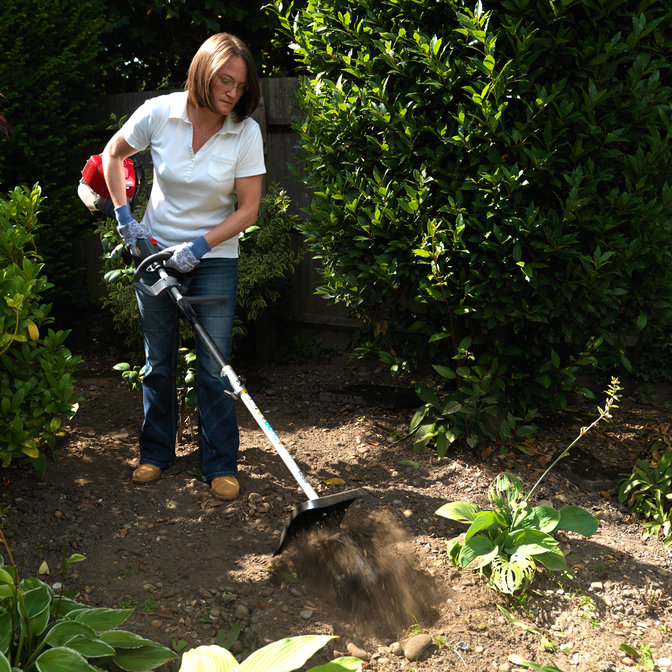 The cultivator's high torque and specially-designed tines help break down compacted soil.