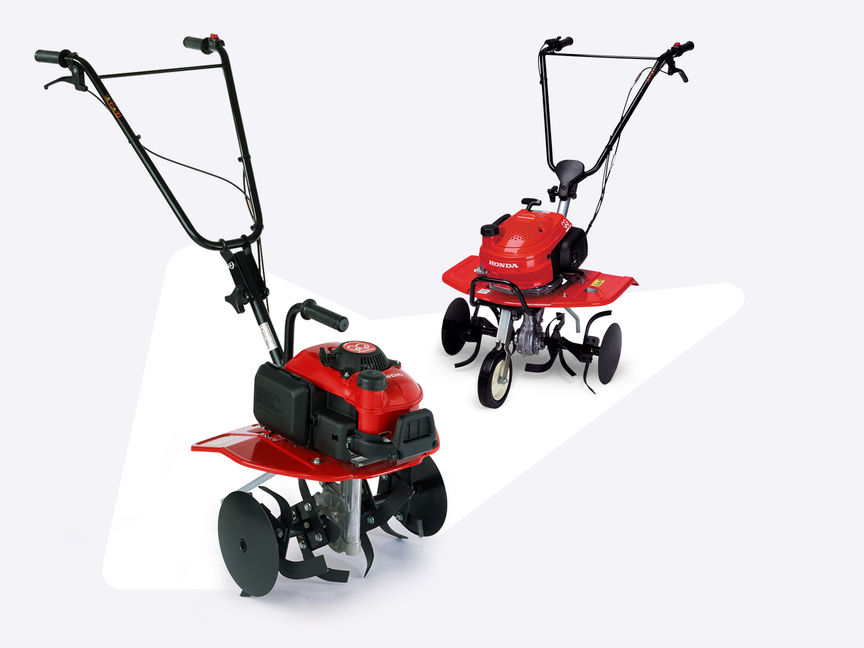 Mini tillers
Mini but mighty
Small but perfectly formed - what these tools lack in size they certainly make up for in effectiveness.
Mini tillers are ideal for preparing modest flowerbeds and vegetable patches for seeding. With special features out of the box, and conveniently portable in size, they're ready for the little-big garden jobs.
Engine Capacity

49-57

cc

Tilling Width

450-545

mm

Weight

24-30

kg

Attachments Available

Selected Models
Small jobs, big results
Using a tiller is quicker and more effective than a spade. It also adds a certain finesse to a normally messy job.
Our Mini tillers help break up tough, compacted earth, and make sure it's in prime condition for planting. Best used in smaller gardens, these capable Mini tillers have a tough 4-stroke engine that does all the hard work. Not only great at cultivating soil, they're also perfect for clearing weeds from in between rows of plants – making flowerbeds look fluffy enough to sleep on.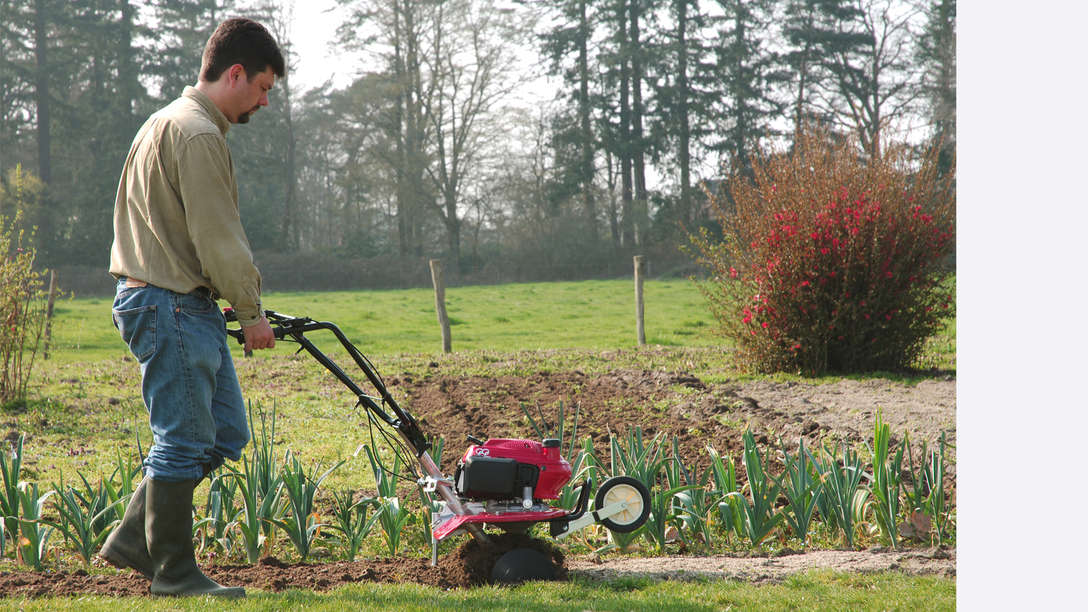 Pack, lift and go
Mini tillers have great little features that make them portable and easy to handle.
Foldable handle
Designed with a convenient folding handle, they fold away neatly for simple storage and transport.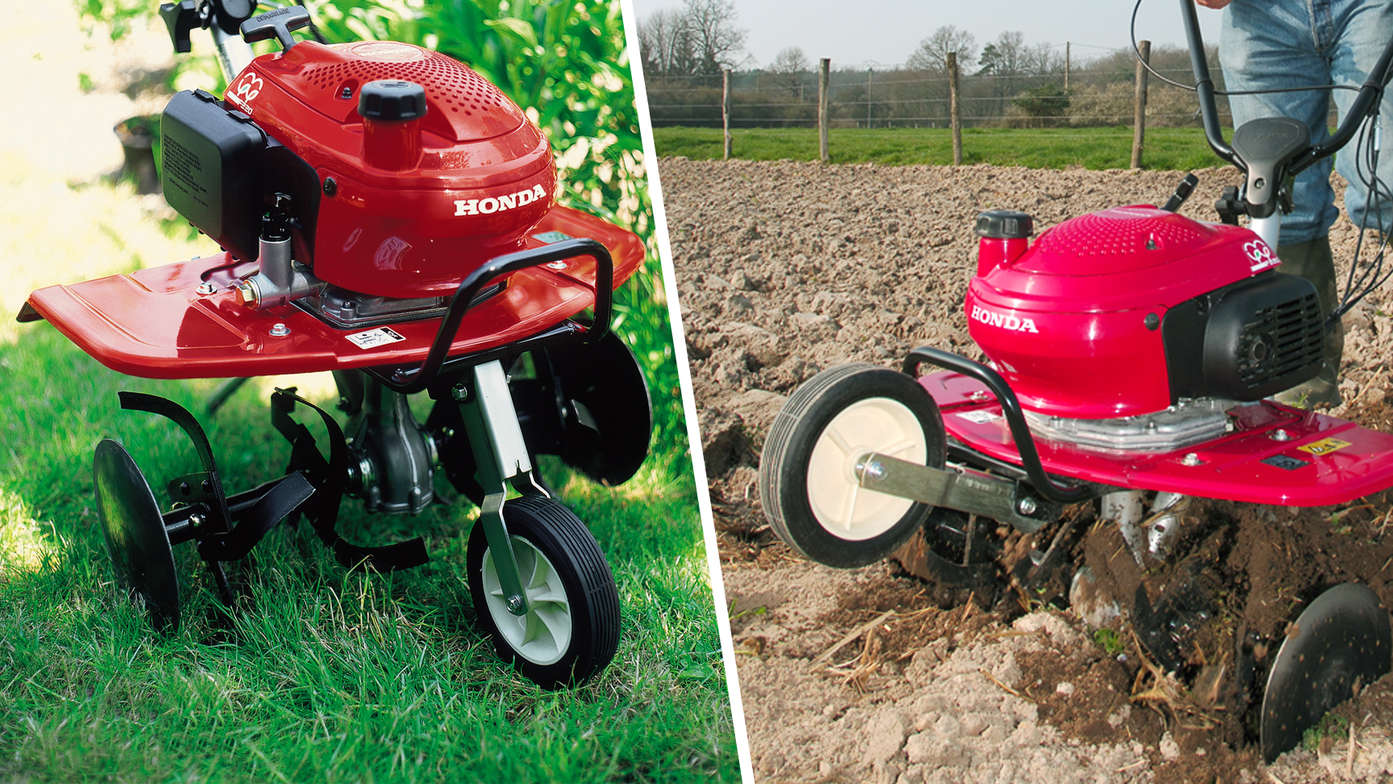 Transport wheel
For extra manoeuvrability, the transport wheel helps you easily move the tiller between storage and work areas.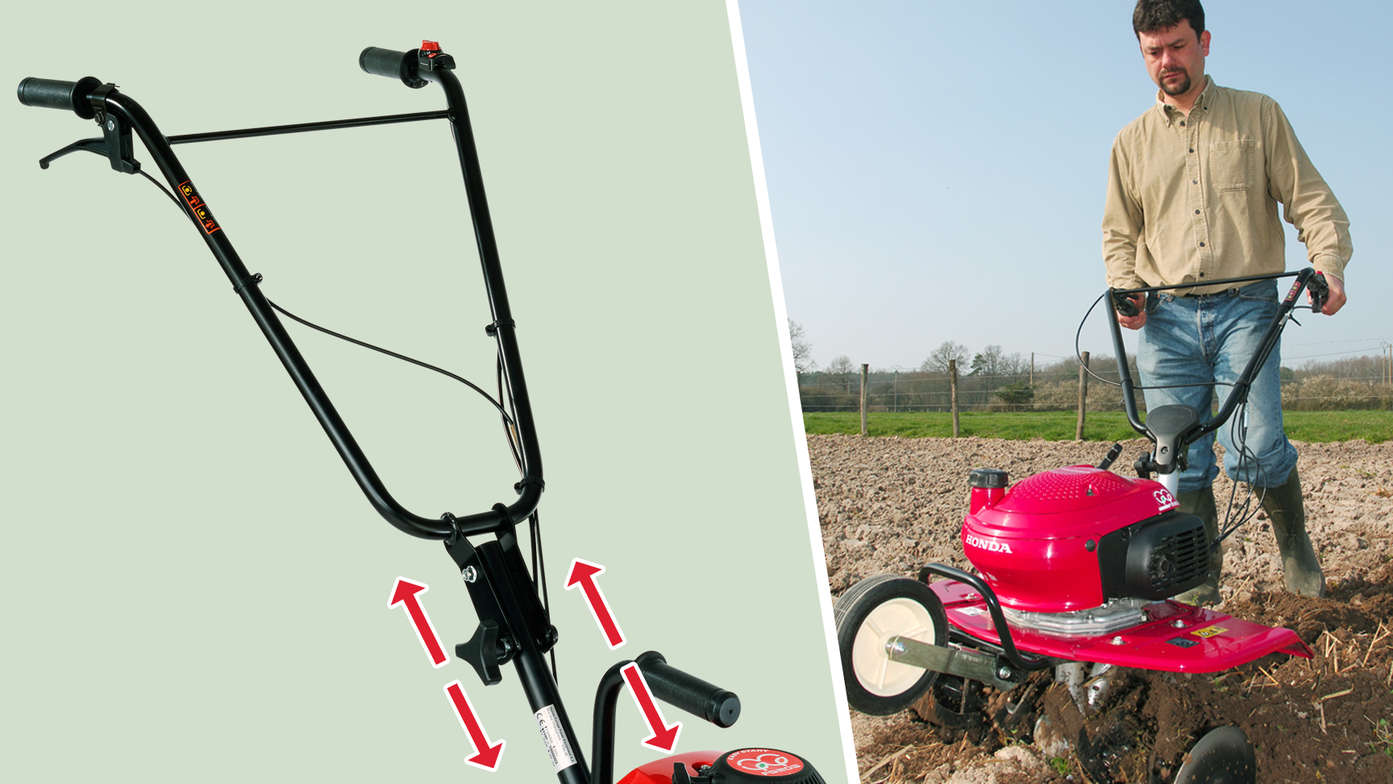 Height-adjustable handles
The telescopic adjustment makes selecting the correct handle-height easy, so the machine is comfy for anyone to use, however tall you are.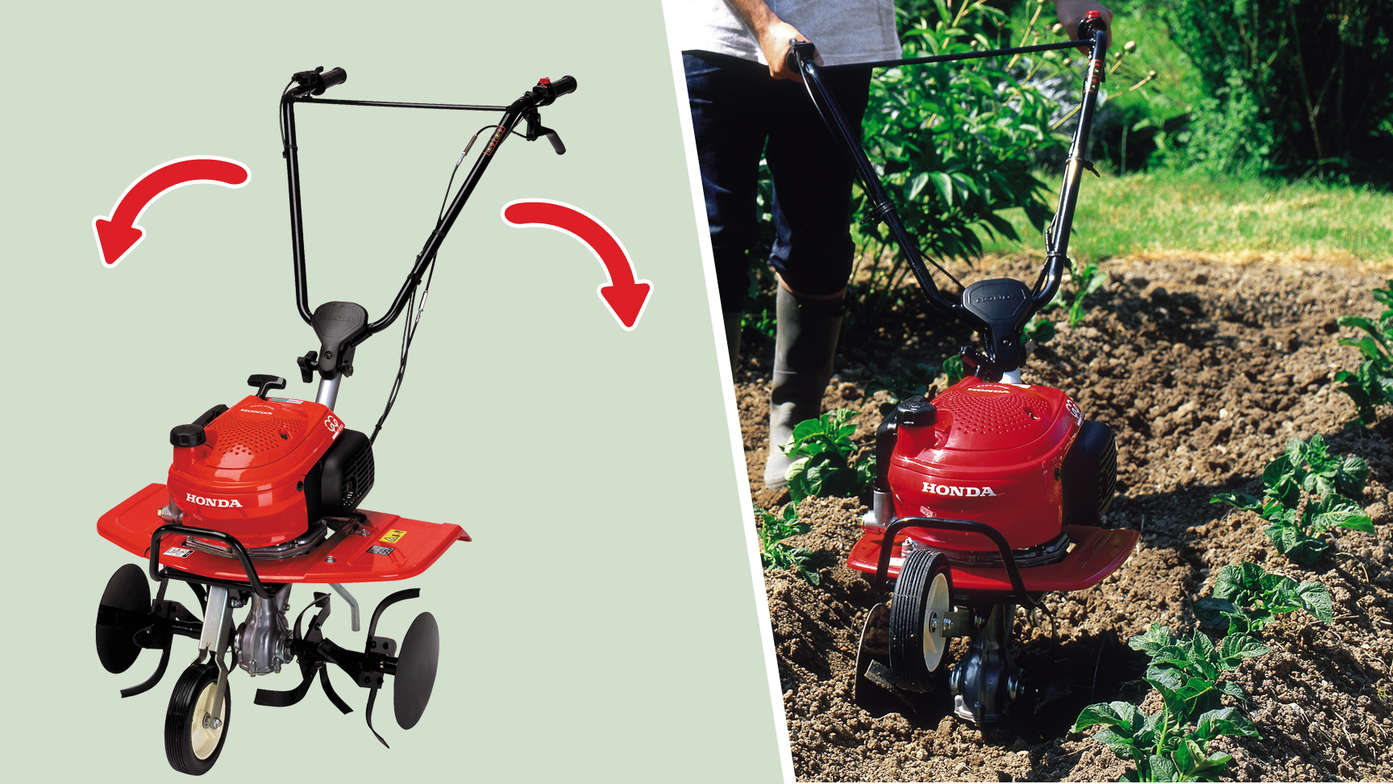 Swing handle
With a reassuring safety release feature, the handle can be adjusted to swing left or right, so you avoid compressing cultivated soil with your footsteps.
Two to choose from
Mini tillers come with two different engine and attachment options.
| | |
| --- | --- |
A tiller that cares
Specialist features that tend to your soil.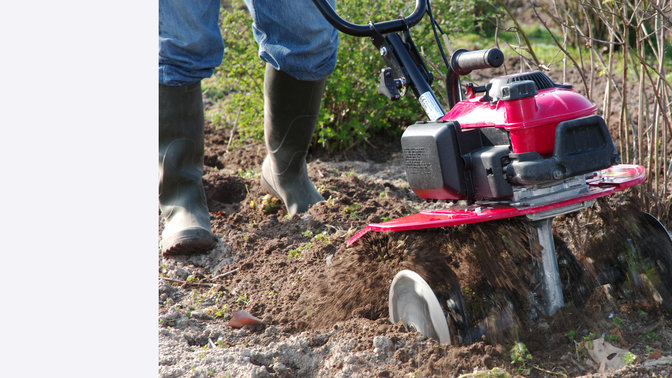 Your crop is the result of your hard graft – it's a labour of love. Our Mini tillers take some of that work off your hands, and we're sure you won't mind. For example, the Mini tiller's special side discs protect crops and plants from flying debris or impact from the tines – making sure you don't undo all your good work.
Solid handling
Our Mini tillers also have a well-balanced low centre of gravity, and this makes them much easier to control. They're also slightly heavier than our competitors' – we actually built them that way. It's so they go deep enough into the soil to give you the result you need.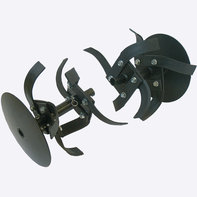 The side discs come as standard on Mini tillers.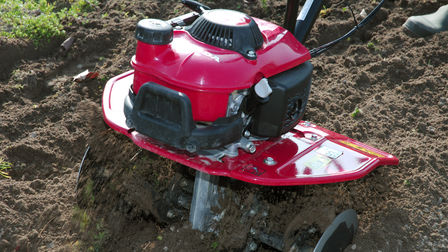 The famous 4-stroke
It's the beating heart of all our tillers.
With years of experience and research building engines, we've designed a nimble 4-stroke motor that sits at the heart of all our tillers. It delivers solid, reliable power with lower and cleaner emissions – just like you'll find in Honda cars and motorcycles.
They keep on going
Getting through compacted soil isn't easy but our tiller engines are up to the challenge. They push out high torque at low rpm – making sure you can drive through even the toughest of earth.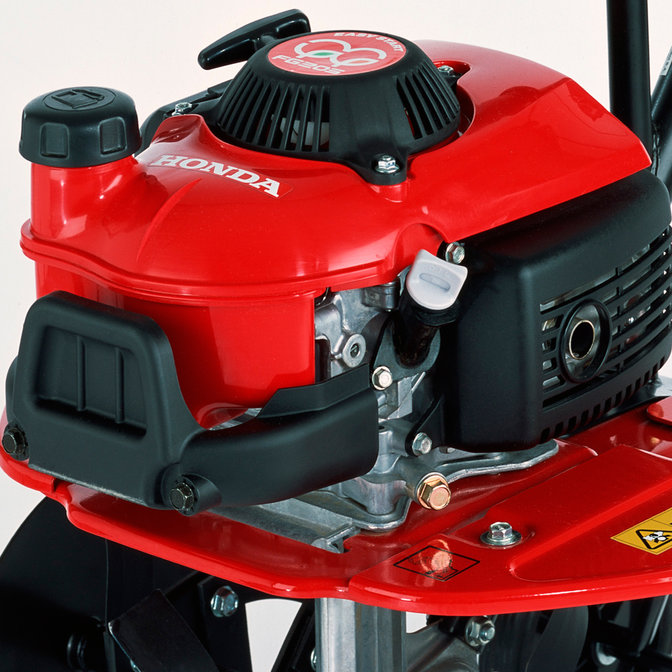 Extend your tiller's talents
It's more than just a tiller.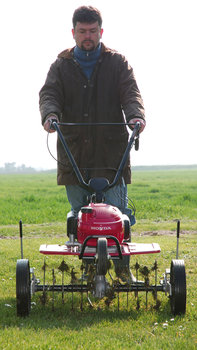 The de-thatcher improves the health of your lawn by removing dead grass (thatch).
If you're looking to get other jobs around the garden done, then additional attachments for our Mini tillers mean you can. Take the de-thatcher attachment for example – it rids your turf of moss, dead grass and thatch, which can stop your lawn from growing properly.
Ridge the gap
You can also attach the ridger. It heaps up loose soil against young plants to help them grow. Conveniently, it also creates deep furrows in the soil that act as a drainage system. Until crops can swim, it's the next best thing…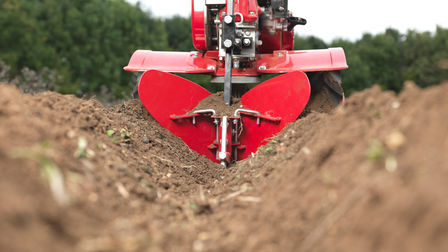 The ridger creates perfect furrows in the soil for drainage.
Unrivalled anywhere
Our Mini tillers are built better to last longer.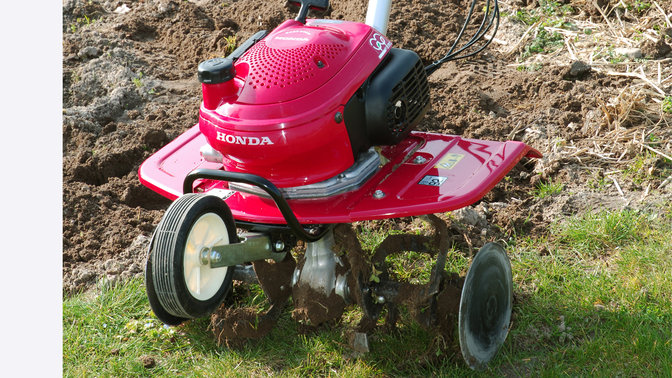 They just keep on going. That's why we can offer you a rock-solid warranty for domestic use on our core range products, covering both parts and labour.
The warranty's lifetime
Our warranty maintains the same value throughout its lifetime too – meaning the last day of cover is exactly the same as the first. Solid and dependable – just like our garden equipment.