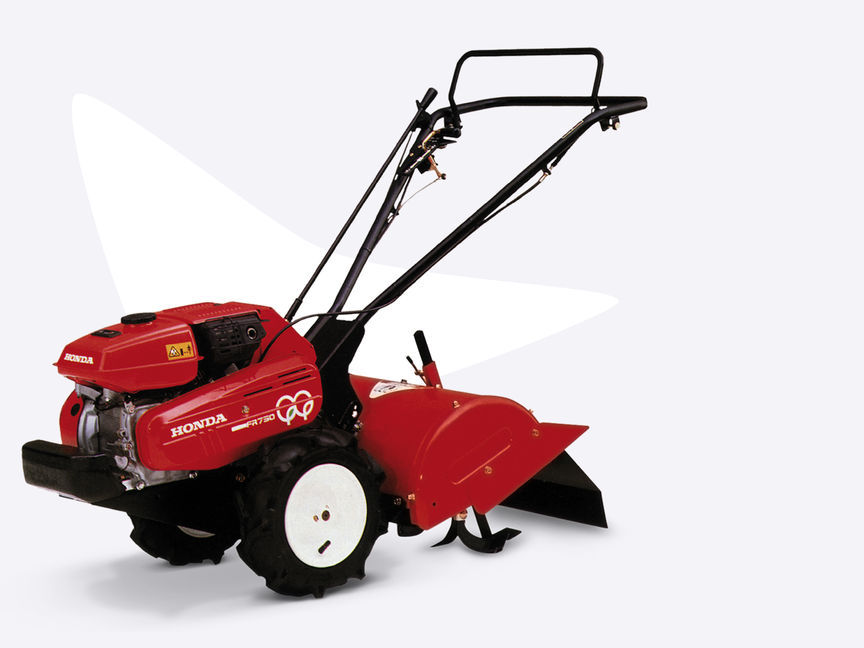 Rotary tillers
Top of the tillers
Rotary tillers top the charts for tilling – it's what they do best.
They have a job to do and they're the best equipped to get it done – Rotary tillers are the prime choice for large areas of soil that need effective tilling.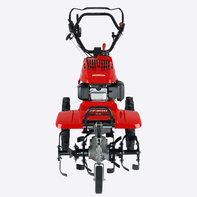 Giving soil the one-two
Counter-rotating tines travel in two directions to cultivate soil.
Our Rotary tillers' tines rotate in opposite directions to each other. Working this way, their motion breaks up soil much more effectively than ordinary ones for beautifully cultivated soil.
A trusty steed
…not a bucking bronco, like some tillers without counter-rotating tines. The Rotary tillers make it a smooth ride all the way. They won't just roll over your soil, but dig to just the right depth for a brilliant result.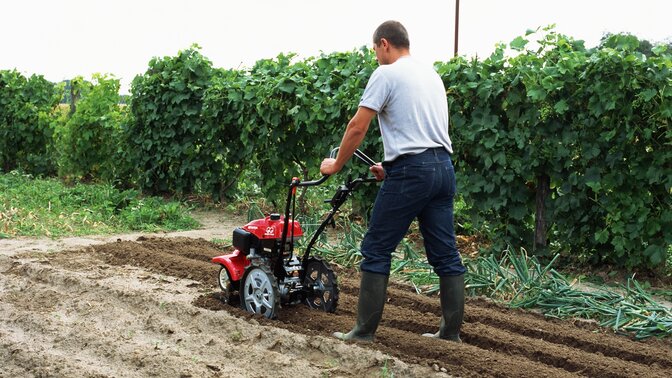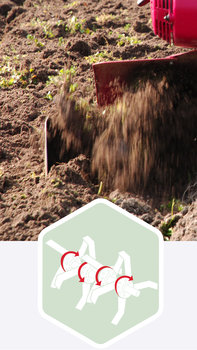 A better result
Counter-rotating tines are much more effective against compacted soil.
Geared up for tough earth
Our Rotary tillers have multiple gears, so you can choose the rotation speed of the tines.
More gears mean greater flexibility and power. That's why the Rotary tiller uses either two or three forward speeds – depending on the model. It transfers the ideal torque to work the machine, letting you pick the perfect rotation speed to match your pace and the conditions of the earth.
You'll notice the differential
When using the tiller, you'll frequently have to turn the machine around. The Rotary tiller's differential separately controls the power to both the right and left tine, which makes changing the tiller's direction easy.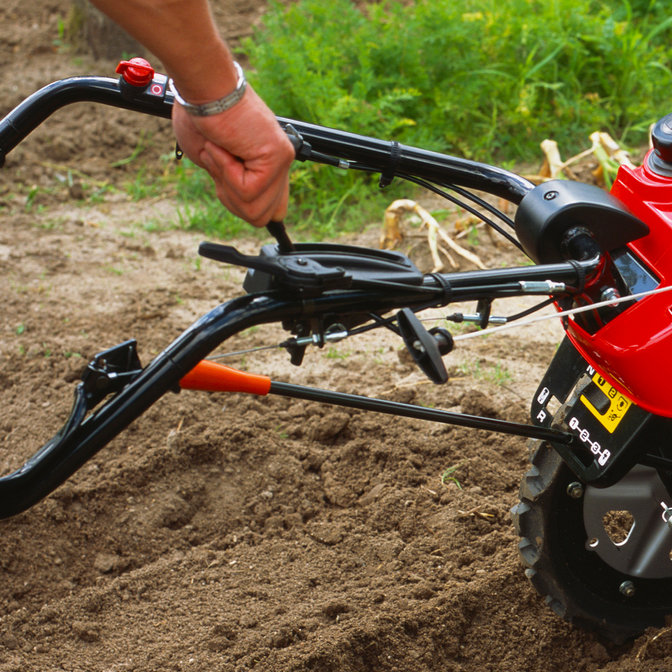 Ridge the gap
The ridger attachment is a convenient way to create furrows in the earth.
Some Rotary tiller models have the option of a ridger attachment. It creates perfect grooves in the soil and piles it up around young plants. Conveniently, it also creates a drainage system, so your carrots are watered, not soggy.
Nip and tuck
Both the tines and wheel base on selected Rotary tillers have an adjustable width. Depending on your plot of land, you'll have different sized areas that require tilling. This feature gives you the flexibility to change the tiller's width, so you can get precisely the result you're looking for.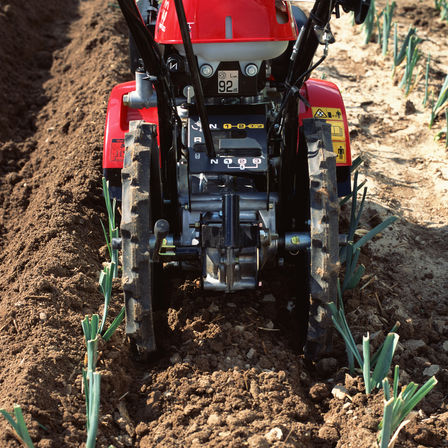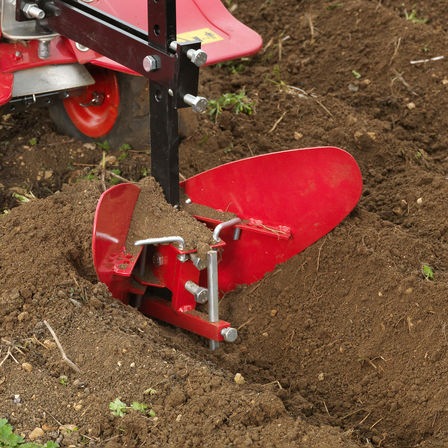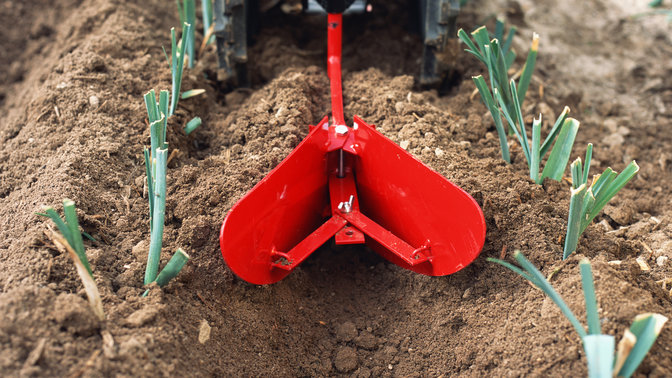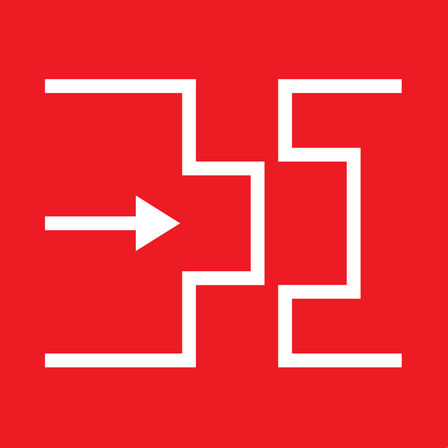 The ridger creates perfect furrows in the soil for convenient drainage.
It's the little things
When designing our Rotary tillers, we didn't forget the details.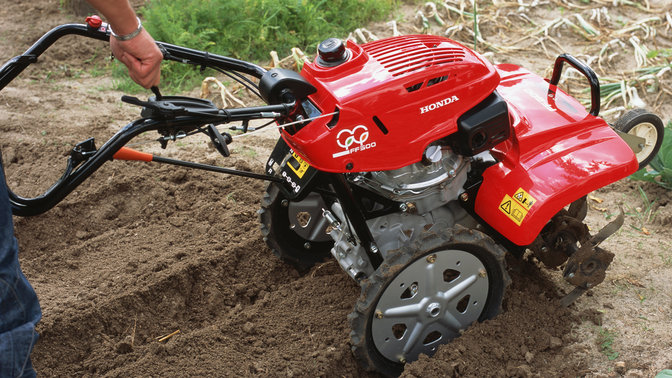 The handles are easily adjusted to a comfortable height.
Rotary tillers are strong, reliable machines. They also have features that make them as convenient as possible to use. There's a handy, detachable wheel you can fix to the front of some of them, so they're easy to transport.
Handy handles
The handles on Rotary tillers are also height-adjustable, so the machine is comfy for anyone to use – however tall you are.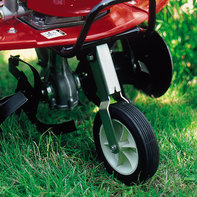 This attachable wheel makes transport easy.