Safety
We want to make sure you get the most out of your Honda lawn and garden equipment – but we also want to ensure you stay safe too.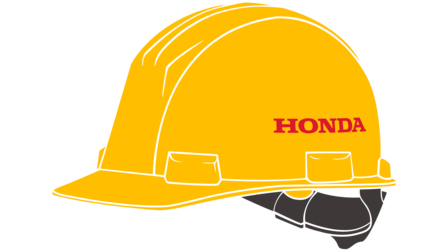 Safety
Please pay close attention to all aspects of safety, both your own and that of others. It's extremely important to follow all rules; you'll find them in your Owner's manual (keep it handy!). Before you start work read the manual thoroughly, and make sure you understand the operating procedures specific to your machine and the exact meaning of the stickers you'll find on it.
Read the instructions!
Understand the controls and know how to stop the engine quickly.
Never let children or anyone unfamiliar with the instructions use it.
Only use the machine for the job it was intended for.
Before you go anywhere near the 'on' switch...
Make sure you're wearing substantial footwear and long trousers for mowing, and don't operate the equipment in bare feet or sandals.
Thoroughly inspect the area where the equipment is to be used and remove all objects that may be thrown by the machine - stones, branches, wire etc.
Make sure there's nobody in the area you plan to work in.
Store fuel in suitable containers and refuel outdoors with a cool engine.
Before use, visually inspect the machine for loose bolts and wear and tear.
When you're up and running:
Don't run the engine in a confined space.
Only use the machine in daylight or good artificial light.
Always be sure of your footing.
Keeps hands and feet well away from any rotating parts.
Never leave the machine unattended with the engine running.
Don't use attachments that aren't recommended in the Owner's manual.
The job's not completely done until you:
Allow the engine to cool before storing in any enclosure, and never store with petrol in its tank. Drain the tank outside with a cold engine.
Ensure the equipment is free of grass or vegetation, to reduce fire hazard.
Your Owner's manual is your comprehensive guide to preparation, operation and storage of your machine.