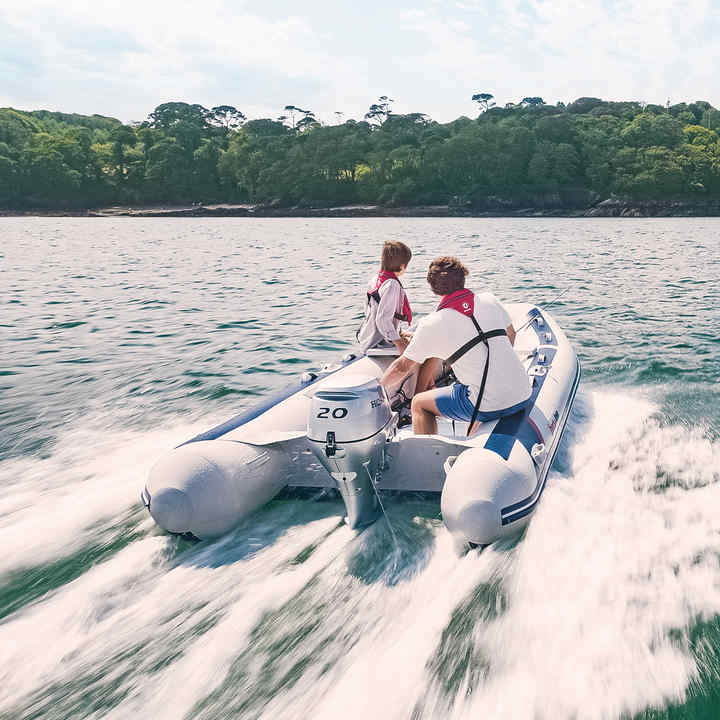 THE WATER IS WAITING
With a new bow roller design, a durable high quality PVC body and a wider tube diameter for smoother cruising, the latest Honwave range is perfect for excursions on lakes or at sea.
Perfect partners
A Honda marine engine deserves a Honwave inflatable.
Portable and lightweight, our Honwave inflatables are perfect as a tender for coastal exploration, fishing or simply gliding over the open water. With the addition of a Honda marine engine, the pair will make it easy riding all the way. That's because our innovative, large diameter inflatable tubes ensure top class flotation and stability. And with the option of a V-shaped hull, they can smooth out even the roughest of rides.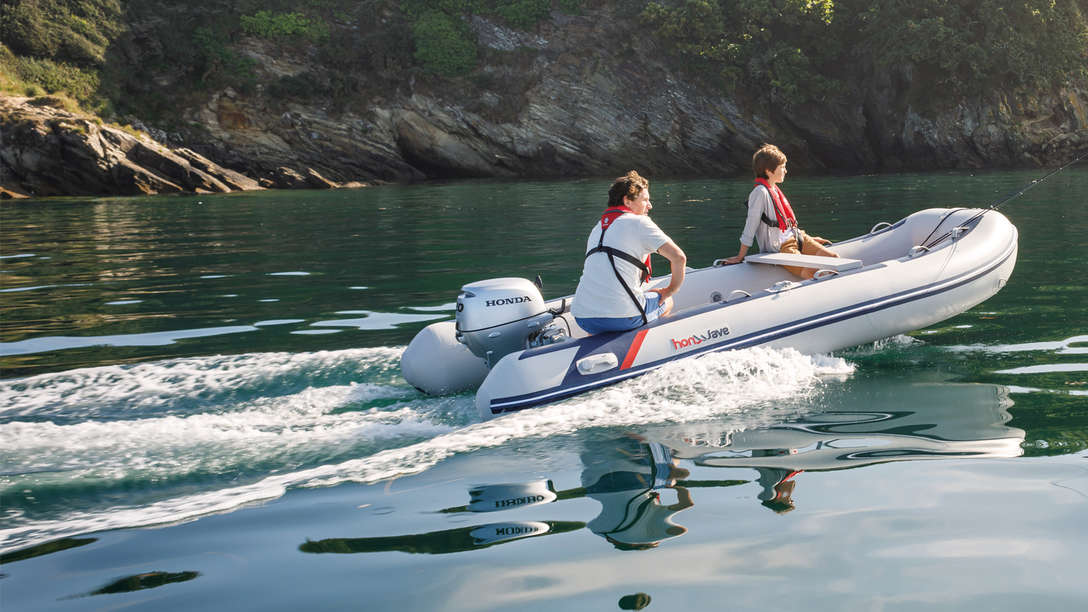 Choose the right inflatable for you
A range of deck types, length options and crew capacity are available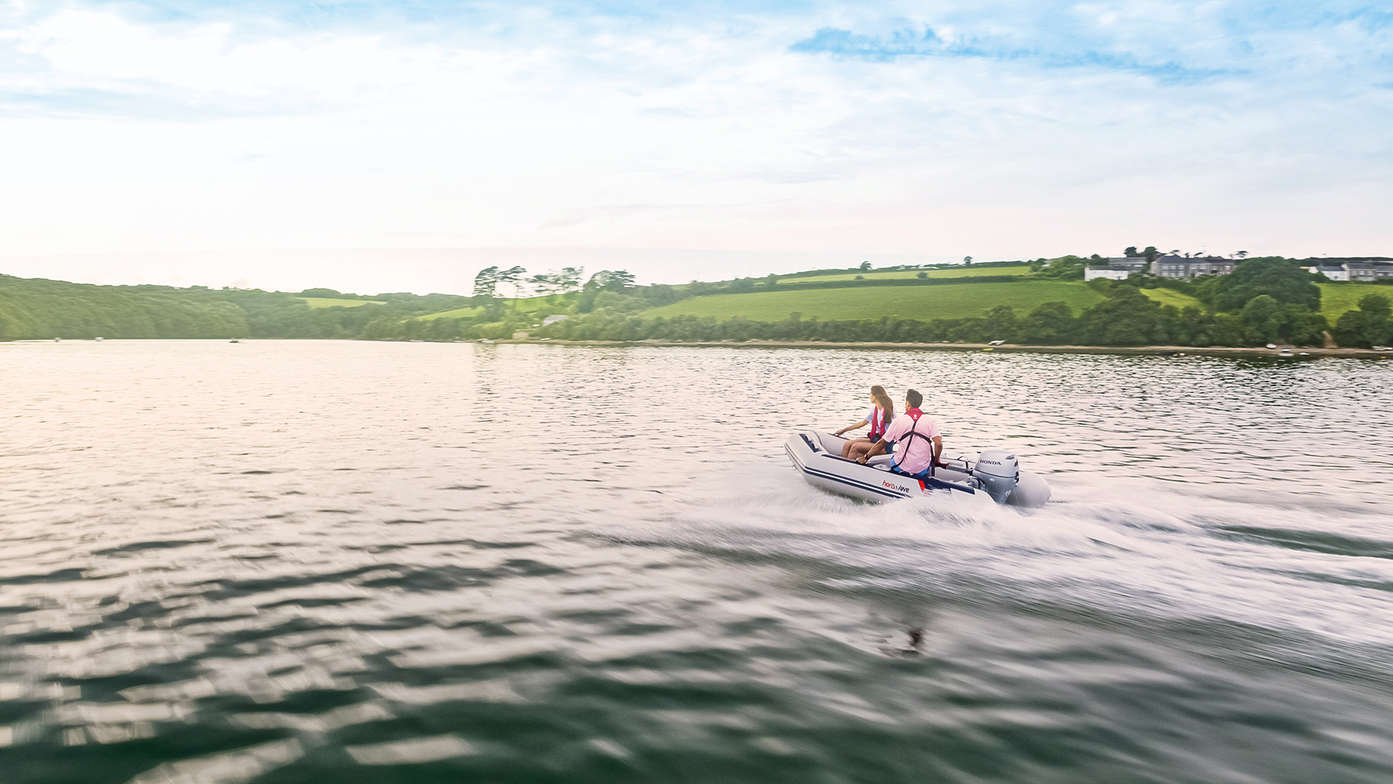 Choose your trip
Each inflatable is a different length and is suitable for different engines and passenger numbers. Where will you be taking yours?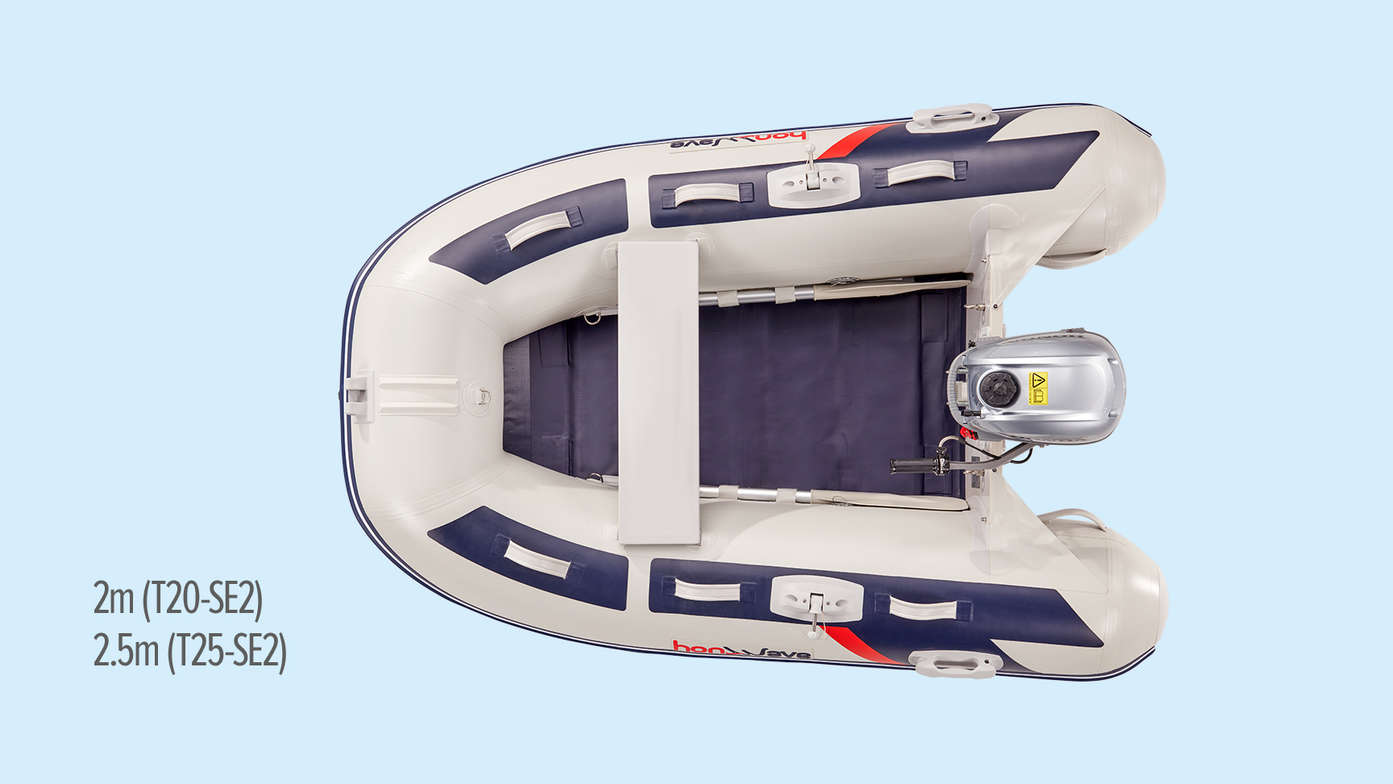 Slatted
Our slatted inflatables come in two sizes: 2m and 2.5m. The range can carry either two or three adults and is suitable for engines between 4HP and 6HP.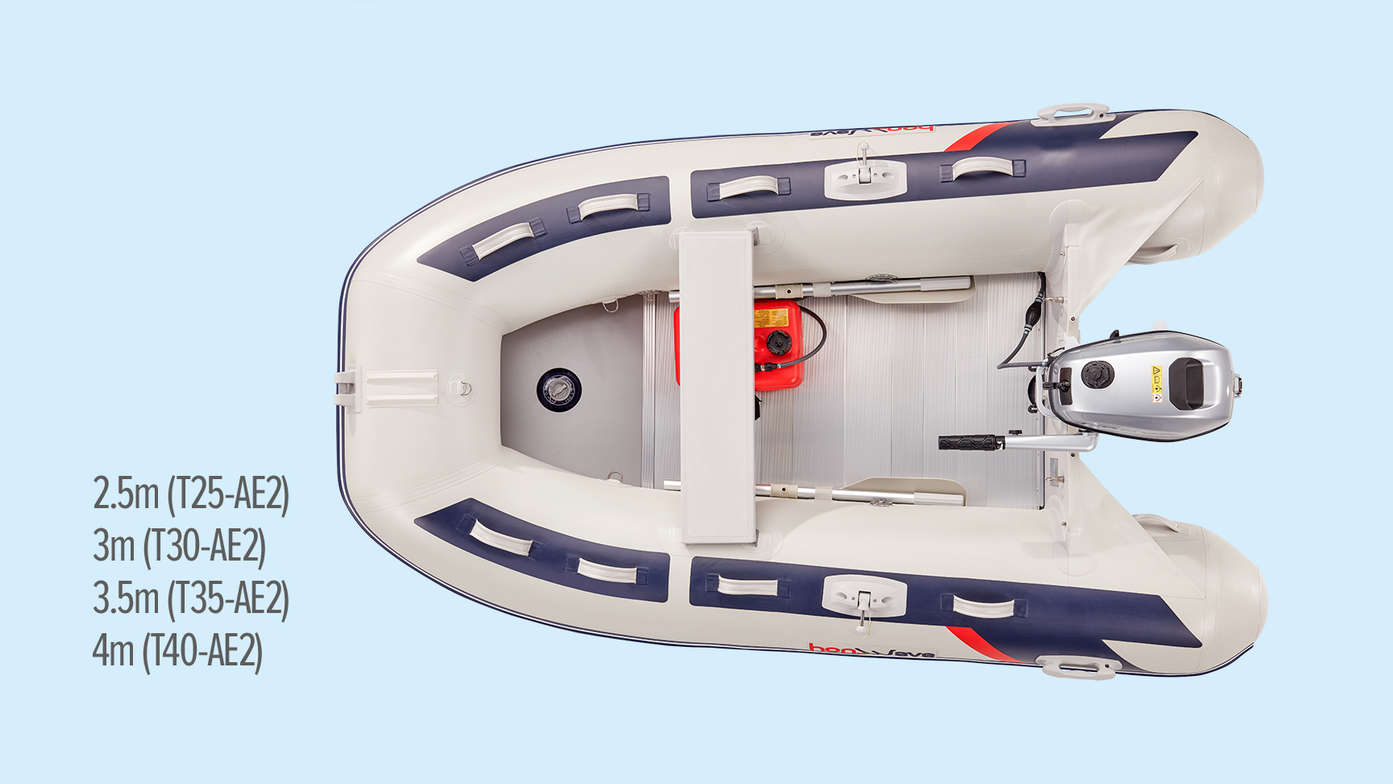 Aluminium
Our aluminium inflatables have four sizes: 2.5m, 3m, 3.5m and 4m. Depending on the model, there's room for between three and seven adults, and an engine between 6HP and 30HP.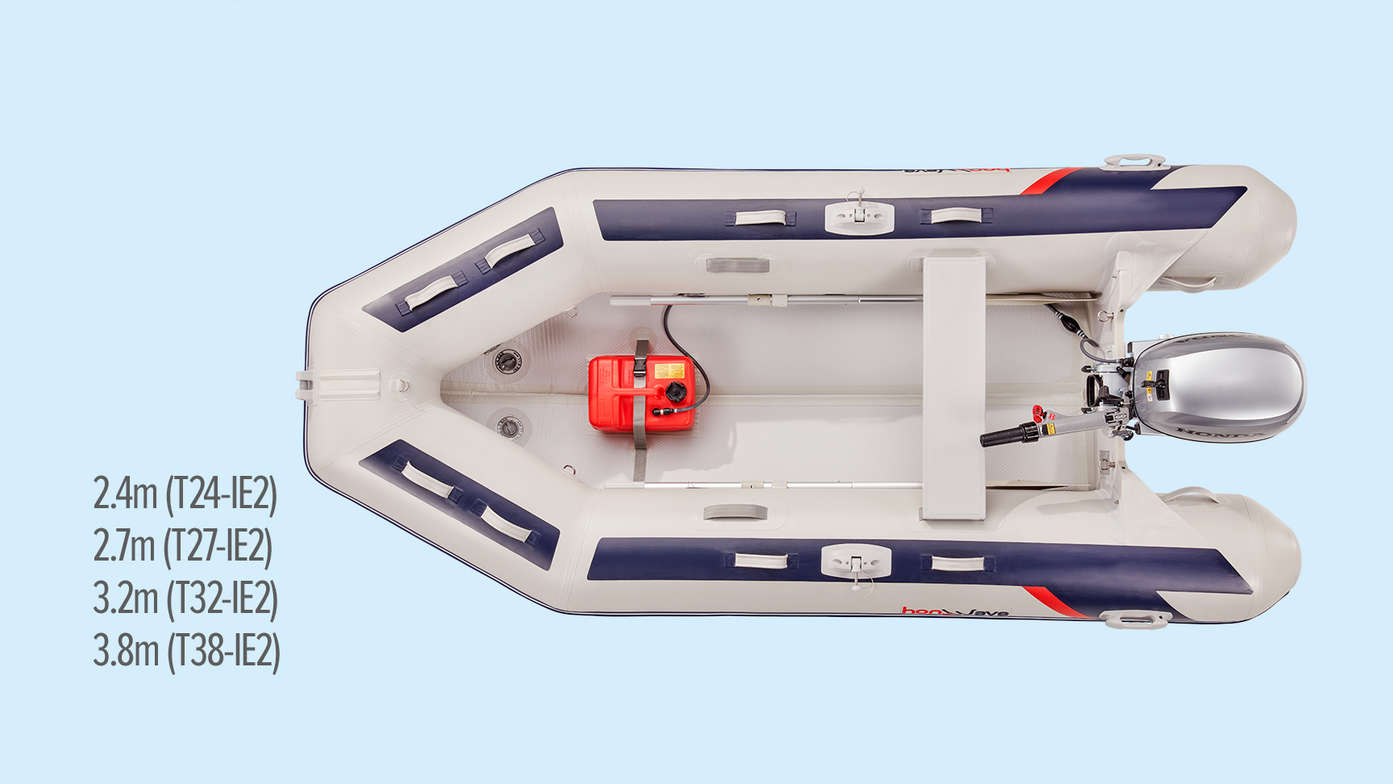 Air V-floor
Our Air V-floor inflatables also come in four sizes: 2.4m, 2.7m, 3.2m and 3.8m. Different models can carry between three to five adults, and an engine between 6HP and 25HP.
Man the deck
There are three types of floor to choose from – but which is right for you?
The slatted Honwave floor comes in two sizes and its light and compact design means it can be folded and stored in just minutes – all by a single person, no problem at all.
Smooth cruising
But if you take your fun a little more seriously, then our aluminium-deck inflatables are an extra-rugged option. Suitable for just about any nautical need, their extra large buoyancy tubes mean even smoother cruising.
The V-sign
Our air V-floor inflatables are all about performance and agility. Their vibration-dampening floors help soften the ride and their deep-V hull design ensures the best possible stability at virtually any speed.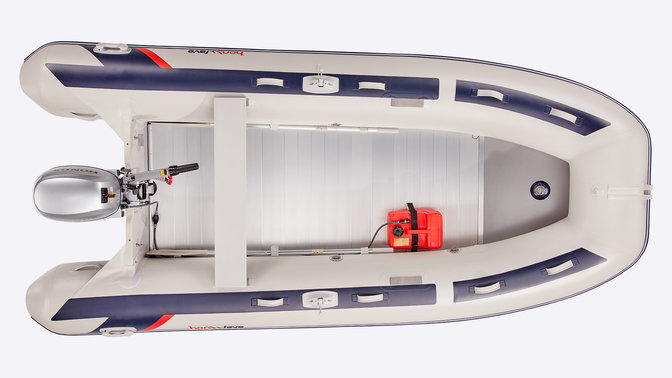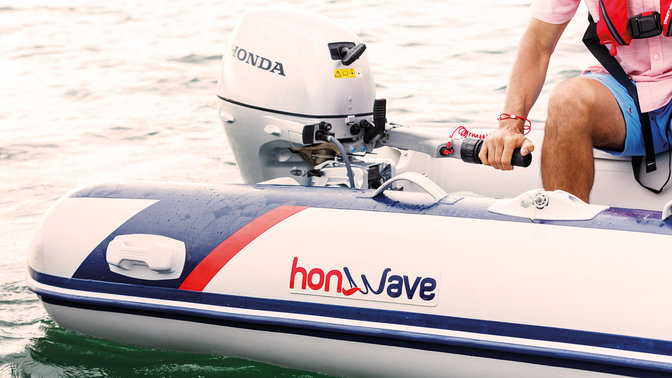 Welcome aboard
All three inflatable types offer you the best options for the water.
Built not made
Out on the water can be a harsh environment – after all it's the great outdoors. We've built our inflatables to endure whatever the wild can throw at them.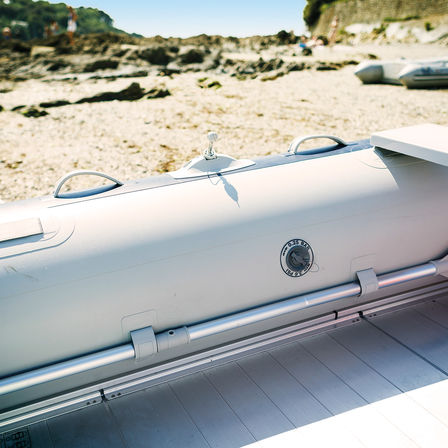 That goes for every kind of weather and seawater – our inflatables are protected against them all. They're manufactured with high quality European PVC – quite simply the best available – that makes them not only durable but also lightweight.
Well protected
As well as being crafted from European PVC, our inflatables also have a thick rubbing strake around the entire boat. This not only acts as a bumper to protect the tubes from puncture, but its curved shape deflects spray.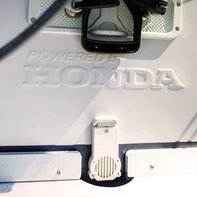 All the mod-cons
Change the seating layout for your passengers.
Whether you're riding solo or with passengers, the seat holders are ready to be changed to alternative seating positions to accommodate your crew. There are also rugged safety ropes and holders, thick lifting handles and a clever oar lock.
Waiting can be deflating
Owning a boat is about being on the water, not waiting for it to inflate. That's why all of our inflatables come with a high-capacity foot pump with a high pressure and deflate facility. It means more time on the water and less hassle packing up when it's time to head home.
A watertight warranty
Like our inflatables, a Honda warranty is the best you can get.
Every Honda Marine customer can expect the support of a domestic or professional warranty. It will maintain the same value throughout its warranty period. That means your last day of cover is as good as your first. We think that's pretty unbeatable too.