Maintaining and servicing your Honda
Keeping your outboard looking as good as the very first day you took it out on the water is not difficult at all – it's just a matter of ticking boxes.
Servicing your Honda
As you'll read in your Owner's manual, regular servicing performed at the correct intervals helps make sure your Honda keeps on ticking along. Be sure to update your service record too, as this ensures you get the full benefit of your Honda warranty.
If you use your outboard engine in demanding or commercial conditions it may need more frequent servicing. Your dealer can tell you more about this.

Your Honda Marine Authorised Dealer is best placed to maintain and repair your machine on a regular, ongoing basis. We advise that any maintenance or repair be performed by the dealer you bought the equipment from, because they know it better than anyone else.
To make sure you get the best quality and reliability, we recommend you use only new Honda genuine parts.

There's also a lot you can do as an owner to keep your equipment in optimum condition. Periodic maintenance will increase the life of your marine engine, giving you trouble-free boating for years to come. To keep it on top form, always check against the service and maintenance schedule in the manual.
Basic maintenance before use
Always check the oil level before you start.
When your engine starts, always take a moment to listen for any unusual sounds; and check that the water to cool the engine is flowing freely.
Take a moment to check that all bolts and fastenings are tight and the engine is secured to the boat.
Basic maintenance after use
Always allow the engine to cool before carrying out any maintenance yourself.
Always thoroughly rinse off, or flush out salt water with clean fresh water.
If you're storing the engine for a long time, disconnect the battery and drain any fuel that's left in the tank.
If your Honda is for commercial use, long hours of work may determine more frequent maintenance checks.
You'll find full maintenance and service advice for outboard engines and inflatables in your Owner's manual.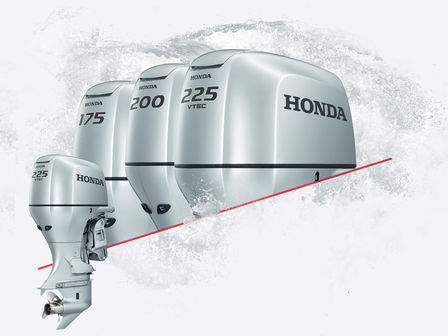 Outboard engines
Before each use
Check the engine oil level
Check the propeller and cotter pin are secure
Check the anode
Check the fuel lines
Check the emergency stop switch
On mid and high range outboard engines:
Check the tightness of the battery cable and connection
Check the engine for oil leaks
Check each operating part
Check the engine's starting ability, the engine sounds normal, check the cooling water hole
Check the water separator
After each use
Check for coolant leaks
Check the cooling water passages and flush with clean water after each use if operating in muddy or salt water
First month or 20 hours (whichever is first)
Change the engine oil
Grease the engine lubrication points
Every 6 months or 100 hours (whichever is first)
Change the engine oil
Check the starter rope (if you have a recoil start model)
Check and adjust the spark plug
Grease the engine lubrication points
Check the fuel filter
Every year or 200 hours (whichever is first)
Replace the spark plug
Clean fuel tank and filter
Every 2 years or 400 hours (whichever is first)
Replace the fuel filter
Submerged motors should be serviced by a Honda Authorised Dealer as soon as possible after recovery to avoid corrosion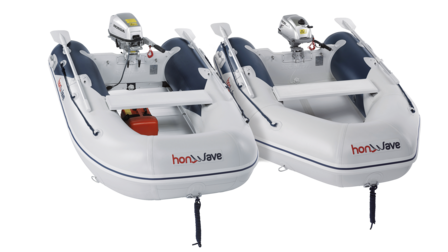 Honwave inflatables
Cleaning
Clean the boat after every use
Do not used vinyl based preservation agents and chemical cleaning products other than dishwashing liquid type soap products, as they may damage and/or dry out the tubes' material
Avoid waxes or alcohol based cleaning products which may damage or dry out the tubes' material
Spray down the boat and its accessories with water after each use. To prevent mould and mildew forming allow all accessories to dry before storing them in their bag
Although made up of stainless steel, some spots of rust may appear on the hole pin axles. To remove them use a scouring sponge and soapy water.
Remove all sand, small rocks and other objects which may have remained adhered to the boat.
More about manuals and guides