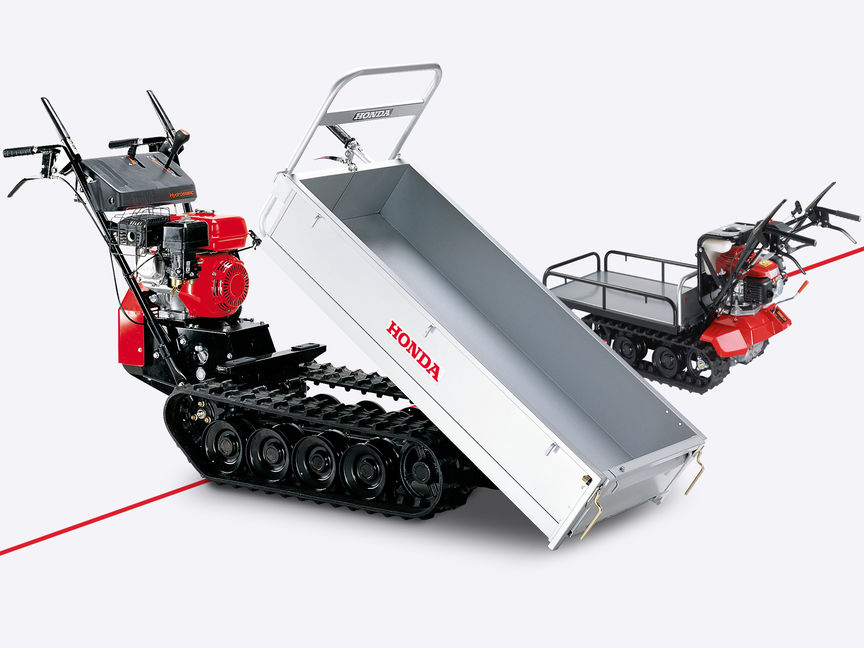 Petrol Power Carrier
The transporters
True savers of time and labour.
Our Power carriers take the backache out of shifting heavy materials. Helping reduce work-related injuries, they take a load off your mind too.
Load

350-500

Kg

Gradient

15

Degrees

Speed

3.5-4.3

Km/h

Width

635-650

mm
Next-gen workhorse
Our Power carriers are strong and reliable. Just feed them petrol.
For use by construction workers, farmers and emergency services, our Power carriers are suited for a whole range of jobs where heavy materials need shifting. They're fitted with our renowned 4-stroke engine, making them tough and efficient. They'll get the job done.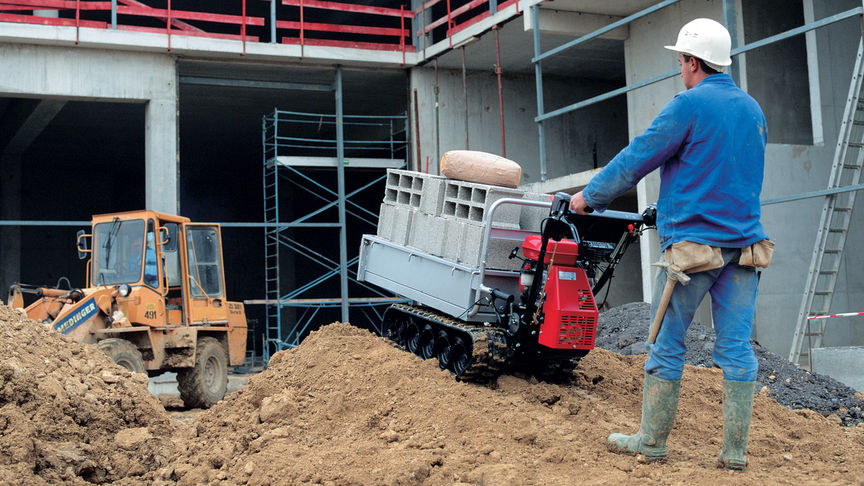 When things get rocky
Working across unstable or steep terrain, you'll wonder how you ever got by without one.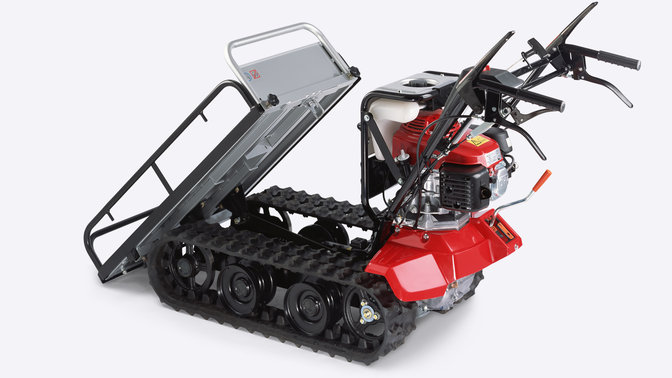 Their unique pattern gives the tracks brilliant stability and traction.
Equipped with our professional grade GX/V160 engine, our Power carriers provide smooth power and high torque with loads of up to 500kg – you'd have to make lots of tiresome trips by hand to shift the same amount. They can even handle inclines and declines of up to 15º.
Stay on track
Across gravel, bumps and even up stairs, our Power carriers' unique track tread provides incredible traction. They have great manoeuvrability with a 71cm turning radius, and the tread also minimises ground damage, which is important when working across lawns and gardens.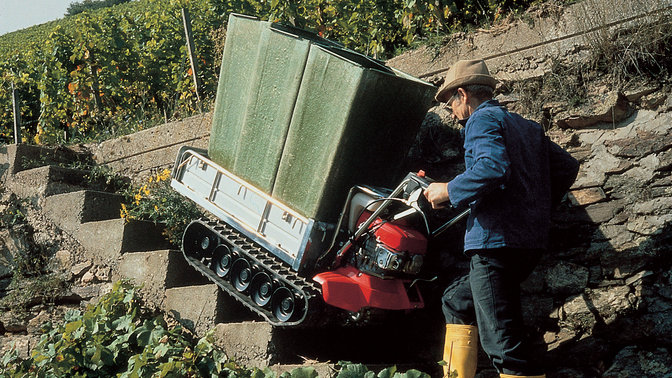 Superior grip and power gives our Power carriers high torque for challenging terrain – even steps.
Our powerful 4-stroke GX160 engines are reliable and efficient.
Speed control
With a Hydrostatic drive, our Power carriers won't run away from you.
Independently controlled by a lever on each handle, the tracks won't operate without you.
Exclusive to our HP 500 Power carrier is our Hydrostatic drive innovation. It's operated by an easy to use lever; with its smooth, variable speed control, you can take the work at your own pace.
Sticks by your side
Each track on our Power carriers is independently controlled and includes a deadman's clutch feature. It's a safety mechanism that makes sure the machine doesn't work unless your hands are firmly on the handles – that means it won't go wandering off when your back's turned.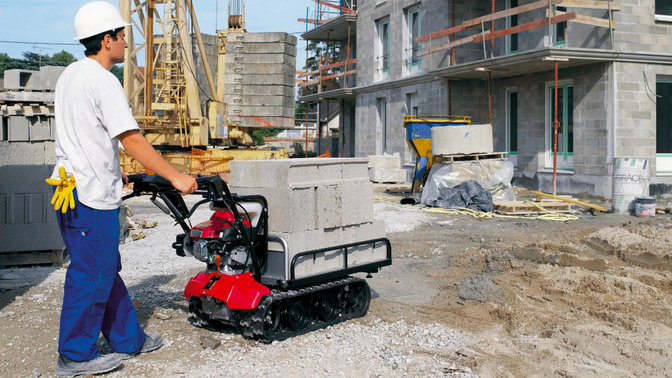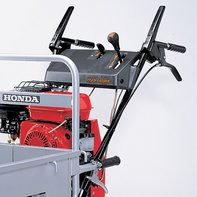 The hydrostatic drive is unique to Honda and is operated by this easy to use lever.
Tilting bed
Our Power carriers deliver the load right to the ground.
Not only getting heavy material to its destination, our Power carriers' bed tilts and deposits its payload on to the ground – just release the clasp and tilt the bed. This function means there's no lifting from the machine to the floor – depositing cargo is easy.
Adjustable bed
No job is the same. Breeze blocks, agricultural material, scrap, rubble – the things you need to shift can change. That's why our Power carriers' bed width is adjustable. They can cater for different sizes and shapes of, well, pretty much anything. The HP 350 and HP 500 are also available as a 'naked' option without a load bed. Have it your way.
Delivered to your feet
The tilting bed function deposits your cargo on to the ground.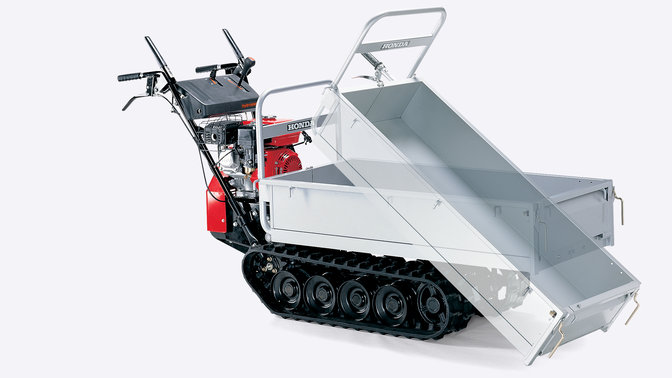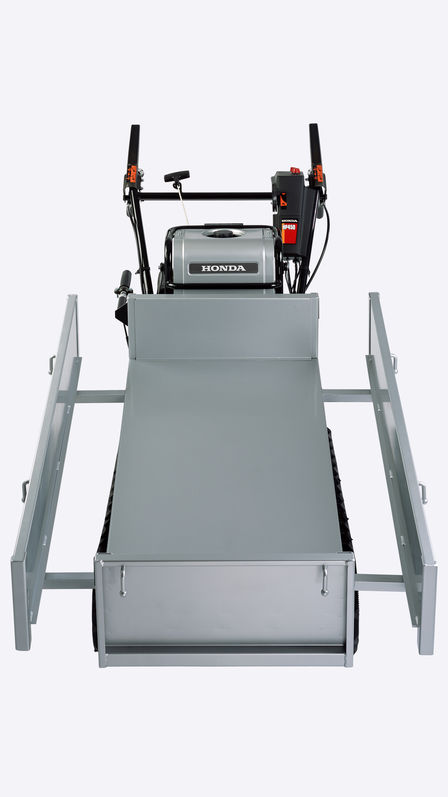 Our Power carriers are flexible – simply adjust the bed for different sized materials.
Rock solid warranty
Our Power carriers are built better to last longer.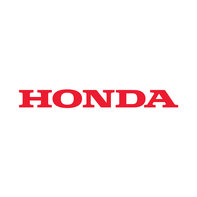 They just keep on going. That's why we can offer you an unrivalled warranty for domestic and professional use on our core range products, covering both parts and labour.
The warranty's lifetime
Our warranty maintains the same value throughout its warranty period too – meaning the last day of cover is exactly the same as the first. Solid and dependable just like our Power carriers.