Maintenance & Repairs
With a bit of TLC, your Honda will last even longer.
Maintenance & repair
Your Honda Dealer is best placed to carry out servicing on a regular, ongoing basis. But there's also a lot you can do as an owner to keep your Honda in perfect (and safe) operating condition.
A little bit of cleaning goes a long way – not only towards the working life and day-to-day operation of your machine, but also its residual value.

Always perform an inspection before you start up the machine. Look at the Owner's manual before you begin working and check the engine's oil level.

Here's a list of important safety precautions:
Make sure the engine is off before you start any maintenance or repairs.
Let the engine cool completely.
Be sure your work area is adequately ventilated.
Keep cigarettes, sparks and flames away from fuel, and fuel related parts.
If maintained properly, your Honda should give you years of trouble-free operation. This includes the fuel system. If your power equipment is stored for a long time, it's best to drain the fuel system because petrol quality can quickly deteriorate. This will cause starting or running problems and, in some cases, damage to the fuel system.

To help you to properly care for your Honda, we've included a maintenance schedule in your Owner's manual. This lists the basic procedures you should undertake on a regular basis, and enables you to keep track of the maintenance you perform on your product.

It's a good idea to keep your machine's service record up to date with its maintenance schedule. This reduces your costs in the long run, and maintains your machine's value – always a plus. Make sure servicing is always done by a Honda Dealer; that way you can be sure that high-quality Genuine Honda Parts – purpose built for your machine – are being used.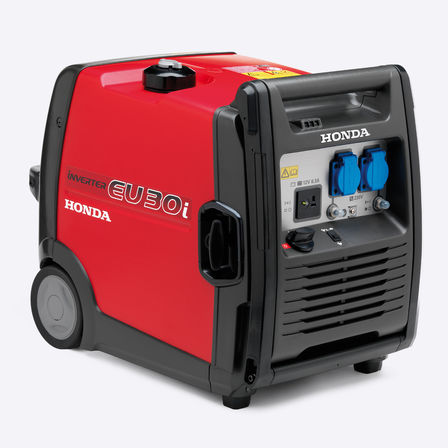 Generators
Each use
Check Engine oil level
Check air cleaner
First month or 10 hours
Every 3 months or 50 hours
Clean air cleaner element
Every 6 months or 100 hours
Change Engine oil
Check & clean spark plug
Clean Sediment cup
Every 1 year or 300 hours
Replace air cleaner element
Replace spark plug
Check Fuel lines & replace if necessary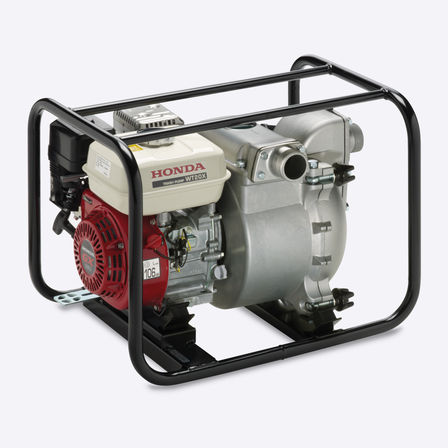 Water pumps
Each use
Check Engine oil level
Check air cleaner
First month or 10 hours
Every 3 months or 50 hours
Clean air cleaner element
Every 6 months or 100 hours
Change Engine oil
Check & clean spark plug
Clean Sediment cup
Clean spark arrester (applicable types)
Every 1 year or 300 hours
Replace air cleaner element
Replace spark plug
Check Fuel lines & replace if necessary