Honda Warranty Information
Because you rely on your industrial product to work when you've got a job to do, we've made sure you also have a warranty you can rely on too.
Our promise
There's a simple reason why you'll see so many old Honda products still in use. Ours are built better to last longer. And our cast iron warranty, for domestic and commercial use, will cover both manufacturing and material defects for a period of three years from the date you bought it, as long as you stick to the service schedule.
Our warranty maintains the same value throughout its lifetime, which means the last day of cover is exactly the same as the first. Make sure you only let a Honda Authorised Dealer carry out any service work and always use Genuine Honda Parts.
The Honda warranty doesn't cover the following:
Damage caused by neglecting to carry out periodic maintenance as specified in the Owner's manual.
Damage to the engine caused by repairs or maintenance using methods not approved by Honda.
Any damage from the use of non-genuine parts, accessories, non-specified lubricants, liquid agents and fuel; plus damage that results from operating methods other than those covered in the Owner's manual.
Fuel system damage or engine performance problems resulting from contaminated fuel due to poor storage.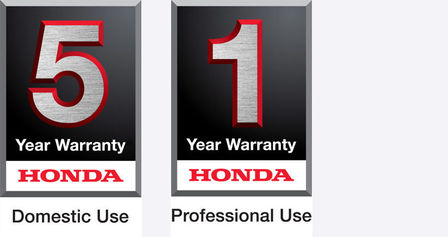 Generators range
5 year warranty for domestic use
1 year warranty for professional use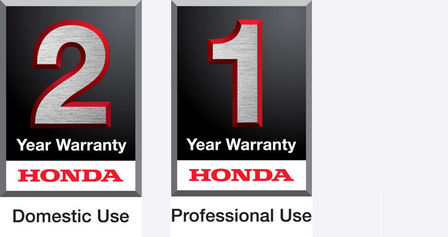 Water pumps range
2 year warranty for domestic use
1 year warranty for professional use
Customer responsibilities
Please ensure that the machine has been registered for Warranty by the Honda Dealer, services are performed at the specified period and that the service receipt record is kept safe for future reference. In this way your machine will receive the full benefit of the Honda (UK) warranty. Regular maintenance is also essential to ensure that your machine operates safely, efficiently and with the minimum impact on the environment. For full terms and conditions and servicing requirements please consult your warranty and service booklet and owner's manual. If you are in any doubt regarding the service requirements of your specific product please contact your supplying dealer. Alternatively call the Honda Contact Centre on 0345 200 8000.
Please note that your product will require more regular servicing / maintenance if working in very wet, dry, dusty conditions and or in high ambient temperatures.
The warranty Honda (UK) provides is in addition to your statutory rights.
How do I transfer the warranty from the first owner?
Either email us:
customer.servicepe@honda-eu.com
or write to us at:
Honda (UK) Power Equipment
Customer Service / Product Registration
Cain Road,
Bracknell
Berkshire
RG12 1HL

Please supply the following details:
Complete model and serial number information
Original date of purchase
Date of ownership transfer
Previous owner's name, address and phone number
New owner's name, address and phone number