Honda Industrial Operator Safety
We've made our Honda industrial equipment easy to use so you can get the job done quickly. We want to make sure you get it done safely, too.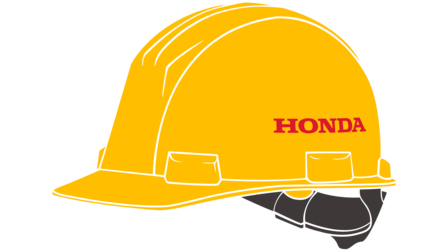 We've got your protection in mind
Please pay close attention to all aspects of safety, both your own and that of others. It's extremely important to follow all rules; you'll find them in your Owner's manual (keep it handy!). Before you start work read the manual thoroughly, make sure you understand the operating procedures specific to your machine and the exact meaning of the stickers you'll find on it. And be sure that anyone who operates the equipment receives proper instruction.
As you'd expect, a power generator comes with some important safety considerations. Honda Generators are designed for use with electrical equipment that has suitable power requirements; other uses can result in injury to the person operating it or damage to the generator and other property.
Some do's and don'ts (mostly don'ts):
Never attempt to modify the generator. It can cause an accident as well as damage to the generator and appliances.
Don't operate the generator with any cover removed. You may get your hand or foot caught in the generator and it may cause an accident.
Never run your generator in a confined or partially confined space, or inside a garage, house, or near open windows or doors. This may result in carbon monoxide poisoning.
Always place the generator on a firm, level place before operating it.
Consult your authorised Honda Dealer for instructions about disassembly and service of the generator that are not covered in your manual.
If the generator is stored outdoors, check all the electrical components on the control panel before each use. Moisture or ice can cause a malfunction or short circuit in electrical components, which could result in electrocution.
Do not connect to a building's electrical system unless an isolation switch has been installed by a qualified electrician.
Do not use the generator in areas with a high risk of fire.
Keep the generator at least one metre (three feet) away from buildings and other equipment during operation. The exhaust system gets hot enough to ignite some materials.
Do not enclose the generator in any structure, and keep flammable materials away from the generator.
Some parts of the internal combustion engine are hot and may cause burns.
Refuel with care – gasoline is extremely flammable, and gasoline vapour can explode. Allow the engine to cool if the generator has been in operation.
Most of the rules around the use of our generators (above) also apply to our water pumps. Below are some rules that apply specifically to Honda Water pumps.
Never pump flammable or corrosive liquids such as gasoline or acid.
To avoid pump corrosion, never pump sea water, chemical solutions, or caustic solutions such as oil, wine, or milk.


Many of the rules that apply to our generators (above) are also relevant for our power carriers. Below are some rules that apply specifically to Honda Power carriers.
To avoid accidents or loss of control, do not ride on the power carrier – walk behind it and hold both handlebars firmly. Do not allow others to ride on the power carrier as passengers.
Watch for obstacles while operating the machine. Do not use the power carrier when visibility is poor.
Observe load limits to avoid accidents or overturning.
Be sure your load is secure and does not protrude from the power carrier or block visibility.
To avoid overturning, be careful when changing the direction of the power carrier while operating it on slopes, and do not operate it on upward or downward slopes greater than 15°.
When operating the power carrier in reverse and walking backwards, there is a greater risk of slipping or tripping. Be especially careful when backing up.
Never use the machine for night work.