Operator safety
A Honda Snowthrower is the quick and easy way to clear snow – and we want to make sure it's the safe way, too.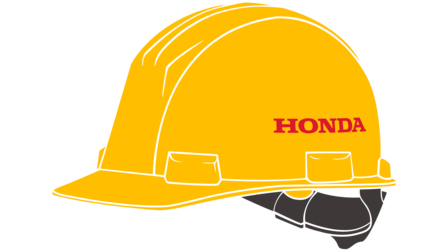 We've got your protection in mind
So please pay close attention to all aspects of safety, both your own and that of others. It's extremely important to follow all rules; you'll find them in your Owner's manual (keep it handy!). Before you start work read the manual thoroughly, make sure you understand the operating procedures specific to your machine and the exact meaning of the stickers you'll find on it.

Read the instructions in the snowthrower manual.
Understand all the controls and how to use them properly.
Give your snowthrower a check-over before you use it – fix any problems you find, or have your servicing dealer correct it.
Make sure you know how to quickly shut off the snowthrower in case of an emergency.
For your safety and the safety of others, always inspect the area before operating the snowthrower. Clear away obstacles, and make sure people and pets are kept well away.

Don't run the engine in a confined space. Your snowthrower's exhaust contains poisonous carbon monoxide gas which can collect rapidly in an enclosed or partially enclosed area, and could cause illness or death.
Keep away from the auger whenever the engine is running. If you need to work around the snowthrower to clear snow for any reason, always shut off the engine.
If the snow discharge chute becomes clogged, stop the engine and disconnect the spark plug cap. Use a wooden stick to remove the obstruction. Never use your hand, as serious injury could result.
Never use the snowthrower to clear snow from a gravel road or driveway, as rocks may be picked up and ejected and could cause injury to bystanders.
Refuel with care – always refuel outdoors in a well-ventilated area with the engine off. Allow the engine to cool if the snowthrower has been in operation.
Don't use the snowthrower when visibility is poor. Under conditions of poor visibility, there is a greater risk of striking an obstacle or causing injury.
Don't permit anyone to operate the snowthrower without proper instruction, and never let children operate it.
While operating the snowthrower, hold the handle firmly and walk, don't run. Wear suitable winter boots that resist slipping.
Proper storage is essential for keeping your snowthrower corrosion-free and looking good. Important tips for storage:
Drain or treat the fuel.
Change the oil and coat the engine cylinder.
Choose a storage location – a well-ventilated dry storage area away from any appliance that operates with a flame, such as a furnace, water heater, or clothes dryer. Also avoid any area with a spark-producing electric motor, or where power tools are operated.