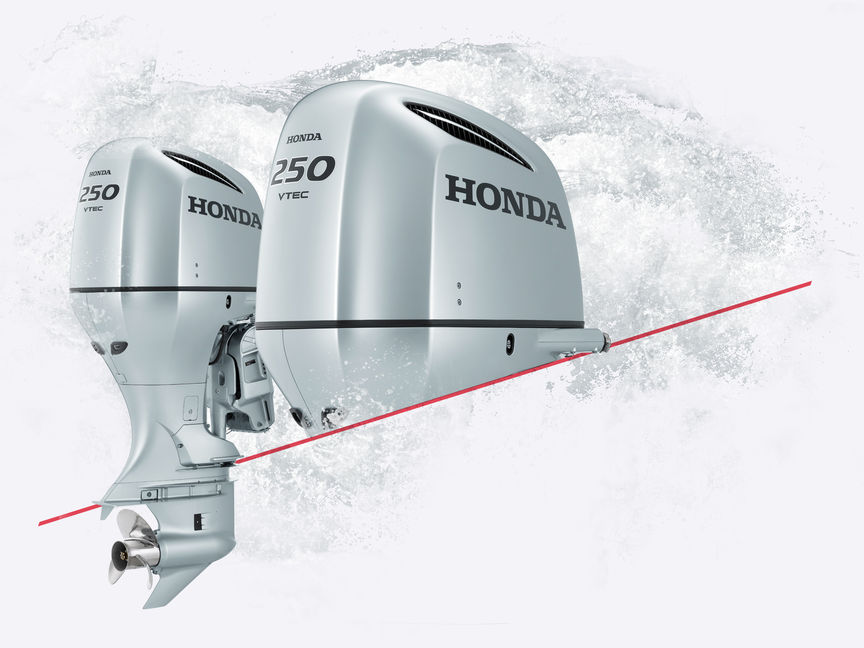 BF250 Horsepower Outboard Engines
The Silver Bullet
Sharp and sleek with V6 power.
From the pioneers in 4-stroke technology comes the BF250. It's the result of 50 years of research and development, which has set new standards in the 250 horsepower class. Welcome to Honda's wild side.
Engine

250

Hp

Shaft

L - X - XX

Length

Battery

60A

Charging capacity

Dry weight

284-288

Kg
It's not all about the knots
The BF250 is without doubt the flagship model for more reasons than just horsepower.
This incredible outboard provides a host of exclusive technologies that make it the best for both recreational and commercial use. NMEA 2000® compliant and featuring a host of racing innovations, the BF250 is a sleek and versatile motor that gives you exactly what you need, when you need it. Long-term reliability is important too, especially if you depend on the water to make a living. Remember, if your engine isn't working – then neither are you.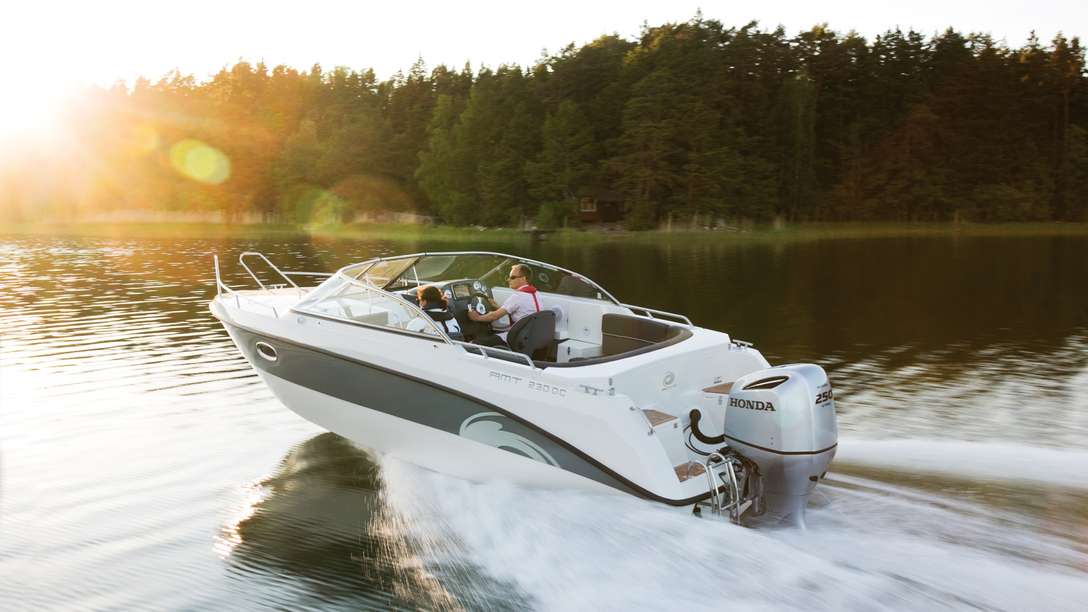 Explosive performance
A PGM-Fi fuel injected, 24 valve, SOHC, 3.5 litre, V6 engine – you better hold on to your hat.
If it sounds to you like an engine that should be in a fast car, then you would be half right. Most of our engineering ideas and creations are born out of the vast knowledge and commitment to developing power – and race winning performance – for over 60 years. VTEC™, for example, was first used commercially in the awesome Honda NSX sports car. With innovative additions especially for marine like BLAST™ and ECOmo, this engine with its unique dual air-intake system is the very best in class for economy – and low emissions too.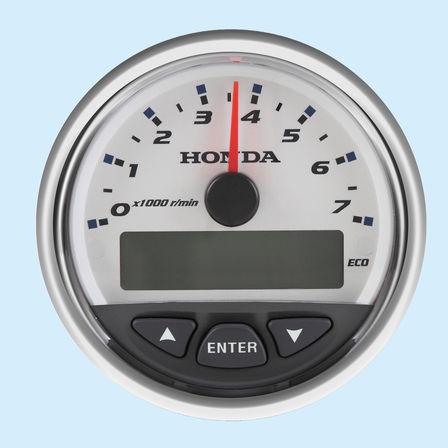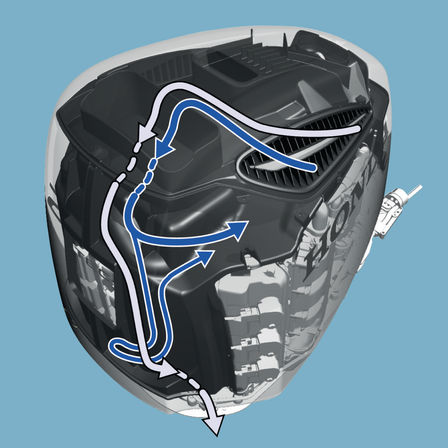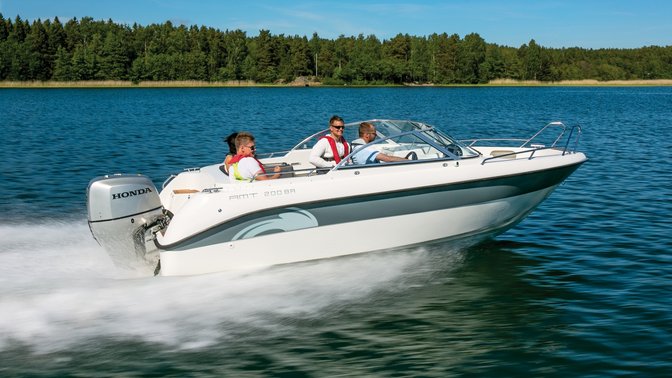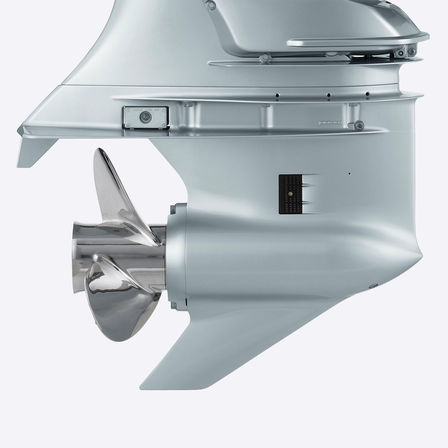 Diamond tough
The BF250 is rock-solid engineering that's easy on the eye, completed in Honda's unique aqua marine silver finish.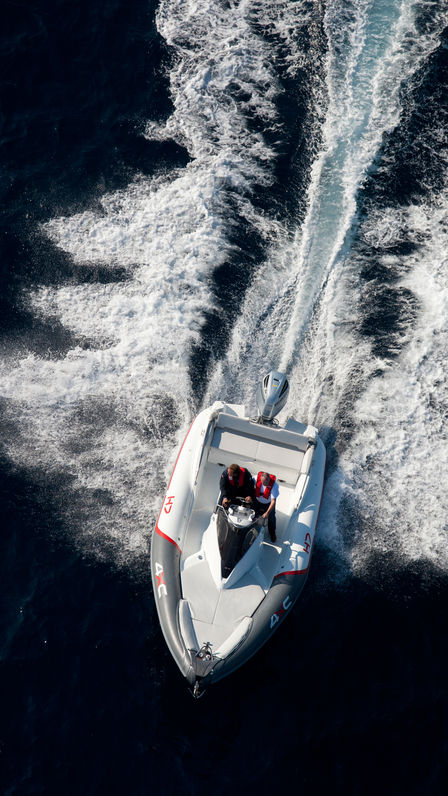 It's incredibly light for a big 250 horsepower 4-stroke outboard – and it looks it too. The engine's body has sleek aerodynamic styling that combines nicely with sculpted air-intake gills and a superior, hydrodynamic designed gear case. This gives you much better underwater performance at high speed.
A big impression
All wrapped up in our diamond-hard, bright silver finish – the BF250 makes quite a first impression. In fact, it'll blow you away. It looks great – even just hanging off the back of your boat, parked up on a trailer. It's a beautiful addition to any boat. And then of course once you get it into the water and fire it up, you'll see real poetry in motion.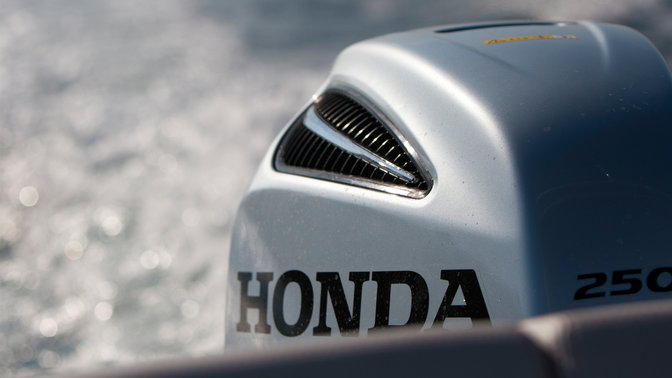 The engine's body has sleek aerodynamic styling that complements the sculpted air-intake gills.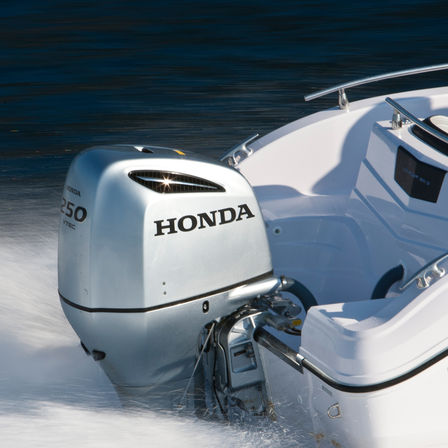 The perfect blend of style and power.
Our winning ways
From the world's racing circuits, to the waters of the world.
In 1959 we entered the Isle of Man Motorcycle TT race with dreams of winning the world championship. We made our presence felt two years later by finishing first – as well as second, third, fourth and fifth. Today's machines are proof that dreams can come true, and improving their performance is a continual challenge – and joy – for us.
Track technology
Proven technology from the racetrack is passed on to our marine engines. Every innovation, no matter how small, is like a trophy to us. We're always looking around the corner to see what's coming next.
4-stroke pioneers
The leader in 4-stroke engine technology for 50 years.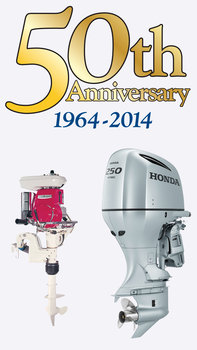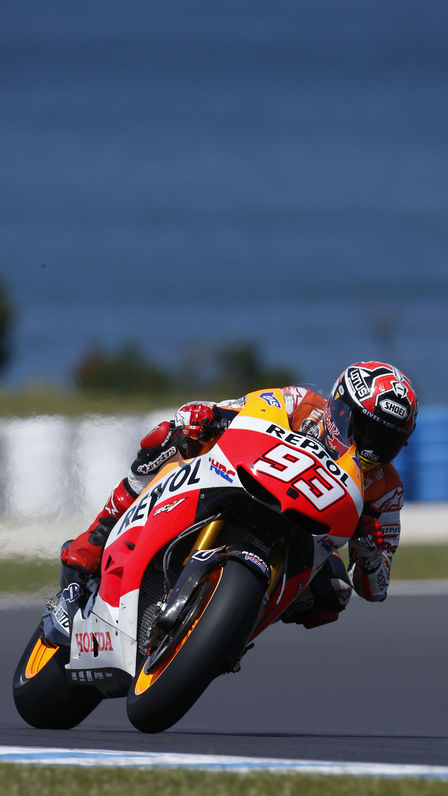 The 2013 MotoGP World Champion, Marc Marquez on the awesome RC213V.
Honda's highest spec
Featuring a unique combination of automotive and marine technologies, the BF250 gives you the ultimate in performance and economy.
| | |
| --- | --- |
A water-tight warranty
Like our engines, a Honda warranty is the best you can get.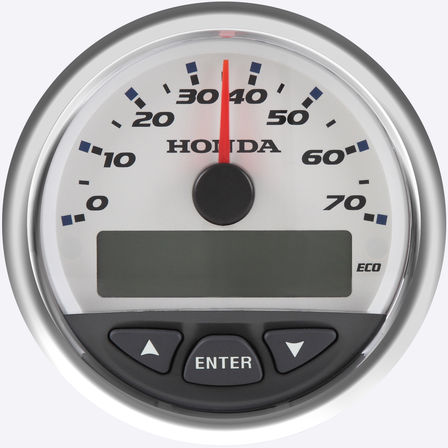 Honda instruments and gauges give you accurate and reliable monitoring, helping protect the engine and ensuring your outboard has a long life.
The reason is clear: better salt water protection through better anti-corrosion technology and superior servicing with specially trained Honda technicians. Every Honda Marine customer has the support of a domestic or professional warranty, as long as you stick to the service schedule. It will maintain the same value throughout its warranty period. That means your last day of cover is as good as your first. We think that's pretty unbeatable too.
Four lines of defence
We first anodise the aluminium casing with our patented 'Double Seal' process. Then an epoxy primer is applied before the shimmering silver paint. For further protection from UV rays, we apply a clear resin topcoat to finish. And to be doubly sure, a sacrificial anode is fitted and all connectors are waterproof. Corrosion doesn't stand a chance.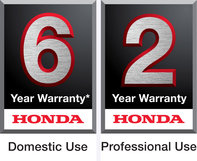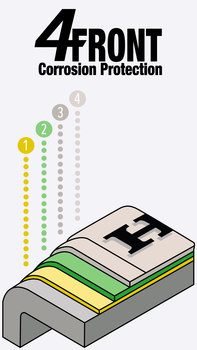 1. A patented double-seal anodising treatment to the aluminium alloy base. 2. An epoxy primer undercoat. 3. An acrylic aqua marine silver paint. 4. An acrylic clear resin topcoat.