Engine

Power

Trim and tilt

Shaft

S - L

Length

Battery

17A

Charging capacity

Dry weight

96 - 98

Kg
Works hard and plays hard
If you're out fishing or just having fun blasting across the water, you'll still want the best engine for the job. But which one?
Both the BF40 and the BF50 are lively and responsive outboards that will provide dependable performance for water lovers whichever water they ply. Both are NMEA2000® compliant, electronic fuel injected engines with optional Trolling Control – no differences there – but if you need more power for a bigger boat, then the larger BF50 will be the one for you.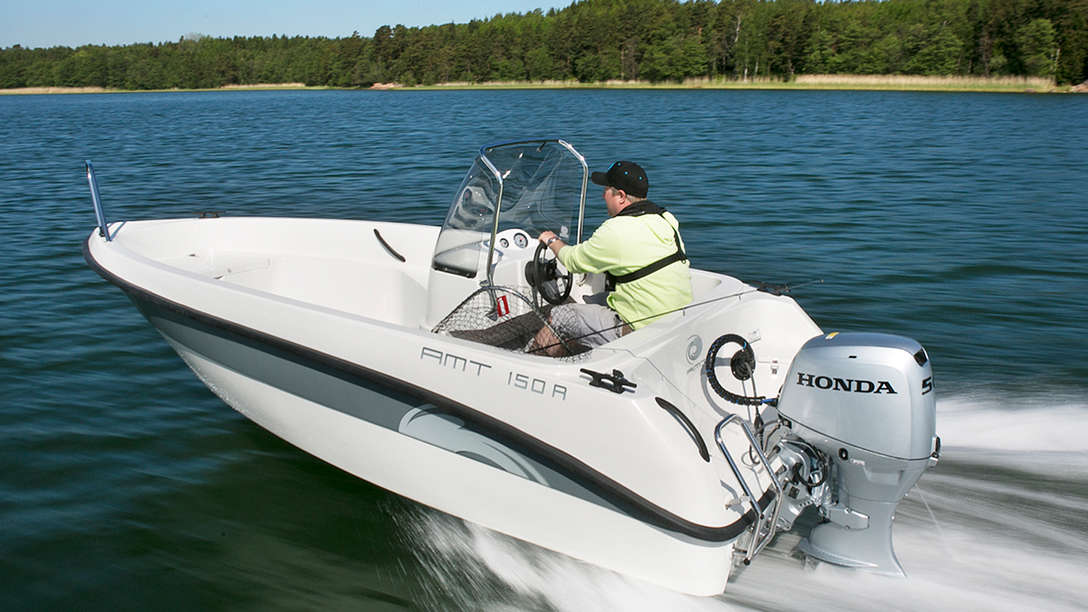 Compact power
The BF40 and the BF50 are light, compact 808cc three-cylinder engines, with strong torque and exciting performance.
How do we do it? By giving them PGM-Fi electronic fuel injection for easy start up, powerful acceleration and outstanding fuel economy. The long, slim inlet manifold and miniaturised electronic components save weight and space, contributing to the compact slim design.
Better performance
Add to that our unique Boosted Low Speed Torque (BLAST™) and the super efficient lean burn control of the ECOmo system, and you've got a very impressive combination indeed.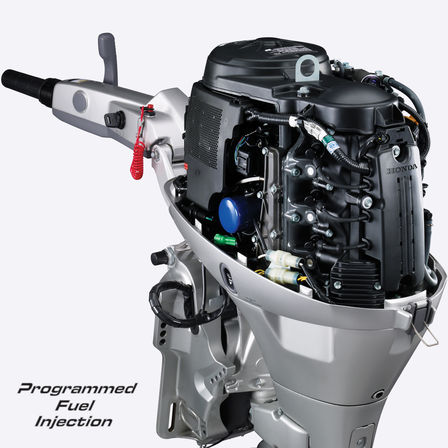 Trusted technology from our car and motorcycle engines goes into the electronic fuel injection system, delivering better performance and economy.
Fine tuning
Power trim and tilt allows you to find the sweet spot, and tune the boat for better economy and performance.
Ultimate performance
Features to suit a variety of boats.
Up, up and away

Honda BLAST™ hole shot technology with PGM-Fi electronic fuel injection delivers instant acceleration to get you up on to the plane as quickly as possible. It does this by using improved accurate ignition timing, which develops more torque at low rpm so you can rapidly reach cruising speed.

Cruise more, spend less

Our unique lean-burn control ECOmo system adjusts the fuel to air ratio depending on load and speed to improve your fuel consumption when cruising. When your boat is up on the plane and cruising (in the green area illustrated above ) the PGM-FI system can adjust the air/fuel ratio up to 20% by making the mixture leaner.

Charging ahead

The High Output alternator delivers a solid 22 amps, which will keep a battery with a 17 amp charging capacity in top condition; and it'll keep all your on board electronic equipment powered up too.

Not such a drag

The gear case is extremely hydrodynamic and super sleek. The gears within are machined to fine tolerances, reducing friction and contributing to the overall performance and superb fuel economy at high speeds.

Plug and play

The engines are NMEA2000® compliant, which makes it compatible with all other NMEA2000® compliant electronic devices – like navigation and fishfinder systems. Engine data rpm, temperature and fuel consumption can be displayed through multi-functional gauges.
Previous
Next
/
Pick the right one for your boat
There are two engine choices available to you.
| | |
| --- | --- |
View specifications
It will turn heads
We think something that works beautifully should look great too.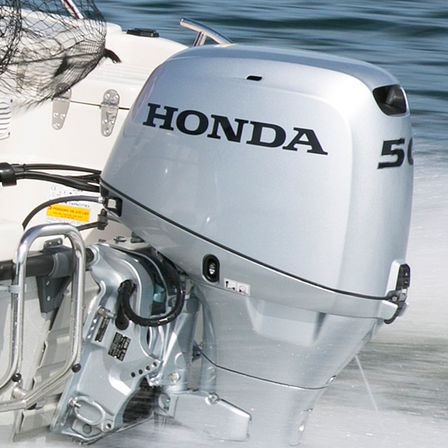 The stunning silver finish reflects the colours of its marine surroundings.
The finish is stunning in Honda aqua marine silver. The sleek, sculpted design is liquid smooth. It looks good just fixed to the back of the boat, but in the water – where it really belongs – it looks even better.
Functional design
Both engines have an optional multi-function tiller handle with an LED panel that displays engine alerts, oil pressure, overheating, engine management and battery charging. It also produces an audible warning should anything happen while you're concentrating on other tasks. It's unlikely – but if there is an issue, you'll have time to act.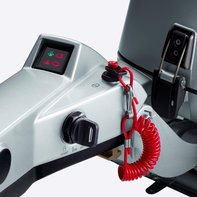 Both engines have an optional multi-function tiller handle with an LED panel that visually displays engine alerts.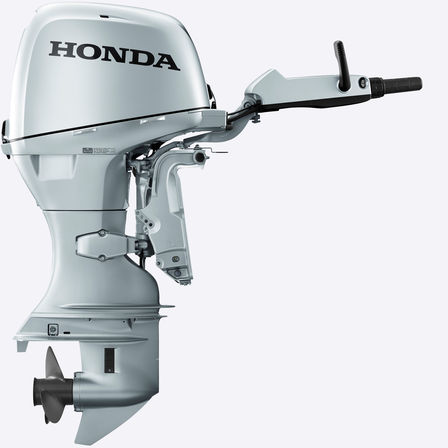 Optional tiller handle has a reversible shift lever, three-stage handle-height and throttle friction adjustment to take the strain off your arms on a long journey.
Slow ahead, and back again
Small adjustments can be made easily, up or down, by 50rpm with trolling control.
Precise control at slow speed is just as important as high-speed handling, especially if you're fishing. The optional Trolling Control will simply adjust the speed through increments of 50rpm - making it ideal for fishing.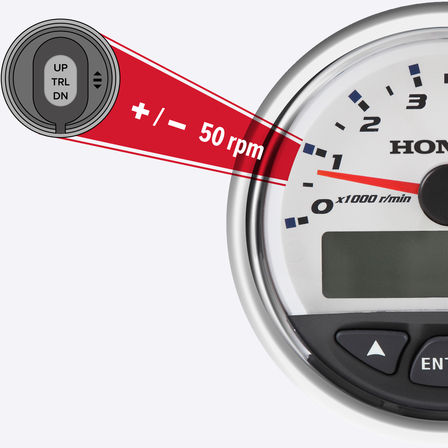 Clear thinking
Believe in what you do.
Improving the quality of our own lives means nothing if we don't consider the living things around us first. And when it comes to the marine environment, there's simply no excuse for allowing fuel from boats to pollute our oceans and waterways.
The Honda way
Soichiro Honda had a simple idea to make outboard engines cleaner, quieter and more friendly towards aquatic life – he made them 4-stroke. It was a solution that made Honda pioneers in marine engine technology, but more importantly it made us more responsible towards this fragile environmental resource.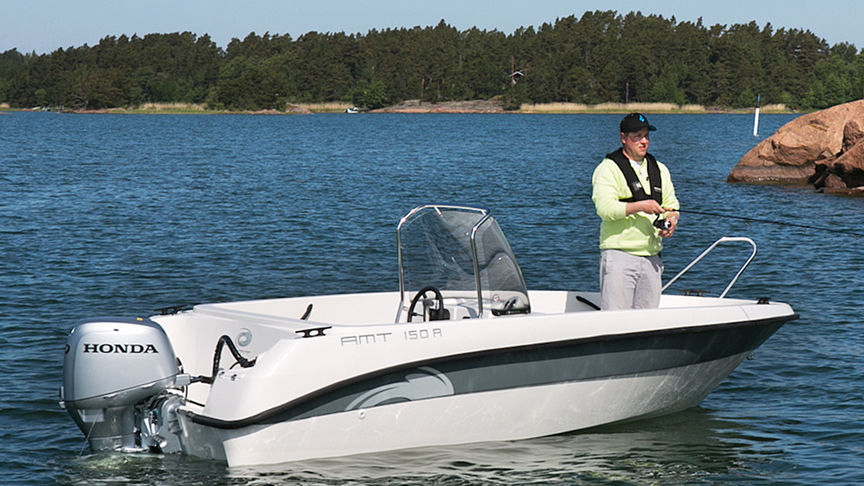 Clean, clear water to enjoy whatever your sport may be.

A watertight warranty
Like our engines, a Honda warranty is the best you can get.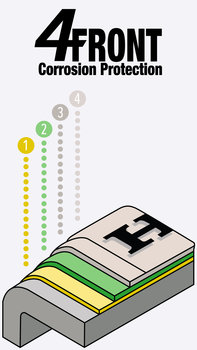 1. A patented double-seal anodising treatment to the aluminium alloy base. 2. An epoxy primer undercoat. 3. An acrylic aqua marine silver paint. 4. An acrylic clear resin topcoat.
The reason is clear: better salt water protection through better anti-corrosion technology and superior servicing with specially trained Honda technicians. Every Honda Marine customer has the support of a domestic or professional warranty, as long as you stick to the service schedule. It will maintain the same value throughout its warranty period. That means your last day of cover is as good as your first. We think that's pretty unbeatable too.
Four lines of defence
We first anodise the aluminium casing with our patented 'Double Seal' process. Then an epoxy primer is applied before the shimmering silver paint. For further protection from UV rays, we apply a clear resin topcoat to finish. And to be doubly sure, a sacrificial anode is fitted so all connectors are waterproof. Corrosion doesn't stand a chance.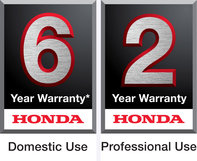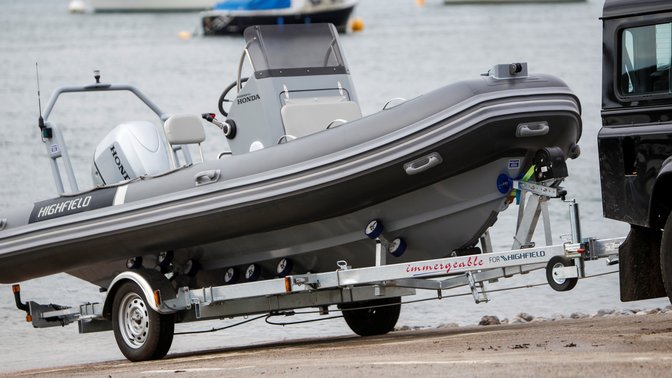 Engine reliability is essential if you live and work on the water.