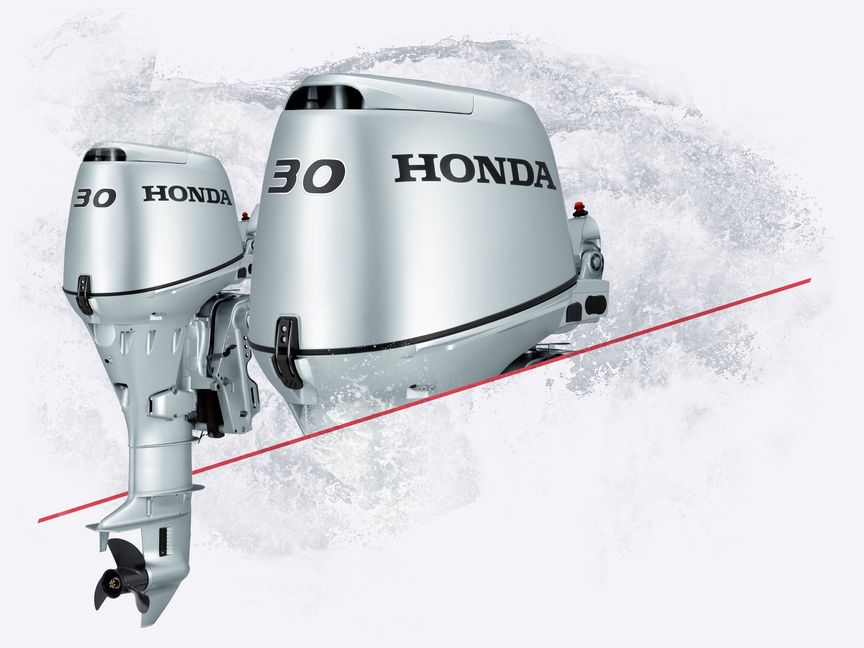 BF30 Horsepower Outboard Boat Engines
The strong, quiet type
Here's an engine that just gets on with the job.
For everyday reliability, ship to shore or holidays, this versatile three-cylinder motor has the right combination of smooth power, low noise and stable operation – whatever the water.
Engine

30

Hp

Shaft

S - L

Length

Battery

12A

Charging capacity

Dry weight

46.5-58.5

Kg
The little big one
A mid-sized engine that thinks it's a giant.
Zipping across your favourite stretch of water or nipping around the coastline is when you'll realise that choosing a Honda was a great decision. It's so quiet – when you're cruising you can actually hold a conversation with your boat mates.
Eco friendly
No mixing of petrol and oil either – it runs cleanly on unleaded, so nothing is polluting the water. So what you get is a perfect combination of robustness, performance and everyday reliability, capped off with impressive eco-credentials – the environment will love you for it.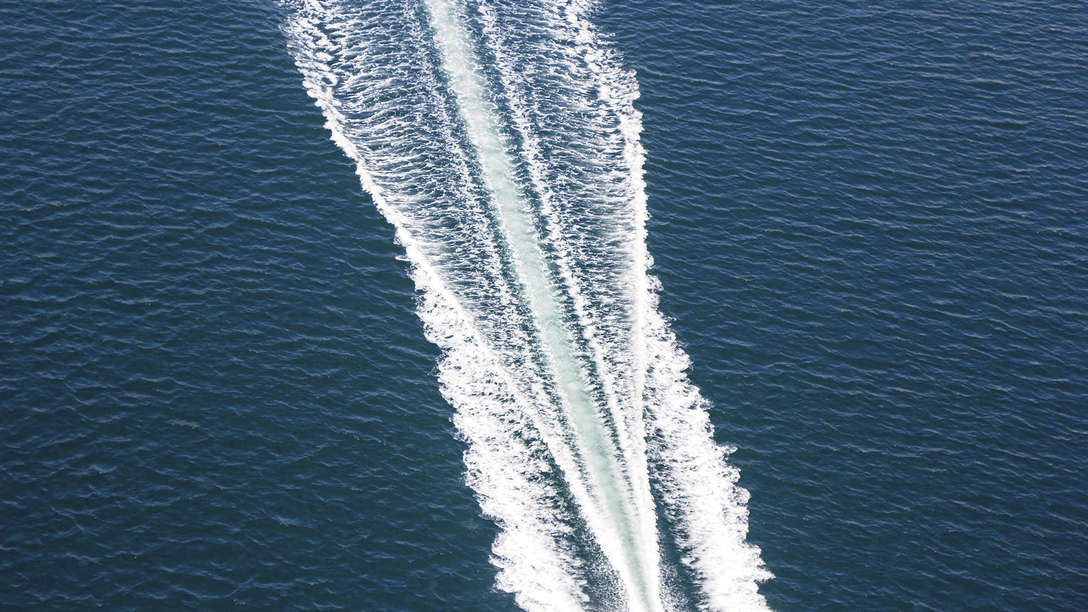 The formula for power
A high-torque, three-cylinder 552cc engine delivers first-class power.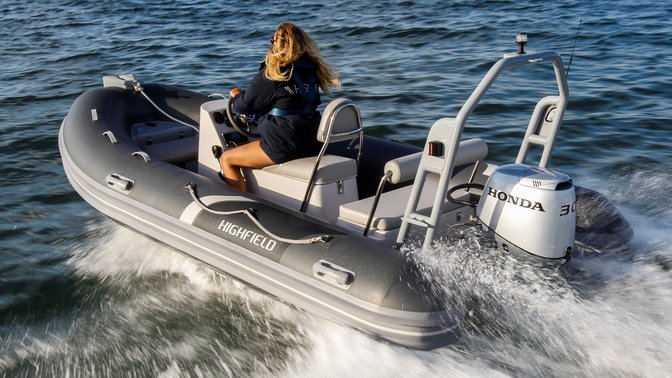 The BF30 provides high levels of torque, particularly in the mid-range.
It all adds up to solid, economical performance from this hard working, good looking 4-stroke engine. It has Programmed Ignition (PGM IG) and an auto enrichment system (choke). It is an automatic choke system which makes it a great and easy starter – even from cold. It'll fire up those 552cc's, no problem at all.
Taking charge
A high-output charging coil is built into the motor. It maintains a healthy battery level and supports other onboard electronics with a ten amp charge – even at trolling speeds. If you're looking for a good solution for everyday use, then the BF30 is the right answer.
A programmed ignition and an auto enrichment system help make sure the engine starts first time, every time.
Feature-packed
There's a lot more to it than horsepower. This engine is all about versatility, low maintenance and economical everyday use.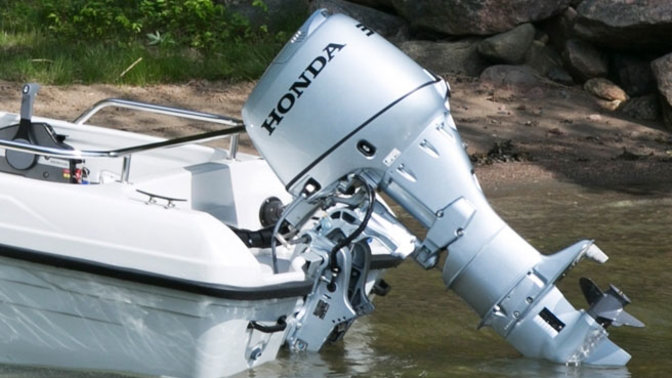 With a trim and tilt range from - 4˚to +12˚you get plenty of clearance when you're moored up in the shallows.
Cool running
A highly efficient cooling system allows plenty of water to flow through the engine. This keeps those hard-working three-cylinders cool for better performance at all speeds.
Less of a drag
The gear case has a low drag coefficient and hydrodynamic shape. The gears within are machined to ultra-fine tolerances – reducing friction and contributing to the superb performance and fuel economy.
Steering from the front
BF30 is extremely versatile, and is available in tiller handle and remote control options – if in doubt, talk to your Honda Dealer.

Twist and go
With a smooth action throttle twist-grip and friction control, powering your way through the water is effortless. Just roll on and off the power, or lock it off in one position for constant power – just like cruise control.
Power trim and tilt
With power trim and tilt with a full range of 64˚, the boat can be trimmed or tuned for more efficient performance and fuel efficiency. It also prevents any propeller damage at the water's edge or close to rocks.
Signature silver
It will turn heads – the finish is stunning in Honda aqua marine silver.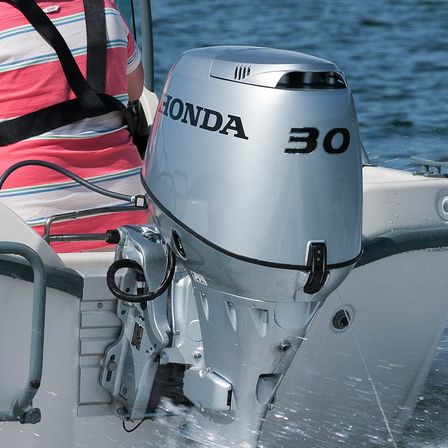 The stunning silver finish reflects the colours of its marine surroundings.
The sleek, sculpted design is smooth – like liquid silver. It looks good just fixed to the back of the boat, but in the water - where it really belongs - it looks even better.
A clear indication
The BF30 outboard has a long centre-mounted tiller handle – which is more comfortable and gives you better steering control. It's also multi-functional, with an LED panel that visually displays engine-warning lights, oil pressure and overheating. It also produces an audible warning to attract your attention, should anything happen while you're concentrating on other tasks. It's unlikely, but if it does – you'll have time to act.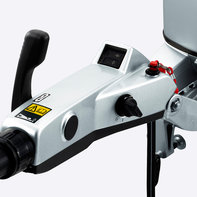 The centre-mounted tiller handle features an LED panel that visually displays engine alerts such as oil pressure and overheating.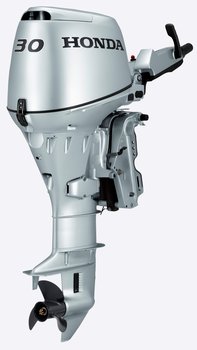 This unique tiller handle has a reversible shift lever, three-stage handle height and throttle friction adjustment to take the strain off your arms on a long journey.
Clear thinking
Believe in what you do.
Improving the quality of our own lives means nothing if we don't consider the living things around us first. And when it comes to the marine environment, there's simply no excuse for allowing anything to pollute our oceans and waterways.
The Honda way
Soichiro Honda had a simple idea to make outboard engines cleaner, quieter and more friendly towards aquatic life – he made them 4-stroke. It was a solution that made Honda pioneers in marine engine technology, but more importantly it made us more responsible towards this fragile environmental resource.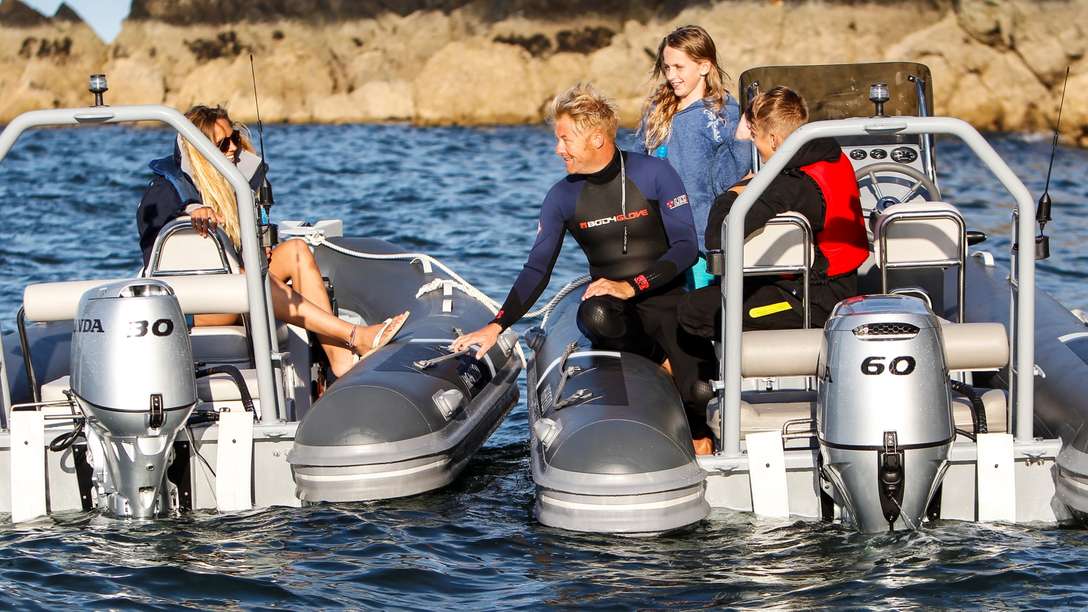 Versatility and power
With all its innovative features and fuel efficiency, the BF30 really will pay for itself.
| | |
| --- | --- |
A water-tight warranty
Like our engines, a Honda warranty is the best you can get.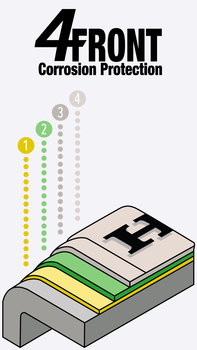 1. A patented double-seal anodising treatment to the aluminium alloy base. 2. An epoxy primer undercoat. 3. An acrylic aqua marine silver paint. 4. An acrylic clear resin topcoat.
The reason is clear: better salt water protection through better anti-corrosion technology and superior servicing with specially trained Honda technicians. Every Honda Marine customer has the support of a domestic or professional warranty, as long as you stick to the service schedule. It will maintain the same value throughout its warranty period. That means your last day of cover is as good as your first. We think that's pretty unbeatable too.
Four lines of defence
We first anodise the aluminium casing with our patented 'Double Seal' process. Then an epoxy primer is applied before the shimmering silver paint. For further protection from UV rays, we apply a clear resin topcoat to finish. And to be doubly sure, a sacrificial anode is fitted and all connectors are waterproof. Corrosion doesn't stand a chance.