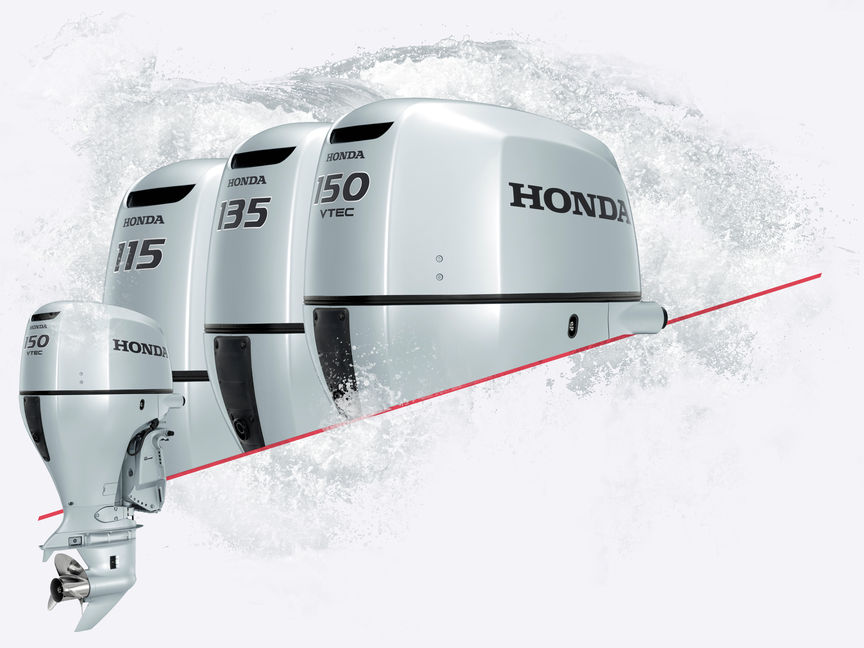 BF115-150 Horsepower Outboard Motors
The four-cylinder formula
Three powerful, sharp and sleek engines to power your adventures.
Seamless performance and optimum power are what you get from the cutting edge 4-stroke technology in these three Honda outboards. 50 years of Honda automotive engine research and innovation clearly haven't gone to waste then.
Engine

115-150

Hp

Shaft

L - XL

Length

Battery

40A

Charging capacity

Dry weight

214-217

Kg
The big league
The power and performance to do almost anything you want to on the water.
Whether you've got a speedboat or a larger vessel – choose any one of theses engines and you'll enjoy optimum power wherever you go. Sit back and listen to the sound of the sea as you cut through the water. From the BF115 and BF135, to the BF150 – these engines are fine-tuned to deliver more horsepower for a large range of different boats. The smooth power this advanced technology provides will certainly keep you smiling as you head out into the blue.

The power of three
All three outboards are the same 2.4 litre PGM-Fi engine with a range of horsepower options for different-sized boats.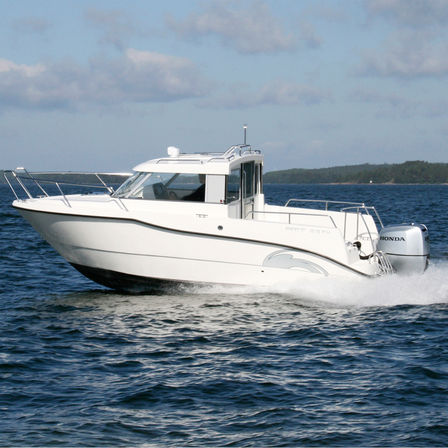 NMEA2000® connectivity means you can hook up easily to the Honda multi-functional gauges.
Up to the minute technology combines Honda's unique three-way cooling system with dual air-intake. And when you add Hole Shot technology BLAST™, it really gets you up and skimming along. On the BF150 we've added VTEC™, an advanced racing innovation for more torque and that extra push at higher revs.
Lean burn control
We didn't stop there either. We've included ECOmo lean burn control to make these outboards the very best in class for economy and low emissions. Combined with Honda's world-renowned reputation for reliability, you can be safe in the knowledge that they will never let you down.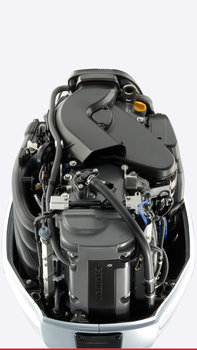 Under the hood, a compact and powerful Double Overhead cam engine fits neatly in a slim casing.
Pick the right one for your boat
There are three engine choices available to you.
| | |
| --- | --- |
Liquid silver
We think something that works beautifully should look great too.
These engines have a bright silver body with sleek aerodynamic styling and a superior, hydrodynamic-designed gear case for better underwater performance at high speed.
Functional design
Cloaked in a tough and extremely resilient finish, these engines look great. And in the water, reflecting all the colours around them, they look even better. But they have a job to do – we know good looks aren't everything – and they more than deliver. They're perfect for a dual installation because their slim design allows them to operate closely together. A high output, belt-driven alternator supplies excellent battery charging – even at trolling speeds. So if your NMEA2000® is connected, you'll have more than enough power to support it.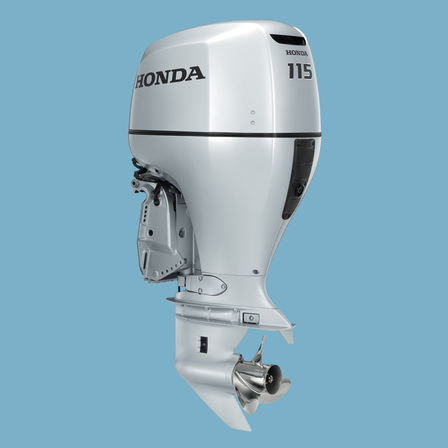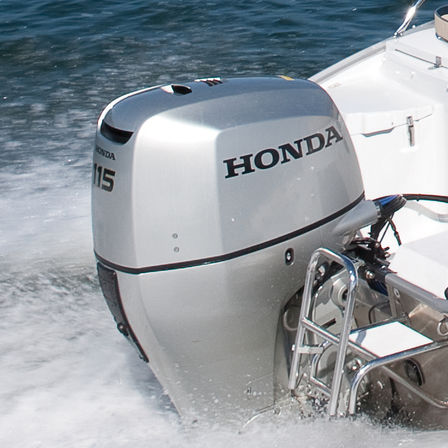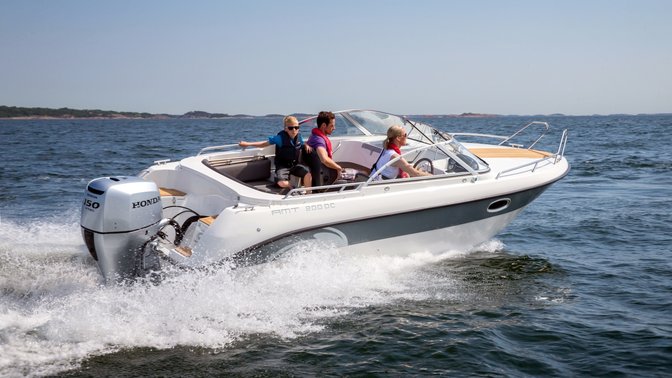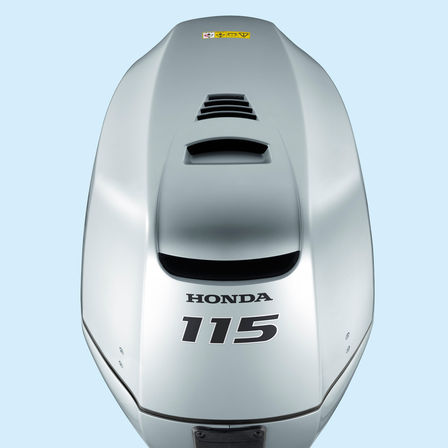 A watertight warranty
Like our engines, a Honda warranty is the best you can get.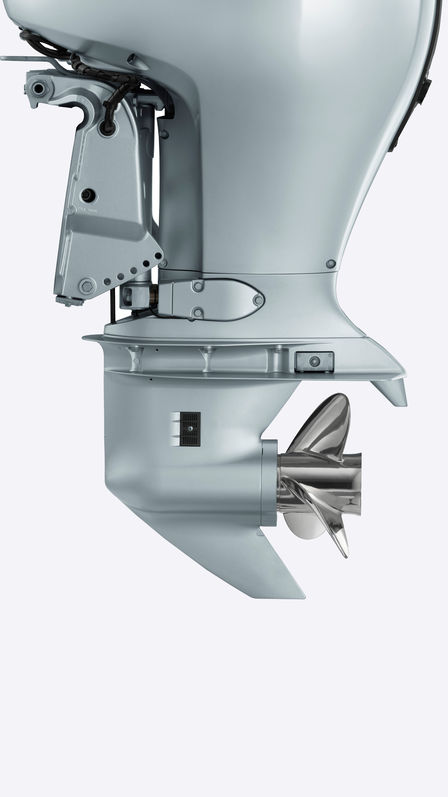 The reason is clear: better salt water protection through better anti-corrosion technology and superior servicing with specially trained Honda technicians. Every Honda Marine customer has the support of a domestic or professional warranty, as long as you stick to the service schedule. It will maintain the same value throughout its warranty period. That means your last day of cover is as good as your first. We think that's pretty unbeatable too.
Four lines of defence
We first anodise the aluminium casing with our patented 'Double Seal' process. Then an epoxy primer is applied before the shimmering silver paint. For further protection from UV rays, we apply a clear resin topcoat to finish. And to be doubly sure, a sacrificial anode is fitted and all connectors are waterproof. Corrosion doesn't stand a chance.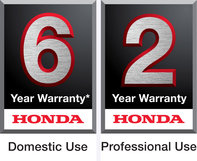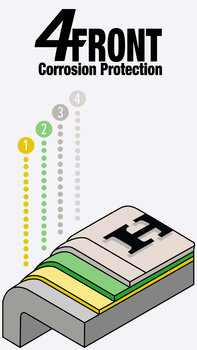 1. A patented double-seal anodising treatment to the aluminium alloy base. 2. An epoxy primer undercoat. 3. An acrylic aqua marine silver paint. 4. An acrylic clear resin topcoat.