Specifications
Your engine in detail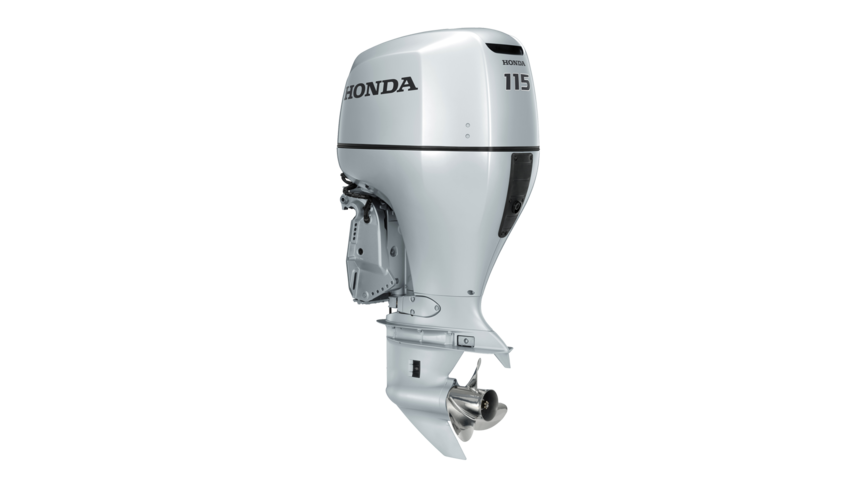 With a 508mm shaft, 35A battery and power trim and tilt.
PGM-Fi: Programmed Fuel Injection

Fuel injection delivers a faster throttle response, easier starting and superior fuel economy.

BLAST™: Boosted Low Speed Torque

Provides thrust to propel you on to the plane by boosting torque from low speed rpm, improving hole shot performance.

ECOmo: Economy Controlled Motor

Precisely regulates the air-fuel mixture to make it leaner, providing optimum fuel consumption in cruising mode.

NMEA2000® compliant

Honda's NMEA2000 compliant engines allow simple 'plug and play' connectivity with onboard electronics via CANbus network technology.

Trolling Control

For precise low speed control, up or down, in increments of 50rpm. It's perfect for slow speed manoeuvres and fishing. Optional on BF40 - BF150 engines.

4Front Corrosion Protection

A four layer coating process that protects against UV rays and salt water. It provides the best resistance to the harsh conditions found at sea.
BF 115 LU

Specifications

▲
Genuine Honda Marine oil

Our oils and lubricants give you the highest levels of engine protection – even in the harshest marine environments. These products offer superior protection against engine wear at both low and high operating temperatures, with excellent anti-rust performance.

Engine parts

When the time comes to service your Honda outboard engine, make sure you entrust it to an Authorised Honda technician using Honda Genuine parts, accessories and oils. That way, you know you're getting quality maintenance and workmanship.

Propellers

The size, shape and number of blades on your propeller need to be carefully chosen to suit the size of your engine and the shape and weight of your boat's hull. Honda Marine offers a wide variety of propellers for our outboards, and your Honda Dealer will make sure you get the right propeller for your needs.

Instrumentation

Honda instruments range from basic analogue to the latest in digital engine monitoring (available as optional accessories). Tachometers, trim meters, speedometers, volt meters, and hour meters – all our instruments are of the highest quality to ensure the most accurate and reliable monitoring.

Key switch panels

Honda also offers key switch panels designed to complement its premium controls. No matter what your boat's dimensions, you can choose from a wide range of electrical harnesses and extension looms.
Previous
Next
/