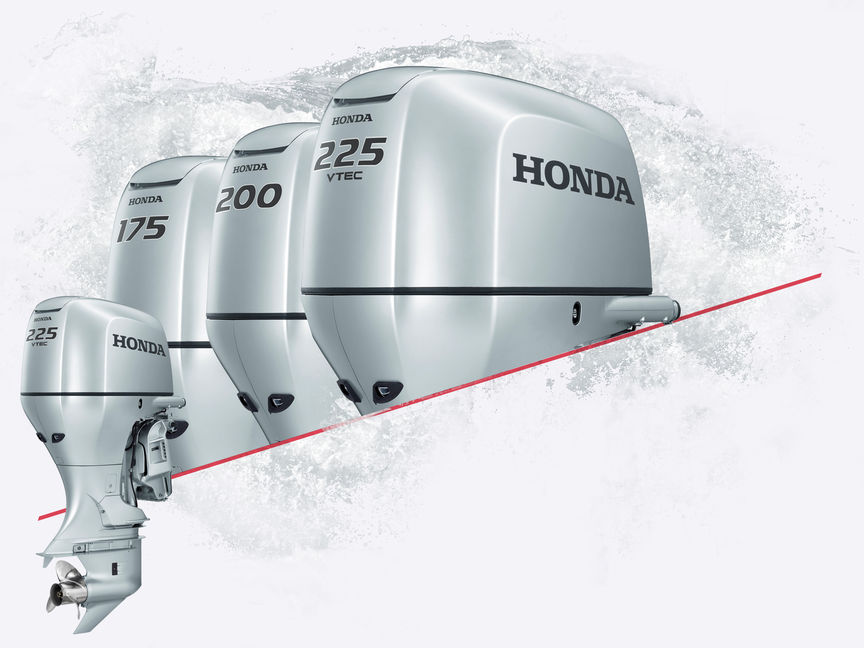 BF175-225 Horsepower Outboard Motors
The all-sport outboards
V6 powerhouses for a wide range of watersports, commercial activities and pure fun.
Total torque and top-end speed are yours with these large displacement engines; they give you the power and performance you need for your boat. Now there's no need to hold back.
Engine

175-225

Hp

Shaft

L - X - XX

Length

Battery

60A

Charging capacity

Dry weight

264-274

Kg
Ready for take off
Join the V6 revolution.
We've brought Honda technology and innovation to our top-flight marine engines, and the result is outstanding performance and superb fuel economy. But to you out on the water, it's just big, fast fun. These engines pack in many exclusive technologies that make them right at home with recreational, sport and commercial use. They're NMEA2000® compliant and with Honda's celebrated reputation for long-term reliability, they're just what you need behind you when you take off into the blue.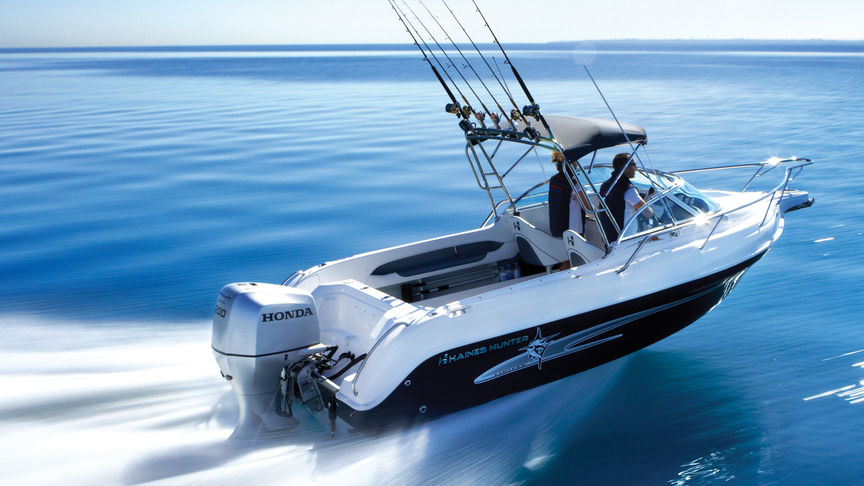 Power ahead
These outboards have everything to set your pulse running.
You'll ride wave after wave of fun with these incredibly compact V6, 3.5 litre engines. High performance is built in, with innovations like VTEC™ – originally developed for Formula One race cars, BLAST™, ECOmo and an array of safety and engine protection features for extra peace of mind. They develop strong, smooth power with good torque delivery from low revs, right through the rev range.
Poseidon will be pleased
With a Honda 4-stroke outboard engine, all you get is the smell of clean, fresh sea air – even at idle. So when it comes to a new outboard for your old boat, whichever engine you choose, you can be sure of outstanding performance, great economy, and – most important to marine life – clean emissions too.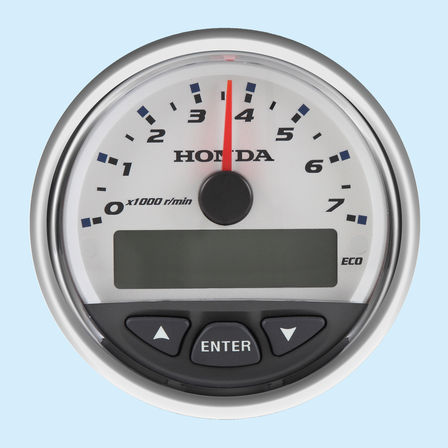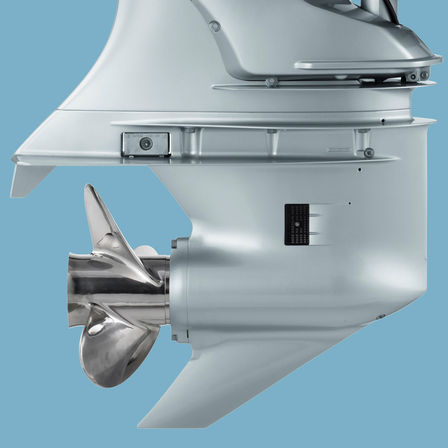 A slim gear case with gears machined to fine tolerances provide excellent performance and fuel economy.
Pick the right one for your boat
There are three engine choices available to you.
| | |
| --- | --- |
Liquid silver
We think something that works beautifully should look great too.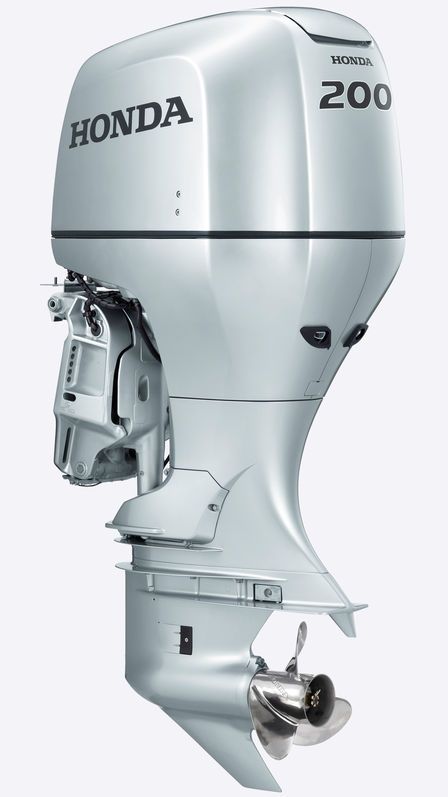 These V6 4-stroke outboard engines, with a slim hydrodynamic gear case, provide excellent performance and economy.
Finished in attractive Honda aqua marine silver, these handsome engines are incredibly light for big V6 4-stroke outboards – and they look it too.
Functional design
Sleek, aerodynamic styling combines nicely with a superior hydrodynamic designed gear case – which gives you better underwater performance at high speed. All wrapped up in bright silver bodywork, these engines not only look fantastic reflecting sunlight off the water, they also look great out of the water too, just hanging off the back of your boat.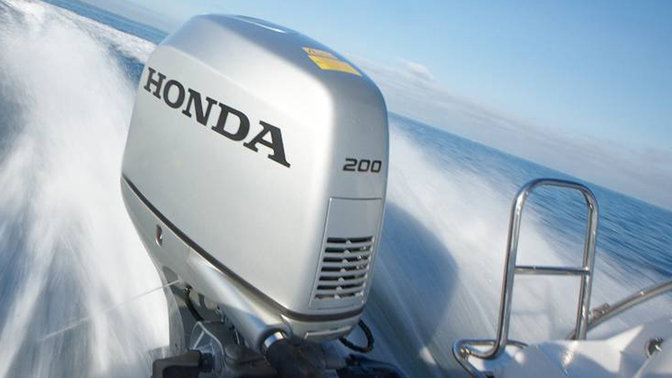 Under that slim bodywork is a 4-stroke engine built for speed.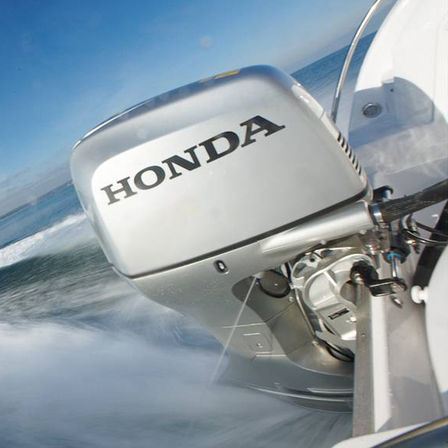 A watertight warranty
Like our engines, a Honda warranty is the best you can get.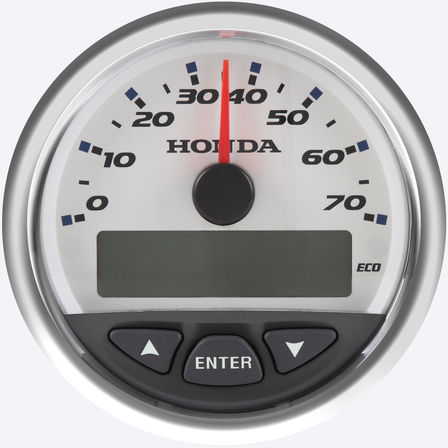 Honda instruments and gauges give you accurate and reliable monitoring, helping protect the engine and ensuring your outboard has a long life.
The reason is clear: better salt water protection through better anti-corrosion technology and superior servicing with specially trained Honda technicians. Every Honda Marine customer has the support of a domestic or professional warranty, as long as you stick to the service schedule. It will maintain the same value throughout its warranty period. That means your last day of cover is as good as your first. We think that's pretty unbeatable too.
Four lines of defence
We first anodise the aluminium casing with our patented 'Double Seal' process. Then an epoxy primer is applied before the shimmering silver paint. For further protection from UV rays, we apply a clear resin topcoat to finish. And to be doubly sure, a sacrificial anode is fitted and all connectors are waterproof. Corrosion doesn't stand a chance.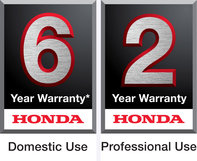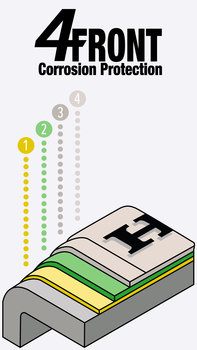 1. A patented double-seal anodising treatment to the aluminium alloy base. 2. An epoxy primer undercoat. 3. An acrylic aqua marine silver paint. 4. An acrylic clear resin topcoat.