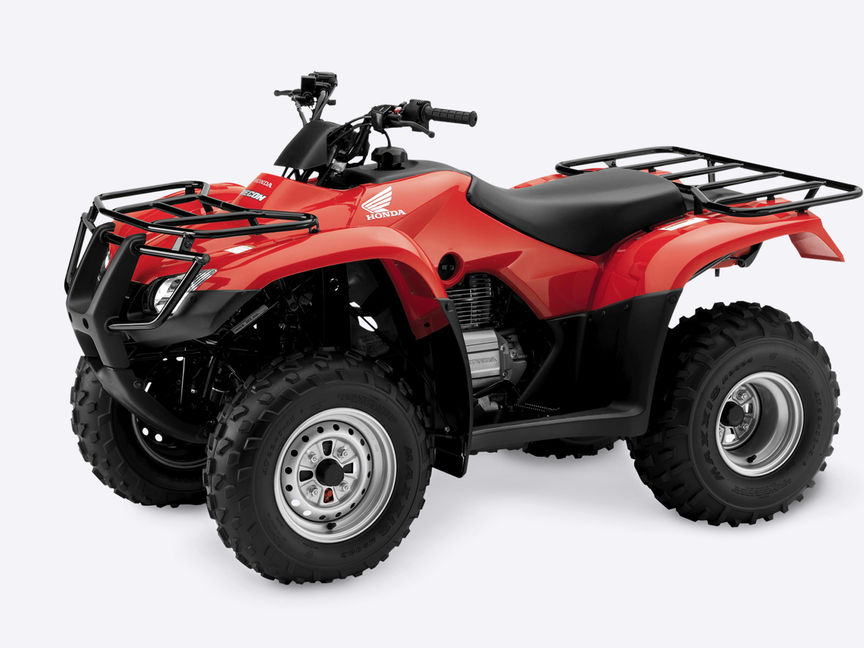 TRX250M Fourtrax
Meet your new workmate
Makes light work of everyday tasks.
The compact and agile 2wd Fourtrax 250 is ideal for light and medium duty work and a great choice for yard, security or equestrian use.

Engine

229cc

OHV air-cooled engine

Purpose

Light work

Drive

2WD

Choose from

2

model variants
Get the job done
Here's an ATV that will love your busiest days.
Sometimes 'light work' feels like anything but. There's plenty to be done around the stables, and that fence in the yard won't build itself. But at least there's one thing you don't have to worry about – your Honda Fourtrax 250 ATV. Anything but a light-weight.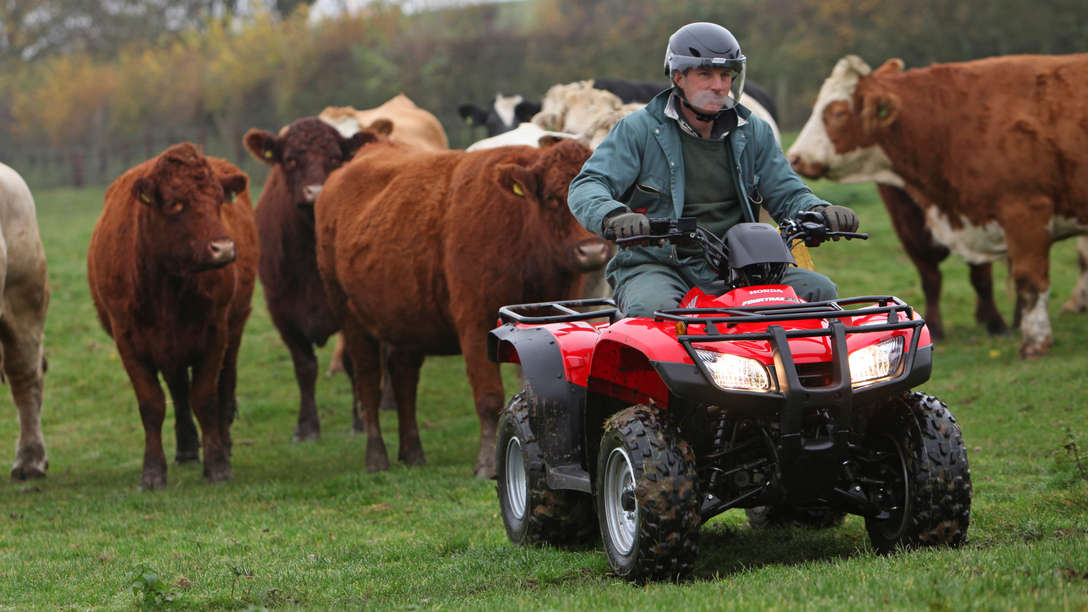 Get up close
The Fourtrax 250 is built with all the quality, reliability and advanced features expected of a Honda ATV.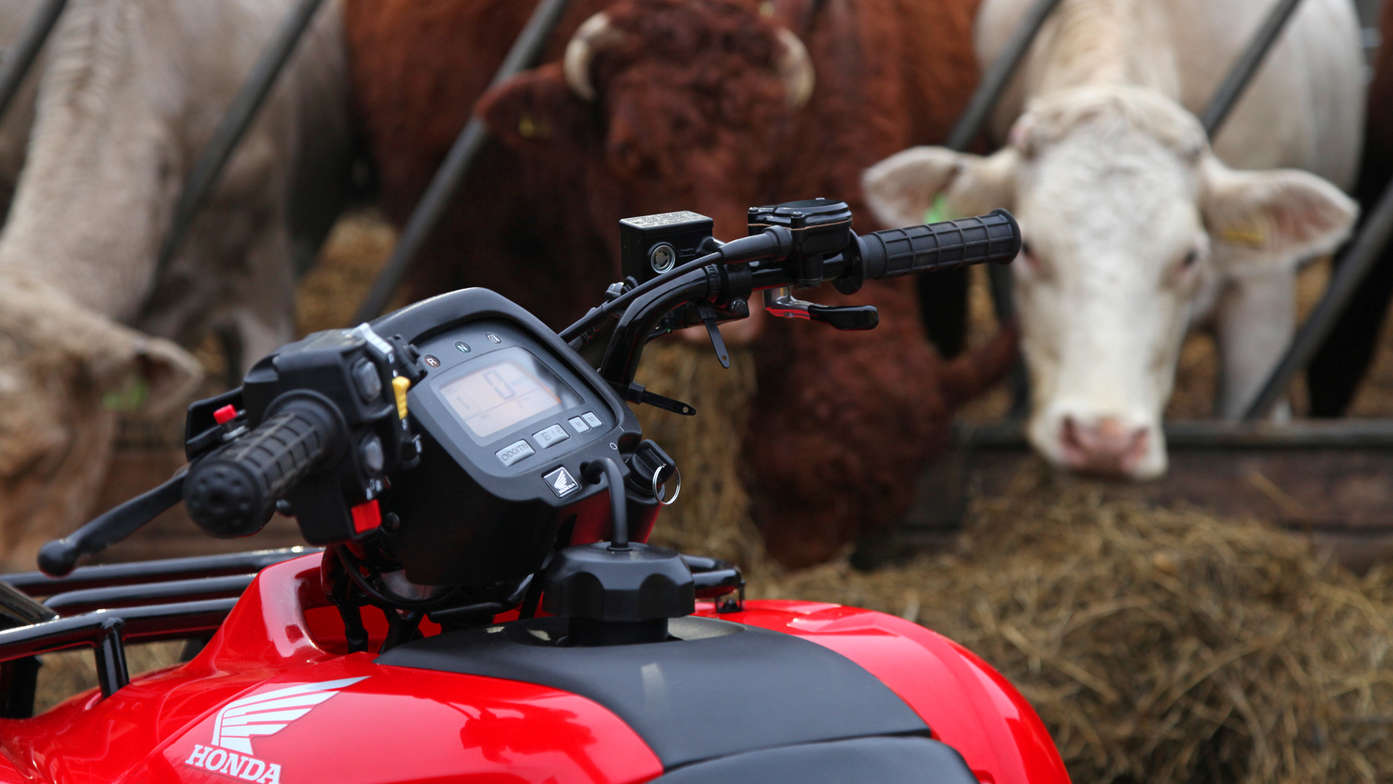 Wide gear ratios
The working day can bring many challenges and five forward gears, including an ultra-low first – plus reverse – mean you've got plenty of pulling power. An automatic clutch with low engagement point gives fast, easy shifts and excellent towing ability; true engine braking also helps maintain control.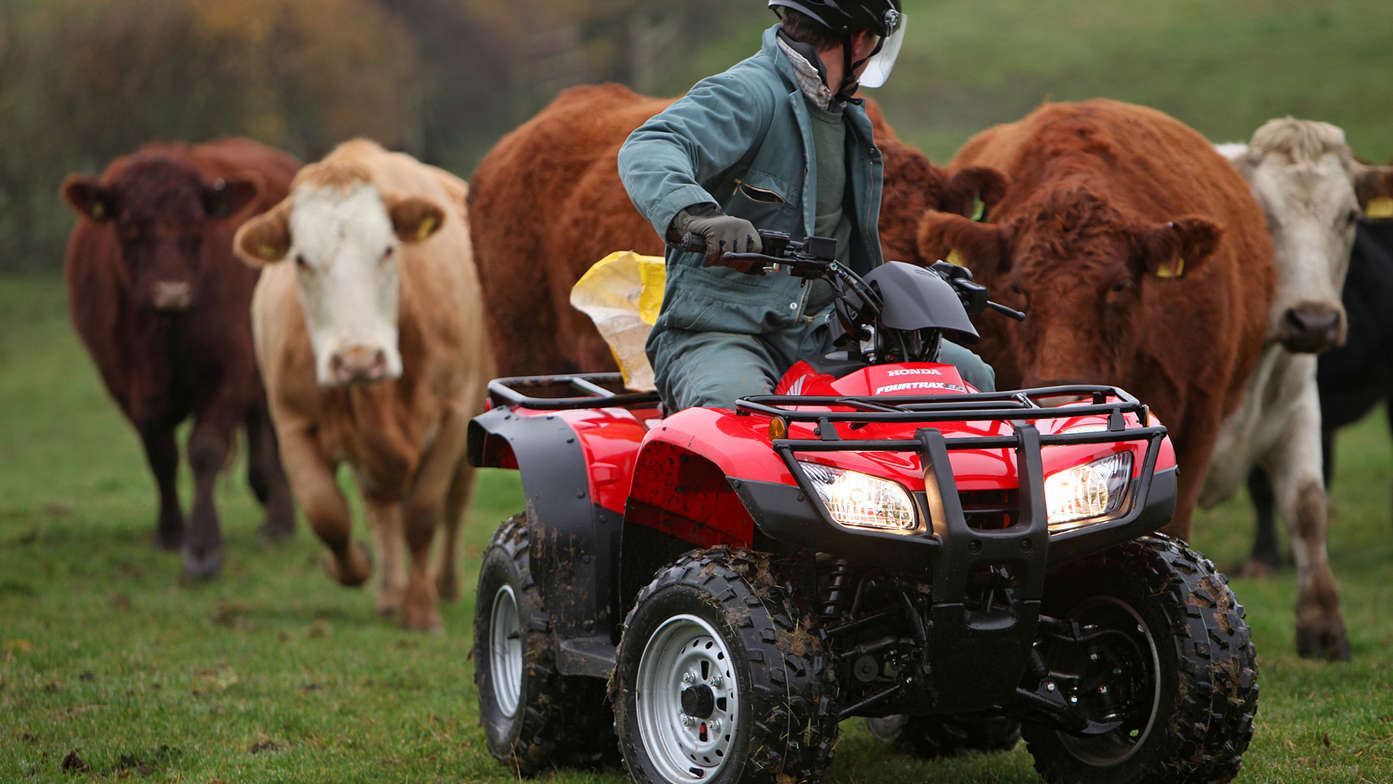 Total efficiency
A sealed hydraulic 180mm rear drum brake backs up the dual front 180mm sealed hydraulic disc brakes for progressive all-round stopping power. Direct shaft final drive transmits power efficiently to the rear wheels and is maintenance free.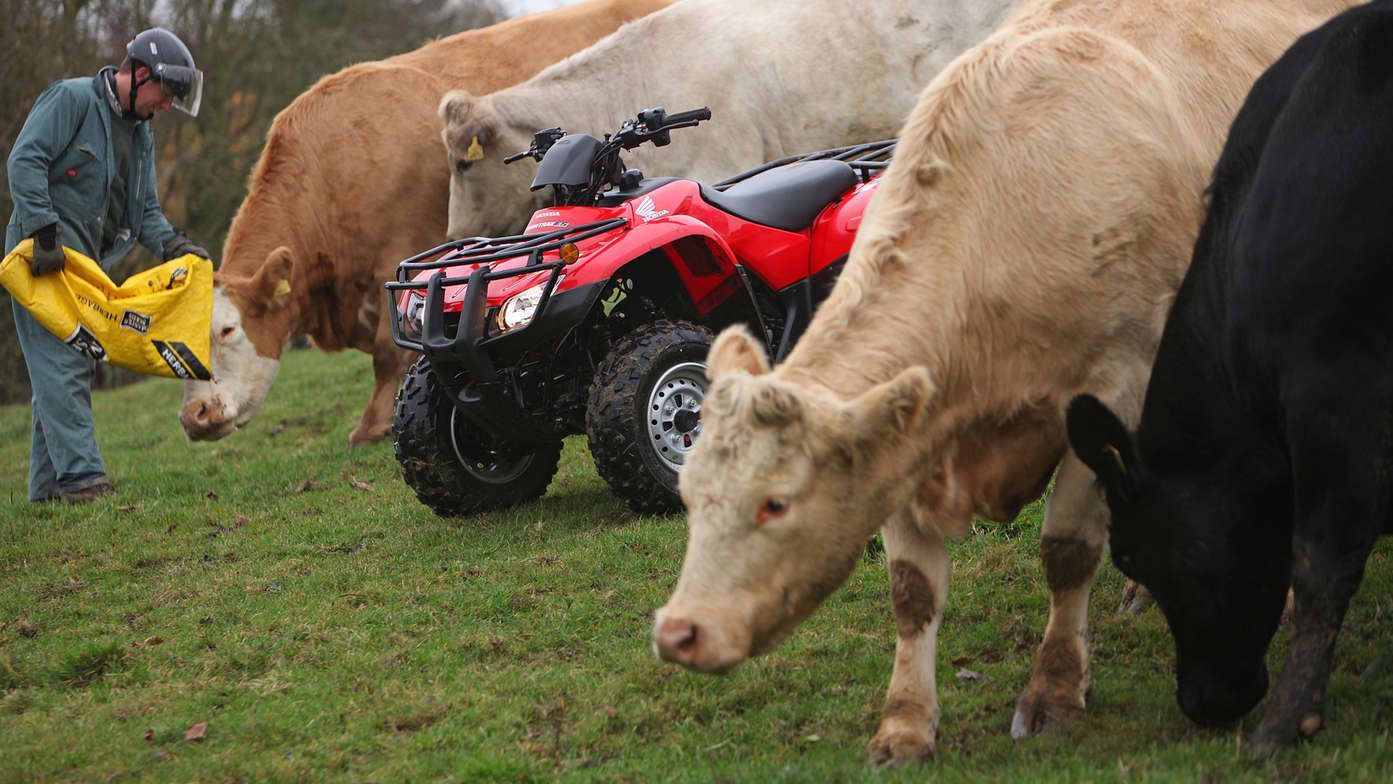 Up and running
The ultra quiet exhaust is constructed from stainless steel for long-term durability. The transmission features five forward gears with reverse, plus automatic clutch for ease of use. Starting is electric with auxiliary recoil.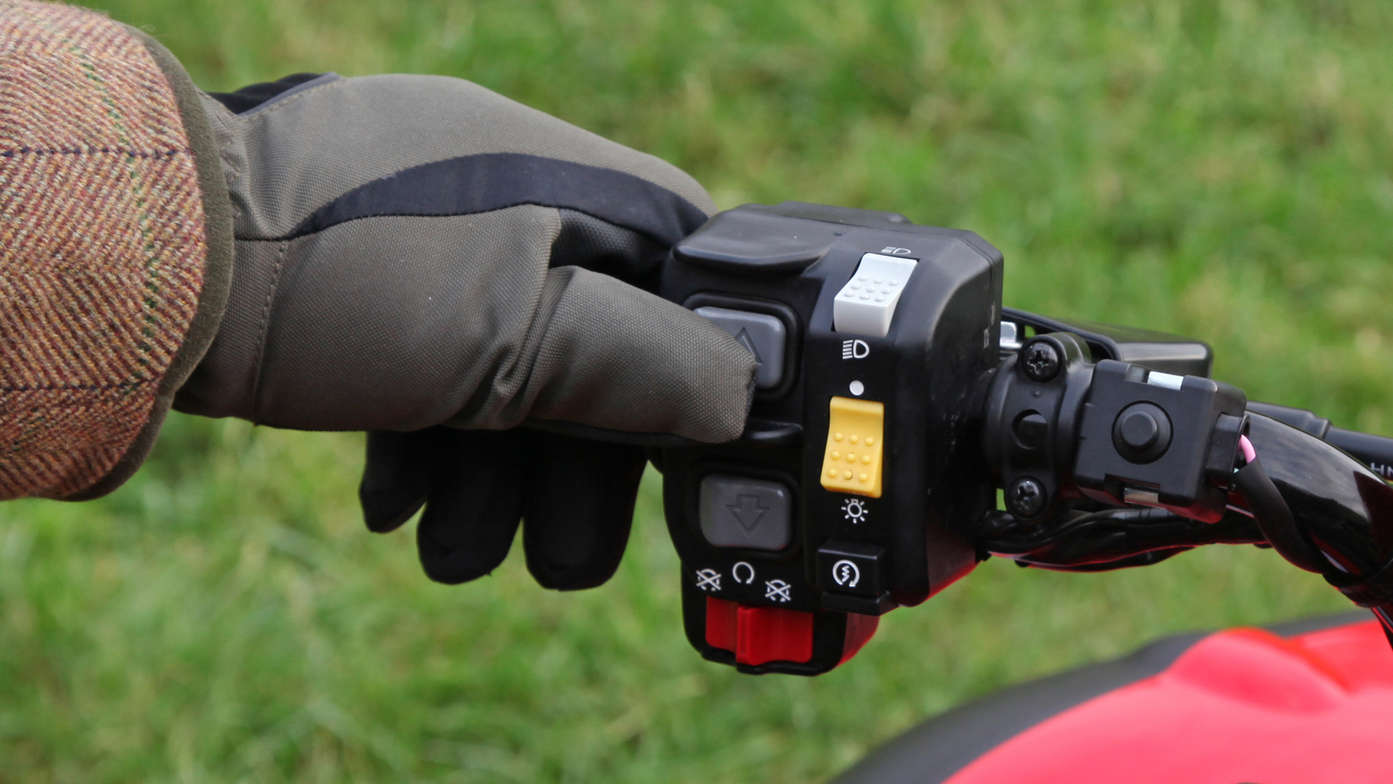 Electric Shift Program (ESP)
The Electric Shift Program (ESP) is silky smooth and quick, allowing the rider to shift gear at the touch of a button.

The Honda difference
An engine that's always good for the job.
The engine features a high-performance cylinder head. The OHV design delivers a wide, easy to use power band. Capacitor Discharge (CD) ignition features electronic advance plus rev limiter to protect the engine. With the crankshaft in line with the frame you get direct driveshaft alignment to the wheels, improved drivetrain efficiency and a low centre of gravity. And it's a major contributor to great stability, handling and balance, all features you expect of a Honda ATV.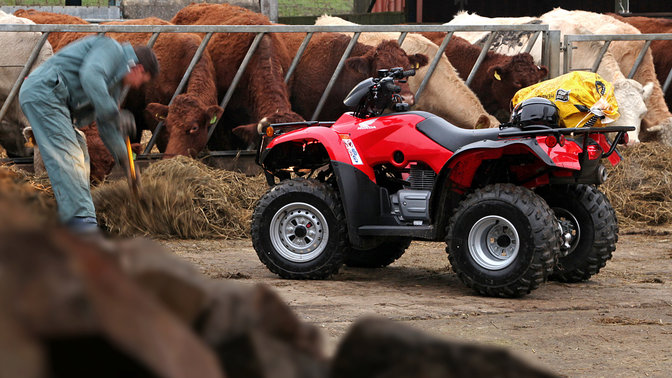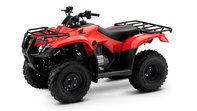 Longitudinally-mounted engine
For improved drivetrain efficiency
There's a Fourtrax for every job
Two Fourtrax 250 variants are available.
2WD

For easier maneuverability and lighter steering

Product description
Price

Fourtrax 250 S 2wd (TRX250TM)
Product description
Compact and agile, with manual five-speed gearbox and automatic clutch.
Price
£4600(exc. VAT)

Fourtrax 250 ES 2wd (TRX250TE)
Product description
Electric Shift Program (ESP) adds effortless handlebar-mounted push-button gear changes.
Price
£4800(exc. VAT)
Comfortable ride
Stay strong – it's going to be a long day out there.
A lightweight steel double cradle frame provides the Fourtrax 250's strength. Independent double-wishbone front suspension aids rider comfort while the steel swingarm and single shock maintain consistent driving traction to the rear wheels.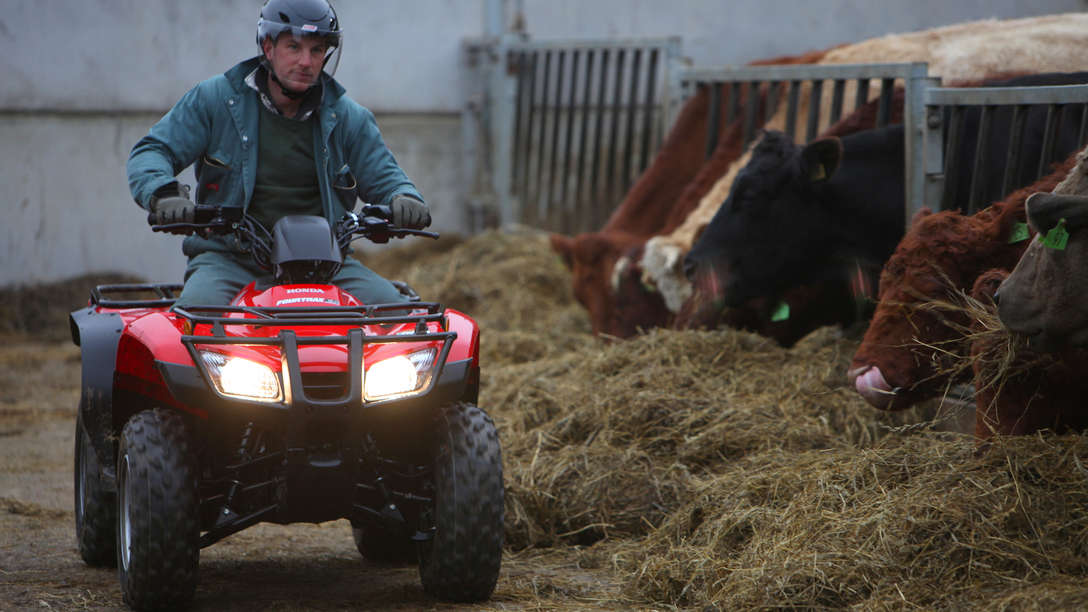 Difference in the detail
It's Honda's careful attention to detail that sets our ATVs apart from the rest.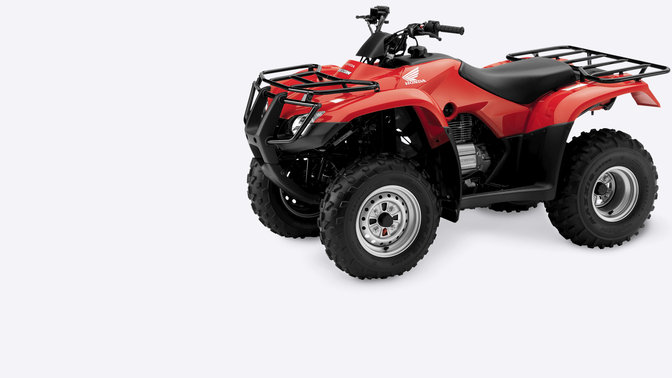 Response
22mm CV carburettor delivers excellent throttle response and fuel economy.
Oil cooler
Oil cooler for extended high load use.
LCD display
Multi-function LCD display provides information at a glance and includes gear position indicator plus neutral and reverse lights.
Electric starting
Electric starting features auxiliary recoil.

Exhaust and muffler
Exhaust and muffler are stainless steel for long-term durability.
Steel cargo racks
Large steel cargo racks front and rear carry loads of 14.9kg and 29.9kg respectively.
Floorboards
Unique floorboards allow the rider's feet to grip the footrests while keeping away mud and debris.
Headlights
Dual headlights features 25-watt bulbs, plus high-visibility LED tail and brake lights.

Warranty
Our manufacturer's warranty keeps you moving.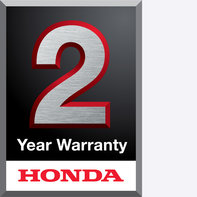 Whether you're using it for farming, game keeping, forestry, equestrian or snow clearing, your Honda ATV will quickly become an essential part of your daily routine. You'll rely on it in all weathers, on all terrain and for an amazingly wide range of jobs. So a problem with your new ATV is the last thing you'll want, but with Honda's reputation for reliability, it's the last thing you can expect.
That's why we guarantee the build quality of our ATVs with an industry-leading manufacturer's warranty.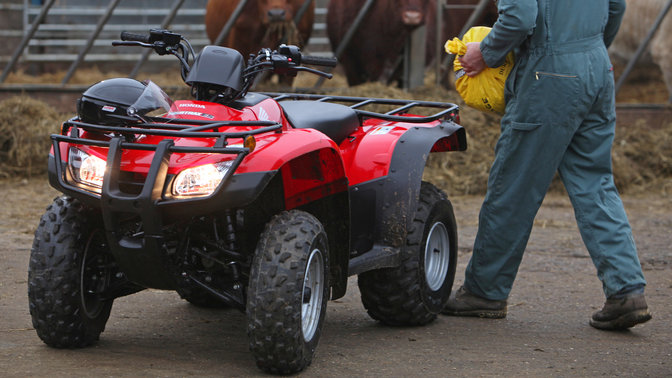 Safety first
More about safety
It's always Safety First when we build our ATVs. We hope it's the same when you ride them.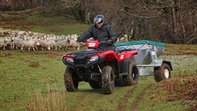 Since our customers aren't as indestructible as our machines, here are some basic pointers on ATV safety.
Always wear a helmet, gloves and boots as a bare minimum and other protective gear as required. Never ride under the influence of alcohol or other drugs; and never carry a passenger unless your machine has been specifically designed to do so.
Please bear these things in mind – then you can be sure the ATV that's making your life easier will carry on doing just that.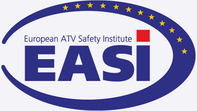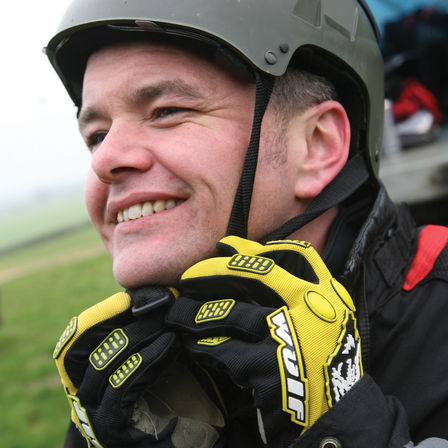 Contact a dealer

Talk about the right ATV for you.

See specifications

See the ATV's technical details.

Get a brochure

Get the full ATV story by download.