Maintaining your ATV
Look after your ATV and it will look after you.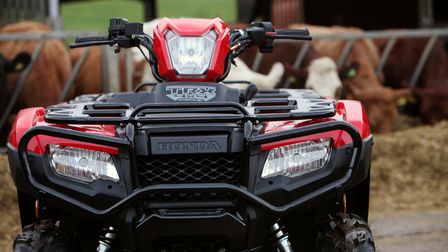 Maintenance
The purpose of maintenance is to keep your Honda in the best possible operating condition.
But remember that your Honda Authorised Dealer knows your Honda best and is fully equipped to maintain and repair it. To ensure the best quality and reliability use only new Honda genuine parts or other equivalent for repair and replacement.
The times listed below are based on average riding conditions. Some items will need more frequent service if you ride in unusually wet or dusty conditions or at full throttle. Consult your Honda Authorised Dealer for recommendations applicable to your individual needs and use.
Important safety precautions:
Make sure the engine is off before your begin any maintenance or repairs
Be sure there is adequate ventilation whenever you operate the engine
Let the engine exhaust system cool before touching

Do not run the engine unless instructed to do so as detailed in the Owners Manual

Make sure you have the tools and skills required before you begin

Keep cigarettes, sparks and flames away from fuel related parts.
Before every use
Check the oil level daily using the dipstick or the oil level indicator on the front crankcase cover.

Check condition of tyres and ensure correct inflation pressure.

Check coolant level where applicable.

Check for fuel/oil/water/brake fluid leaks.

Check brake fluid level and brake lever tension - there should be no more free play than listed in the owner's manual

Check steering for unobstructed lock to lock movement.

Check all exposed parts are free from dirt and debris.

Check wheel axle nuts are secure.

Check emergency stop switch is operating.

Check operation of all lights.
After 20 hours or 100 miles / 150 km
Replace engine oil

Replace engine oil filter

Inspect and clean, adjust, lubricate brake system

Inspect and clean, adjust, lubricate drive train
Every 50 hours or 300 miles / 500 km
Inspect and clean, adjust, lubricate drive train

Every 100 hours or 600 miles / 1000 km

Clean air cleaner

Inspect and clean air cleaner housing drain tube

Inspect and clean, and adjust spark plug or replace if necessary

Replace engine oil

Replace engine oil filter

Inspect radiator coolant or replace if necessary

Inspect and clean, and adjust drive shaft boots

Inspect rear final gear case oil and differential oil or replace if necessary

Inspect and clean, adjust and lubricate brake system

Inspect and clean, adjust skid plate and engine guard or replace if necessary

Inspect and clean, adjust lubricate drive train slider