THE CAFé racer revolution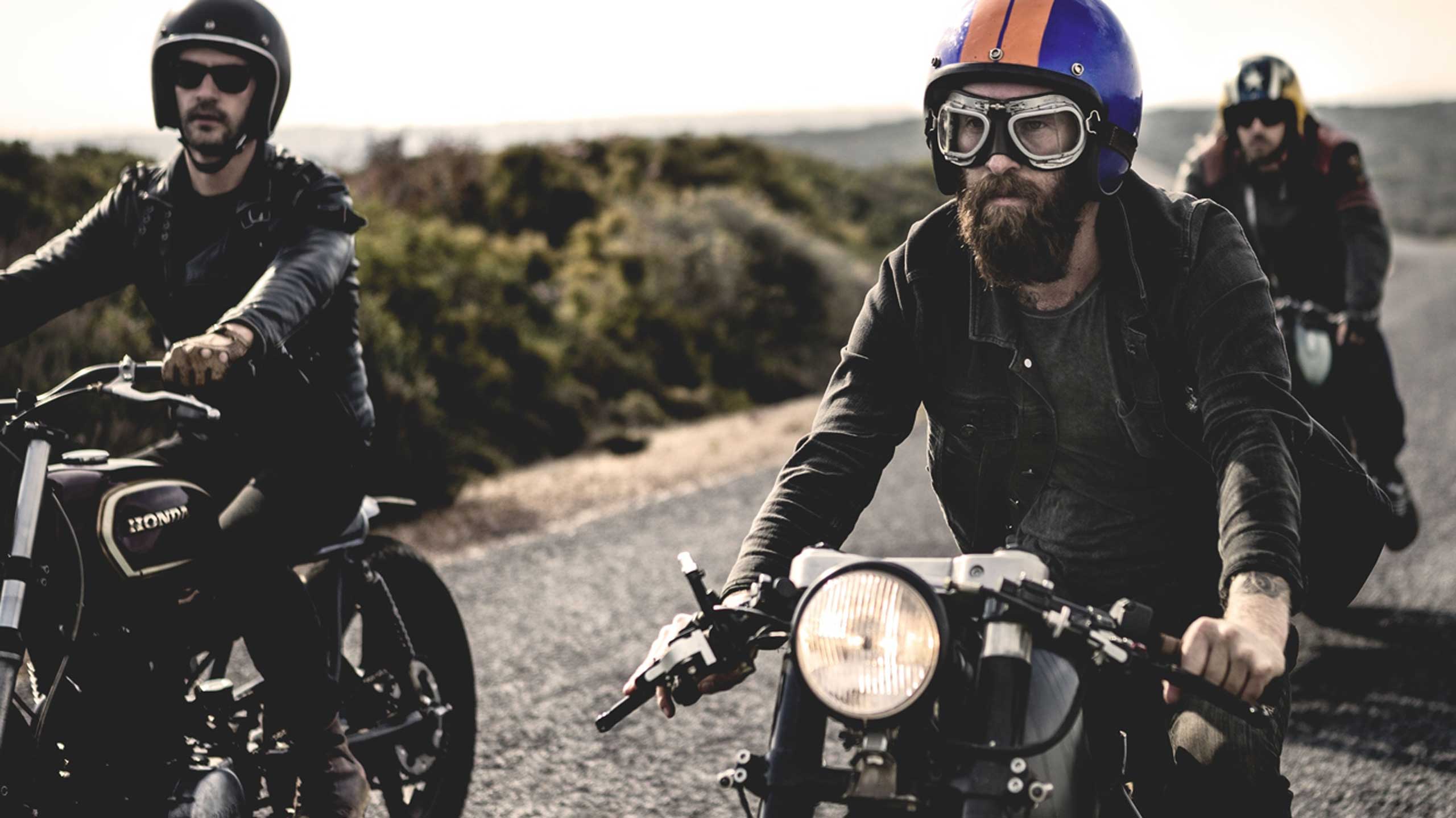 In an attempt to stand out from the post war boom in personal mobility a new breed of biker was born, one who sought to modify their machine from a simple means of transportation to a statement of individuality. Motorcycles were not just a mode of transport; they were emerging as an extension of your personality. Meeting at transport cafes and coffee bars, this rebellious rock'n'roll generation took inspiration from the GP and TT race bikes of the day to create what is still considered the coolest custom genre on the block, the cafe racer – which is still loved today from the UK to Japan. 
As the swinging sixties kicked into gear, these stripped down, tuned up and tricked out creations began appearing at roadside hangouts across the land, each built with the sole intention of looking good and going as fast they could be made to. With their black leather jackets and slick backed hair, the rockers who rode them quickly earned the title of Ton Up Boys, so called for their quest to push the needle on their speedo beyond the magic 100mph mark. Back then, indicating 100mph on the analogue speedo was only for the brave.  
London's world-renowned Ace Cafe is often considered the birthplace of the cafe racer, where riders would toss a coin in the jukebox and aim to complete a pre-determined circuit to Hanger Lane and back before their chosen track had played out. Up and down the country riders found their own routes, sprinting from cafe to cafe and poring over each other's machines to see who had done what to gain that few extra mph. From Brighton to Glasgow the café scene grew, before any social media and internet, everyone followed a similar path in search of speed. 
British bikes were available in abundance and thus consequentially the weapon of choice, but as the decade wore on people began to look to the solid reputation that Honda was building in the world of racing. With a string of successes on the Isle of Man which would ultimately lead to Honda becoming the most successful team in TT history, and countless wins at Grand Prix circuits around the world in both the 125cc and 250cc classes, those back street builders really started to take note.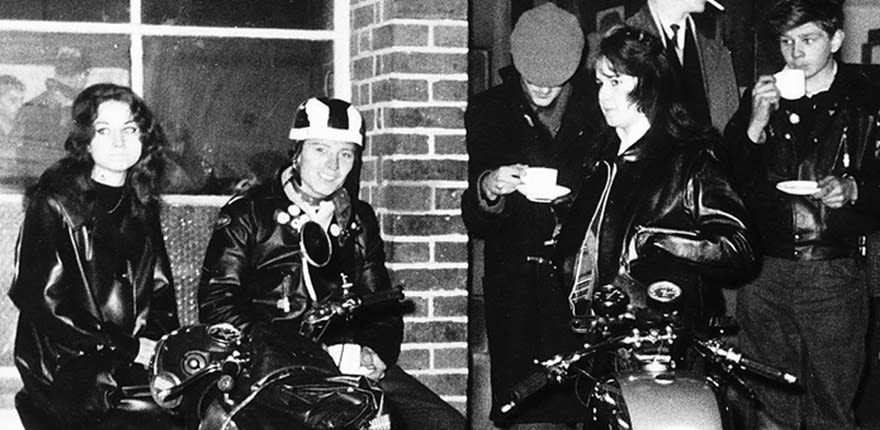 In 1969 Honda released the legendary CB750 Four, a revolutionary motorcycle at the time packed with race derived precision engineering that provided a level of reliability and performance that would leave its ageing competitors for dust. And for the Ton Up Boys, that changed everything. Now they had reliability and race proven speed. 
"While British manufacturers were struggling to stay afloat in the '60s, Honda was making history," says Geoff Baldwin, founder of the 'Return to the Cafe Racers' website. "Success in the Isle of Man TT and World GP series had wannabe racers champing at the bit for a similar bike, and models like the legendary CB750 were prime candidates for a café racer build."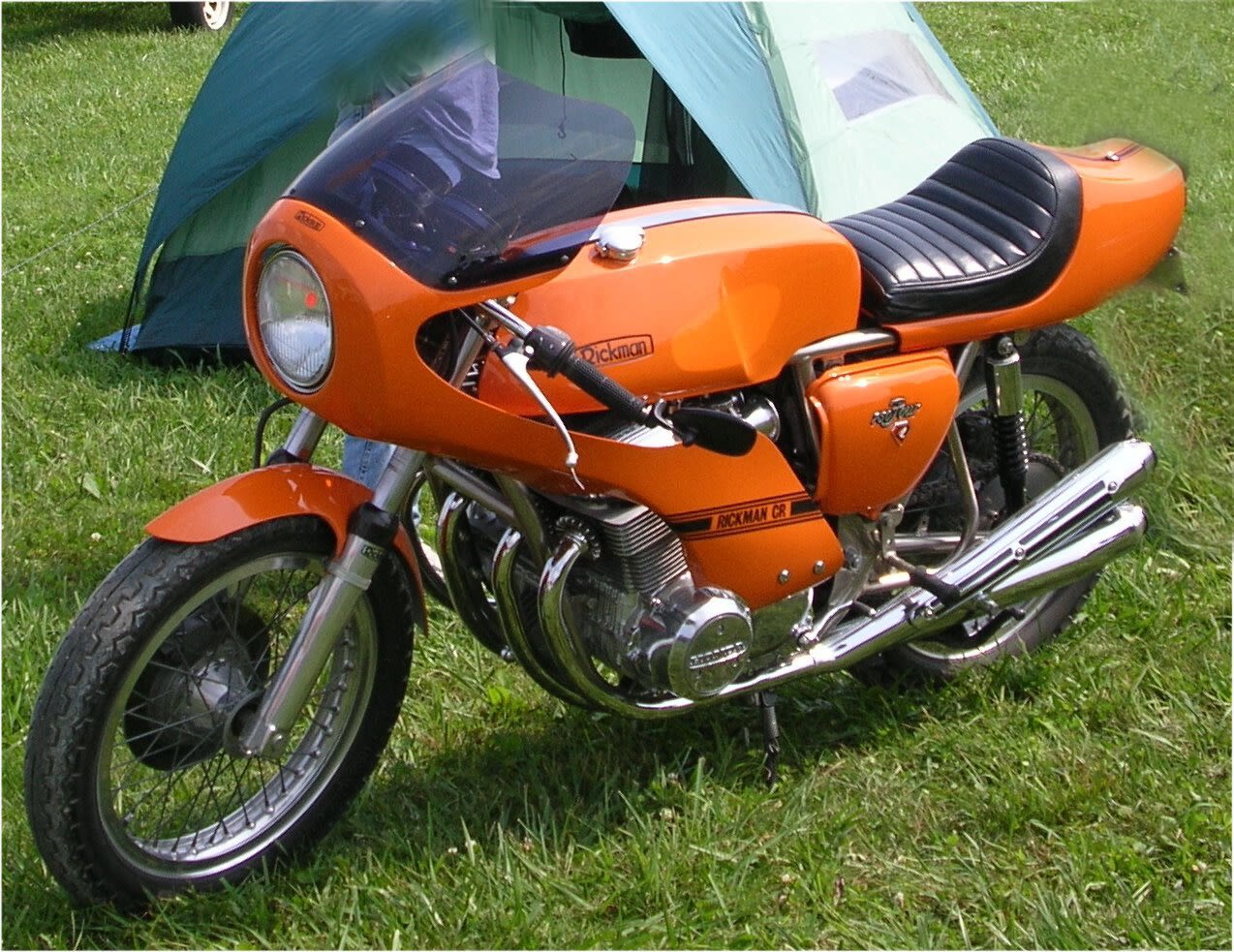 Modifications emulated those seen on the factory race bikes that dominated the 1969 Suzuka 10-hour endurance and 1970 AMA Daytona 200 mile races, which included traditional cafe racer hallmarks such as dropped handlebars, swept-back pipes, rearward located seats and the dispensing of all unnecessary weight. The old trick of bashing dents into the fuel tank to allow 'tucking in' for aerodynamic advantage was also a popular 'go faster' mod. 
It takes a brave biker to attack his machine with a hammer and hacksaw, a fact that's as true today as it was back then, but half a century on Honda's Neo Sports Cafe range come ready to ride to your preferred hangout, oozing contemporary cool and ingrained with the pioneering spirit that made those one-off builds so special. Minimalistic styling, textured metal finishes and a fresh take on the classic look provides more than a hint to those halcyon days when rock'n'roll ruled and the Ton Up Boy was King of the Road.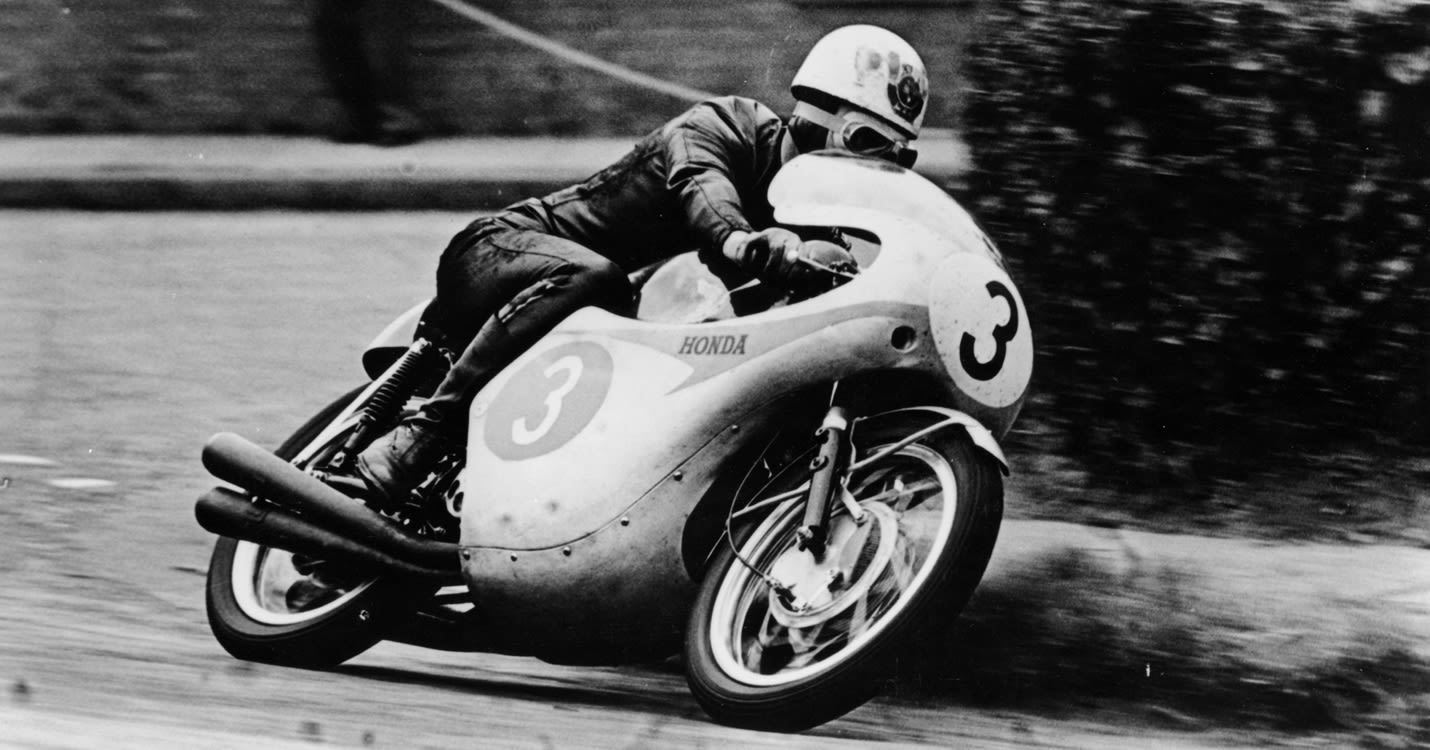 Honda CB1000R Black Edition  
The Neo Sport Café range from Honda was the result of the CB4 concept bike which was unveiled at EICMA in 2015. Following the achievement of the concept bike, the Neo Sport Café range evolved, the CB1000R, CB650R, CB300R, and the CB125R. Honda set out to be different and didn't want to produce an aggressive Streetfigher scaled back from a race bike. As an alternative, Honda went back in time and took inspiration from their café racer history, which took over from British brands in the '60s and '70s and added their unique modern twist. The CB1000R was launched in 2018. 
Now for 2021, Honda has a new Euro-5 compliant CB1000R. We have the very stylish Black Edition on test, which comes with an additional up and down quickshift as standard, plus the stunning black finish. The new CB1000R has a more forceful stance for 2021, new subframe, new exhaust, new 5-in TFT clocks with Bluetooth connectivity, new very stylish wheels, and despite being Euro-5 hasn't lost any power or torque. 
Notwithstanding conforming to tight Euro-5 legislation, Honda hasn't lost any performance from the inline four-cylinder engine, in fact, power and torque curves are identical to the previous model launched in 2018, with a noticeable kick in torque at 6,000rpm. The 2006 Honda Fireblade derived motor generates, 143bhp @10500rpm and a big healthy amount of torque, 76.7lbft @8250rpm. 
The up and down quickshift comes as standard, which means the comparatively light clutch is superfluous once moving. The shift works perfectly, even at slow speeds, and is a joy to use. The exhaust has a noticeable change in pitch, around 5000rpm, or a little more. Around town, it's quiet and unassuming, but then once away from the city, get the revs up and it sings. It's not a screamer like Honda's 2020 Fireblade, which sounds like a race bike, but it certainly has some character to it.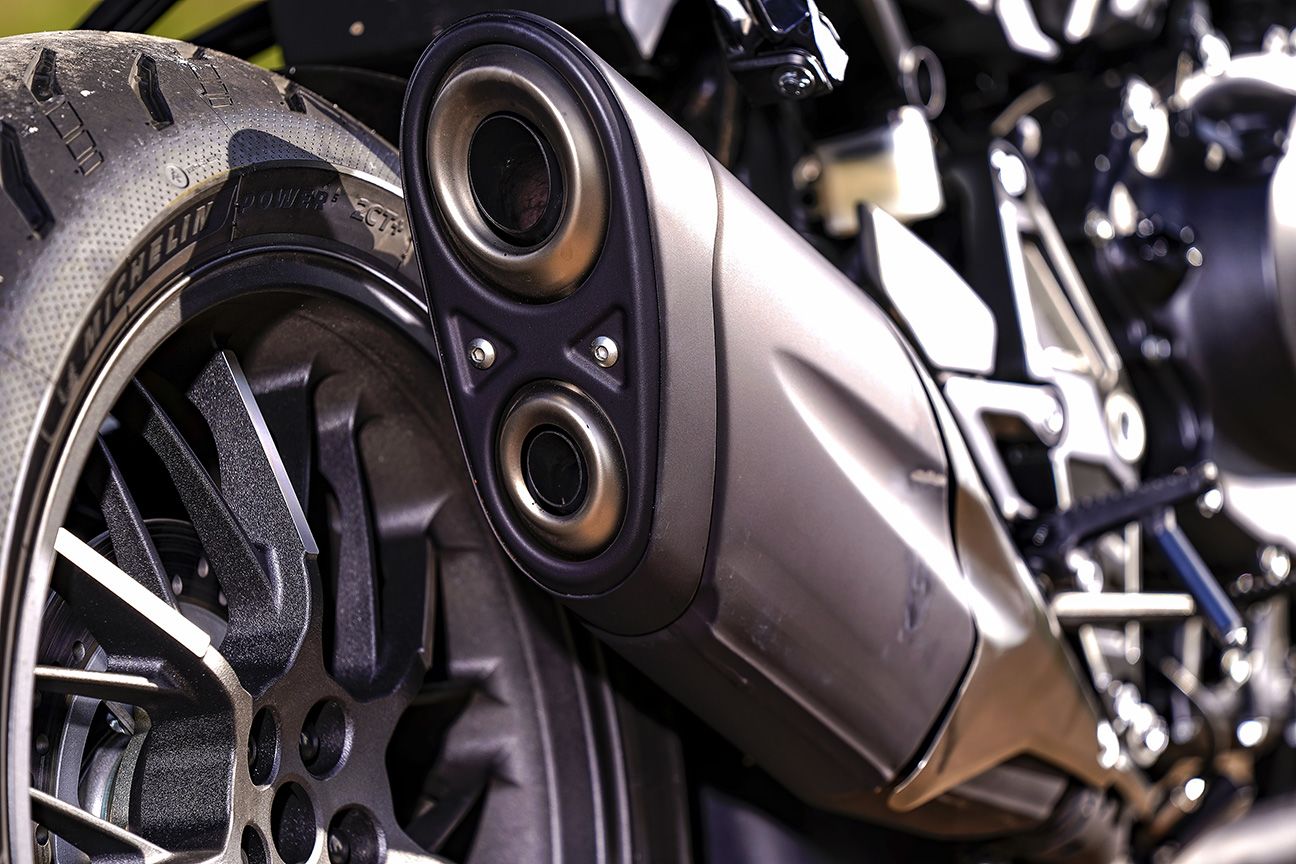 There is usable torque low down. Considering this is a Fireblade-derived engine the fuelling is relatively soft friendly, especially in the lower modes. But in Sport mode, the TC works overtime in the first few gears limiting the wheelies, when it detects the front wheel is moving slower than the rear.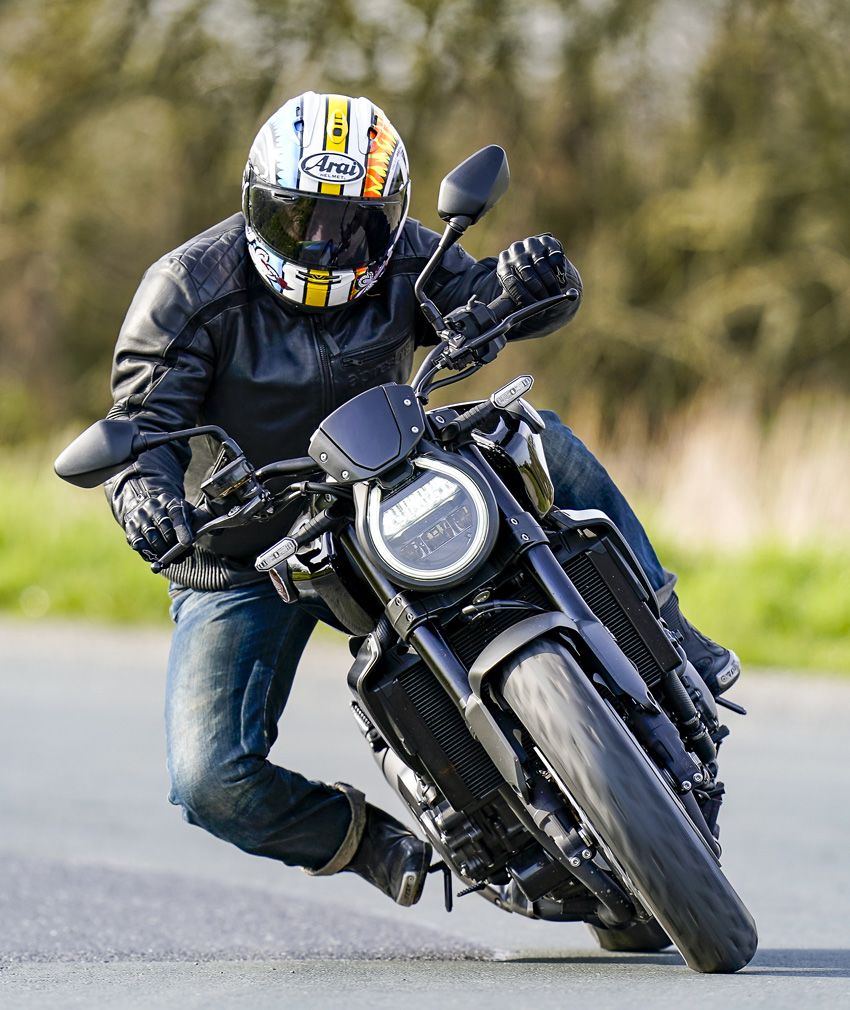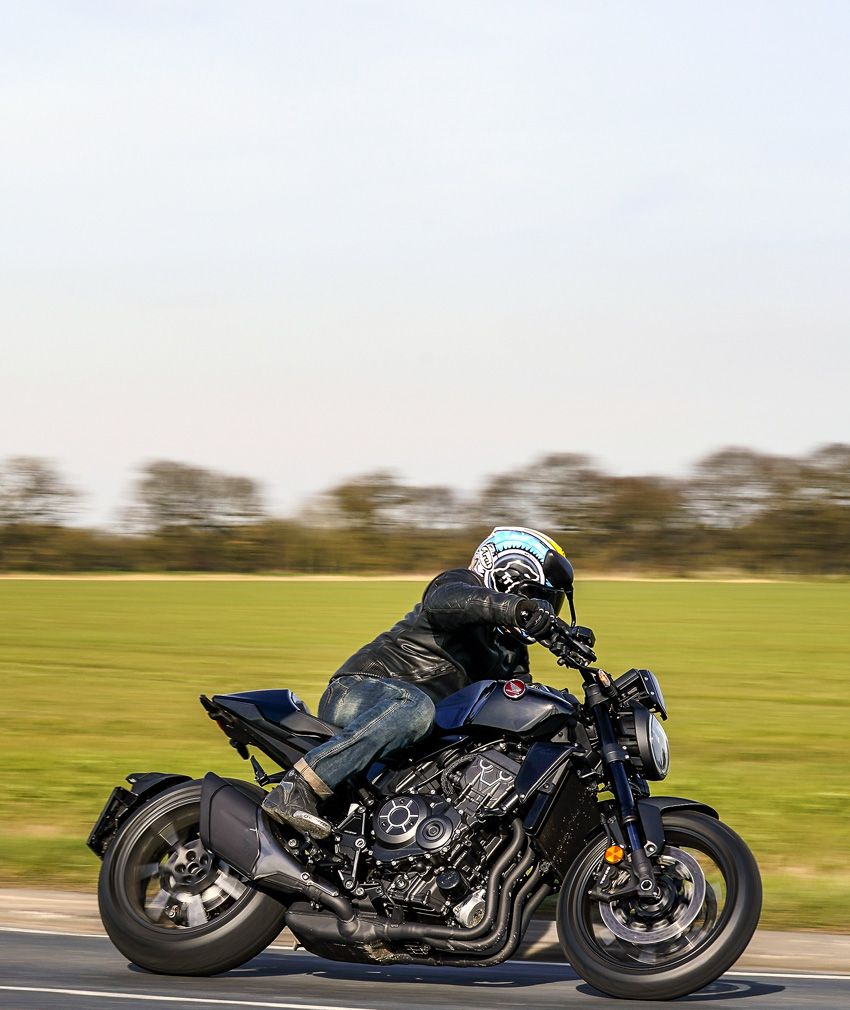 The new aluminium sub-frame hasn't increased the seat height, still at a reasonable 830mm. The seat is more comfortable than it seems, the ergonomics are roomy, the engine is smooth, and Showa ride quality is impressive. Sure, it's no touring model, but I'd take on some serious miles on the CB.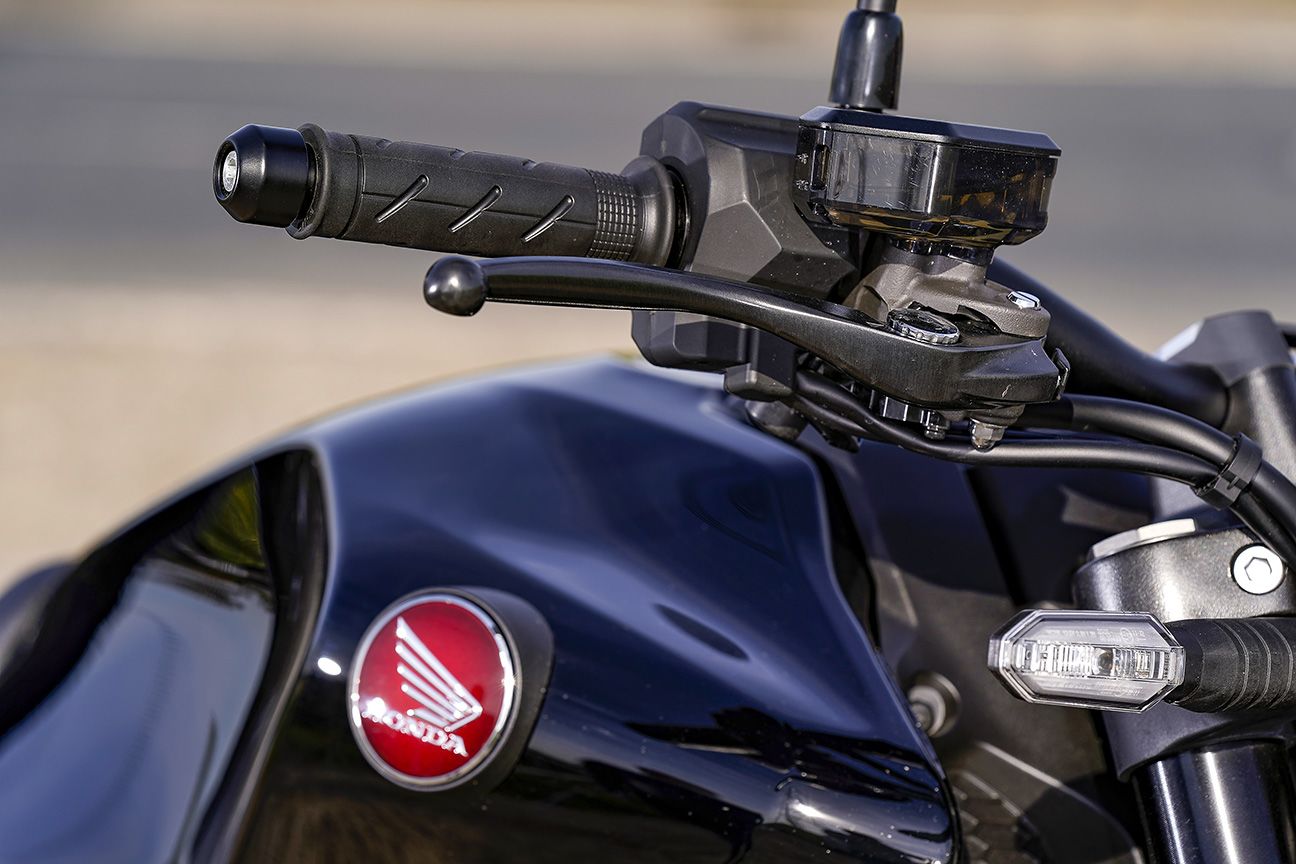 The brakes remain untouched for 2021, and even on track in previous tests, they have been more than up for the job. You can feel the ABS working, more so on the rear, but only on track in extreme situations. The level feel is progressive, the brakes are strong, but not too harsh around town. The back brake has a nice feel to it to help balance on slow-speed U-turns.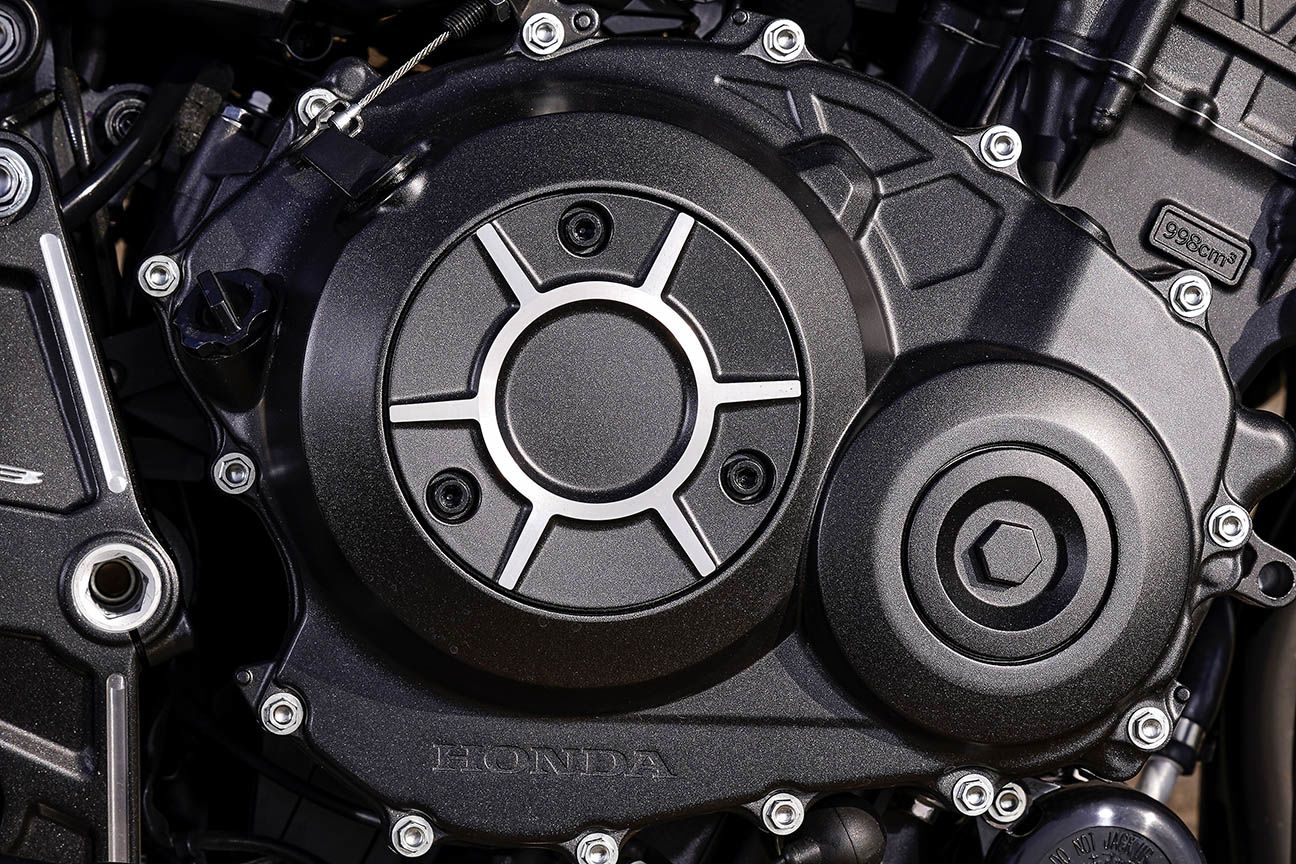 Rider aids remain unchanged for 2021, this means three main rider modes, Sport, Standard, and Rain, with a separate User mode that allows you to personalise and set your own settings. The aids are simple, power, engine brake, and traction control (HSTC) are either low, medium, or high, and the traction control can be de-activated. That's it. Some models have over-complex rider aids, but the Honda is relatively simple and easy to understand.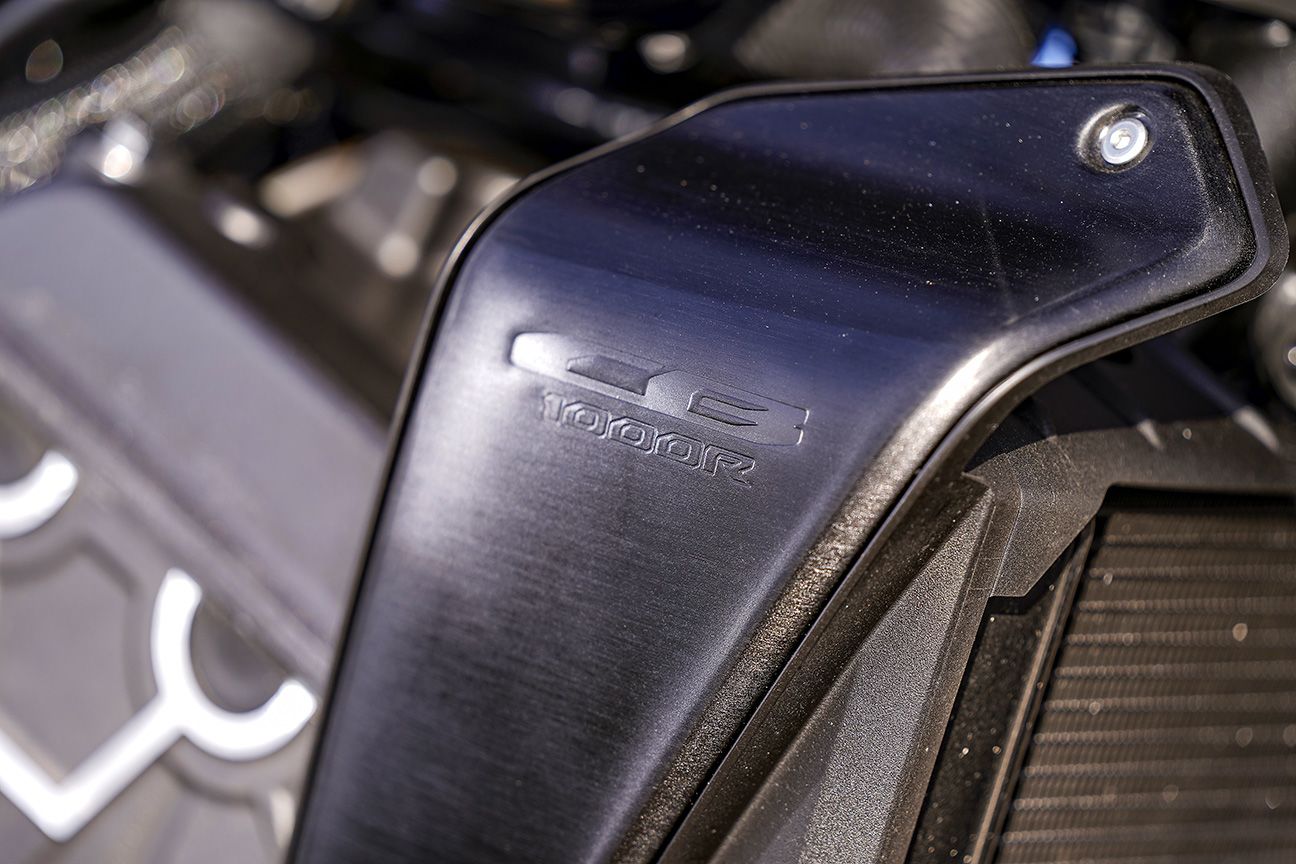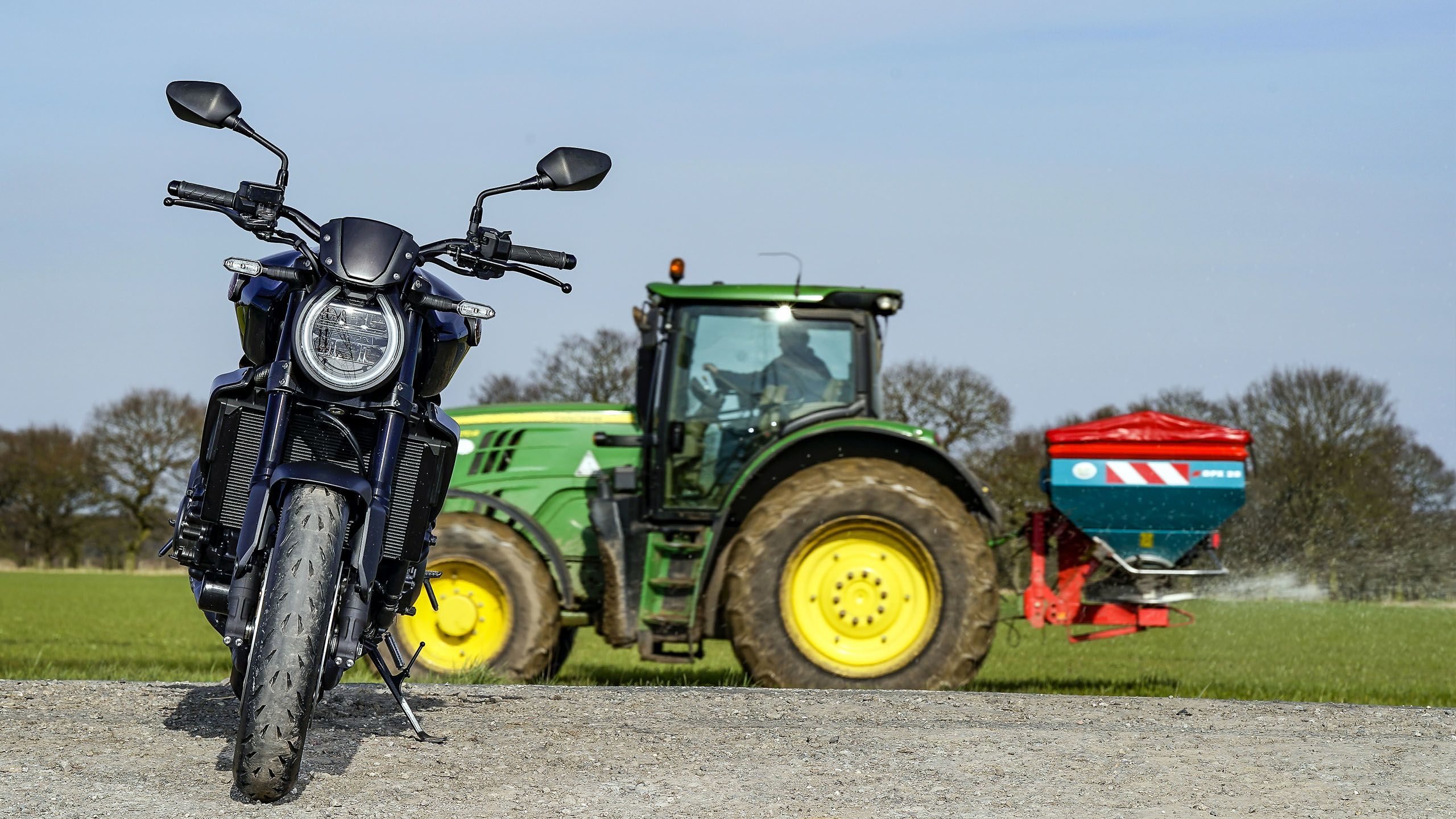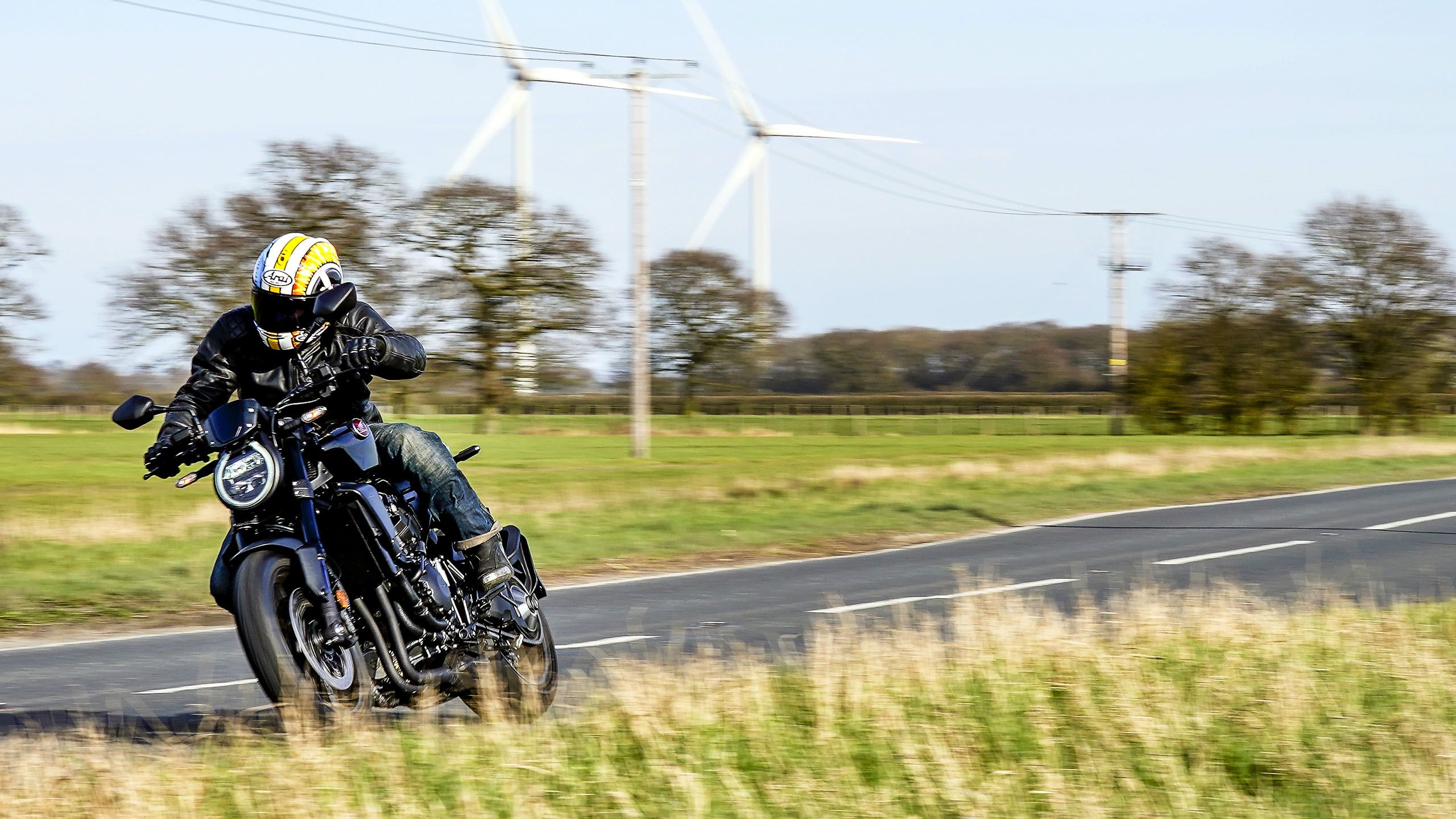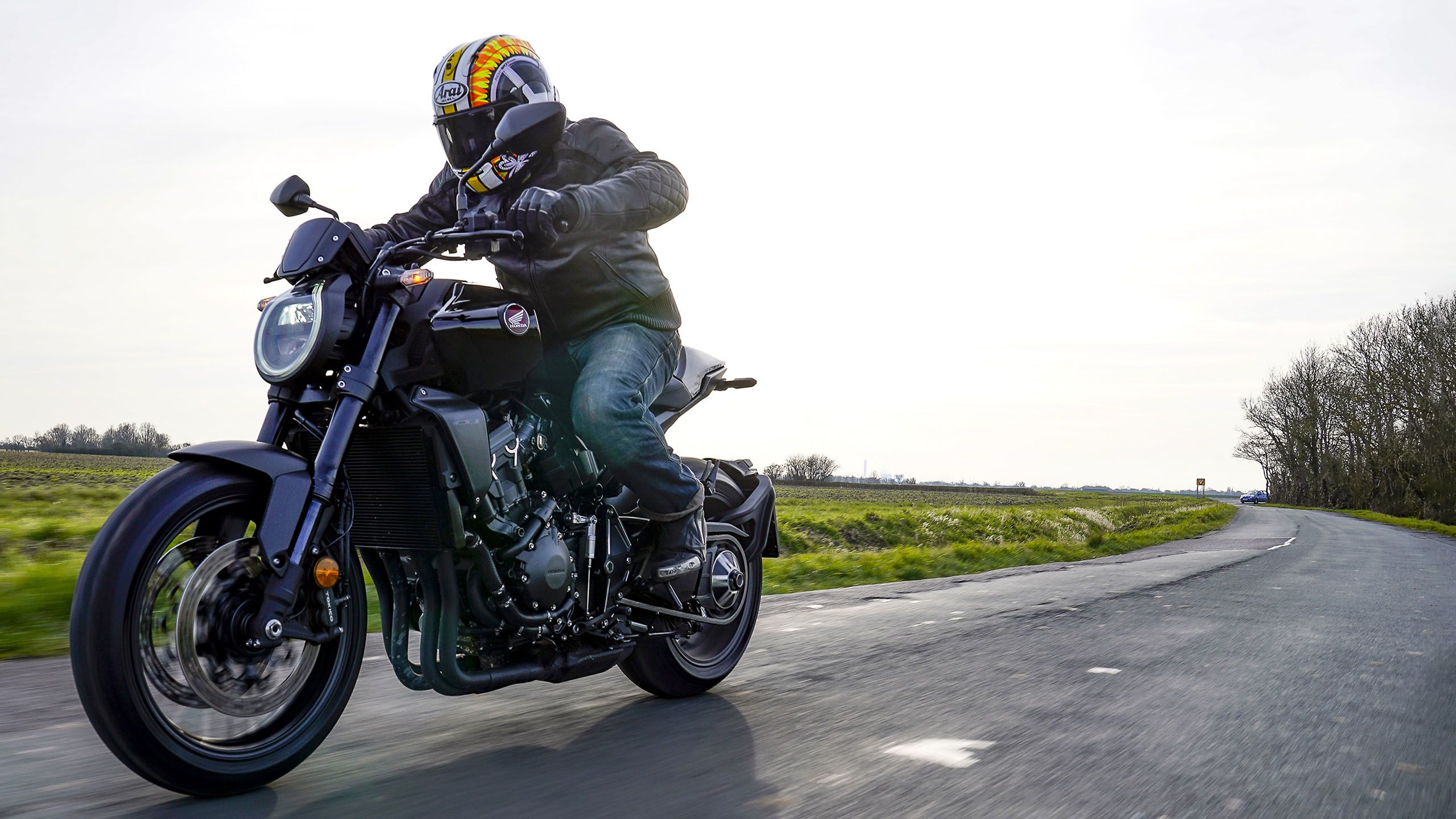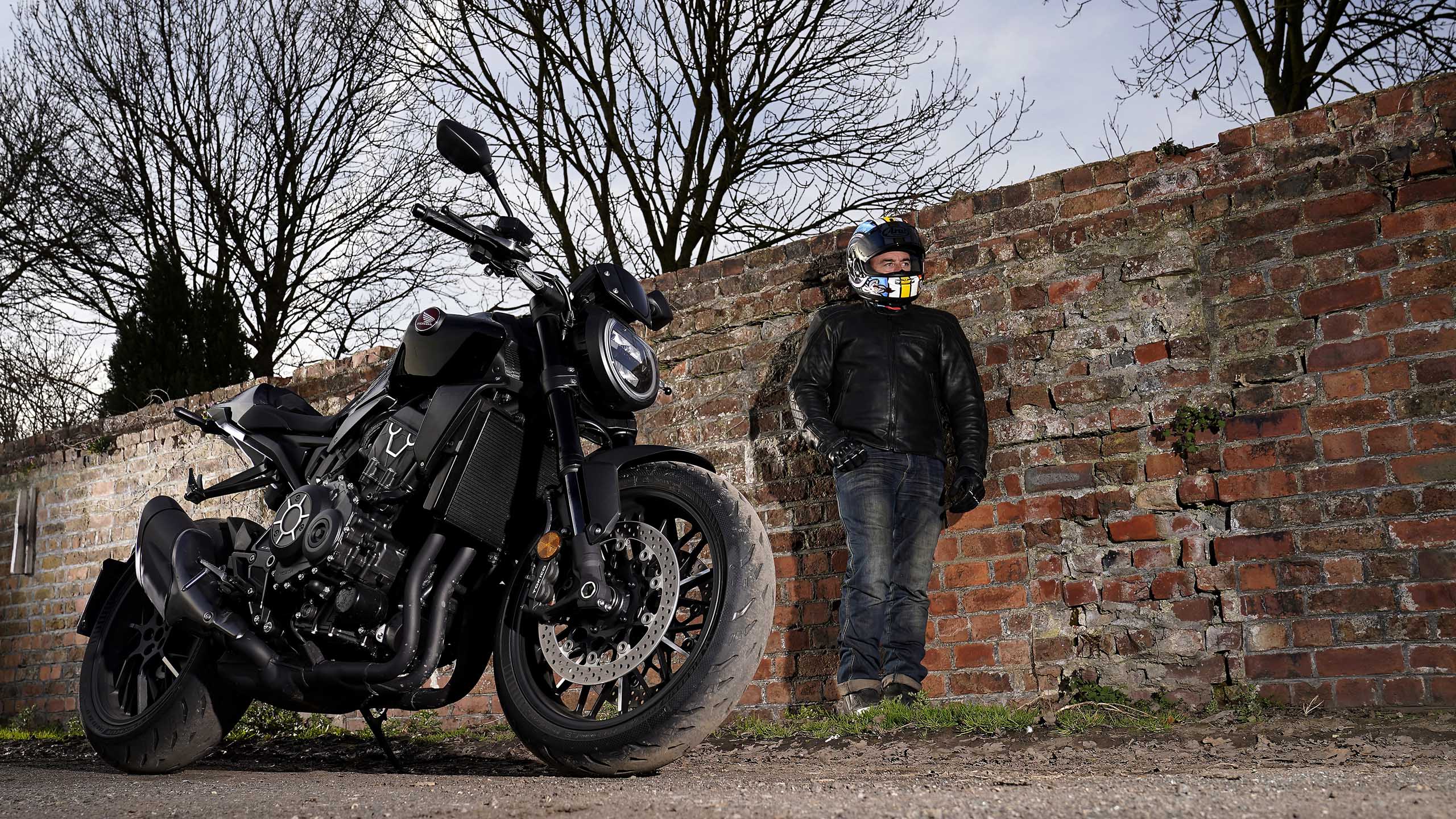 Honda offers a variety or accessories packages for the CB1000R, from Sports, to Journey, which includes a tail pack and tang bag. The indicators are self-cancelling, there is a handy USB socket under the seat, and the new clocks have Bluetooth connectivity.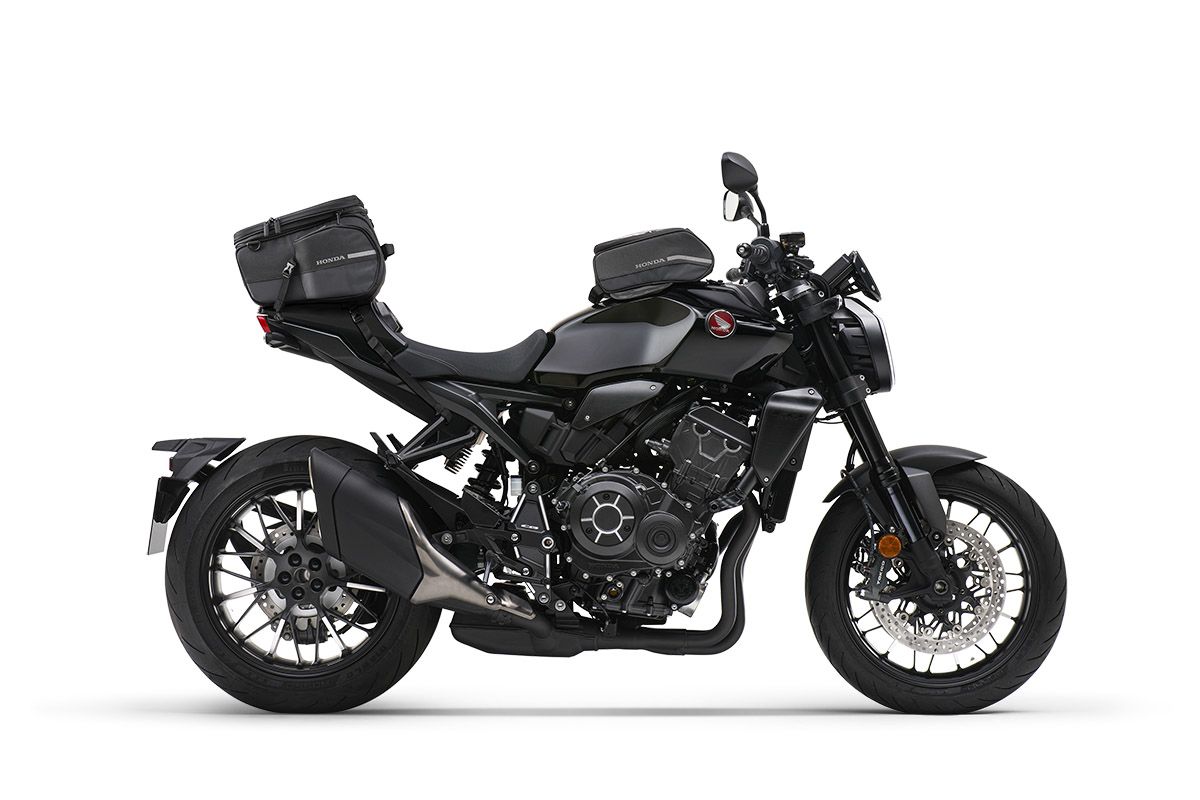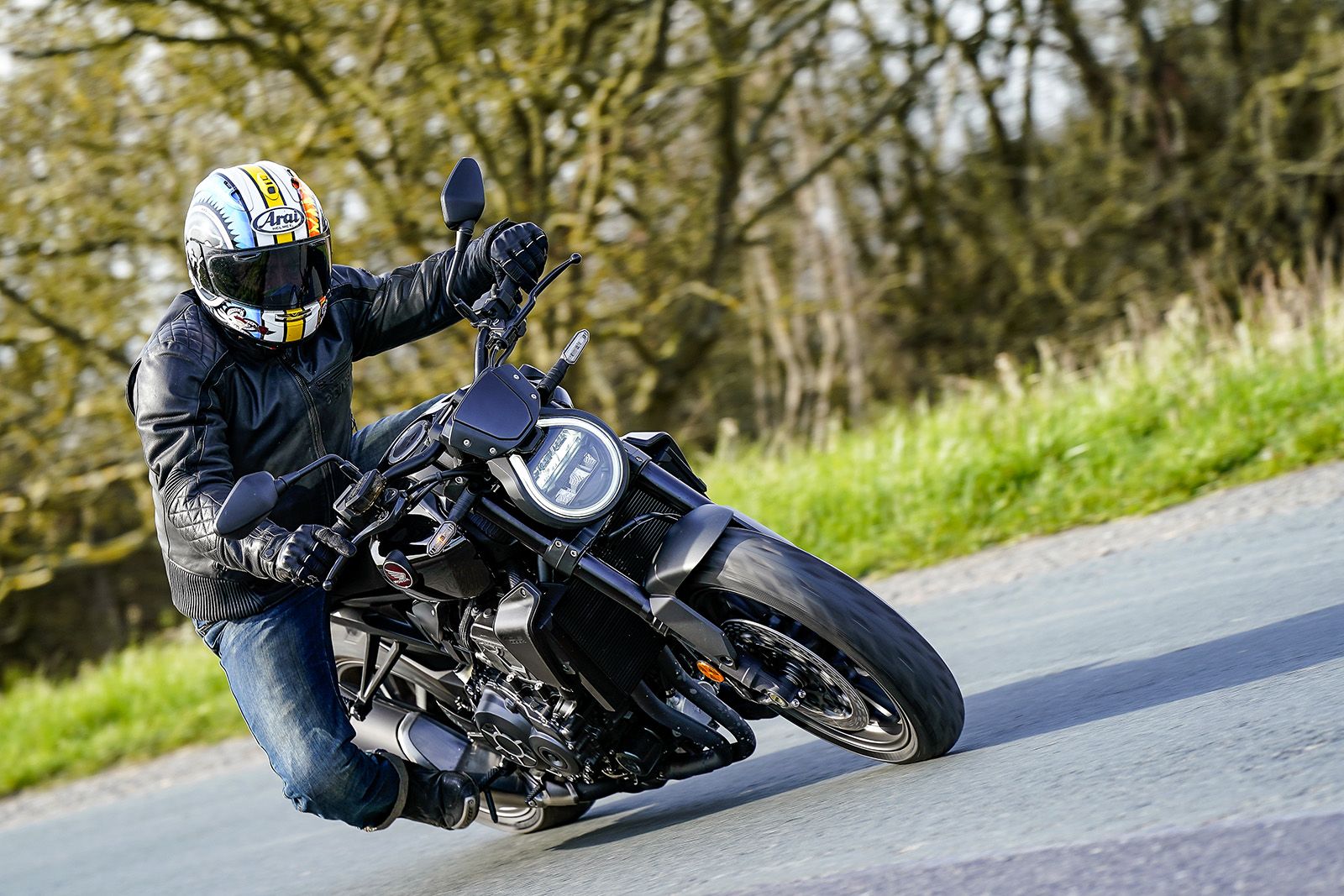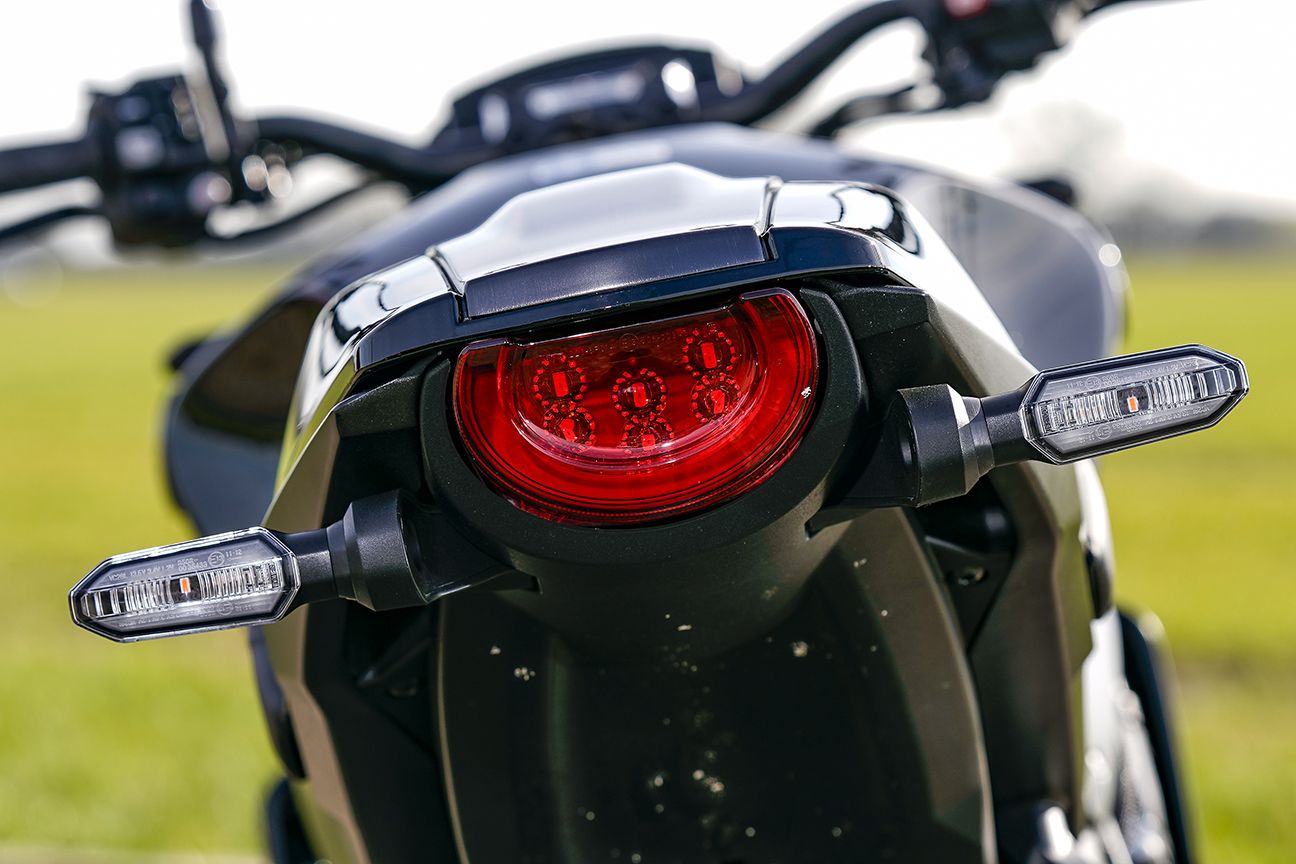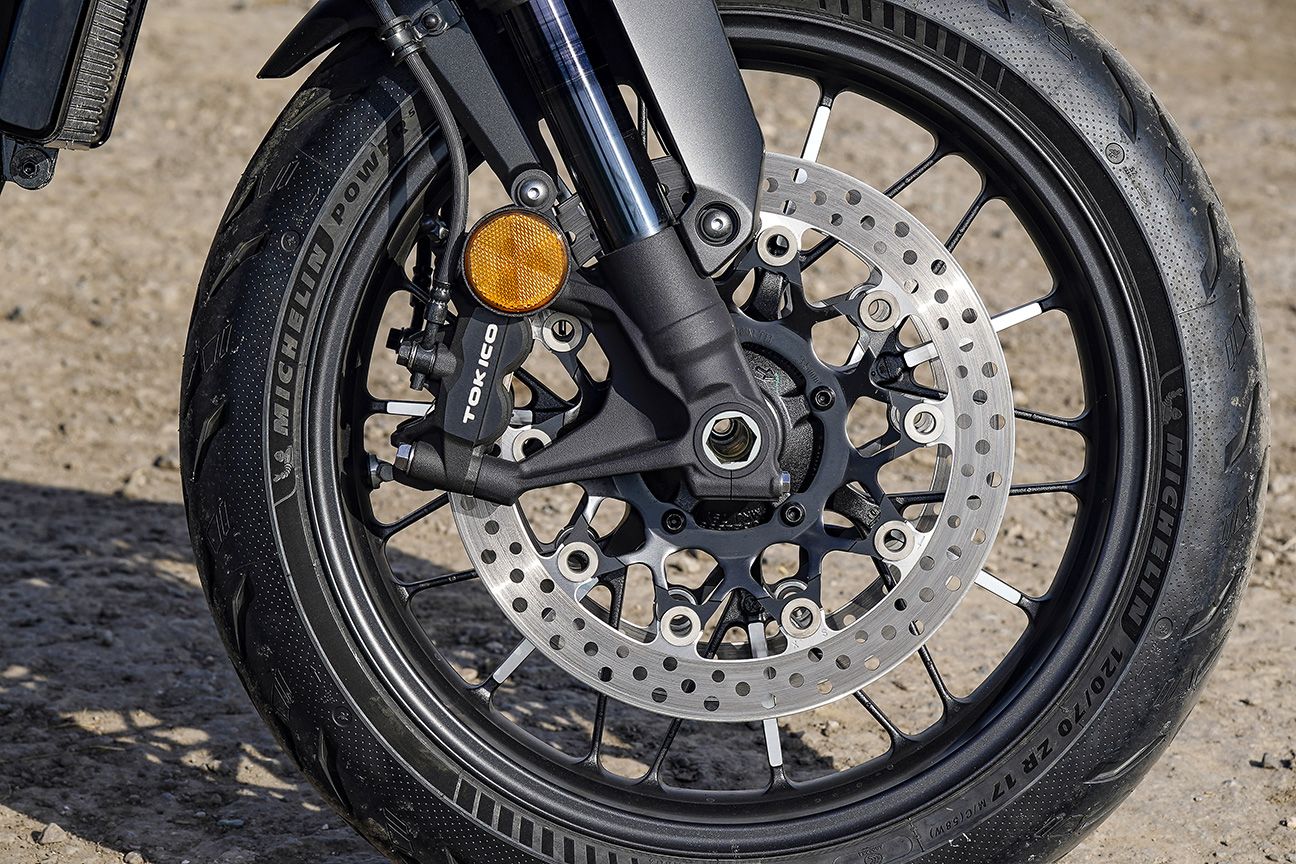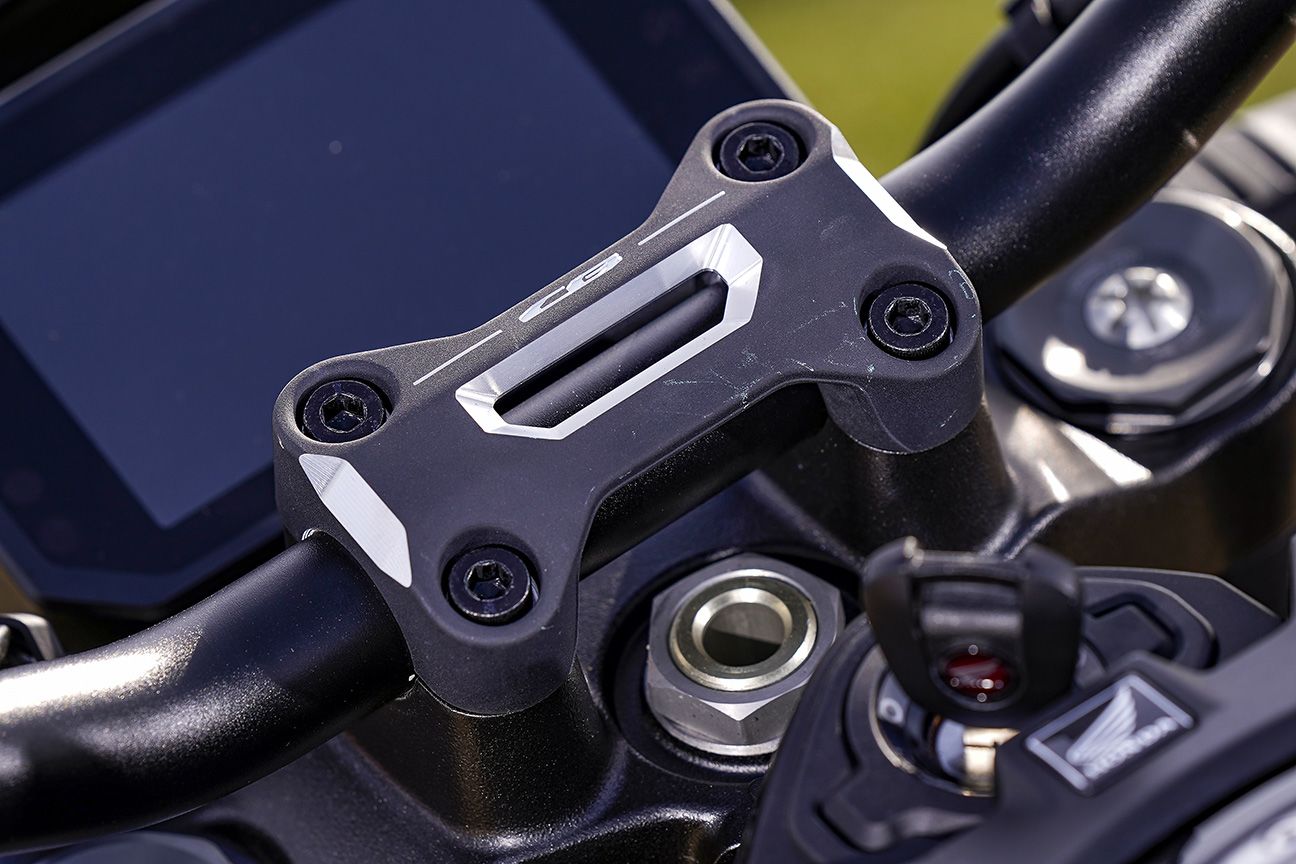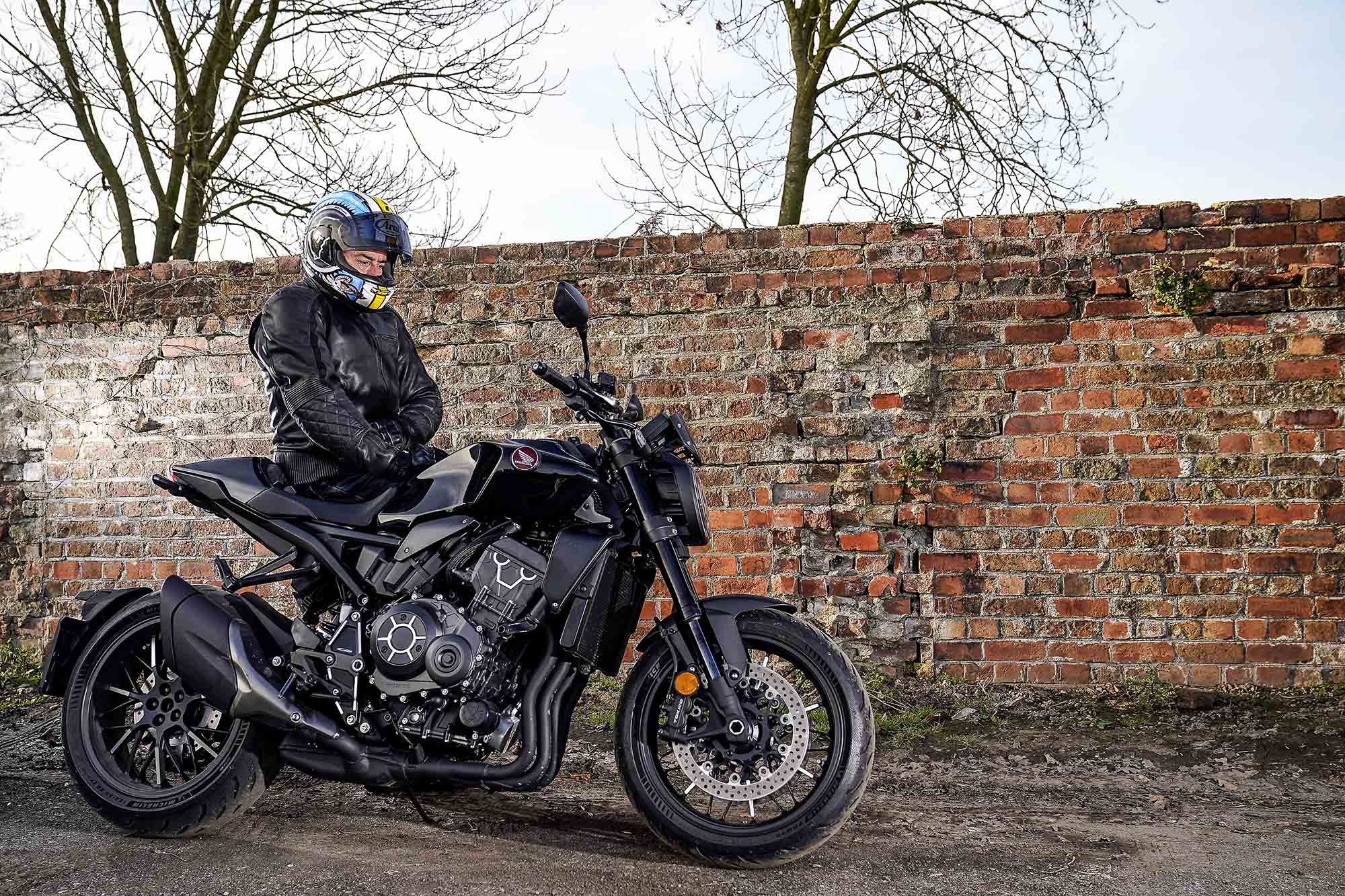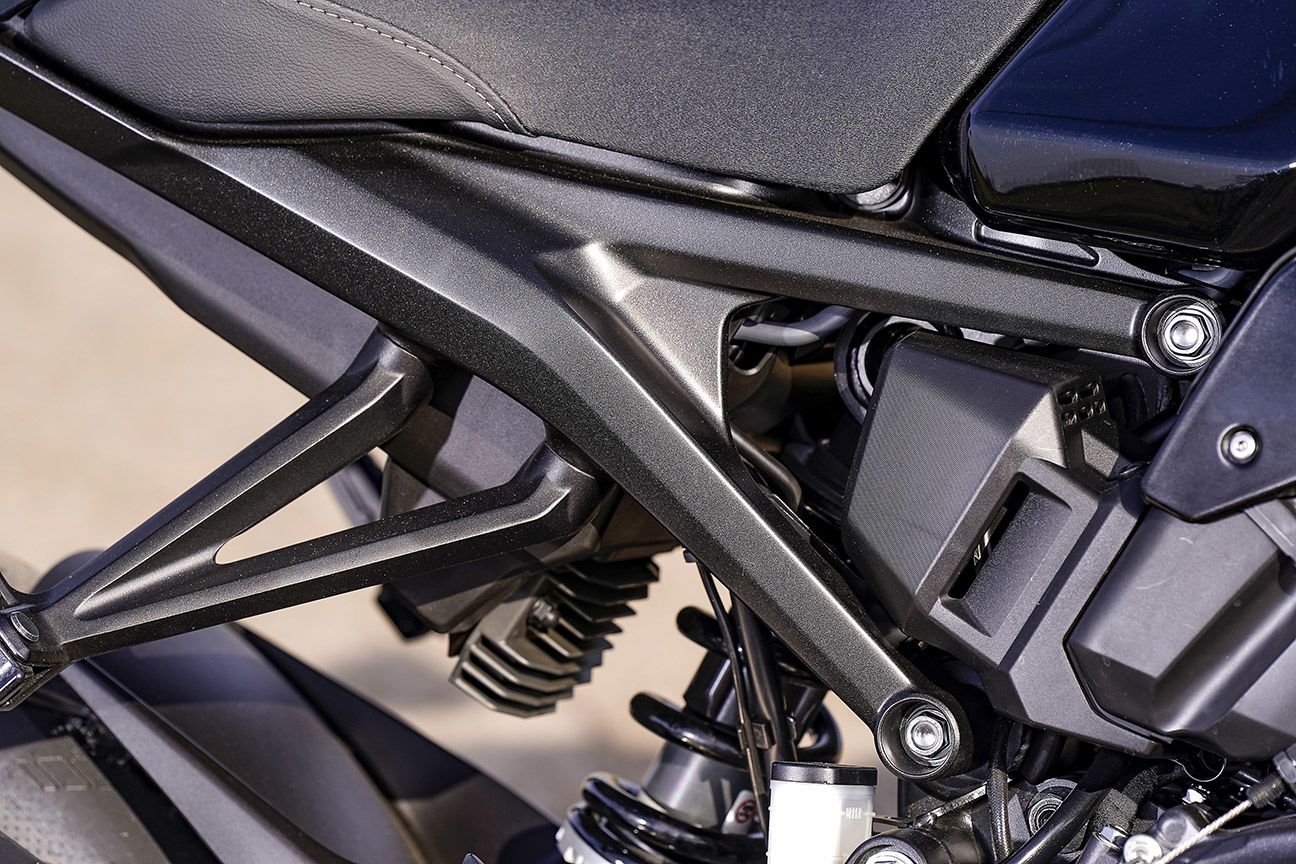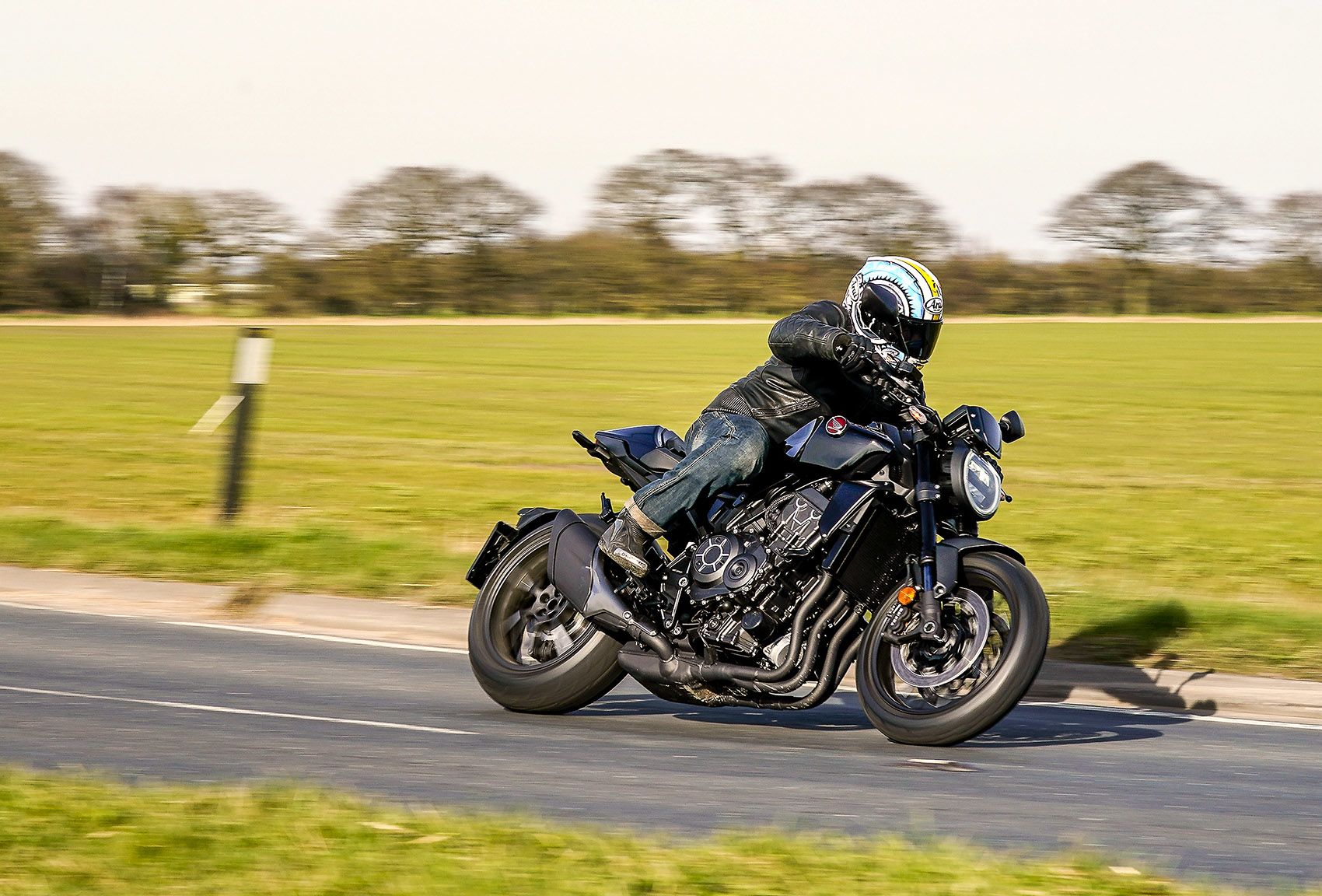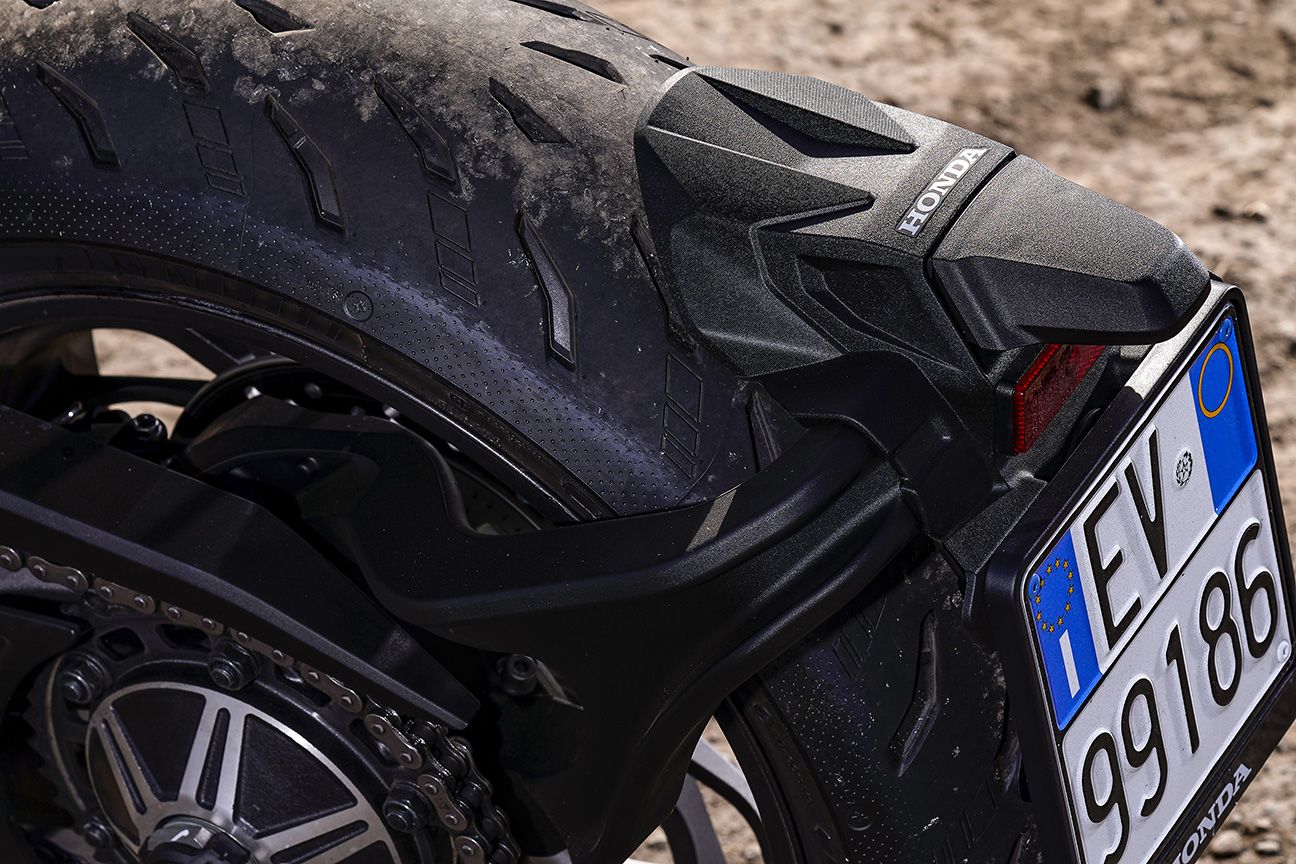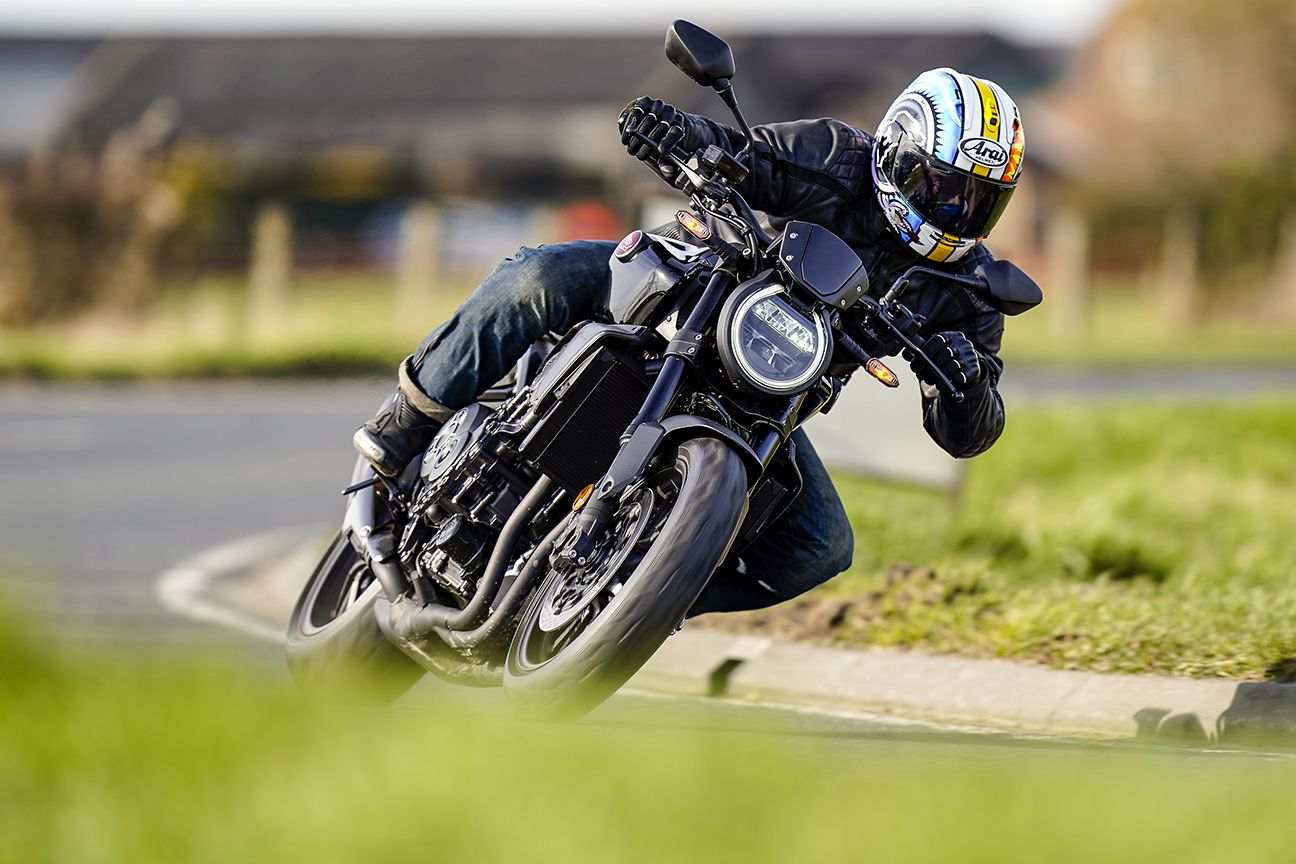 Item 1 of 9